I had the honor of meeting today's Blogger Spotlight – Ashley from CenterCutCook – a couple months ago in Park City at the Inspired Retreat. She is so incredibly talented at what she does, and is one of the nicest, kindest people to top it off. I am so excited and honored to have her here today to let us glimpse a little bit behind the blog!!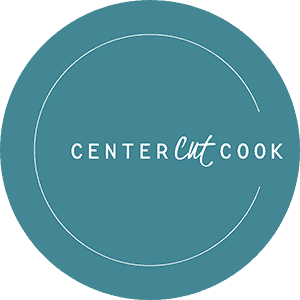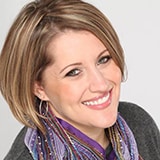 Hi guys, I'm Ashley! I am a former middle school teacher and technology coordinator turned food blogger and the photographer and cook behind CenterCutCook. I've been married to the love of my life for 10 years and we are expecting our first child later this year. We live in Chicago and have two sweet little dogs that we love to spoil rotten. CenterCutCook is the result of my passion for blogging and cooking. I have always enjoyed cooking and love experimenting with new recipes. Sometimes the recipes I make turn out to be a disaster, other times they turn out better than expected and those are the recipes that I share.
What inspired you to first start writing your blog?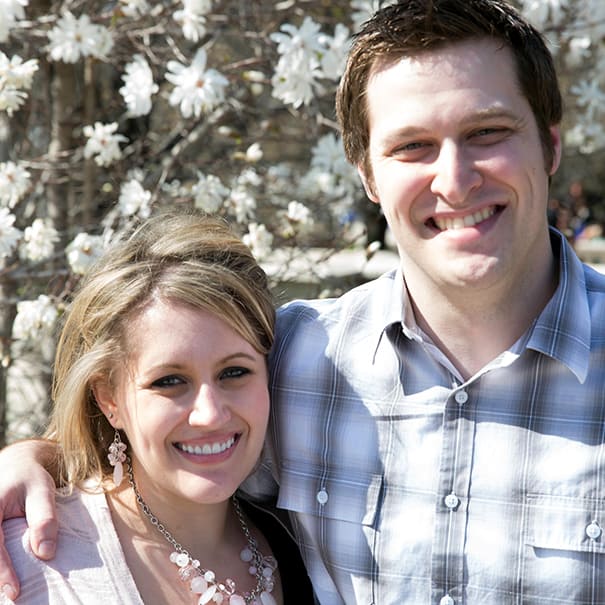 In 2005, my husband and I started a technology blog while we were in college. This was before
blogging was really a "thing." We were total geeks *snort* but we put our hearts and souls into it and wrote over 3,000 posts over the course of several years. Talk about A LOT of work. We put our geeky little website on the back burner when we started our careers, and for a few years I didn't blog at all, I focused on being a teacher. I quickly realized I still had the itch to blog, and decided to start one about something I had been passionate about since I was a teenager– cooking! I swapped my nerdy black framed glasses for an apron and haven't looked back!
What is your favorite recipe posted on your blog?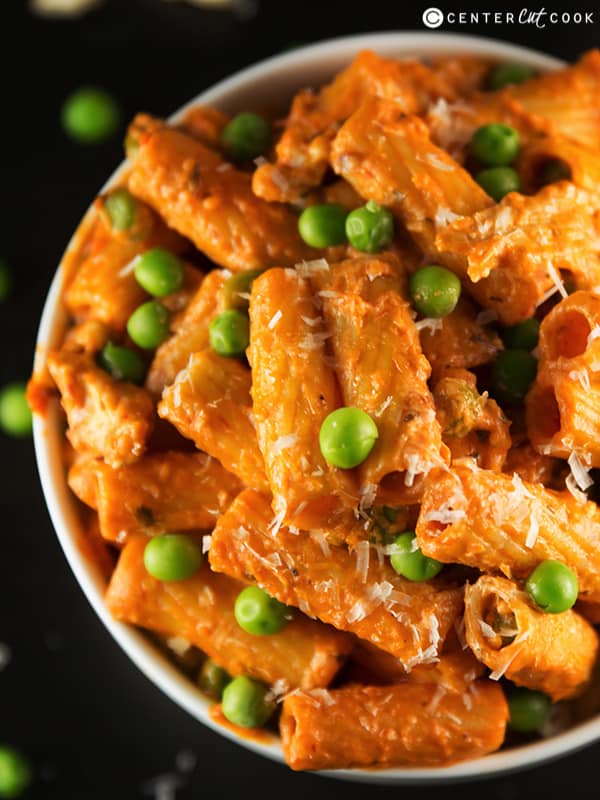 This is a tough one because CenterCutCook is essentially a collection of my favorite recipes. And I love food. There are too many good ones to choose from! My favorite changes on a weekly basis. For this week I'd say my fave is this Spicy Chicken Rigatoni. I am a sucker for spice and pasta, and this recipe includes a full tablespoon of red pepper flake. It is spicy and delicious and did I mention spicy? I adore it.

What was your first post? How do you think your blog has changed since you first started blogging?
My first post doesn't exist on my blog anymore. Once I started to get the hang of food blogging and my photography improved slightly, I was really embarrassed by my first posts, so I deleted them. That's definitely a decision I regret. Lesson learned: if you are a blogger, don't ever delete your first posts! You'll want to look back on them one day. Trust me. Even if they are incredibly embarrassing.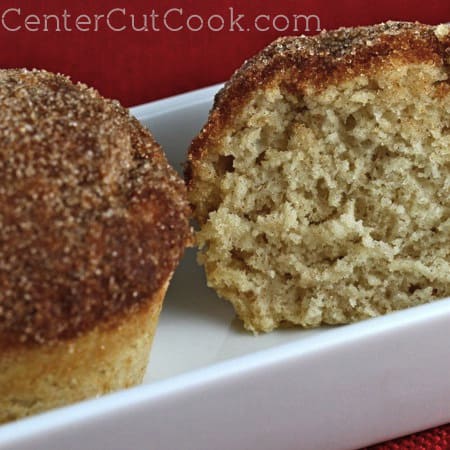 The first post that still exists on my blog is for Cinnamon Sugar Muffins. The biggest change from my first posts is my photography. It is always going to be a work in progress, but I feel like I've come a long way from my first photos that were taken in very poor lighting with no thought to composition.
Will you show us your kitchen? What is your favorite thing about your kitchen?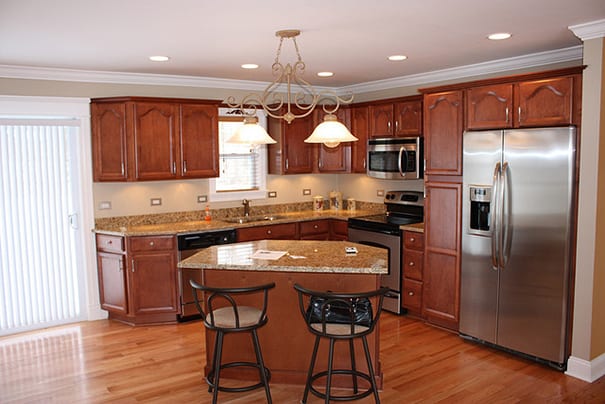 This is a picture of my kitchen that was taken when we were still house hunting. I assure you the counters are not this empty anymore. They are loaded with my favorite and most-used appliances, and usually dirty dishes too. When you are a food blogger, the dirty dishes are never ending, and it's an occasion worth celebrating when the entire kitchen is clean and spotless! While I would love to have a larger kitchen, I like the openness of my kitchen which makes it feel a little bigger than it actually is.
What is your favorite kitchen tool/appliance?
Do I have to pick just one? I swoon every single time my Vitamix blender powers through whatever I throw its way. I'm sure it has the power to blend my phone, but obviously, I won't be doing any experiments to confirm that. It's a powerful beast.
And then there's my KitchenAid Stand Mixer. It is a work horse and I smile every time I watch the paddle go 'round and 'round, mixing up the perfect batch of cookie dough.
Because we go through cheese like it's going out of style, I adore my Magimix food processor the most for its ability to shred oodles of cheese in seconds. And then, of course, it's able to effortlessly whip up a batch of dough for these Fast and Easy Cinnamon Rolls. I love it.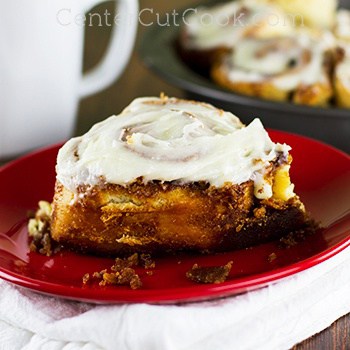 Fast and Easy Cinnamon Rolls
What would you eat as your last supper?
I grew up in the corn fields of Northern Illinois and we were a meat and potatoes kind of family. Sunday dinner usually consisted of pot roast (cooked in the slow cooker, of course!) with mashed potatoes and gravy or grilled steaks with baked potatoes. If I had to choose something for my last supper, I'd go back to my roots and choose a juicy filet (medium please!) with a loaded baked potato (with bacon, of course!) and corn on the cob and something super sinful for dessert with lots of chocolate and peanut butter. Now I'm craving a steak… and chocolate. But not together…
What kind of camera/lens/equipment do you use?
I started off with a basic DSLR camera and slowly worked my way up to a Canon 5D Mark III. It's a pricey camera guys, but it's been an investment I am happy I made. I tend to use the 24-70mm lens the most, with the 100mm Macro a close second. I also have a 70-200mm that I love as well. Because trying to rely on natural light stresses me out (hello dark long winter days…) I invested in Lowel Ego lights.
Is there a dish that you are known for?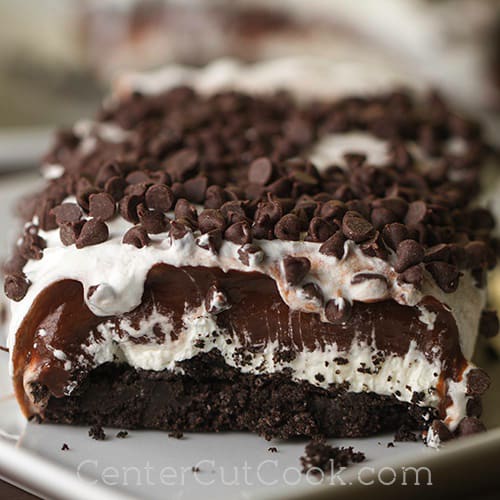 The most popular recipe on my website is this recipe for Chocolate Lasagna, which seems to be the recipe everyone knows me for now. I wasn't crazy about how the photos turned out, and I considered not even posting it. Little did I know it was going to turn into such a hit! People love it!
What is your favorite part about blogging?
I have loved meeting and networking with other bloggers just as much as I have enjoyed getting to know my readers and the people who take the time to try the recipes that I share. I am still tickled every time someone tries a recipe and comes back to tell me how much they enjoyed it. The blogging community is such a wonderful group of talented, generous individuals and I have talked with some of the kindest readers, all thanks to my little corner on the Internet.
What is your best tip to becoming a successful blogger?
Work hard and never give up. It seems like obvious advice, but it couldn't be more true. Blogging is hard work and there are times when it would be easy to give up, especially in the beginning. Just because you have a website and you've written a really great post, it doesn't mean people will just come. You have to find ways to get them to your website and that can be the tricky part. As long as you continue to produce great content and work hard, eventually you'll find a group of readers that love what you do and will come back day after day to see your latest and greatest. Some will even tell their family and friends about you, and that's how you'll gain a following and continue to grow. Be patient and never give up!
———————
Such great words of advice! Thank you so much for sharing today, Ashley!! If you want to see more from Ashley, here is where you can find her: