Today's Blogger Spotlight is another blogger that I feel blessed to know in real life. Becky, from Vintage Mixer, is a wonderful and genuine person, and a great blogger. Her blog is full of beautiful seasonal recipes and great restaurant recommendations. In fact, if you are ever in the Salt Lake City area, Becky is the girl to call to know where to eat! I'm so grateful that Becky is sharing here with us here today!


TheVintageMixer.com is a blog I write mainly about recipes I'm experimenting with and restaurant adventures around our city. As I run the blog, and social media outlets, my partner Heidi, runs the business side of things. The recipes I write about are primarily seasonal, many of which have ingredients straight from our local farmers market. We do take a break from fresh and seasonal food every Mondays to write about something indulgent like this Chocolate Pumpkin Pie, or this Mint Chocolate Pudding.
Lucky for me I have lots of friends who love to eat as well as a husband with a sweet tooth. My husband, Josh, is a singer-songwriter whom you can also find online through twitter, itunes, and his blog. A passion of ours is also to show folks in and outside of Utah the great things about Salt Lake City: good restaurants, great music, fun day trips etc.
Beyond just food, our goal of the The Vintage Mixer is to create community around chopping blocks and dinner tables. We host 'Vintage Mixers', like this wine tasting, and this raw foods class. Our events are not merely educational, though we hope you'll learn a thing or too, but the goal is that people would engage and enjoy each other. Relationships are the most important part of my life and I can't imagine anything better than enjoying the people around me while sharing a delicious meal.
I teach ESL to students from all over the globe and I've traveled to many foreign destinations. What I have discovered is that people are the same here as well as on the other side of the globe. Many have showed me that joy can be found in the simplest of things. My desire is to lead a simple life and bring joy to the lives of others through food and friendship. We hope you'll stop by the blog for a recipe or restaurant review or even better let's meet in person as you come to one of our Vintage Mixers.
What inspired you to first start writing your blog?
What started as a travel journal to document a trip I took to Brazil and Costa Rica transformed into a recipe-sharing site and then into whatever it is now.  I'm still trying to figure that out.
Do you plan a weekly menu? If so, what inspires your menu?
Seasonal produce as well as local grocery store sales usually inspire my menu.  I start by choosing ingredients that are in season or on sale then find a recipe that uses them.

What is your favorite kind of food to make?
Simple seasonal food that tastes fresh and flavorful. Also, on the other end of the spectrum I love making soups and decadent desserts.
What is your favorite recipe posted on your blog?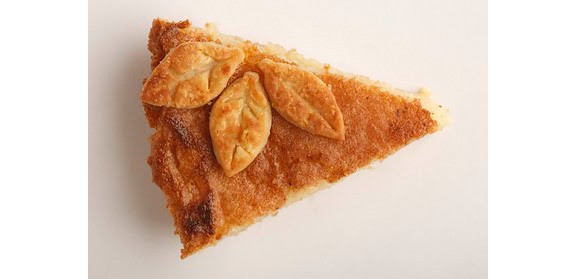 My favorite recipe that I've posted is of My Grandmother's Chess Pie.  I love talking about her love for gathering people around food.  She also had great style, which I've also shared on the blog when I posted about her boots I inherited.
Will you show us your kitchen? What is your favorite thing about your kitchen?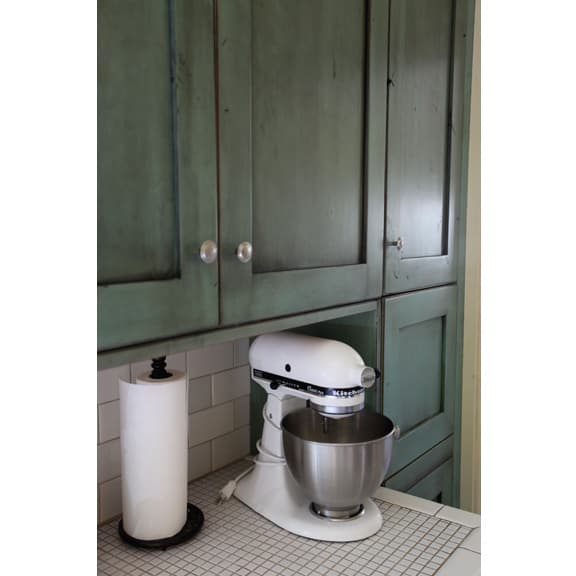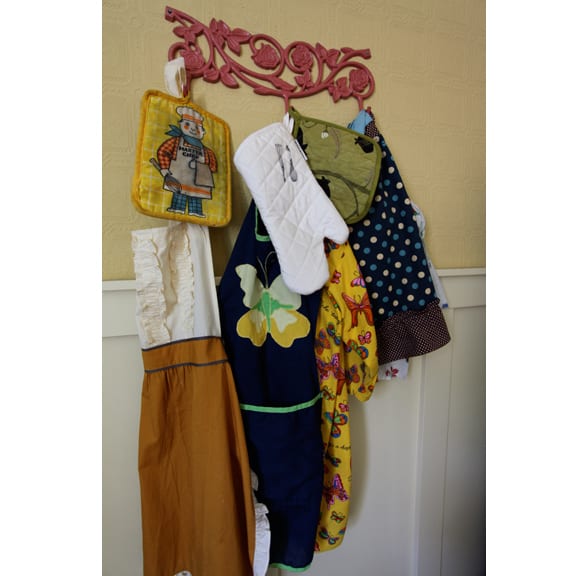 I love my cozy little kitchen.  I'm surrounded by cheerful stamped wallpaper that is painted yellow and rustic tall green cabinets. My favorite thing about my kitchen is when several people are packed into it smelling and tasting the food as we cook together. I also love my copper pans and aprons.
What is your favorite kitchen tool/appliance?
My immersion blender. When I use my immersion blender I almost feel like I'm cheating but I love it all the same.

What is your best tip for getting dinner on the table?
Don't become a food blogger- this actually prevents you from ever getting the food to the dinner table because your trying to take photos to the meal before it gets all eaten up.

What would you eat as your last supper?
This is easy… risotto with wine and ice cream or gelato for dessert with my best friends dining with me.

If you could invite any 3 people to dinner – living or dead – who would you choose?
Probably my grandmother and grandfather on both sides. I would love to ask them more about their lives: how did they fall in love, how did they stay in love, what did they do for fun, and how to best cook their recipes. I just love listening to older people tell about their younger days and seeing their personalities come through from their responses.
What is your favorite part about blogging?
The best part of blogging is the people you meet along the way. This was an unexpected result for me but a welcomed blessing!

What kind of camera/lens/equipment do you use?
Canon Rebel

Any suggestions or hints to have great food photos?
Natural Light, Time (plan ahead to have time set aside for photographing your food)

What kind of food did you eat growing up? Do you cook the same kinds of things today?
I grew up on casseroles, canned vegetables, and good old fashioned southern cooking like Chicken Fried Steak, Salmon Croquets, and Mashed Potatoes. I still cook several of my mom's recipes like her lasagna but I don't feel the need to pass on the use of canned green beans or peas.

What was the first dish you ever cooked?
Probably my mom's lasagna.

When you really want to cheat, what do you eat?
Simple or quick food like tomato soup with grilled cheese or pasta with pesto. For me cheating is not taking the time to make the food. I enjoy the labor of making a meal for friends and family and I feel like I'm cheating if I just pick up a pizza (though  I still do this from time to time).

If you could travel anywhere in the world – just for the food – where would you go?
Probably back to Greece to get a fresh gyro off the streets of Athens, it was one of the best meals I've ever had.  Or I would take a chance and try Turkey, I've loved every Turkish meal I've had and consider Turkish women to be some of the best cooks I've ever met.

What is the best thing you've ever eaten? The strangest?
I've eaten lots of strange things from my adventures traveling like congealed blood as a tapa in Spain and traditional hot pot in China.  The best-strange thing I've ever eaten must be duck confit, foie gras or octopus with our friends Carol and Tom. Most of our best meals have been shared with them.
————————
Thank you so much, Becky. You are truly a wonderful person and a great blogger!! To see more from Becky, (and ps – she's giving away a cookbook right now!), here is where you can find her:
Blog: Vintage Mixer
Twitter: @SLCFoodie
Pinterest:VintageMixer