Today's Blogger Spotlight is a true treat.  If you haven't visited Dawn at Vanilla Sugar, you are really missing out – especially if you are a fan of unusual flavor combinations.  I love how experimental and different Dawn is with food, and how much love and creativity she brings to every dish she posts!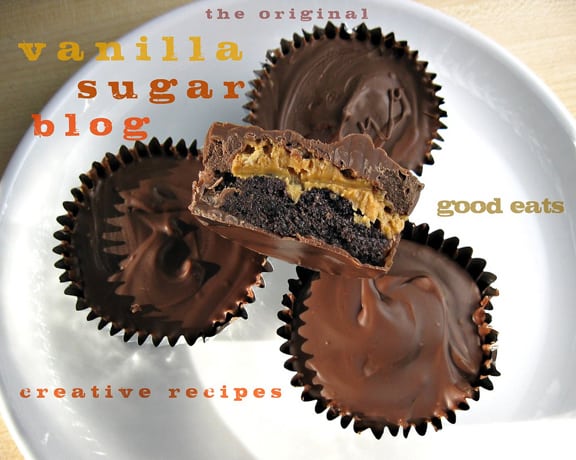 Just a California girl living on cape cod with a tiny outdated kitchen from where I create kicked up recipes from 'pop up bubble' idea in my head, to write-the-idea-down-quick-on-anything, to research, and then finally to kicked up presentation—all without a mixer. Some recipes my own, some recipes not, but always striving to boost up the flavor or texture up a notch (or three).
I first started this blog over three years ago in a 50 s.f. galley kitchen in an old antique rental in the historic village of Sandwich, MA where there was only 30 year old gaggenau oven with issues, two functioning gas burners, and a refrigerator in my living room. Now I create recipes in a regular albeit small kitchen with a working oven, four gas burners, but now a mixer is on the list as the demand for more food-creativity from me and my fans grows. What drives me to create? I see dishes in restaurants, meals created on TV, recipes in cookbooks and online, and I always think to myself why didn't they add this or why did they leave out that? I love to question, love to research, and love to learn about combining different flavors and textures in recipes; which leads me to the kitchen to recreate or create—however you food-o-sophically look at it.
What inspired you to first start writing your blog?
I saw there were other people out there like me that loved the combo of salty & sweet foods. It was like finding your niche, your belonging…I just had to jump in and start creating!
What kinds of posts are your favorite to write?  What do your readers seem to like the most?
It's funny you ask, as I'm always so amazed when I go through my photo archives and find something that I haven't posted or written about that involves chocolate, peanut butter, and cake. And even though the photograph isn't so great or I feel as though I haven't given the recipe enough "kicked up-ness" I will go ahead and post the recipe and photo anyways. I'm always so amazed at how people love what I think isn't good enough or might be too simple and boring.
What is your favorite kind of food to make?
I wish I could answer this as a simple this or that dish, but to be honest my favorite dishes to create are the ones where everyone is eating/devouring and it is silence, smiling and repeating over and over "oh my gosh this is so good!" That's what it's really all about isn't it? The reactions you get from the people eating your food—any chef would agree.

What is your favorite recipe posted on your blog?
The most requested recipe in my house and one of my favorites is the sweet potato hash.
What is your best tip for getting dinner on the table?
I would love to change that title to "best tip for getting a fussy hubby to eat" (since I have one). Sometimes it's so hard to get my husband to eat healthy foods. But I find when I decorate the plate with an extra garnish or use colorful veggies how much more drawn to the plate he becomes. I've also noticed that layering foods on top of each other makes my fussy hubby eat it without the long list of "what's in here" questions. Layering actually does make the meal more appetizing as opposed to plops of this or that on the plate. So it's true what they say about eating with your eyes first. Even just using a pinch or two of freshly cut parsley or dill makes the dinner plate come alive and inviting.
Where do most of your recipes come from? (Family favorites, you make them up, magazines, cookbooks, etc.).
Most all of my own recipes come from watching food shows, seeing a dish that I liked and thinking why didn't they add this spice, veggie or meat in it instead? Or what would happen if I swapped out this for that. My mind and my notepad are filled with ideas on how to do dishes better and tastier. I'd say my stack of 'recipes to create' is about 300 pages right now.


What would you eat as your last supper?
Filet mignon with béarnaise sauce. Simple yet classic; if the béarnaise sauce is done right it's a culinary masterpiece.
What is your favorite part about blogging?
Being able to show my creations, be it crazy or normal with the food blogging world. No matter how crazy or how unheard of a dish I create might be, there is always someone out there that will love it as much as I do. Hence my peanut butter and chocolate bars with BBQ pretzels. I love the classic peanut butter and chocolate bars, but always felt it needed something else: a texture, a crunch, more of a salt punch to it. So I experimented with pretzels and was so glad with the outcome—it was just so tasty. Naturally I was so weary about posting this, but went ahead anyway and was so glad to see the amount of people out there respond positively to it.
What kind of camera/lens/equipment do you use?
I get asked that a lot and when I answer I find that most people are shocked. I use a plain old Canon Powershot with macro lens; a cute little inexpensive camera that is a workhorse.
Any suggestions or hints to have great food photos?
Of course having a good camera is key but what really matters most is lighting. If you want to take truly good photos invest in camera lighting. Living in the northeast it's hard to depend on daylight, especially in the winter time.
What kind of food did you eat growing up? Do you cook the same kinds of things today?
Growing up my mom did not cook. We ate out a lot. And as a kid I traveled a lot, so we ate out pretty much everywhere we went. It was great being able to go to a lot of diverse restaurants with various flavors, styles, combo's, etc…I think this is where my love of food-diversity started. A great tip for parents who want to have non-fussy kids is to start them very young with food experimenting. It worked for me, I love to create and experiment with various ethnic dishes. There really isn't anything I wouldn't try and I'm sure that came from being shown an open mind when it comes to food sampling as a young child.
What was the first dish you ever cooked?
Oh what a proud moment this was. When I was age 10 or 11 one of our projects for the girl scouts was to make cheese & bacon stuffed hot dogs in the toaster over. I had never heard of that and was so curious and thrilled to make it because frankly we were taking the hot dog (a food I loved) and adding cheese and bacon to it! Making sure to really pay attention to the instructions when our scout leader showed us all the steps; I wrote it all down too! And I clearly remember the one step when she said "…you know the hot dog is done when the cheese is all bubbly and golden brown…" Did I sit in front of the toaster oven patiently watching & waiting for the cheese to golden? You bet I did. Of course it came out perfect, I was so happy because I was able to get the cheese a golden brown. A proud moment in a foodie's life ha ha!
When you really want to cheat, what do you eat?
I think everyone knows my gross love affair with Cheez Its? I seem to blog about them a lot. I do love those oversized Cheez It's dipped in melted milk chocolate. So good.


If you could travel anywhere in the world – just for the food – where would you go?
I would want to go back to LA. The diversity of fish tacos is unreal.
What is the best thing you've ever eaten? The strangest?
Asking a foodie to narrow this down is impossible. So let me share with you another memorable experience I had as a child with food. I was in the Bahamas, age 12 or 13, and so fascinated with this one beach bar where the bartender would take fresh coconuts, crack them open, peel away layers, crack open some more and then carefully take the inside juice and pour it into the glass. From there he would create a fancy, fruit decorated cocktail. I would watch his every move, being so fascinated with that inside juice; all the work it took to get a small about of juice– instinctively I knew it had to taste good for all that work. It was a couple days later when the bartender finally saw me watching him and motioned for me to come over. He opened a coconut just for me and poured the juice into a glass, decorated with pineapples, and cherries. It was heavenly. Truly I can say that I don't think it was the flavor that blew me away so much as it was the whole process of cracking and peeling the coconut to get to the juice that fascinated me so.
The strangest dish would be a steak tartare. I didn't hate it, if it's prepared right it tastes good. It was the texture that kind of blew me away—it was way too mushy in texture and I wasn't expecting that; my mouth and brain were probably trained to expect a meatloaf texture.
What are your favorite blogs to read?
I get such inspiration from bloggers who watch shows like top chef and the next day go and try and recreate something they saw on top chef. I just love that. There are also a few classically trained chefs and pastry chefs that I follow and on their blogs they post elaborate dishes with delicate layers of flavors and textures; one can learn a lot from them in flavor-pairing and mastering their technique of cooking and plate presentation.
What is your best tip for saving money on groceries?
I wish I could say I follow the coupon lady and know all her secrets; that I spend Sundays clipping coupons. I don't have any coupon advice there, but I can tell you that when I do go grocery shopping with a list in hand and a full stomach I really do save money—I get in and out.
What is your best tip to becoming a successful blogger?
Be creative. These days the food blogging world is inundated with so many food blogs that it's easy to get lost in the crowd. If you start a food blog and truly want to get noticed make sure you create something new, something different, something people want to see and haven't yet. And take really good photographs. That makes all the difference in the world. A good photo of food will draw people in, remember you, and want to come back again and again.
———————————-
Thank you Dawn!  If you want to see more of Dawn and her blog, here is where you can find her:
Blog: Vanilla Sugar
Facebook: Vanilla Sugar
Twitter:  @vanillakitchen