Today, we have Maria from Two Peas and Their Pod as our Blogger Spotlight.  I feel very lucky that I consider Maria to be a friend as well as a fellow blogger – we live in the same state and I have had the privilege of spending some time with her. She is just as wonderful in real life as she is online!! And she has a precious new baby boy that I can't wait to meet. So, welcome, Maria!!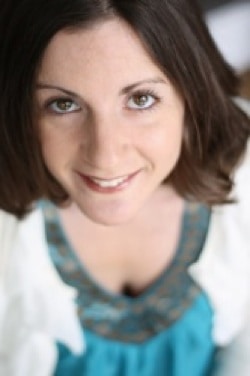 I'm Maria and my husband is Josh. We share a love of cooking, baking, and entertaining. We enjoy creating recipes that are simple, fresh, and family friendly. Join us in our culinary adventures-our kitchen is always open!
When we are not in the kitchen, we enjoy watching sports, hiking, running, traveling, reading, and watching movies. We live in Salt Lake City, Utah.
What inspired you to first start writing your blog?
I didn't "plan" on having a food blog, it just sort of happened. Josh had a personal blog when we were dating, after we were married, I kind of took over and started posting recipes. Our family and friends loved the recipes so I kept posting them. Soon we had strangers visiting, so we decided to transition it into a full time food blog.
What kinds of posts are your favorite to write?  What do your readers seem to like the most?
I love sharing all of our kitchen creations. The sweet treats are usually the most popular posts.
Do you plan a weekly menu?  If so, what inspires your menu?
We don't plan a weekly menu, but we probably should. I have a notebook with recipe ideas that I frequently turn to, but it isn't very organized. We do plan our meals around what produce is in season and what is on sale. I am a bargain shopper:)
What is your favorite kind of food to make?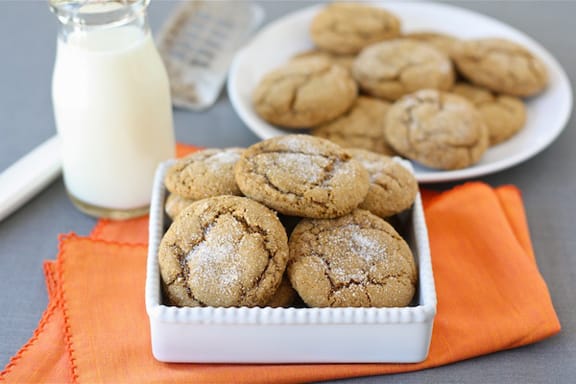 Pumpkin Gingersnaps – Photo credit Two Peas and Their Pod
I love baking cookies. I have an obsession:) We have over 100 cookie recipes on our blog.
What is your favorite recipe posted on your blog?

That is a tough question! I love all of our recipes:) One of our favorites is our Cinnamon Streusel Pancakes-if you are looking for a decadent breakfast treat, you have to try these pancakes. They are amazing!  We also created a Pumpkin Cinnamon Streusel Pancake recipe-they are equally divine and perfect during the fall months.
Will you show us your kitchen?  What is your favorite thing about your kitchen?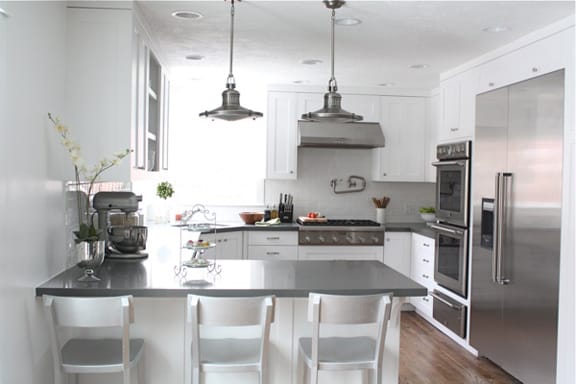 We remodeled our kitchen last year. It was a lot of work, but so worth it. We now have our dream kitchen. I love all of our Thermador appliances. The double ovens, six-burner gas range, and giant refrigerator are all a dream! Visit our blog to read all about our kitchen remodel, it is quite the transformation.
What is your favorite kitchen tool/appliance?
I can't live without my Kitchenaid Mixer. She is my best friend.
What is your best tip for getting dinner on the table?
Have a husband that loves to be in the kitchen as much as you do:) We make a great team and have a lot of fun in the kitchen. Cooking is a lot faster with four hands:)
Where do most of your recipes come from?  (Family favorites, you make them up, magazines, cookbooks, etc.)
I love making up new recipes. It is so fun to play around in the kitchen. I am constantly inspired by food magazines, cookbooks, and other blogs. I am constantly thinking about food, I even dream about recipes:)
What would you eat as your last supper?
Oh man, another tough question. I would probably choose Italian-maybe some homemade gnocchi with pesto and of course cookies for dessert:)
If you could invite any 3 people to dinner – living or dead – who would you choose?
We love entertaining and having people over for dinner. I can't narrow it down to three, we love having all of our family and friends over for dinner. If it were possible, I would love to have my Grandma Dixon over for dinner, she passed away before I was born and I would love to sit down to a delicious meal and talk the night away.
What is your favorite part about blogging?
I love the food blogging community and I love working with my husband to create new recipes. The blog pushes us to stay creative and try new things. We also love our readers-it is always fun to read our blog comments and emails. We have some of the best readers around:)
What kind of camera/lens/equipment do you use?
I have a Canon Rebel DSLR and I usually shoot with my 50 mm 1.8 lens. I hope to upgrade soon:)
Any suggestions or hints to have great food photos?
I always shoot in natural light. I am lucky blogging and being a mom is my full time job, so I am able to shoot during the day in our kitchen, which has great natural light.
What kind of food did you eat growing up?  Do you cook the same kinds of things today?
My dad is an amazing cook and baker, so I was spoiled with good food since I was a little one. He taught me how to cook/bake at a young age and I am still making some of his recipes today.
What was the first dish you ever cooked?
I started at a young age, so I can't remember exactly, but I used to help my dad make his famous cinnamon rolls all of the time.
When you really want to cheat, what do you eat?
Cookies of course! There is nothing better than a warm, freshly baked cookie. Mmmm!
—————————
Maria – your kitchen seriously gives me kitchen envy!!  Thank you so much for sharing here today.  If you want more from Maria, here is where you can find her:
Blog:  Two Peas and Their Pod
Facebook:  Two Peas and Their Pod
Twitter:  @TwoPeasandPod