It's my favorite day – Blogger Spotlight day!! Today we have Shanon from The Curvy Carrot. I had a request to feature Shanon, and it came at a perfect time because I had just made some of the muffins she has on her blog! (Post coming soon. They were A-MAZ-ING.) I am so happy that she is joining us here today!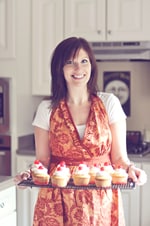 I'm a 30-year-old novice cook/baker who happens to love taking pictures of what I eat.  By day I am a board certified pathologist-I'm currently spending an extra year in fellowship training (I look at skin biopsies under the microscope!), and by night and weekend, I am in the kitchen, experimenting with vegetarian recipes.  When I am not in the kitchen, I am outside hiking with my boxer, Scout, or loving on my two spoiled cats.  I also love cheese and chocolate.  A lot.
What inspired you to first start writing your blog?
My best friend, Annie, of Annie's Eats. She and I met over four years ago through our jobs…we spent more time talking about food and recipes than what we were supposed to be working on! I knew I had found a lifetime friend. She kept telling me to start a blog so that we could share our loves together. We blog virtually together now and have even traveled to a blogging workshop together.
What kinds of posts are your favorite to write? What do your readers seem to like the most?
I personally find the posts that have a lot of background story to them the most appealing to write. But I think the pictures are what the readers like…..if the picture looks good, then readers want to make it! I think my readers appreciate vegetarian twists on classic comfort foods.
Do you plan a weekly menu? If so, what inspires your menu?
I literally plan my menu randomly throughout the week. I'll be at work, get a thought, and then I jot down the ideas on Post-It notes all over my desk. I'm either behind the microscope, seeing patients in clinic, or giving lectures, and there will be random pieces of paper everywhere. Everything inspires me! Other blogs, food magazines, farmers' markets, conversations with friends….it's all about food for me!
What is your favorite kind of food to make?
Probably cupcakes. I love piping them. It's so satisfying to put that frosting on top.
What is your favorite recipe posted on your blog?
I know it sounds silly, but I have too many favorites. A lot of the recipes I post are from my family's recipes…so some have a lot of sentimental value.
Will you show us your kitchen? What is your favorite thing about your kitchen?
Oh man, I would be embarrassed to show you a picture. But, I can tell you that I have 13 bowls stacked in my kitchen sink right now from a day of baking.
What is your favorite kitchen tool/appliance?
Without a doubt, my cherry red KitchenAid mixer. When I moved across the country in one car, I sacrificed my winter clothes in order to have room for the mixer box. I bought a new one for myself three weeks before I moved, and it was the hardest thing for me not to open the box and get it out before the move.
What is your best tip for getting dinner on the table?
Start with a clean kitchen, prep as much as possible, and have fun! Cooking shouldn't be a chore. To me, it's exciting!
Where do most of your recipes come from? (Family favorites, you make them up, magazines, cookbooks, etc.)
They come from everywhere. I would like to say that they come from my own brain, but, that's an area where I would definitely like to improve.
What would you eat as your last supper?
A cheese plate with fruit and a nice glass of red wine. (with chocolate for dessert, of course!)
If you could invite any 3 people to dinner – living or dead – who would you choose?
Tori Amos, Marilyn Monroe, and Sophie Spitz (a pioneer in my field in medicine….). I know..a crazy line-up. Girl power!
What is your favorite part about blogging?
Other bloggers. I have met a few in person, and it's incredible to meet other people who love food as much as me!
What kind of camera/lens/equipment do you use?
I use my dad's old Canon Rebel with a Sigma DG Macro lens.
Any suggestions or hints to have great food photos?
Oh man, I'm still learning that one. It's a constant source of frustration for me. Use natural light. You can't beat it. Change your style up. Experiment with angles, accessories, and plating. Challenge yourself.
What kind of food did you eat growing up? Do you cook the same kinds of things today?
I grew up in a meat-eating household. Like, a lot of meat. I definitely don't do the meat anymore.
What was the first dish you ever cooked?
I made a cheese sandwich consisting of American cheese between two pieces of white bread…zapped in the microwave for 20 seconds..as a three year old. Apparently the vegetarian in me was present then. 🙂 I never liked to put meat on my sandwiches.
When you really want to cheat, what do you eat?
I cheat all the time. I buy cheese and ice cream like its my job. I usually hit up the ice cream on Friday nights.
If you could travel anywhere in the world – just for the food – where would you go?
France. I want to literally eat my way through France. And I will someday.
What is the best thing you've ever eaten? The strangest?
Best thing? Probably this cheese Annie and I had in Boulder, Colorado, together with this amazing cherry sauce. The strangest? I had frog legs once as a child. Most people wouldn't think that's strange, though.
What are your favorite blogs to read?
Annie's Eats (of course!), Confections of a Foodie Bride, Pink Parsley Catering, Cook Like a Champion…I have about 30 others on my Google Reader.
Take us through a typical day of eating in your house.
I have to be at work by 6:45 am, so breakfast consists of coffee and some sort of Cliff/Lara Bar at the microscope. Lunch is Greek yogurt, fruit, popcorn (my favorite brand, of course!) and usually some sort of protein. Dinner is whatever I can scrounge up. I eat a lot of eggs for dinner during the week, oddly enough.
What is your best tip for saving money on groceries?
I need those tips because I spend a ton of money on food….can you give me some?
What is your best tip to becoming a successful blogger?
Be yourself. Be authentic. Challenge yourself. Find your niche and go after it. 🙂
————————————————-
Thank you, Shanon!  It has been wonderful to learn more about you.  If you want to see more of Shanon, here is where you can find her:
Blog:  The Curvy Carrot
Facebook:  The Curvy Carrot