I'm changing things up a little bit this week!  I usually do the Blogger Spotlight on Friday, but tomorrow, my blog is celebrating a big day, so the Blogger Spotlight is coming to you one day early!!
A big welcome to today's Blogger Spotlight – Julie from Table For Two.  I've been following Julie for a couple of months now, and I love her infectious personality.  She is so full of life, and I love how outgoing she is!  And she seems like she'd be a lot of fun to be around!  Julie has a beautiful blog.  All of her food looks wonderful, but some of my favorites are the take out favorites that she has made at home.  If you don't know Julie, you need to check her out!

Julie Chiou is the author behind the growing food blog, Table for Two, where you can find at http://www.tablefortwoblog.com. She shares her love for food and being in the kitchen. She blogs numerous original and adapted recipes and restaurant reviews, as well as everyday life with her fiancé, Jason! She is a self-taught cook and she found her passion in the kitchen after being immersed in it at a young age helping out her mom. She loves to photograph food wherever she goes and she loves to share her journey in and outside of her kitchen. Come along for the ride! 🙂

What inspired you to first start writing your blog?
I've always been writing a blog, just not necessarily a food blog. It was more of a life blog where I documented my life and what I did, I turned it into a food blog (and changed the domain & branding) in 2011 when I started to get more and more requests of, "where can I get that recipe?" or "how do you make it?" I figured I might as well just put it all online so my family (which most are all overseas) and friends can easily grab them. It's turned into more than I've ever imagined!

What kinds of posts are your favorite to write? What do your readers seem to like the most?
My favorite types of post to write are the recipes that just formulate in my head out of nowhere and that turn into a successful and flavorful dish. I love showing the trial and error in the kitchen. My readers seem to like comfort and dessert dishes the most!
Where do most of your recipes come from?
Everywhere: Family favorites from my mom's cooking, my own concoctions, magazines, cookbooks, other food bloggers' blogs.
Do you plan a weekly menu? If so, what inspires your menu?
Yes, I do. I don't really have an inspiration for my menu, it's just really whatever sounds good to me at the moment and also what Jason might be craving or would like to see on the menu.
What is your favorite kind of food to make?
Definitely pasta dishes and cookies!
What is your favorite recipe posted on your blog?
Bang bang chicken is my favorite recipe. I just love the spicy mayo atop fried chicken pieces. So good!!
Will you show us your kitchen? What is your favorite thing about your kitchen?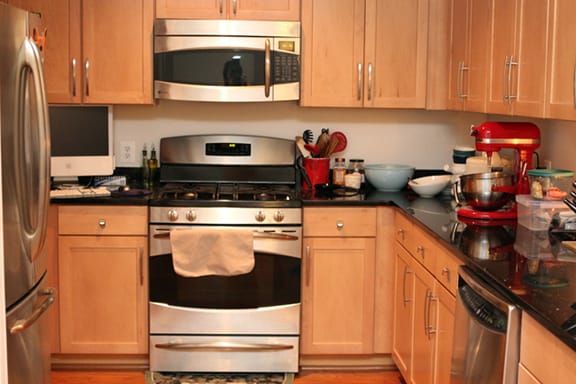 Sure! Right now Jason & I live in an apartment so the kitchen isn't much, but we're buying a house soon so hopefully the kitchen will be my dream kitchen 🙂 My favorite thing about my kitchen is the counter space and the gas stove. I can't say much for lighting but I make do with it.

What is your favorite kitchen tool/appliance?
It has got to be my KitchenAid Mixer! I got it for Christmas last year from my mom and I don't know what I'd do without it!
What is your best tip for getting dinner on the table?
Personally, on the work weeks, I like to keep it simple and use my crockpot. I try to prepare what I need the night before aka all that chopping! It saves a lot of time. I do all the elaborate, fancy dishes on the weekends.

What is your most used cookbook?
I don't really use cookbooks all that often, I just have a stash of them that I like to flip through for inspiration.

What kind of camera/lens/equipmentdo you use?
I use a Canon 60D with a 25-70mm lens and a 50mm lens.

Any suggestions or hints to have great food photos?
Lots and lots of practice and natural light!!

What kind of food did you eat growing up? Do you cook the same kinds of things today?
Traditional Taiwanese and Chinese food. My mom rarely made American food but whenever she did, it was like a treat for my brother and I, haha..I try to cook the same things today because Jason loves traditional Chinese food, but I mix it up with all different kinds of food!
What was the first dish you ever cooked?
Baked ziti. I love pasta and it was easy, cheesy, and full of flavor!

When you really want to cheat, what do you eat?
I don't forbid myself on any food because why fun is that? But, if I were to cheat, I'd eat french fries.

If you could travel anywhere in the world – just for the food – where would you go?
Hands down, Taiwan and Italy. Taiwan has the most amazing street food and cuisine (I might be a tad bit biased, hehe) and I LOVE Italian food, and Jason is 1/2 Italian so Italy would work out 😉

What is your best tip for saving money on groceries?
Don't buy the name brands. It's just the same thing as the store brand. It saves a ton. Also, coupons and check your weekly ads for deals. I also go to Costco for a ton of my groceries because buying in bulk and freezing everything goes a long way!

What is your favorite part about blogging?
Being able to share with and inspire others as well as meeting fellow food bloggers that share the same enthusiasm and passion.

What is your best tip to becoming a successful blogger?
Be yourself. Be honest. Do what you love and love what you do. It'll reflect that in your blog. Don't worry about what others think. Cook what makes you happy and don't let anyone bring you down!
—————————–
Thanks for sharing, Julie. It was fun to get to know you better! If you want to see more from Julie, here is where you can find her:
Blog: Table For Two
Facebook: Table For Two
Twitter: @tablefortwoblog
Pinterest: Julie Chiou {Table For Two}