I love today's Blogger Spotlight – Kristy from Sweet Treats & More.  Another Utah blogger (doesn't Utah have the best food bloggers?:)), Kristy's blog is full of food that I would make.  I'm always attracted to blogs that feature easy, family food, and Kristy's blog is full of just that.  And don't forget the delicious sweet treats!!  I'm so happy to have Kristy sharing here today.  Welcome, Kristy!

Hi there! I'm Kristy and Sweet Treats & More is where I blog about sweets, treats, and a whole lot of other good eats. I'm a stay-at-home mom to a wild two year old boy and I'm expecting another little boy in June!  My husband and I reside in Utah and are both originally from Colorado.  I've always loved being in the kitchen baking and cooking, but I'm all about simplicity.  I try to keep our meals healthy, simple and satisfying. But of course, I always save room for something sweet! And now I have the challenge of making things my picky toddler will eat!
What inspired you to first start writing your blog?
I first started my blog in 2008, shortly after I got married.  Back then it was just a place to store recipes and I didn't post very often (and sometimes didn't even include pictures! Boring, I know! Who would read that?)  But in 2010 I had my first child, became a stay-at-home mom, and really started putting more time into blogging.  I finally had more time to bake and cook, work on my photography skills, and started posting regularly.  Slowly, this little blog of mine started to blossom and turn into a hobby that I've loved.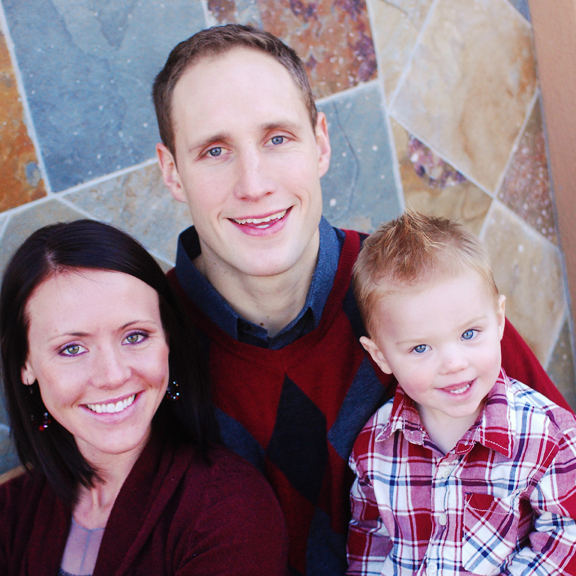 What kinds of posts are your favorite to write? What do your readers seem to like the most?
I'm all about simple meals, so I love writing about simple meals that use every day ingredients and actually taste good! And I get really excited about dessert, so I love writing about desserts as well! I think my readers also like the easy week-night meals and seem to enjoy healthy recipes too.
Where do most of your recipes come from?
My recipes and inspiration for recipes kind of come from everywhere- online, other blogs, magazines, cookbooks, family and friends. I often end up changing a recipe just a little to adapt to my family's taste or to what ingredients I have on hand.
Do you plan a weekly menu? If so, what inspires your menu?
Sometimes. I like the idea of menu planning but I'm not very good at it. I like to be flexible and change our menu around to what sounds good that particular day. I am pregnant so my cravings are a driving force in what we eat lately :)! I've also recently started price matching so I buy what's on sale and plan our meals around that.
What is your favorite kind of food to make?
I love baking cookies, mostly because I really love eating cookies!
What is your favorite recipe posted on your blog?
Since I'm a cookie lover, these Peanut Butter M&M Marshmallow Cookies are a recent favorite.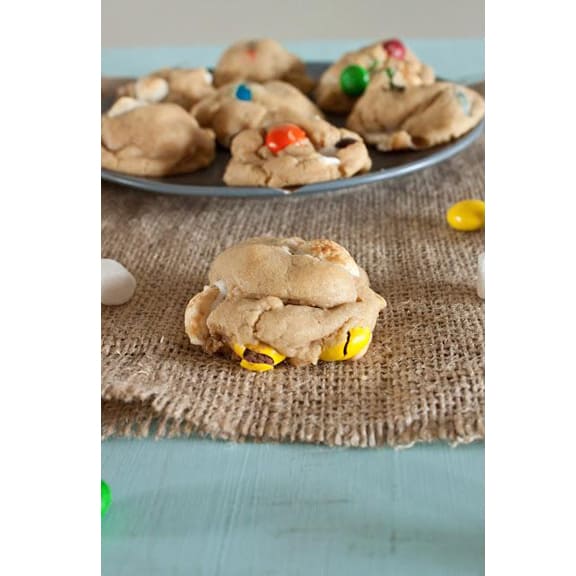 Peanut Butter M&M Marshmallow Cookies
I also really love these Feta Avocado Turkey Burgers.
Will you show us your kitchen?
Sure, I'd love to!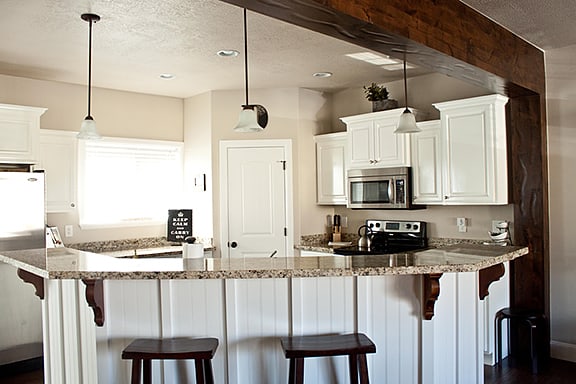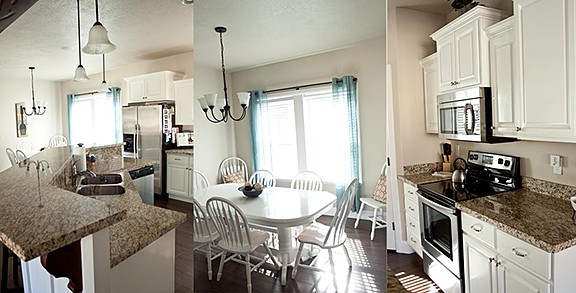 What is your favorite thing about your kitchen?
We just moved into our new house a year ago and the kitchen is my favorite thing about it! We moved from a teeny tiny basement apartment with a teeny tiny kitchen, so I'm loving the counter space, cupboard space, and pantry. It's so nice not having to store food in the coat closet like we used to!
What is your favorite kitchen tool/appliance?
Hands down my KitchenAid Stand Mixer. It's been through the ringer, it totally wobbles and shakes every time I use it now, but it gets the job done!
What is your best tip for getting dinner on the table?
Keep it simple and use ingredients that you have!

What would you eat as your last supper?
I love pizza, so I'd say either a Margherita Pizza or Lobster, drenched in butter of course. Followed by a giant, warm chocolate chip cookie served with ice cream!

What kind of camera/lens/equipment do you use?
I have a Canon Rebel T1i, and use the standard 18-55mm lens and a 50 mm lens.

Any suggestions or hints to have great food photos?
I'm still learning and practicing, but my best advice is to use natural light. Either shoot in the shade outside or next to a window in your house that provides great light. Get to know you're camera, practice a lot, and have fun with it!
Also, my sister-in-law just gave me the book Plate to Pixel and I highly recommend it to anyone who wants to improve their food photography.

What kind of food did you eat growing up?
We ate a lot of crock pot meals, casseroles, and had breakfast for dinner a lot. And my mom always had freshly baked cookies, cakes, or brownies around for us to eat.
Do you cook the same kinds of things today?
Somewhat. I try to keep most of our meals healthy, but like my mom, I love to use my crock pot and I'm always making dessert. I always leave room for a little treat!

What was the first dish you ever cooked?
I can't remember the first dish I ever cooked, but the first dish I made for my husband (back when we were just dating) was this BBQ Sausage and Potatoes. It's such an easy one and I think it sealed the deal for him 🙂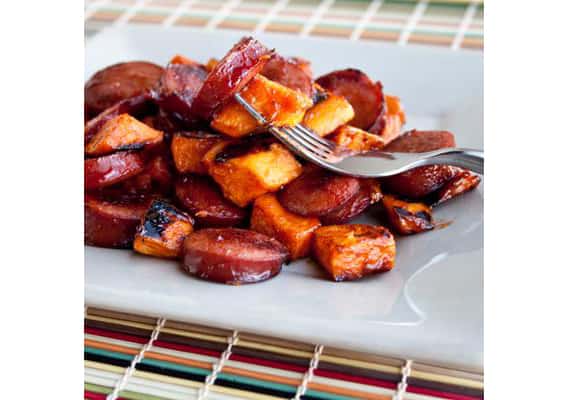 Is there a dish that you are known for?
I'm the dessert girl, always known for bringing something sweet!
When you really want to cheat, what do you eat?
My weakness is chocolate and peanut butter. And if we're calling it cheating, I cheat like every day 🙂

If you could travel anywhere in the world – just for the food – where would you go?
I'd have to say Italy!
Is there anything you would not ever eat?
I'd like to think I will try anything at least once.
What are your favorite blogs to read?
Yummy Mummy
How Sweet It Is
Yes I Want Cake
The Girl Who Ate Everything
Our Best Bites
Take us through a typical day of eating in your house.
A shake, oatmeal, or toast for breakfast. Lunch is usually a salad or sandwich, and dinner is whatever new recipe I'm trying or one of my go-to staples! I'm a snacker so there's always snacking in between each meal too!
What is your best tip for saving money on groceries?
Buy what's on sale and plan your meals around that. Price match or buy produce through your local food co-op. We like to use Bountiful Baskets and I think it's a great deal for the variety and amount of produce you get.
What is your favorite part about blogging?
When I stopped working full-time and became a stay at home, blogging helped me feel connected to people. So I'd definitely say the connections I've made with other bloggers and readers, and just having a hobby that I love!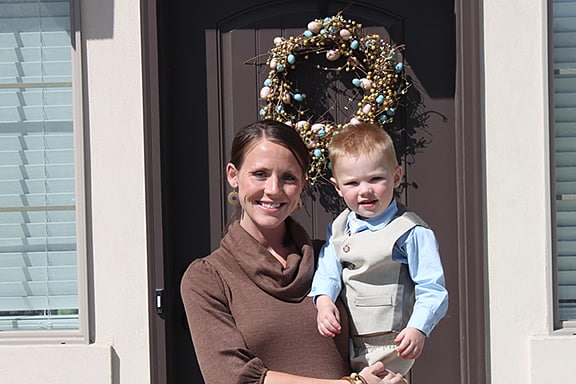 What is your best tip to becoming a successful blogger?
Just be yourself, let your personality show in your writing, and cook and make the things YOU want to. Posting often and continuously working on food photography~ everybody loves a drool worthy picture!
——————
Thanks for sharing with us today, Kristy! It was so fun to get to know you a little better. If you want to see more from Kristy, here is where you can find her:
Blog: Sweet Treats & More
Facebook: Sweet Treats & More
Twitter: @SweetTreatsMore
Pinterest: Kristy Denny