Welcome to today's Blogger Spotlight – Julie from Sugarfoot Eats! Julie is a new blogger, so let's all show her some love!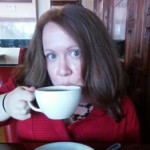 Hey guys! I'm Julie and I blog at www.sugarfooteats.com. I'm 32 years old and live in Kansas with my Boston Terrier, Haley. I just started blogging and am having a blast and learning a lot. Sugarfoot is a nickname that my Grandpa gave me when I was younger. When I'm not baking and blogging, I love to read, go to concerts, and watch trashy reality TV.

What inspired you to first start writing your blog?
I only first discovered food blogs around September 2010.  I was searching for an interesting cookie recipe to make and found it on a blog!  I was instantly hooked!!  After reading and baking recipes from other blogs for months, I finally decided to make the plunge myself in May 2011.
What kinds of posts are your favorite to write?  What do your readers seem to like the most?
I love to write dessert posts that have a story behind them.  I had just posted about Coconut Cream cupcakes and a bit about my Dad since I made them for Father's Day.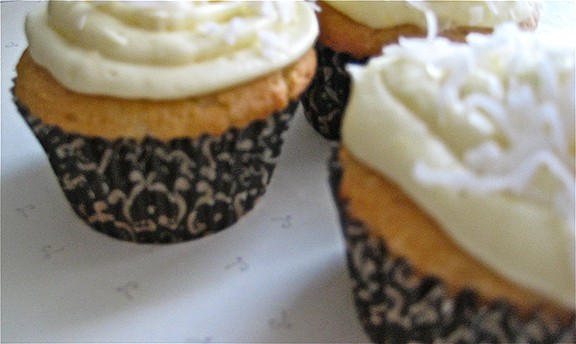 Coconut Cream Cupcakes
I had also posted about Devil's Food Cake and it brought back memories of my Grandma.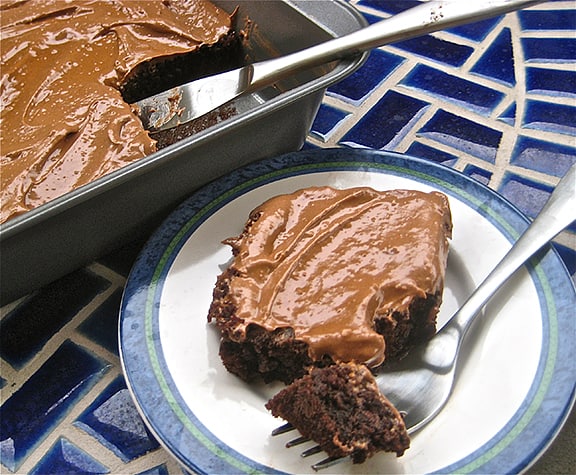 Devil's Food Cake
As far as what readers like the most, I really don't know yet!  🙂  As a new blogger, I'm still working on getting more comments.  😉  Hint hint I'm begging for comments here, people!
Do you plan a weekly menu?  If so, what inspires your menu?
Oh I SHOULD do this.  I'm single (does anyone know of any single 30-something men in the Wichita, KS area??!), so it's usually eggs or cereal for dinner!

What is your favorite kind of food to make?
Cookies & cupcakes!!  Yummers!!
What is your favorite recipe posted on your blog?
So far, it's the S'Mores cookies.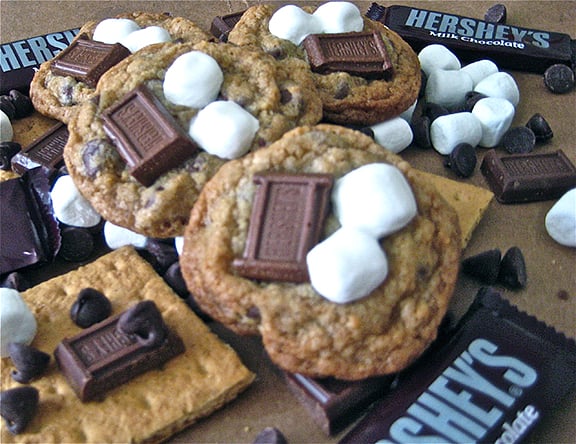 S'mores Cookies
Will you show us your kitchen?  What is your favorite thing about your kitchen?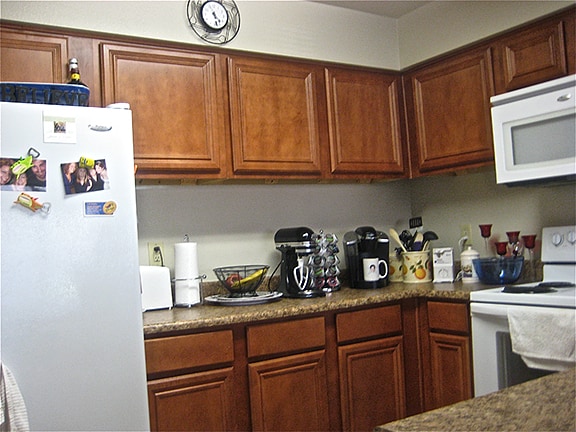 Sure why not?  My favorite thing is that I have lots of counter space.  I didn't take a picture of the other side of the kitchen because it's full of dirty dishes, oops!
What is your favorite kitchen tool/appliance?
This appliance isn't cooking related, but it's my Keurig coffee maker!  I'd be a mess without massive amounts of caffeine.
What is your best tip for getting dinner on the table?
Serve cereal!  Ha!  No, really….I'm a big fan of buying a rotisserie chicken each week.  It's already cooked and delicious and you can use it in meals throughout the week and just vary your sides.
Where do most of your recipes come from?  (Family favorites, you make them up, magazines, cookbooks, etc.)
Other bloggers honestly!  Site your sources, of course!!  I also have gotten solid recipes from "Cooking Light" magazine and "Real Simple" magazine.  I recently bought a cookbook called "Bite Me" (how funny, right?) that I need to cook from soon.
What would you eat as your last supper?
Blue cheese bacon wrapped filet, mashed potatoes, and asparagus with cheesecake for dessert.  (This answer could probably change daily though!)
If you could invite any 3 people to dinner – living or dead – who would you choose?
Deborah–seriously, I didn't know these were going to be hard questions!  🙂
I'm going to narrow it down (to make it easier on myself) and say what 3 foodies would I choose.  Okay?  Okay!  I'd invite Tom Colicchio, Julia Child, and Ree Drummond–the ultimate food blogger in my opinion!
What is your favorite part about blogging?
Having an excuse to bake desserts, ha.  And having an outlet to put out all these random thoughts in my head.
What kind of camera/lens/equipment do you use?
I just have a Canon PowerShot.  I use iPhoto to edit my pictures.
Any suggestions or hints to have great food photos?
I NEED advice myself.  I'm very new at food photography.  I've only recently gotten some props and started learning myself.  My best advice is to use Google to study study study and practice practice practice.
What kind of food did you eat growing up?  Do you cook the same kinds of things today?
We were a very meat and potatoes family, very Midwestern.  My knowledge of new foods grew when I lived on the east coast for several years.  I do not cook the same things today!  If you asked my parents what quinoa was, they'd have no clue.  🙂
What was the first dish you ever cooked?
Making French Toast for my Mom on Mother's Day comes to mind.  I also remember "trying" to make lasagna for a boyfriend once and not knowing that I needed to boil the noodles first.  Crunchy lasagna, how romantic!
When you really want to cheat, what do you eat?
Cheeseburger and fries from Five Guys!
If you could travel anywhere in the world – just for the food – where would you go?
Italy
What is the best thing you've ever eaten?  The strangest?
I only recently discovered Eggs Benedict.  I'm still dreaming about that Hollandaise sauce.
I'm not sure about the strangest thing.  I've had some vegetarian dishes that just weren't for me.
What are your favorite blogs to read?
I love Confessions of a Cookbook Queen, How Sweet It is, and Can You Stay For Dinner?.  Those are three of my favorites, but I love a ton more too.
Take us through a typical day of eating in your house.
I usually eat breakfast around 8 am.  Many days it's oatmeal with a variation of fruit and nut butters mixed in.  Lunch is usually around 11:30 am with either a wrap and veggies and fruit or leftovers from the night before.  I'll usually have a snack around 2 pm which that's anyone's guess.  Today the snack was 1/2 an apple.  Dinner is anywhere between 5:30-7:30 pm and like I mentioned it's usually FAST!  Today I'm thinking Amy's Tomato Bisque soup.
What is your best tip for saving money on groceries?
I tend to buy already cut-up fruits and veggies.  Now, these are MORE expensive.  But there were so many times that heads of lettuce, etc just sat in my crisper and died.  If I spend the extra money for the convenience, I will eat the fruits and veggies.  So in the end, I feel like it's saving me money.  I realize that I just justified myself being lazy, but go with it please.  🙂
What is your best tip to becoming a successful blogger?
Email Deborah and offer to be her blogger spotlight!!!!  🙂  I'm in no way successful (yet!), but so far I'm working getting more exposure via Facebook and Twitter.  And I try to leave meaningful, thoughtful comments on other food blogs.
—————————–
Thanks, Julie for playing along this week! Here is where you can find Julie:
Blog: Sugarfoot Eats
Facebook: Sugarfoot Eats
Twitter: @sugarfooteats