I hope you guys are ready for some dessert, because today, Ashton from Something Swanky is here for our Blogger Spotlight. I love Ashton's blog and all of her dessert goodness. Seriously – Turtle Rice Krispie Treats ,S'mOreo Seven Layer Bars, Peanut Butter Cheesecake Pudding Cookies – I could go on and on!  I was so happy to meet Ashton in real life at a blogging conference recently, and she is just as sweet as can be.  I wish we would have had more time to hang out!!  So a big welcome to Ashton!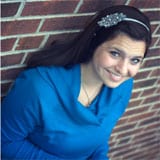 Ashton is a stay-at-home mom to one very cute two year old, and a wife to her best friend. She originally began her blog, Something Swanky, in the hopes that it would serve as a website for her home-based cupcake business. However, it wasn't long before her interest in catering began to wane, and her interest in blogging all things dessert took it's place.
Ashton began to blog full time in October 2011, and prides herself on creating fanciful desserts using ingredients everyone has on hand. She posts 4 new recipes and a dessert round up post every week. The line up of treats range from down-home, made-from-scratch comfort food to 20 different ways to use an instant pudding mix and cool whip.
Ashton believes that chocolate smears are beautiful, that sweetened condensed milk should be its own food group, and that desserts make people deep down, genuinely happy.
What inspired you to first start writing your blog?
Really, it was a combination of a lot of things… I originally began the blog hoping it would serve as a website for my home-based cupcake catering business. All I wanted to do was showcase different cupcake flavors that I made. But as I started to dig into the blog world and become more involved in the community, I realized that I felt more interest in blogging than I did catering. Some of the blogs that I loved first were Bake at 350, Cookies and Cups, Sprinkle Bakes, and Buns in My Oven.

What kinds of posts are your favorite to write? What do your readers seem to like the most?
My very favorite posts to put together are round-up posts, and I actually get a lot of help with those from my contributors (maybe that's why they're my favorites ;). I just love getting to scour Pinterest looking for the coolest recipes I can find within a specific niche. I get to discover so much creativity! It's a good opportunity for me to really dig into Pinterest and get my creative juices going. Plus, I love getting a little artsy and designing the collage for the "title" photo. My readers favorites seem to be my Skinny Saturday posts. It's a brand new series on my blog (I've only done 3 weeks so far), but it's evoked a really strong response from my readers. I think it's because I use that post to get a little more personal on my blog– I share some of my struggles and (hopefully) successes in being a dessert blogger and trying to lose weight at the same time. Each week a share a "skinny" sweet recipe!
Where do most of your recipes come from?
For the most part, my recipes are inspired by whatever happens to be in my pantry at the moment. Sometimes I see one ingredient and then have to send my husband out for 5 other ingredients to go with it, but that's usually what my recipes are based on. Of course, I also get LOTS of inspiration from other bloggers and from restaurant/store desserts I want to duplicate at home.
Do you plan a weekly menu? If so, what inspires your menu?
Yes!! If we don't have a weekly menu, we'll eat junk food all day, every day. Most of my menu comes from the recipes I see on other blogs (particularly Chef In Training, Six Sisters Stuff, and Skinny Taste) and from my favorite Betty Crocker cookbook.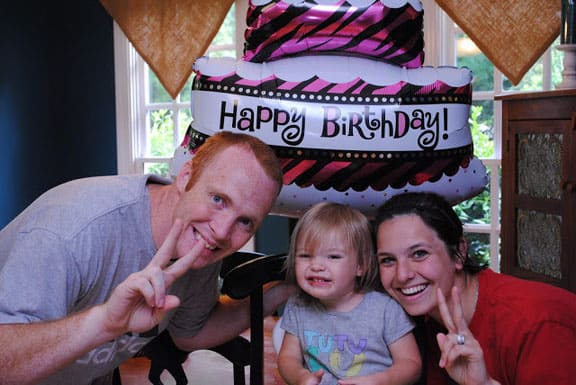 What is your favorite kind of food to make?
Real food (non-dessert): Mexican. I'm obsessed. Dessert food: Poke Cakes.

What is your favorite recipe posted on your blog?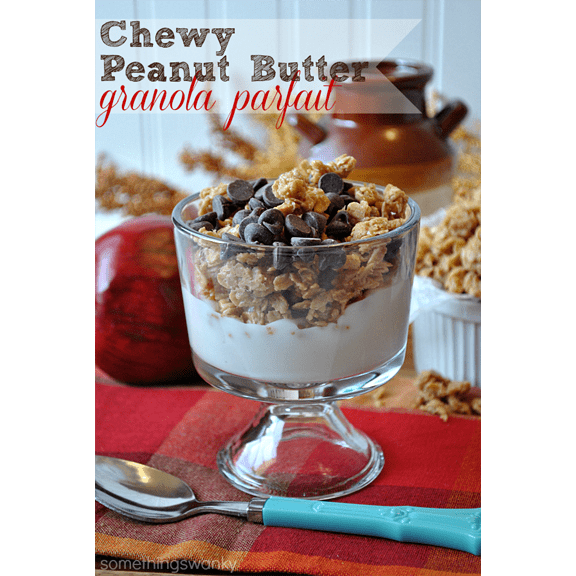 Chewy Peanut Butter Granola Parfaits
Most recently: Peanut Butter Granola Parfaits
What was your first post? How do you think your blog has changed since you first started blogging?
I deleted my first post a looooooooooooong time ago (thank goodness!). In the beginning, when I wanted to be a dessert caterer, I was afraid to post recipes. I thought no one would hire me if I put the actual recipes on the blog, so it was mostly a lot of HORRIBLE pictures with HORRIBLE writing and no recipes. The earliest recipe that you can find on my blog are these Chocolate Florentine Cookies.
Will you show us your kitchen? What is your favorite thing about your kitchen?
hahahaha, no! Sorry Deb 😉 I'm actually filling this out at my parents' house anyway, so I can't take a picture. But, seriously. It's tiny. I wouldn't show it off anyway!
How about your refrigerator? What do you keep stocked in it?
(see above regarding the photo). Our fridge is ALWAYS packed with leftovers. I live in perpetual fear of throwing anything away, because I "might use it in another recipe" later that week. So…. sometimes we end up growing stuff. But, that's the price I'm willing to pay to be prepared.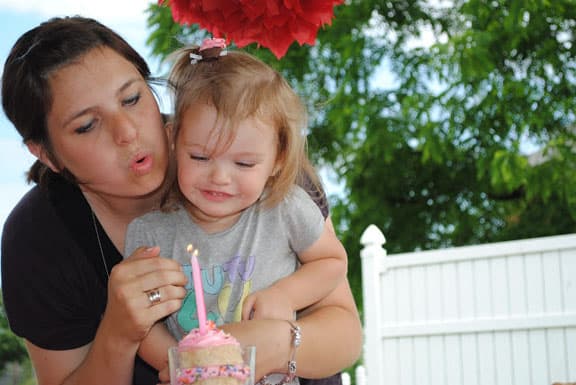 What is your favorite kitchen tool/appliance?
My whisks. I know the answer here should probably be my mama-jama Kitchen Aid Professional (it's HUGE). And I do love it. But I still always end up running out of clean whisks every time I make a recipe. I love them.
What is your best tip for getting dinner on the table?
MEAL PLANNING!!!!!
What is your most used cookbook?
Betty Crocker and the BHG Biggest Book of Cookies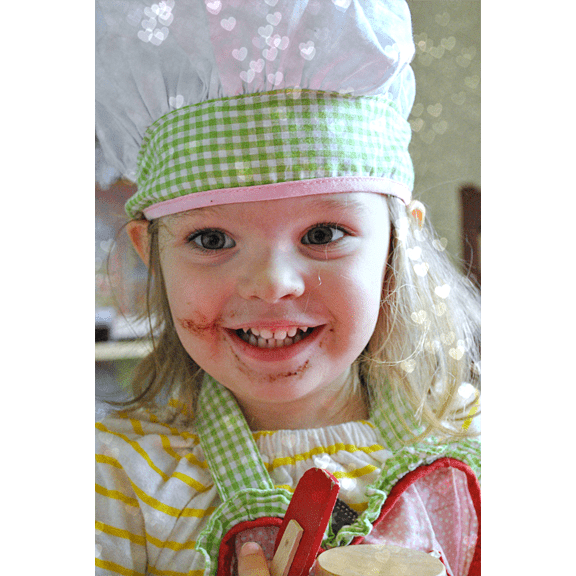 What would you eat as your last supper?
Massaman Curry
If you could invite any 3 people to dinner – living or dead – who would you choose?
How about 6? The cast of Friends.
What kind of camera/lens/equipment do you use?
Nikon D3000, stock lens
Any suggestions or hints to have great food photos?
Layering– I've found the busier I make my background, the more focused on my subject the photo becomes. I know nothing about photography, so don't judge that advice to harshly if you're someone who actually knows photography. That's just what's working for me right now!
What kind of food did you eat growing up?
Do you cook the same kinds of things today? I know my mom cooked for us most nights of the week. But when I think back, all I remember is fast food. And I am SUCH a fast food junkie still! I'd pick Chick-Fil-A over just about any other meal ever.
What was the first dish you ever cooked?
Do pancakes count? I made a LOT of pancakes all through high school and college…
Is there a dish that you are known for?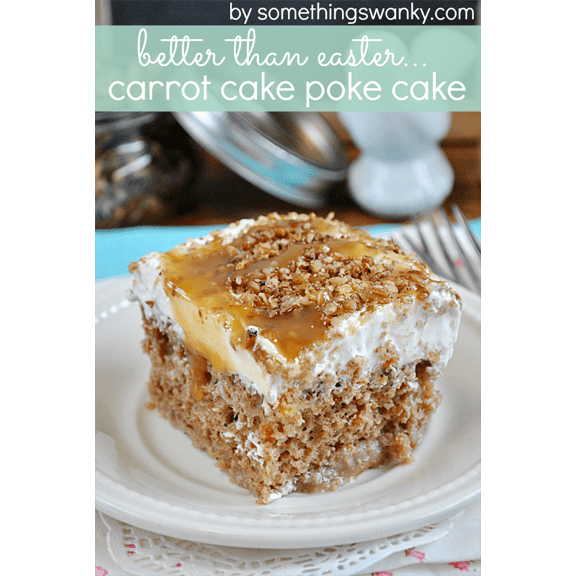 Better Than Easter Carrot Cake Poke Cake
I've always wanted to have a signature dish, but I can't ever make the same thing the same way twice. I'm always forgetting ingredients or adding new ones, so I've never been able to really create a "signature" dish. But my husband says Poke Cakes.
When you really want to cheat, what do you eat?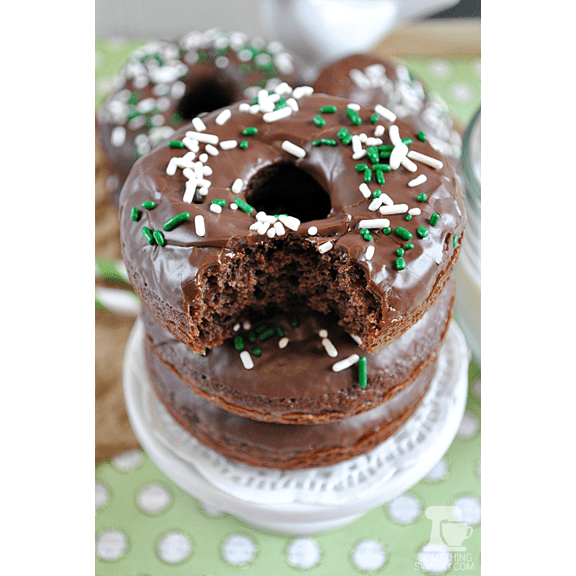 Chocolate Donuts with Irish Cream Ganache
Donuts. Lots and lots of donuts.
If you could travel anywhere in the world – just for the food – where would you go?
Provo, Utah. Not even kidding. I could eat for weeks and weeks and weeks in that town. Uh… and next would probably be Italy. Maybe the other way around. Either way– those are my top two 😉
What is the best thing you've ever eaten? The strangest?
The strangest was a burrito my brother made me. It had scrambled eggs, peanut butter, and cheese in it. He's a diabetic and views food solely as a source of fuel. And that was his go-to protein snack until he got married. So. Gross.
Is there anything you would not ever eat?
Raisins + all dried fruit.
What is your favorite part about blogging?
I love that it's completely revolutionized the role I thought I would play in life. I thought I would be a stay at home mom. And ONLY a stay at home mom. And I was really happy with that, honestly. But stumbling into blogging has given me a brand new identity that I'm in love with. I've discovered new talents I have, it's pushed me out of my comfort zone, and I'm accomplishing things I never even knew I was capable of. And I get to share all of that with my daughter in our home. It a unique opportunity– I get to build my career around my family and our life instead of the other way around. All the while, eating lots and lots of dessert.
What is your best tip to becoming a successful blogger?
Understand what the term "networking" means. I used to think it meant leaving lots and lots and lots of comments on people's blogs and fb pages. And while that's important and great for creating and establishing relationships, I've found it's much more effective to network through FB groups, working on projects and campaigns with other bloggers, and participating in organized cross promotion with other bloggers. Making real friends and real connections is key.
—————————–
Thanks so much, Ashton.  And I think I need to get out and eat more often in Provo – it is only 10 minutes away from me and I'm obviously missing out!!  If you want to see more from Ashton, here is where you can find her: