Today's Blogger Spotlight is the author of the website Rasa Malaysia and this month's Cookbook of the Month – Easy Chinese Recipes
, Bee Yinn Low. I have been absolutely thrilled with Bee's cookbook, and will definitely be trying many more of the recipes in it. If you are looking for a good Chinese cookbook, this is definitely one you want on your shelf! I'm so happy to have Bee here with us today, sharing more about herself!
——————————-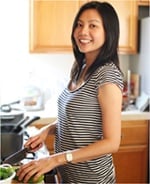 Rasa Malaysia is an Asian recipes website with over 400 easy Asian recipes, from Chinese, Japanese, to Thai, Malaysian/Singaporean, Indian recipes, and more. The site also offers many baking recipes and non-Asian recipes catered specifically to American readers and audience. All recipes on Rasa Malaysia are easy, authentic, tried, tested, and work.
Rasa Malaysia is authored by Bee Yinn Low, a cookbook author, professional recipe developer, and content publisher. Bee's first cookbook "Easy Chinese Recipes" is available worldwide and is a best selling Chinese cookbook on Amazon. (from Rasa Malaysia, photo by Zhao Photography)
What inspired you to first start writing your blog?
I started my blog because I wanted to document my family's recipes and also share my passion for promoting Malaysian food on the blog.

What kinds of posts are your favorite to write? What do your readers seem to like the most?
I love sharing my family's recipes, especially if the recipe has a story behind it. Such family recipes always bring fond memories—my childhood days and the memories of my late parents. My readers love all my original recipes because they are always easy to make, work, and deliver delicious results.
Do you plan a weekly menu? If so, what inspires your menu?
I don't plan a weekly menu, I am very spontaneous. What I cook depends on what I crave during that particular day or what I have in my fridge, or what are fresh/available in the market. From there, I will come up with ideas what I will be cooking.

What is your favorite kind of food to make?
I love making Asian dishes, and that's what my blog is all about. I can never get bored of Asian food—I can be cooking Chinese today, Malaysian tomorrow, Japanese for the rest of the week, and the following week, I can go exotic with Thai, Vietnamese, or Indian. It's fun!

What is your favorite recipe posted on your blog?
I don't have a specific recipe that is my favorite, but I do have a favorite category, which is Chinese food: http://rasamalaysia.com/chinese-food-recipes-chinese-recipes/
Will you show us your kitchen? What is your favorite thing about your kitchen?
I have a very small kitchen but I can't complain because I do have a gas range, which is very important for Asian cooking. I don't have a photo but I have a video that summarizes my life as a food blogger, cookbook author, and recipe developer.


What is your favorite kitchen tool/appliance?
My woks—a traditional Chinese wok and a non-stick wok. I use both because I can't use my traditional Chinese wok for every single dish that I cook because it sets off my smoke alarm all the time. So, if I am making something that requires a lot of oil or smoky, I will use my non-stick wok.

What is your best tip for getting dinner on the table?
Have all your ingredients ready and prepped before you start cooking.

Where do most of your recipes come from? (Family favorites, you make them up, magazines, cookbooks, etc.)
Most of my recipes are my original recipes. Some are family favorites, but most of the recipes are created as I make them. I get inspired by the dishes I see on magazines and cookbooks but I almost never follow the recipes because I can go through the list of ingredients and create my own version.
What would you eat as your last supper?
A 8 – 10 course Chinese banquet that includes all my favorite dishes.
If you could invite any 3 people to dinner – living or dead – who would you choose?
My late grandmother, father, and mother.

What is your favorite part about blogging?
My favorite part about blogging is that I get to work on the blog on my terms, pace, and time. I am the one calling the shots. 🙂

What kind of camera/lens/equipment do you use?
I have two cameras: Canon T1i and Canon 5D Mark II. The former is an entry-level DSLR and I use it mostly for my blog. When I worked on my cookbook, I shot with the Canon 5D Mark II. I hardly use it for my blog because I feel that it's too "professional" for my blog.
I don't have a $2,000 lens. I shoot with only one lens, the Canon EF 50mm f2.5 Compact Macro Lens, which in my opinion, one of the best but totally under-valued food photography lens ever! I shot my entire cookbook and blog with it and it's less than $300!

Any suggestions or hints to have great food photos?
Lighting is the secret ingredient.
What kind of food did you eat growing up? Do you cook the same kinds of things today?
I grew up eating all sorts of food—Malaysian, Chinese, and Nyonya food. Yes, I still cook the same kinds of food today, but not as much as I wanted to because I can't find some of the ingredients here, or the ingredients available are mostly frozen.

What was the first dish you ever cooked?
Fried eggs, if you consider that a dish!

When you really want to cheat, what do you eat?
Instant ramen, with extra toppings and seasonings.

If you could travel anywhere in the world – just for the food – where would you go?
Malaysia – because it's my home and it has the most amazing and varied foods in all of Southeast Asia.
China – because I can eat a totally different regional Chinese cuisine every day and not get bored with it. In terms of the varieties and taste structures, you can't beat China.
Japan – because Japanese food is so refined and delicious, it's an art.
What is the best thing you've ever eaten? The strangest?
Giant clams steamed Chinese-style. The texture and sweetness are unforgettable.
Strangest: Sweetbread, because it's neither "sweet" nor "bread."

What are your favorite blogs to read?
Entertainment and celebrity news blogs, I can't read about food all the time. Breaking news today: Demi Moore and Ashton Kutcher split. 😉

Take us through a typical day of eating in your house.
In the morning, it's a glass of warm soy bean milk and a bun from my favorite bakery. Lunch time is either noodle soup or fried rice, something simple and quick. Dinner will be a 3 to 4-dish dinner that can be a combination of Chinese, Malaysia, Thai, Indian, or Japanese dishes.
What is your best tip for saving money on groceries?
Shop at Asian grocery stores—they have the best price and live, swimming fish in fish tanks!
What is your best tip to becoming a successful blogger?
Creating killer content as content is KING. Also be patient as success doesn't come overnight.
———————–
Thank you so much, Bee! It has been wonderful to get to know you more, both through your interview and from cooking through your cookbook! Here is where you can find more from Bee:
Blog: Rasa Malaysia
Facebook: Rasa Malaysia
Twitter: @rasamalaysia
and you can see my review of her book HERE