I'm super excited for today's Blogger Spotlight, and can't believe it's taken me this long to ask her to share here!  Today we have Jenny from Picky Palate.  Jenny started her blog not long after I started mine, and I've loved reading her blog over the years.  It's one that I've been following the longest, and one that always makes me leave wanting to get into the kitchen to cook or bake something up.  And although we've never met in real life, (when are you coming to Salt Lake, Jenny? :)), I'm happy that I can call her one of my friends.  Welcome, Jenny – and thanks for sharing with us here today!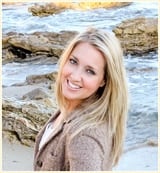 Jenny Flake is the author of the family friendly food blog titled Picky Palate that you can find at www.picky-palate.com. She is a self-taught home cook and an on the go mom to 2 little boys and wife to her high school sweetie. Before Jenny started writing Picky Palate she participated in cooking contests all over the country. She's been on Food Network's Build A Better Burger, The Ultimate Recipe Showdown, The National Chicken Cook-off and The Pillsbury Bake-Off. Creating original recipes and capturing food photography is Jenny's new passion and she loves sharing her journey with her readers. Jenny is thrilled to be writing her first cookbook that will be available September 2012.
What inspired you to first start writing your blog?
After I was done doing cooking competitions I wanted a place to share the recipes I was creating.  I started a little blog back in October 2007 and never imagined Picky Palate would become what it has.

What kinds of posts are your favorite to write?  What do your readers seem to like the most?
I love cooking and baking, but I love photographing and creating fun desserts best.  My readers definitely seem to like my desserts too 🙂
Where do most of your recipes come from?
Since 2004, I have been creating my own recipes.  It's what I love to do.
Do you plan a weekly menu?  If so, what inspires your menu?
I am more of a spontaneous cook, so no weekly menu planning for me. I rarely know what I will be cooking or baking until I wake up in the morning. 🙂
What is your favorite recipe posted on your blog?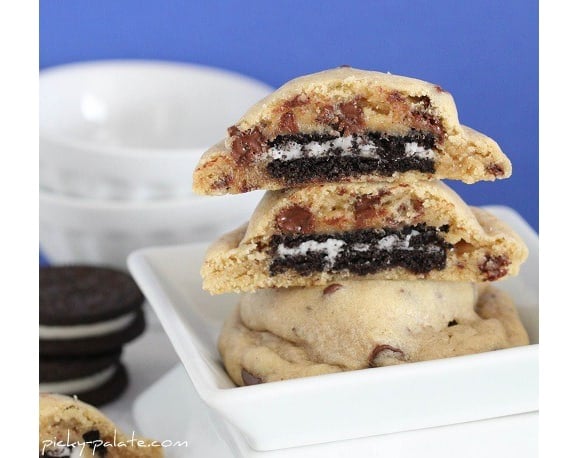 Oreo Stuffed Chocolate Chip Cookies
I have so many favoritesbut my most popular recipe is my Oreo Stuffed Chocolate Chip Cookies 🙂
I also have been loving my "Where To Eat at Disneyland" posts. It's been so much fun eating and reviewing our way through Disneyland.

Will you show us your kitchen?  What is your favorite thing about your kitchen?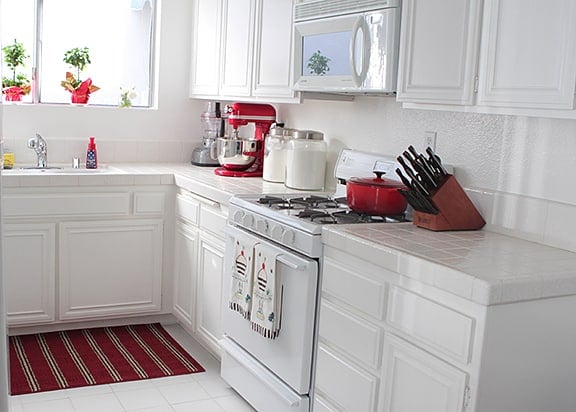 We live in a small beach cottage, so my kitchen is small but it is light and bright, so it works great for photos.

What is your favorite kitchen tool/appliance?
Hands down, my red 7 quart KitchenAid.  I use it almost daily.

What is your best tip for getting dinner on the table?
Keep it simple, use crockpot meals often and prepare what you can the night before.
What is your most used cookbook?
I honestly do not cook from cookbooks, just collect them.
What would you eat as your last supper?
Something deep fried and incredibly rich, lol!
What kind of camera/lens/equipment do you use?
I use the Canon 7D with the 24-70mm lens and the 100mm macro lens

Any suggestions or hints to have great food photos?
Find the best light in your house and do your photo shoot there.
What kind of food did you eat growing up?  Do you cook the same kinds of things today?
Lots of comfort food.  I still cook the same types of things today.

When you really want to cheat, what do you eat?
I don't deprive myself of anything, but I would say a good deep dish pizza dipped in Ranch Dressing.

If you could travel anywhere in the world – just for the food – where would you go?
Italy, I have always wanted to go and eat everything

Is there anything you would not ever eat?
I like to think I'll try anything once, but I have no desire to have cow's tongue ever again.

What is your favorite part about blogging?
Being able to stay at home and bake in my PJ's after my boys go to school and meeting other bloggers.  I have met some of my best friends through blogging conferences and events.  I can't imagine doing any other job.  I have my first cookbook that will be available September 2012.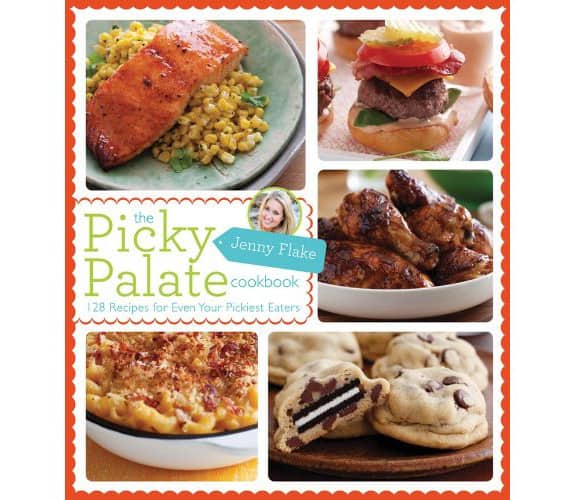 You can even pre-order my book here

What is your best tip to becoming a successful blogger?
Be yourself, cook and bake what you like no matter what others may think.  …..and treat your blog like it's important.  You'll see much better results that way.
———————-
Thank you, Jenny! And can I tell you how much I love that you live in a beach cottage? SO jealous!! If you aren't already following Jenny, (you should be!), you can find her here:
Blog: Picky Palate
Facebook: Picky Palate
Twitter: @PickyPalate
Pinterest: Jenny Flake, Picky Palate