I'm so excited to have the 2 gals from Our Best Bites here as our Blogger Spotlight! A few months ago, I featured their cookbook as my Cookbook of the Month, and it is still one of my all-time favorite cookbooks (if not my very favorite!) And this is fun, because we get answers from both of them!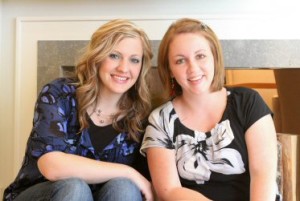 We're just two girls who love to cook! We're also both wives and mothers balancing home management, part-time work, church and community involvement, and a myriad of other things. So we're probably just like you! We want to show you that cooking at home can be a delicious, fun, and easy way to express yourself and to care for your families and friends.  (Read more here.)

What inspired you to first start writing your blog?
Kate: Both of us were kind of in transitional places in our lives—Sara was pregnant with her second baby and I had two tiny kids and had just moved across the country to Louisiana. We felt like we needed some kind of hobby to stay in touch with our former selves, so we started just putting our favorite recipes onto the blog.
What kinds of posts are your favorite to write? What do your readers seem to like the most?
Kate: I can always feel it when everything is coming together—the recipe, the blog post, the pictures, knowing that it's going to be a hit with our audience—and those are my favorites to work on. They can range from desserts to informational posts to dinner, but it's always a recipe I really loved working on and I think our readers can sense that. As far as what our readers like, they're always begging for healthy recipes, but we always get the biggest response from desserts!
Do you plan a weekly menu? If so, what inspires your menu?
Kate: Definitely. There's always flexibility and I rarely have a recurring theme like Mexican Monday, but my menu is usually influenced by my mood, the weather, my budget, and how much I'm willing to fight with my kids over dinner…
Sara: I'm actually horrible at menu planning. I think it's because I love to eat what I'm craving that day and it changes all the time! I'm pretty notorious for daily runs to the grocery store to whip up a recipe I was thinking about that particular day.
What is your favorite kind of food to make?
Kate: I really love party food—big salads, small bites, and desserts that make people happy.
Sara: I'm a baker at heart. I love creating deserts; pretty much anything with sugar, butter, and chocolate! It's also my favorite thing to photograph.
What is your favorite recipe posted on your blog?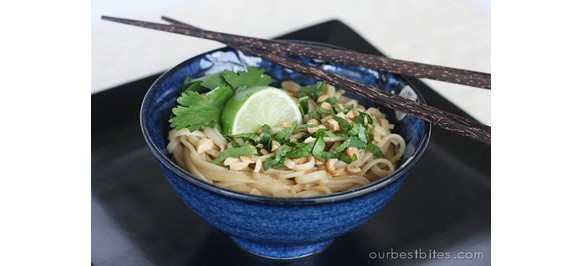 Kate: Probably Thai Peanut Noodles.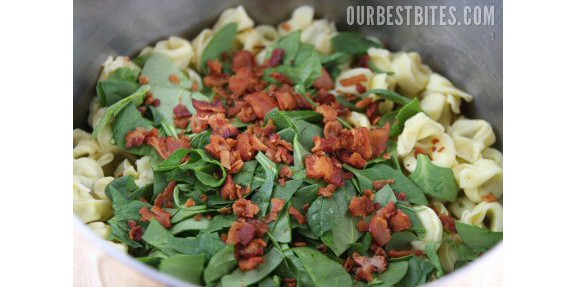 Sara: Tough, but these days I really love this Tortellini Spinach Bake.
Will you show us your kitchen? What is your favorite thing about your kitchen?
Kate: Can I show you in a week? We're currently remodeling it and I promise, you don't want to see it right now… 🙂
What is your best tip for getting dinner on the table?
Kate: Don't wait until crunch time to start getting dinner ready. When your kids are napping/off to school and you still have energy, prep ingredients and make sure you have everything you need. That way, when dinner time rolls around, dinner only takes a few minutes and a few dishes.
Sara: Ditto! Nap time is my most productive time of the day!
Where do most of your recipes come from? (Family favorites, you make them up, magazines, cookbooks, etc.)
Kate: A little bit of everything. I'm kind of exhausting our family favorites, but I have so many cookbooks that I've hardly touched, magazines that come every week, and the Internet has an endless supply of ideas. Even if I don't use recipes verbatim, I love getting inspiration and ideas from talented cooks everywhere.
What would you eat as your last supper?
Kate: A really incredible steak.
Sara: I'd be sitting next to Kate eating a steak 🙂
What is your favorite part about blogging?
Kate: The people—our readers, other bloggers, and the people we work with on the business side of things are truly some of the kindest, biggest-hearted people we've ever met and it has been so fun to be a part of it.
What kind of camera/lens/equipment do you use?
Kate: I use a Canon Rebel T1i and love my 50 mm lens.
Sara: I use a Canon 40D with either a 50mm 1.8 or my Tamron 17-50mm
Any suggestions or hints to have great food photos?
Kate: Sara's the real photography pro, but I think the easiest way to get great pictures is to find a time and place where you get really great natural light.
Sara: Lighting is probably the most important thing, but also pay attention to detail and style your food well.
What kind of food did you eat growing up? Do you cook the same kinds of things today?
Kate: We ate a lot of meat and potatoes and stuff made with cream of something soups. While I definitely don't think I fall into the "gourmet" category, the food I cook now tends to be a little more sophisticated.
What was the first dish you ever cooked?
Kate: I made a lot of chocolate chip cookies as a kid. I also used to experiment endlessly with doctoring up canned spaghetti sauce.
Sara: Probably boxed macaroni and cheese!
When you really want to cheat, what do you eat?
Kate: A really great burger with hand cut fries.
Sara: An amazing dessert. Chocolate. Sugar. Butter. And then more chocolate.
If you could travel anywhere in the world – just for the food – where would you go?
Kate: I've always, always, always wanted to spend a good chunk of time in the UK. I almost spent a semester abroad there, but I got married instead, so I told my husband he owes me.
Sara: Italy, hands down.
What is the best thing you've ever eaten? The strangest?
Kate: Best—I love food too much to say! Strangest—Squirrel, right after we moved to Louisiana.
Sara: One of the best things I've ever eaten was a chocolate croissant bread pudding from the Columbia Tower Club in Seattle. I still dream about that dish. The strangest? Armadillo. I lived in Brazil for a couple of years and got to try some very interesting things!
What are your favorite blogs to read?
Kate: So many favorites. I love www.bakeat350.com, www.younghouselove.com, www.makeit-loveit.com.
Take us through a typical day of eating in your house.
Kate: We're pretty low-key for breakfast and lunch—usually cold cereal or sometimes oatmeal for breakfast and then sandwiches, salads, or leftovers for lunch—I save my money and time for dinner.
What is your best tip for saving money on groceries?
Kate: I've tried and tried couponing, but I don't think I have the patience for it. For me, I try to balance out our menu—if
we're having a more expensive cut of meat or something that requires a lot of ingredients I don't have in stock, then I'll throw in a few meals that are very inexpensive to make or that can be spread out over a couple of nights.
Sara: Buy name brands of the things that really matter and make a difference, and buy cheaper bulk products for the things that don't.
What is your best tip to becoming a successful blogger?
Kate: Do it from your heart. Readers are super savvy and can sense the tiniest hint of fakeness, so don't set out to make money or become "famous"; blog about something you're passionate about and something that makes you want to write every day and people will want to listen.
————————————————
Thank you so much, girls!  And I'm sure you are all already reading Sara and Kate's blog, but if not, here is where you can find them!
Blog:  Our Best Bites
Facebook: Our Best Bites
Twitter: @OurBestBites