Big welcome to today's Blogger Spotlight – Brandy from Nutmeg Nanny. Brandy makes some amazing food and is one of those people that you know you'd love to death in real life. I'm so happy to have her here today sharing with us!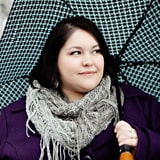 I'm a recently engaged 30-year-old freelance writer and nanny. I grew up in Ohio and moved to New York when I was 19 years old. I started Nutmeg Nanny over 3 years ago and have loved almost every minute of it! I love in the Hudson Valley region of New York with my soon-to-be husband Art and our two cats Jolie and Nermal.

What inspired you to first start writing your blog?
I was sitting at home one day and stumbled upon Culinary Concoctions by Peabody and thought she was hilarious. I thought to myself "I want a food blog too!" So I dove in and started Nutmeg Nanny.
What kinds of posts are your favorite to write?  What do your readers seem to like the most?
I love posts where I can share more about myself. I really want my readers to "know" who I am. If someone reads my blog and then meets in my in real life I want to come off as the same to them. My readers seem to enjoy any post that involved a lot butter, sugar or bacon.
Where do most of your recipes come from?
When I first started blogging most of my recipes came from online sources or cookbooks, but then I started becoming more confident and starting making original recipes.
Do you plan a weekly menu?  If so, what inspires your menu?
I work such a crazy work schedule that I don't have time to plan meals. I often do not know if I'm working until the same day.
What is your favorite kind of food to make?
I love trying new things in the kitchen. Using exotic spices and ingredients always makes me happy
What is your favorite recipe posted on your blog?
One of my favorite recipes would have to be the Pumpkin Yeast Bread I made last year. I finally conquered my fear of yeast
What was your first post?  How do you think your blog has changed since you first started blogging?
Oh man, my first post. I honestly had no idea what I was doing or what to even write about. I had snapped a few pictures of some ginger cookies I made at Christmas time and decided that is what I would use as my big debut. The cookies were good, the writing and pictures were not. Since then I have found my own voice and I would like to think my photography has improved too.
Will you show us your kitchen?  What is your favorite thing about your kitchen?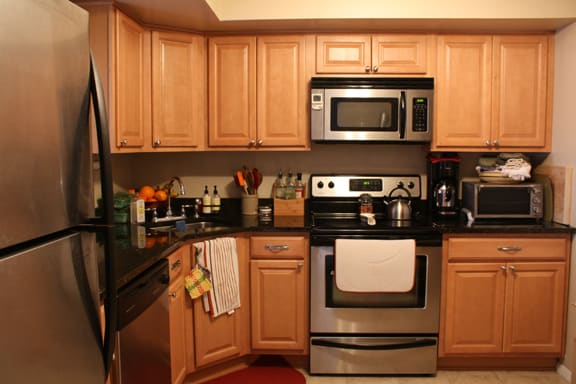 When we first bought our house I was in LOVE with my kitchen. I still love it but I do wish it had more storage. However, the thing I love about my kitchen is that it is all mine. It's organized the way I want and I know where to find everything. I don't think there is any other room in the house I can say that about. I really feel like I have my act together when I'm in my kitchen.
How about your refrigerator?  What do you keep stocked in it?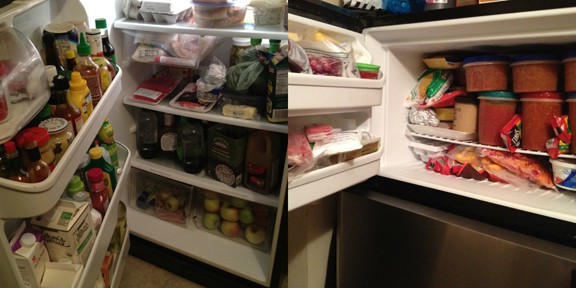 My fridge is usually pretty well stocked. The bottom is almost always filled with drinks. Usually beer if I'm being honest. We have a lot of condiments too. One never knows what they will need and I'm always prepared.
What is your favorite kitchen tool/appliance?
I'm very partial to my stand mixer and food processor. Each is a huge time saver for me in the kitchen.
What is your best tip for getting dinner on the table?
Prep early in the day! When I have everything ready to go, dinner because much less of an event.
What is your most used cookbook?
Probably any of my Ina Garten cookbooks, I really love that lady.
What would you eat as your last supper?
It would probably be a hodgepodge of my favorite foods.
–       Fresh baked bread
–       My dad's fried chicken
–       My mom's macaroni and cheese
–       My great grandmas lima beans and corn bread (you have no idea how amazing those were!)
–       For dessert I would probably have a big bowl of chocolate peanut butter ice cream
If you could invite any 3 people to dinner – living or dead – who would you choose?
This is always such a hard question. I think I would probably pick:
–       Audrey Hepburn (who wouldn't want to dine with this woman!)
–       Karl Pilkington (this man cracks me up!)
–       My best friend (she would kill me if I had a dinner party with these two and didn't invite her)
What kind of camera/lens/equipment do you use?
I use a Canon Rebel XSi and I love it! I bought it for myself as a little present a few years ago. I usually shoot with my little 50mm Macro lens.
Any suggestions or hints to have great food photos?
I guess my hints will be some of the same as others have pointed out. Natural light is the best and a steady hand is always good.
What kind of food did you eat growing up?  Do you cook the same kinds of things today?
I grew up eating a lot of meat and potatoes and casseroles. My father liked to hunt so there was always game meat in the freezer.
What was the first dish you ever cooked?
Spaghetti and meat sauce. The noodles were slimy and overcooked and the meat sauce was just over cooked ground beef and Prego. So sad. Then again I was 11 so I get a free pass for making crappy spaghetti.
Is there a dish that you are known for?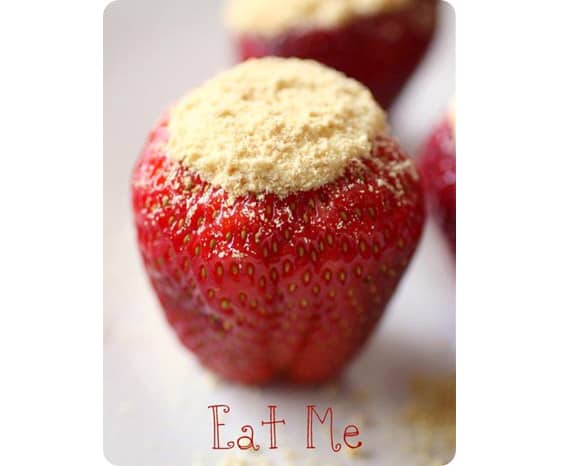 Cheesecake Stuffed Strawberries
Almost everywhere I go I'm asked to bring Cheesecake Stuffed Strawberries. They are super simple and sooooooooo delicious!
When you really want to cheat, what do you eat?
I could easily eat a box of Little Debbie Nutty Bars in under 24 hours. I cannot let them into my house.
If you could travel anywhere in the world – just for the food – where would you go?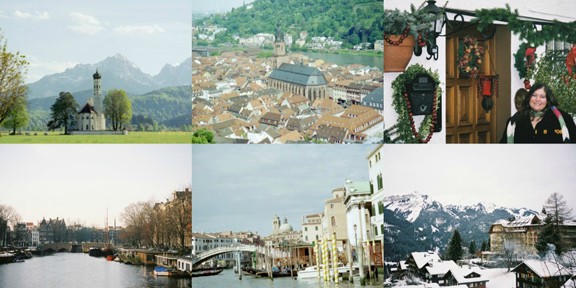 Some of my best food memories are from my travels to Europe. I would gladly go back!
What is the best thing you've ever eaten?  The strangest?
I love BBQ and grilled anything! When I was a kid I would dig in and create such a mess – as you can see in the following pictures 🙂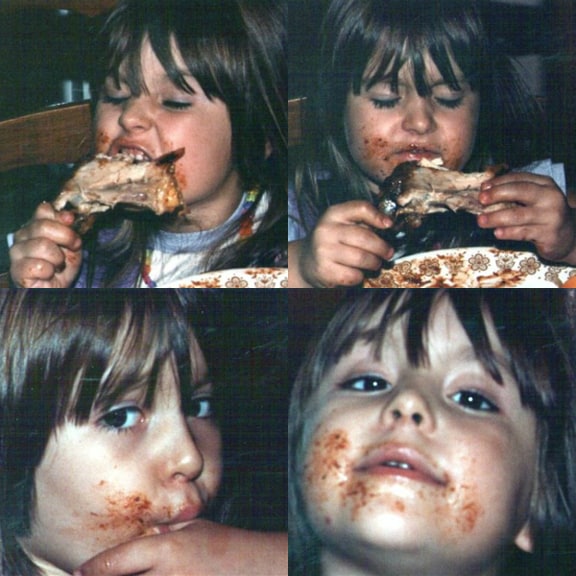 I don't know how "strange" my food list is, but I did grow up eating game meat. I have eaten a lot of different animals – deer, rabbit, squirrel, groundhog, pheasant, bear, muskrat and turtle.
Is there anything you would not ever eat?
I will try just about anything! There are only a few foods I do not enjoy – fish, sesame (I'm allergic) and chicken liver.
What are your favorite blogs to read?
I read WAY to many blogs to point out all of them. I seriously have over 300 blogs in my reader. Eeek!
If you could cook alongside any other blogger for a day, who would you choose?
I would probably pick Rachel from Rachel Cooks (http://www.rachelcooks.com) and Faith from An Edible Mosaic (http://www.anediblemosaic.com). I have talked and texted with them so much it would be nice to finally meet in person!
Take us through a typical day of eating in your house.
I'm horrible at eating on a regular schedule. I usually wake up around 9am and don't eat until around noon. I always forget to eat when I wake up. After I eat lunch I wander around my house until I have to leave for work at 2pm. Once I'm at work I make dinner and eat around 6pm. My fiancée almost always has to fend for himself at dinner because I'm working.
What is your best tip for saving money on groceries?
I could be a lot better at saving money but some small things I do are watch the sale flyers and definitely cut coupons!
What is your favorite part about blogging?
I love all the new people I get to meet! I have so many "online" friends that if I'm feeling sad or looking for a laugh I just need to sign onto Twitter and I'm set!
What is your best tip to becoming a successful blogger?
Be true to yourself. You cannot get anywhere in life trying to be like someone else.
——————–
Thanks so much, Brandy – those pictures of you and the chicken are priceless!!  If you want to see more from Brandy, here is where you can find her:
Blog:  Nutmeg Nanny
Facebook: Nutmeg Nanny
Twitter: @nutmegnanny
Pinterest: Brandy Clabaugh