UPDATE – Rachel's blog has been renamed to Rachel Cooks.
Welcome to today's Blogger Spotlight – Rachel from Not Rachael Ray. Rachel is another one of my Twitter blog finds (I love all of the blogs I find on Twitter!!) I love Rachel's blog, and she cooks many meals that would be enjoyed in my house!!  I'm so happy to have her here sharing a little bit more about her!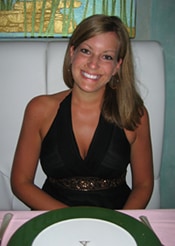 I'm no Rachael Ray or professional chef by any means. In fact, my job has nothing to do with food. I have a doctoral degree in physical therapy and I work in a busy hospital. Occasionally. I left my full time position when my daughter was born (9/2010). I am blessed to have a (handsome) husband who works his tail off so I am able to stay at home and raise our daughter. I'm also blessed to have a job where I can pop in and help them when needed, and bring home a little extra cash by working some weekends. It is a win-win situation for everyone involved. It also gives me more time to menu plan and prepare meals for our family. In our free time, we like to get outside, spend time with family, and workout. Before my daughter was born, my husband and I loved to travel—always making sure to stop at regional breweries.  My husband proposed to me in London and we honeymooned in Jamaica—how lucky am I? We can't wait to start traveling more again when our daughter is old enough to appreciate it.
What inspired you to first start writing your blog?
I've always loved to cook, especially for other people. Now that I am at home with my daughter, I have (slightly) more time to try new foods and recipes. I've also always loved to write so blogging is a great creative outlet for me. Throw in my desire to learn some photography skills, and this has become an ideal hobby. The name of my blog came from a play on our names. She's Rachael Ray, I'm Rachel Danae. It rhymes—in case you missed that.

What kinds of posts are your favorite to write?  What do your readers seem to like the most?
My favorite posts to write are posts about recipes that I have made time and time again. These are usually recipes that friends and family have asked me for. I love sharing these because I know that almost everyone will love them, and to me cooking is all about making people happy. My readers seem to love two types of posts most: decadent desserts and posts that include pictures of my daughter. I don't blame them a bit!
Do you plan a weekly menu?  If so, what inspires your menu?
Depends on the week! I usually try to plan a weekly menu while looking at my grocery store's weekly ad. I try to buy proteins and produce that are on sale, and incorporate those into my recipes. I often end up straying from my menu, but it really helps me to stay focused at the grocery store. I also find that we are less apt to dine out when I have a menu planned for the week. My menu is inspired not only by the sales at the store, but also by blogs I read, cookbooks I have, and magazine recipes I've torn out.
What is your favorite kind of food to make?
My favorite kind of food to make is something that comes together quickly and easily. I love to cook, but I don't love to be in the kitchen for hours on end. Especially when I have a one-year-old "helping" me. My husband and I try to eat healthy most of the time, but I also love creating sinful desserts which I (almost) always send with him to work.
What is your favorite recipe posted on your blog?
This is such a tough question! It would probably be the rum spiked caramel corn. I've only made it once, but it is SO good. I love the subtle taste of the rum with the sweet caramel. Popcorn is one of my favorite foods, so I may be a little biased towards this recipe. Ask anyone who knows me, I could eat popcorn every day.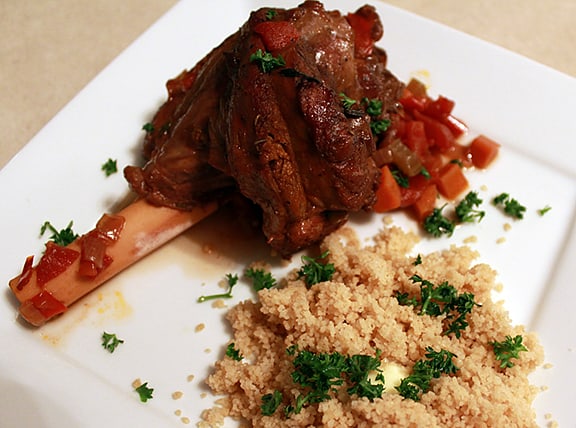 I'm also very proud of my braised lamb shanks, a recipe I created in attempts to mimic one of our restaurant favorites. I was so happy with the way it turned out. I wish I could say the same for the photos of it!
Will you show us your kitchen?  What is your favorite thing about your kitchen?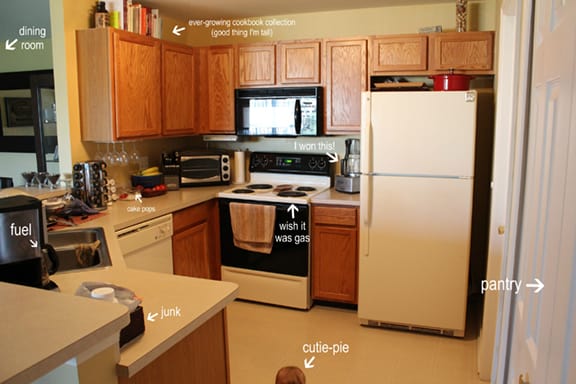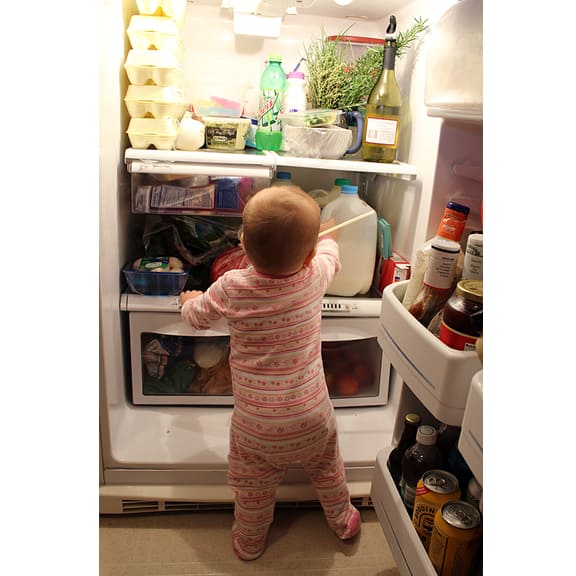 My favorite part of my kitchen is that it is open to the rest of our place. I can look out the windows, but more importantly, I can keep an eye on my mischievous one-year-old. I'll even give you a peek inside my (messy) fridge. Yes, my daughter has a straw sticking out of her mouth. It's one of her favorite "toys." I can't even tell you how excited she was that she had a chance to explore the fridge. The diet Mt. Dew is my hubby's pre-workout fuel, I have a thousand eggs because I was doing a lot of cake baking (someone was turning one), and the beer in the yellow can (in the door) is my favorite: Boddingtons. You must try it!
What is your favorite kitchen tool/appliance?
The coffee maker? No, seriously. I couldn't live without it. Other than that, the thing I depend on most is a good set of sharp knives.
What is your best tip for getting dinner on the table?
Just. Do. It. This is where having a menu plan helps me. If I have an idea of what I am going to make, I'm much less likely to get lazy and opt for carry-out. I have the food in my fridge, and I have to prepare it or it will spoil. So the cheap, money saving part of me motivates the lazy part of me to get in the kitchen and make something. Sometimes I get stuck thinking that every meal has to be a big production, and it helps to remind myself that hubs and I are both perfectly happy with a soup and sandwich type meal every once in a while. (Me more so than him—but if there is food on the table in front of him, you don't really hear too many complaints.)
Where do most of your recipes come from?  (Family favorites, you make them up, magazines, cookbooks, etc.)
My recipes come from a variety of sources. Family favorites are great because you can really depend on them. I get all my other recipes and inspirations from cookbooks, blogs, and magazines. I tear out magazine pages and throw them in a binder until I have a chance to try them. If they make the cut, they get moved to a spot in the binder with a page protector.
What would you eat as your last supper?
Popcorn. Mac and cheese. My grandma's pot roast. Crème brûlée. I'm obviously not going to go down hungry. Or skinny.
What is your favorite part about blogging?
My favorite part of blogging has been the wonderful people I have "met" through this experience. I've had blogging friends send me homemade fruit butter and candy melts when I couldn't find the right color. Just because they are nice! The other thing I've really enjoyed is trying new things in the kitchen. I've really expanded my skill set, but also have so much to learn still. It's exciting!
What kind of camera/lens/equipment do you use?
My wonderful husband bought me a Canon Rebel T3i for my first Mother's Day. I just have the stock lens (so far). I have a TON to learn about this camera and photography in general. Would anyone like to come give me a (free) lesson?
Any suggestions or hints to have great food photos?
I don't feel as though I am qualified to answer this question. My only tip is to take the photograph in natural light. That is sometimes very difficult in Michigan as we have a lot of grey days. In those cases, a little editing usually helps a lot. I use Picnik, a free online editing program—it covers the basics and works for me at this point. I bought Helene Dujardin's book, Plate to Pixel, which is all about food photography. I still need to spend a lot more time with it, but I highly recommend it.
What kind of food did you eat growing up?  Do you cook the same kinds of things today?
Luckily for me, my mom is an awesome cook. I grew up cooking with her and have her to thank for my love of food and food preparation. I still cook many of the recipes that she passed down to me. Her cooking style is a lot like mine: simple, easy to prepare dishes. We still love to be in the kitchen together anytime we get the opportunity, and when we aren't in the same city, we love to talk about food and what we've been making. She also does a lot of her own canning, something that I want to delve into when we move into a larger house with more storage space.
When you really want to cheat, what do you eat?
Oh man. This list could get lengthy. I think I'm going to have to say macaroni and cheese. Homemade and baked in the oven until it is bubbly and delicious. I also have a very large weakness for French fries. And bacon.
If you could travel anywhere in the world – just for the food – where would you go?
Probably Italy. I'd love to try authentic Italian food. However, we had some amazing food on our honeymoon in Jamaica; I wouldn't mind going back there either! But since we (very unfortunately) aren't millionaires, I like to go somewhere new every time we travel.
What are your favorite blogs to read?
My favorite blogs to read are the ones who I am friends with the authors through social media. I haven't met any of these people in real life, but I feel as I sort of know who they are because we chat so frequently on Twitter. Before I joined Twitter, I never thought I'd be saying that! A few I love are (I almost hate to do this because I don't want to leave any out): Nutmeg Nanny, Aggie's Kitchen, In Good Taste, Bev Cooks, Budget Gourmet Mom, and This Woman Cooks. Oh, and Taste and Tell of course! This is by no means an exhaustive list. My Google Reader overflows with blogs I love.
Take us through a typical day of eating in your house.
I wake up and I eat. I don't stop eating until I go to bed. In more detail? Breakfast usually includes cereal, two fried eggs over easy, or oatmeal. And coffee, obviously. My hubby leaves for work before I get out of bed, so there is always a thermos of coffee already made and waiting for me. On the weekends, he usually makes us scrambled eggs and pancakes. I'm so spoiled! Lunch varies from day to day. Sometimes it is leftovers; sometimes a salad or a sandwich, or sometimes I'll just kind of snack throughout the day. I try to prep dinner a little bit during my daughter's afternoon nap, and then finish making dinner after my husband gets home from work (so he can keep the little one occupied and out of the kitchen). We try to only dine out once a week, but it commonly ends up being twice. Our go-to carryout is a small Lebanese place that I'm sure we single-handedly keep in business.
What is your best tip to becoming a successful blogger?
I'll be right back…let me go ask someone who knows. In all seriousness, there are three things that have brought me the (small amount of) success I've had so far. First, putting in the time. The more time I put into my blog, the better the site is and the more traffic I get. Secondly, being involved in social media and making food blogger friends. This is not difficult. I have found food bloggers to be some of the nicest people around. Thirdly and most importantly, it is important to stay true to yourself. I write my blog pretty much the way I talk. I want you to feel like you are my close friend and that you are sitting at my kitchen table with me.  I'll tell you my triumphs in the kitchen, but I'll also share my struggles and my goof-ups. Some people write their blogs in a much more formal manner, detailing beautiful stories about their recipes and using flowery language to describe their ingredients. I love reading these blogs too, but it isn't who I am so if I tried to write like that, I'd come off sounding fake. Also, success is entirely in the eye of the beholder. What I consider success may be completely different from what you consider success. As cheesy as it sounds, as long as you are happy and are being true to yourself, you're successful in my eyes.
————————–
A huge thanks to Rachel!! If you want to see more from Rachel, here is where you can find her!
Blog: Not Rachel Ray
Facebook: Not Rachel Ray
Twitter: @not_rachelray
Pinterest: Rachel