Today's Blogger Spotlight is actually a trio – the mother/daughter team from Muy Bueno.  Mother, Vangie, and daughters Veronica and Yvette teamed up to write down the stories and recipes of Mexico.  One of their goals was to publish a cookbook, and their dream is coming true, with their cookbook – Muy Bueno: Three Generations of Authentic Mexican Flavor – on pre-order right now, scheduled to be released in October.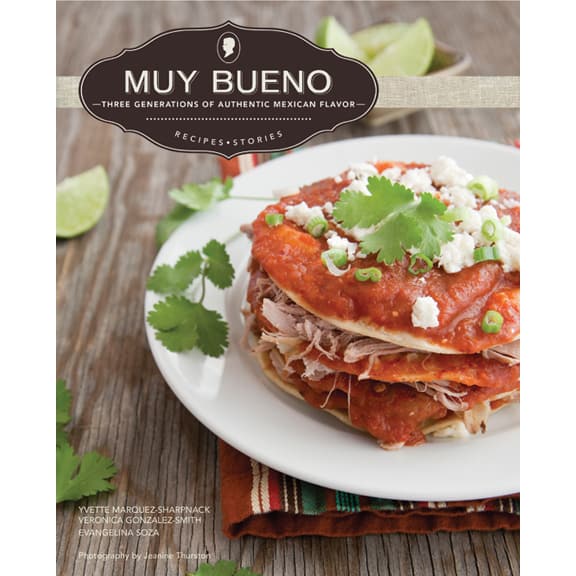 I, for one, have learned that I don't know a whole lot about authentic Mexican cuisine, and I love that I can learn so much about true Mexican food from their blog.  I'm so happy to have these ladies here today!
We were born and raised in El Paso, Texas. We learned to cook from our grandmother and mother, Jesusita, whose hospitality and irresistible Mexican recipes were legendary among family and friends. We started the Muy Bueno Cookbook blog to celebrate and preserve our family's special culinary heritage.  (Photo courtesy Jeanine Thurston)
What inspired you to first start writing your blog?
The deep desire to document our favorite and most prized family recipes and attach our favorite memory behind each recipe for our children and future generations.
What kinds of posts are your favorite to write?
We love sharing recipes tied to our Mexican heritage, a special memory, or a holiday.
What do your readers seem to like the most?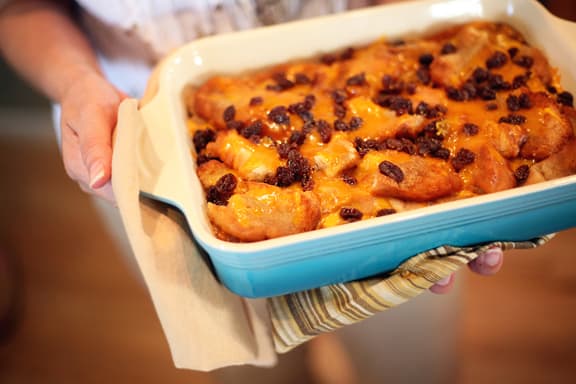 Capirotada
They love when we share old world Mexican recipes that they remember from the time they were little kids. Recipes that for the most part have been lost or no longer prepared from scratch. Capirotada (Mexican Bread Pudding) is one of our favorite recipes because it evokes all sorts of wonderful comments from our readers.
Where do most of your recipes come from?
A lot of our recipes started out from what we ate growing up but we also share recipes we create on the fly using seasonal ingredients and then give them a Mexican twist.
Do you plan a weekly menu?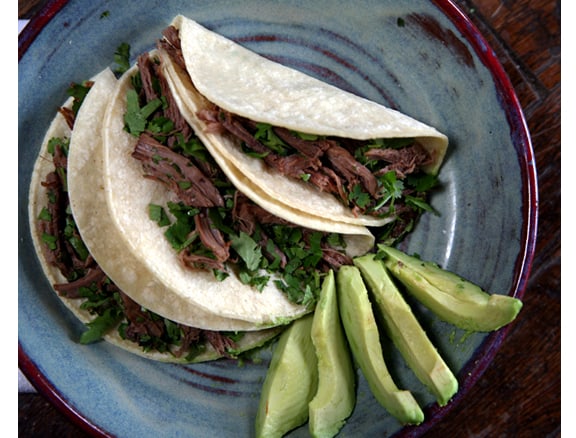 Beef Brisket Tacos
Our weeks are filled with jobs, kids, homework, afterschool activities, and maintaining the blog so our planning a weekly menu is crucial. I usually like to make something in the crockpot like brisket at least twice a week and then I use the leftovers for a meal the following day.
If so, what inspires your menu?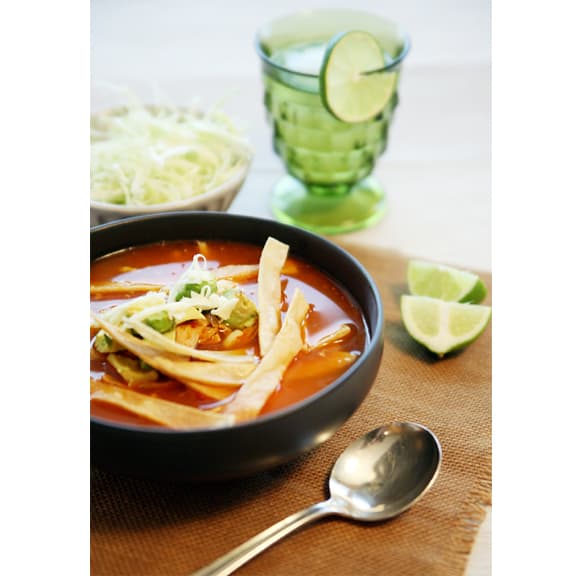 Chicken Tortilla Soup
We always shop for seasonal fruits and vegetables allowing the main course to fall into place. Of course if it's cold outside, warm comfort food usually takes precedence and we crave warm bowls of tortilla soup or albondigas.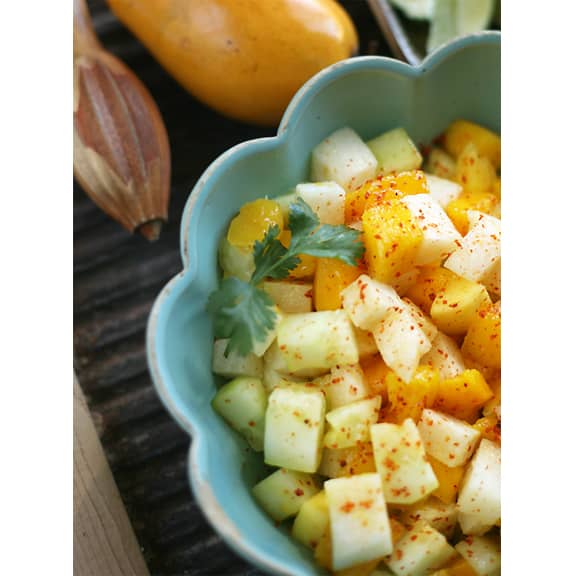 Mango, Jicama, and Cucumber Salad
If it's warm or down right hot outside we like to stick to easy and light meals like shrimp ceviche and lots of fresh fruits and vegetables for dishes such as mango, jicama, and cucumber salad.
What is your favorite kind of food to make?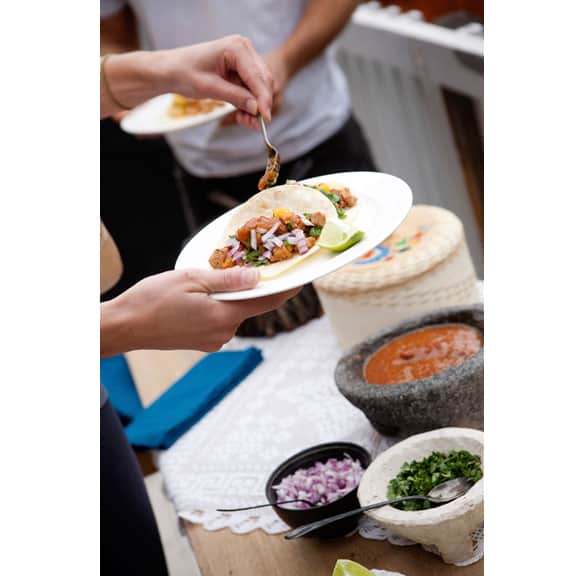 Roasted Tomatillo-Chipotle Salsa
Comfort food like soups and easy-to-grill fish or meats for tacos. And we always have fresh salsa on hand like salsa verde or roasted tomatillo-chipotle salsa to spice up every meal.
What is your favorite recipe posted on your blog?
I love the comments we've received and continue to receive about our capirotada recipe.
Will you show us your kitchen? What is your favorite thing about your kitchen?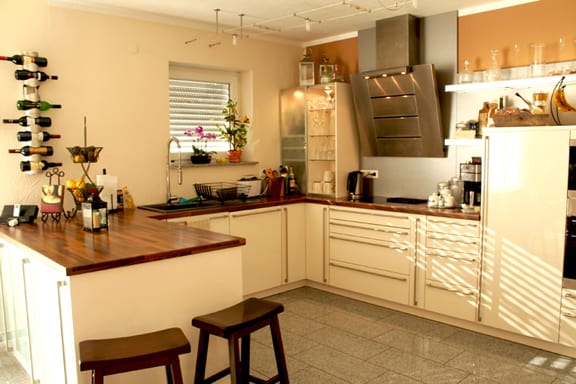 Veronica's kitchen in Germany
I love how it opens up to the dining room and family room.
How about your refrigerator?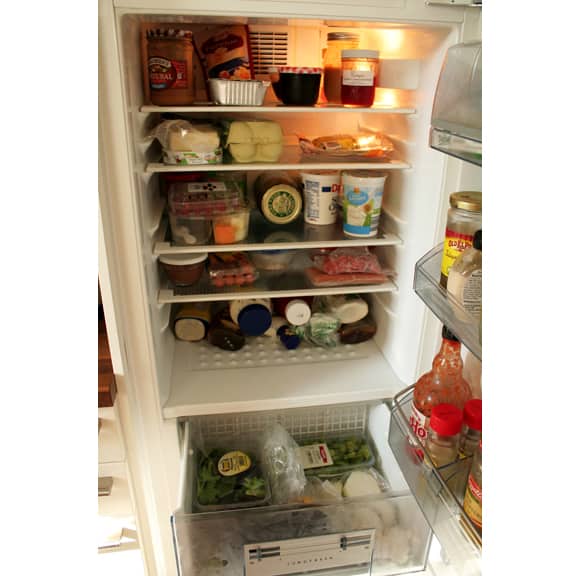 Veronica's fridge in Germany
I recently moved to Germany from California and my refrigerator in Germany is tiny, compared to American standards. I have to learn how to buy less and shop more often. Everything is so fresh here in Germany so I really enjoy shopping more often. Gone are the days of bulk item shopping because I have no where to store it all and I would rather shop fresh now than store it. How do I know it's fresh? Food goes bad in less time if not used within 2-3 days. What do you keep stocked in it? Limes, lemons, butter, mushrooms, spinach, eggs, milk, chile peppers, hot sauce, 3 to 4 types of lettuce, yogurt, jams, fruits, tortillas, fresh salsa, and cheeses. My beer bottles don't fit in the fridge so we keep those lucky guys in the cool pantry/laundry room until needed, then we chill them in the fridge on their side or a bucket of ice.
What is your favorite kitchen tool/appliance?
Lime squeezer
What is your best tip for getting dinner on the table?
Plan a menu and stick to it. Especially if you are trying to eat healthy, then planning is crucial.
What is your most used cookbook?
Authentic Mexican by Rick Bayless.
What would you eat as your last supper?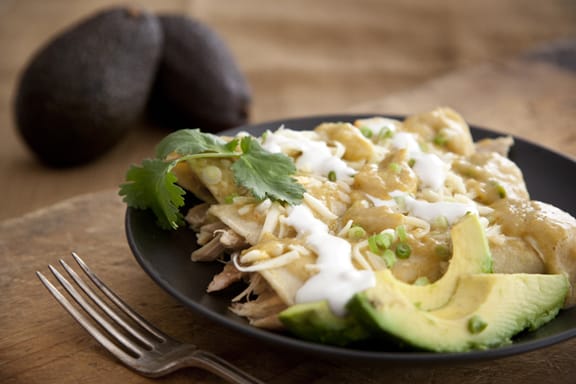 Enchiladas Verdes
My mom's super spicy enchiladas verdes (green enchiladas).
If you could invite any 3 people to dinner – living or dead – who would you choose?
Oprah because she has interviewed and met so many people and I'd love to listen to her share stories about some of her most treasured interviews. I enjoy reading and listening to people who do great things, they always inspire me to think outside of the box and outside of myself. John Lennon is just a legend in my mind when it comes to music I'd love to hear him sing and watch him play his guitar. Finally, Jesusita, our grandma, there are so many unanswered questions. I would love the time to sit and chat and ask all these questions in my mind.
What kind of food did you eat growing up?
Lot's of Mexican food.
Do you cook the same kinds of things today?
I try to eat more fish, fruits, and vegetables than I did growing up. I love freshhhhhhh anything from a farmer's market.
What was the first dish you ever cooked?
Mexican rice.
When you really want to cheat, what do you eat?
Tamales and drink several margaritas.
If you could travel anywhere in the world – just for the food – where would you go?
Oaxaca, Mexico to experience mole, the defining glory of the Oaxacan kitchen.
Is there anything you would not ever eat?
Monkey brains…I saw it on TV once. The patrons at a restaurant actually hammered the monkey to death, and then its brains were prepared for them to eat it. NO WAY could I hurt a monkey, much less eat the brains. Eww! Sorry to gross everyone out.
What are your favorite blogs to read?
White on Rice, I love the feel of their blog, their photography and the fact that they have an amazing garden. They make recipes using all their fresh produce, photograph it and blog about the entire experience. I would love to experience this first hand, but since I can't I live vicariously through them. What Katie Ate, I love her photography and her writer's voice. The props she uses are riveting–I love them.
If you could cook alongside any other blogger for a day, who would you choose?
What Katie Ate!!! I would love to watch her in action and pickup some photography and photo styling tips.
Take us through a typical day of eating in your house.
Breakfast to include: coffee, juice, and a veggie omelet, huge salad for lunch topped with leftover meat or tuna, and then dinner to include: 2 veggies, a salad and a meat dish, and a glass of wine. Always dessert which could be a plate of freshly cut mangos, strawberries or pineapple, yogurt with fruit or ice cream. All my meals have a Mexican twist to them – I can't help it, it's in my genes. We are big snackers too and anything with a crunch is a big hit in my home which could be naughty potato chips, cheese, fruit, or crackers.
What is your best tip for saving money on groceries?
Plan your weekly menu and take into account the leftovers which can be used for lunches the next day or a revamped meal with what's left.
What is your favorite part about blogging?
Reading the comments on our blog about how much others enjoy the recipes and stories we share.
What is your best tip to becoming a successful blogger?
Know why you are blogging and stick to it. If you are not passionate about it, it will show.
———————–
Thank you, ladies, for sharing with us today!! If you want to see more from Muy Bueno, here is where you can find them:
Blog: Muy Bueno
Facebook: Muy Bueno Cookbook
Twitter: @MuyBuenoCooking
Pinterest: Yvette & Veronica Muy Bueno
Pre-order their cookbook here: Amazon