Today's Blogger Spotlight – Kelley from Mountain Mama Cooks, is a newer-to-me blogger. I think I met her for the first time at Maria's baby shower, and I'm so grateful for that! Kelley is not only a fabulous chef, but she is such a genuine person as well. She is one of those people who always make you feel comfortable in a conversation, and someone who you know is really listening and cares about what you are saying. She is the kind of person I want to be like!! And if you want some tasty food, you need to look no further than her blog! Thanks so much for sharing with us, Kelley!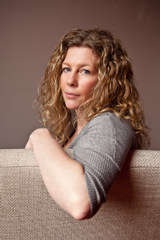 Hi! I'm so excited to be spotlighted today. I love Deb's blog and reading the blogger spotlights is a favorite of mine. Thank you so much for having me!
I'm personal chef and food blogger with a weakness for brown butter and bacon. I live for powder days and the sound of my kids laughing. I'm the mom of three boys, one of whom I am actually married to. When we're not traveling for my husband's job as a stuntman, we call Park City, Utah home where I spend the majority of my days in either the kitchen or on the mountain. It's a great (although sometimes crazy) life and I like to think we're living the dream………..or at least trying to. Pull up chair, grab a cup of coffee and let's get to know each other, shall we?
What kinds of posts are your favorite to write? What do your readers seem to like the most?
My favorite posts to write are ones that tell some sort of story. A recipe is just a recipe but when you pair it great words and great pictures, the post takes on a life of its own. Food is the ultimate connector and when you can relay that in a post I really believe that's where the magic happens. A good story and a great recipe will always be a winning combination.
Do you plan a weekly menu? If so, what inspires your menu?
I don't. I've tried but it just doesn't work for me. I don't know what I'm going to want for my next meal let alone eat for dinner in three days. So I make multiple trips to the grocery store throughout the week and pick up what ever looks good. I usually start in the produce section and pick from something in season. Dinner is typically based around that.
What is your favorite recipe posted on your blog?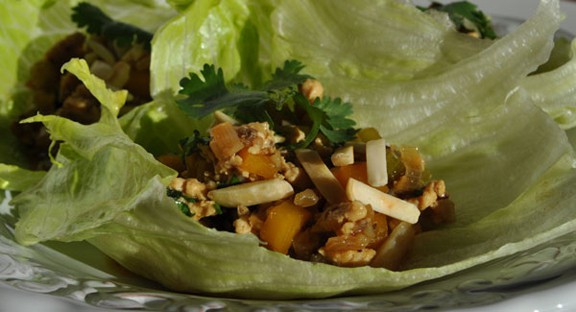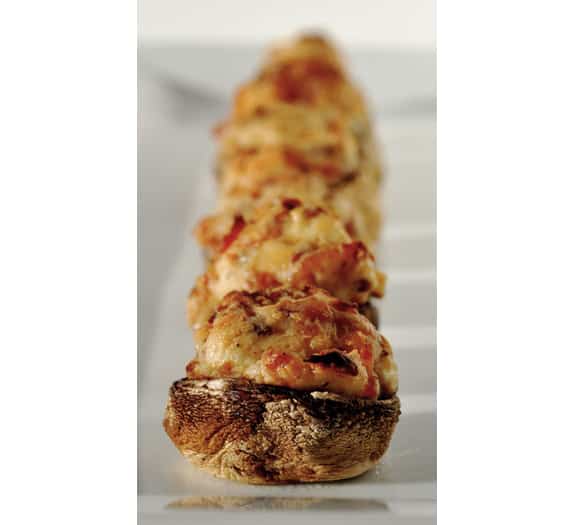 That's tough. I'm going to have to go with the chicken lettuce cups and bacon and cream cheese stuffed mushrooms. The lettuce cups are one of my go to meals and the stuffed mushrooms are kind of my signature dish. They are easily my most requested recipe from friends and clients.
Will you show us your kitchen? What is your favorite thing about your kitchen?
On a good day my kitchen looks like this.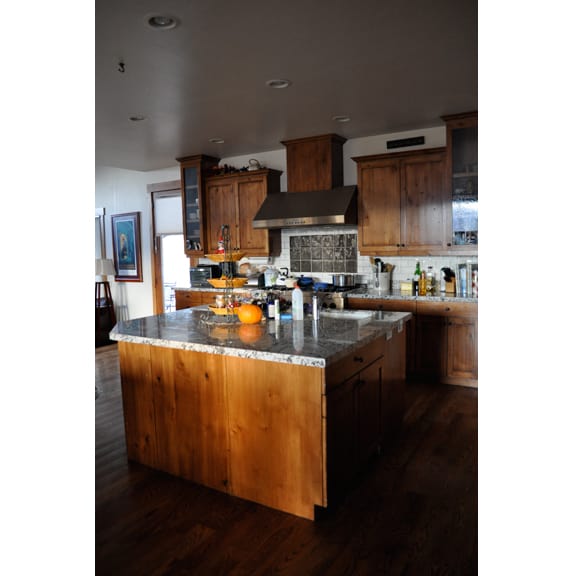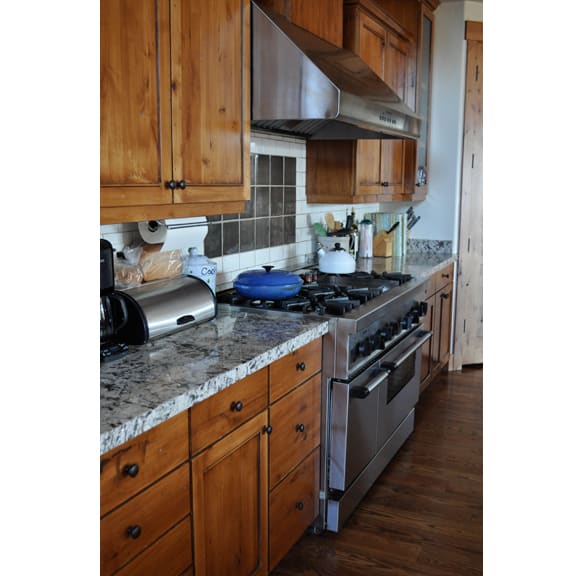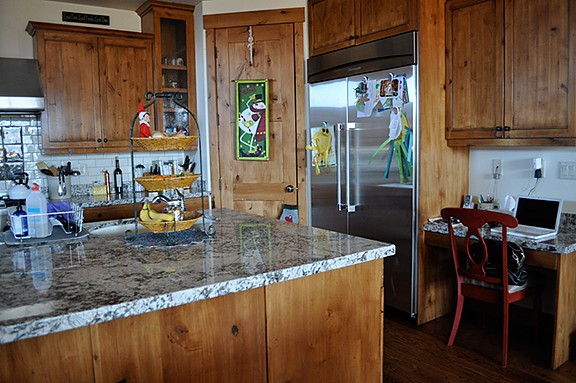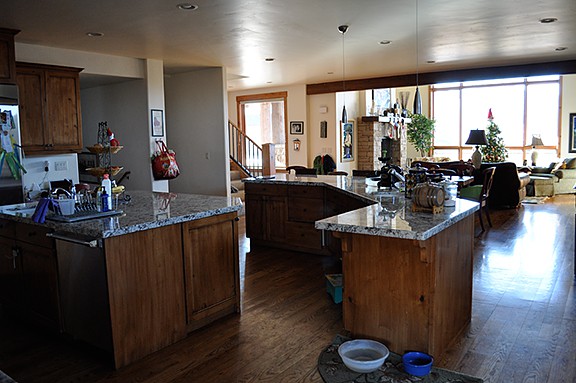 Just before a big catering job, my kitchen looks like this.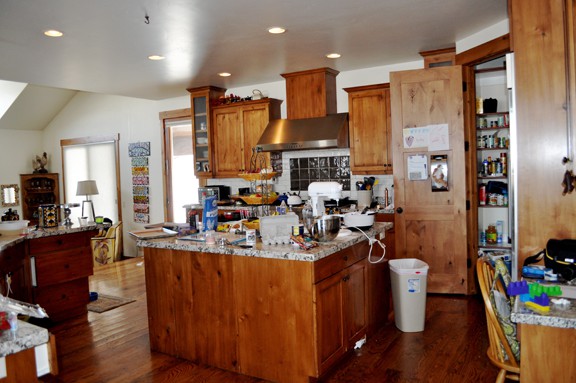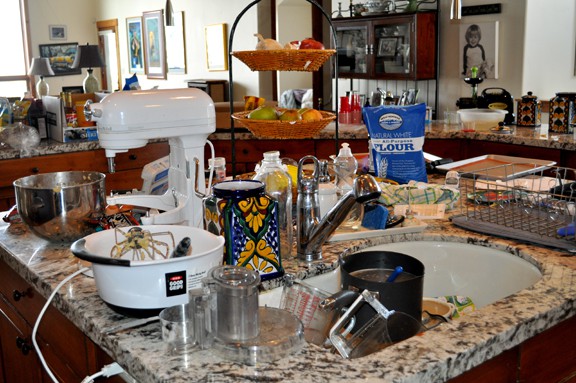 Most days it's somewhere in between.
What is your favorite kitchen tool/appliance?
As much as I love my food processor and Vitamix blender, I'd be absolutely lost without a sharp knife and a pair of tongs. I use tongs for everything.
What is your best tip for getting dinner on the table?
I'd be a liar if I told you I had the answer. This is might be the hardest part of my day. If I can, I try to do some of the dinner prep in the afternoon but that doesn't always happen. When all else fails, I make breakfast for dinner. I can have it ready in 15 minutes and I know that both my kids will clean their plates.
Where do most of your recipes come from?
I create most of my own recipes. Whether it be from a cookbook, a food blog, or a dish I had eating out, I am always trying to reinvent a dish by putting my own spin on it. I can't follow a recipe to save my life. I always seem to deviate somewhere. I can't help it. But that's the beauty of cooking. Recipes are merely guidelines. I will say that as of late I've been finding a lot of recipes on Pinterest. I'm addicted to Pinterest. Seriously addicted.
What would you eat as your last supper?
Easy, a BLT. Salted summer ripe heirloom tomatoes, thick cut crispy bacon, cold ice burg lettuce, lightly dressed with mayonnaise on toasted rye bread. Absolute perfection.
If you could invite any 3 people to dinner – living or dead – who would you choose?
I'd invite my best friend who lives in North Carolina. We don't get to see each other as much as I'd like but every time we get together we laugh so hard that we end up crying or peeing our pants. Sometimes both. I'd invite my Grandma Bette because not a day goes by that I don't think about her. She was bigger than life and always up for a party! Lastly, I'd invite Taylor Kitch, aka, Tim Riggins. A little eye candy at the dinner table is never a bad thing and I'd love to watch my grandma flirt with him.
What is your favorite part about blogging?
Without a doubt the relationships I've made. Never in a million years did I think I would create so many friendships with people I met online. It's been such a lovely unexpected surprise. Living in Utah, I am lucky enough to part of a very talented group of local bloggers. Even more, I call them friends. It's an awesome community to be a part of.
When you really want to cheat, what do you eat?
I cheat all the time. I don't like to deprive myself, it just doesn't feel right. I am such a sucker for the salty sweet combo and my latest obsession is chocolate chip ice cream sprinkled with grey salt. It's my late night snack that I have after my kids go to sleep for the night. I climb into bed with my ice cream and catch up with my DVR. I do try to work out every day so then I never feel guilty about what I'm eating!
If you could travel anywhere in the world – just for the food – where would you go?
New Orleans, New Orleans, New Orleans. It's the dirtiest, seediest yet most magical city in the world. The food is unbelievable, the music even better and it's a city that will always hold a place near and dear to my heart. I dream about the food. I have so many favorites, I wouldn't even know where to begin.
What is your best tip to becoming a successful blogger?
You're asking me? Funny. I should be asking you.
———————————-
Thank you so much, Kelley! I loved getting to know more about you! If you want even more from Kelley, (incliding a snickerdoodle pie that I must make immediately), here us is where you can find her:
Blog: Mountain Mama Cooks
Facebook: Mountain Mama Cooks
Twitter: @mtnmamacooks
Pinterest: Kelley Epstein {Mountain Mama Cooks}