If you don't know today's Blogger Spotlight – Jennifer from Mother Thyme – you really should! Her blog is not only gorgeous, but her food always sounds delicious and is so approachable. I seriously want to make every single one of her recipes. I'm so happy to have her here today sharing a little bit about her life and her blog with us. Welcome, Jennifer!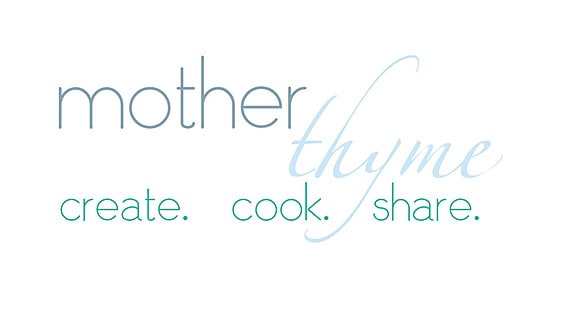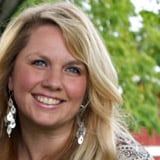 Hi! I'm Jennifer the voice behind the blog Mother Thyme. I am a mom of almost two year old twins and a wife to a wonderful and supportive husband. After spending sixteen years in the travel industry and having the opportunity to travel the world, not just myself but through the eyes of my clients, I have now landed in my kitchen in the suburbs of Buffalo, New York where I take my blog through a culinary journey of meals that combine fresh ingredients with common ingredients already on hand.
What inspired you to first start writing your blog?
As much as I love being a stay at home mom and being able to raise my twins,  I also wanted to have a project of my own.  I have such a passion for cooking and I love to entertain.  When we are hosting a gathering, whether it was an intimate dinner party or a holiday dinner, everyone would always compliment us (Mr. Mother Thyme included) on the food, the ambiance and the theme we create.  I thought I would take my joy of cooking and entertaining and feature it online. So shortly after conception, Mother Thyme was born.
What kinds of posts are your favorite to write?  What do your readers seem to like the most?
Behind every recipe there is a story.  Whether it is a recipe passed down to you or you dreamed about it in your sleep.  There may be hundreds if not thousands of recipe circulating for a classic blueberry muffin, but what I enjoy writing is the story behind it, and that is what I love to share.   What I love to do the most is take recipes and simplify them, making them approachable and not intimidating.  I think my readers connect with those recipes along with the stories behind them.
Where do most of your recipes come from?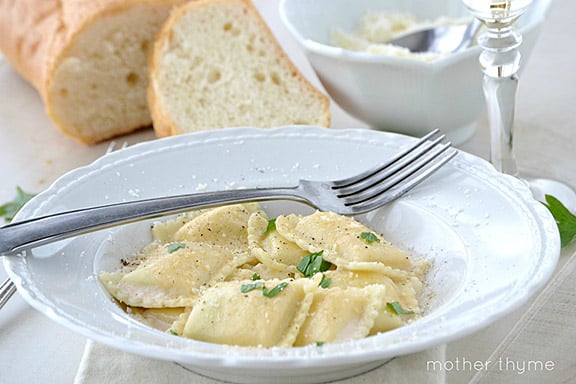 It's crazy how much I think about food and everyday I randomly come up with ideas or twists on recipes.  I am constantly writing down ideas I come up with that I am eager to create.  Sometimes I am inspired from something I ate at a restaurant like my Arugula Pizza, or Ravioli with Prosecco Cream Sauce or sometimes it is just an idea I had floating in my head.
Do you plan a weekly menu?  If so, what inspires your menu?
I do, or at least I plan a few days in advance.   I plan a menu that works around items that are in season or on sale at the market.  This time of year we are enjoying produce from our garden and farmers market so I try to incorporate as much of that into our menu and then just shop for other staple items.  Come fall, winter I enjoy utilizing my crockpot and making casseroles to have hassle free meals.
What is your favorite kind of food to make?
I love creating pasta dishes, probably because I could eat it everyday myself.
What is your favorite recipe posted on your blog?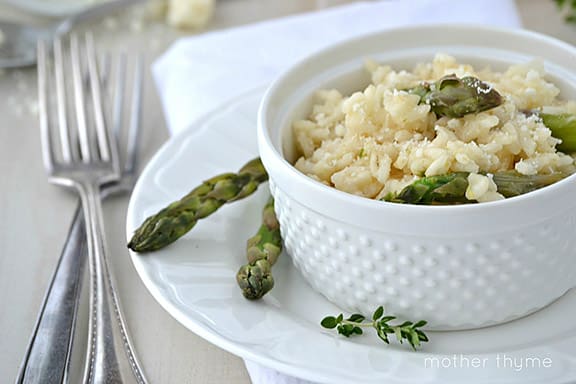 I would have to say my Lemon and Asparagus Risotto. The lemon is a nice compliment in this classic risotto dish tossed with steamed asparagus. I love risotto and so does my husband.  It is something we could just eat alone for dinner along with a simple salad and fresh bread.
Will you show us your kitchen?  What is your favorite thing about your kitchen?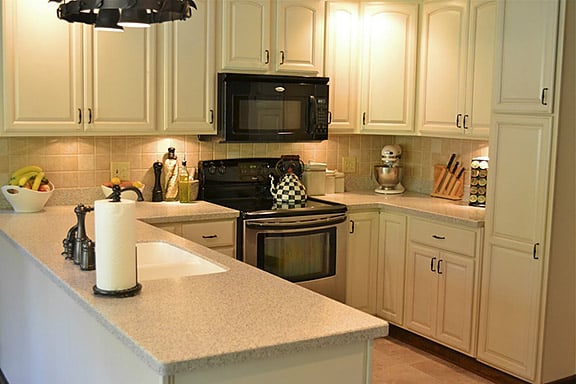 Sure, come on in!   Thankfully I had a few photos of our kitchen before our little flood occurred.  A few weeks ago I noticed water come up through the seams of the floor and wondered why I felt the tiles buckling.  Long story short, the ice machine hose in the back of the refrigerator was leaking and the water got under the tile.  It must have been leaking for days because it was leaking in the basement.  It was a huge mess.  Half of our floor has been removed and we have a new floor being installed in a few weeks so in the meantime we are walking on a lovely subfloor.  Other than that, I love my kitchen.  It's smaller than kitchens we have had in the past but its efficient and works for me.  Plus I can't beat the view out our kitchen windows which is my favorite part of the kitchen.
How about your refrigerator?  What do you keep stocked in it?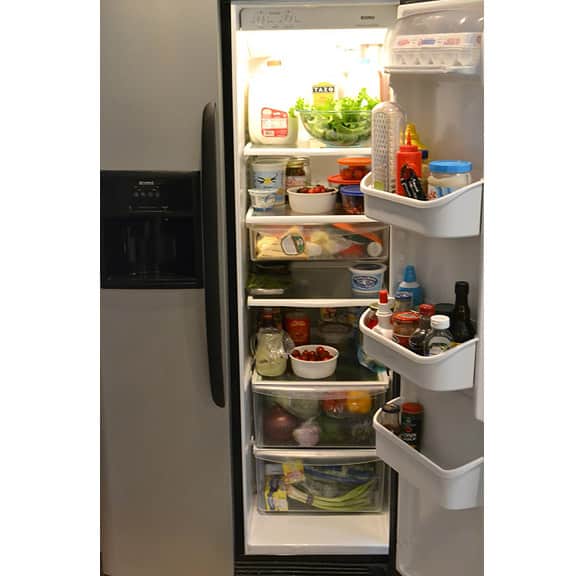 Oh my dreaded refrigerator; the culprit to our recent kitchen disaster.  Aside from that, it is always loaded with several gallons of milk which we go through like crazy and I try not to overload it.  I am not a fan of the side by side refrigerator but it was in the house when we bought it so I have been dealing with it.  My favorite item in my refrigerator is my Prepara herb saver.  This works wonders and really preserves fresh herbs.  I don't have many in there right now since all my herbs are outside in the garden but come winter I have this filled with herbs and they last a long time in there.
What is your favorite kitchen tool/appliance?
I'd have to say my knife set that I almost didn't buy a few years ago at our local warehouse store.  I saw the set for only around twenty dollars and grabbed it.  I had it in the basement and almost forgot I had it.  I pulled it out and I thought I'd give them a try and they are awesome.  They slice through anything easily.  I use them several times a day.  They are not an expensive brand but they work well, and that's what is important.
What is your best tip for getting dinner on the table?
Prep what you can ahead of time.  Line up all the ingredients and have them measured so when you are ready to start cooking you have everything in front of you.  It is a huge time saver and helps to avoid any errors.
What is your most used cookbook?
My mother gave me a beautiful collection of Cook's Illustrated books from 2003-2007.  Each year contains the entire magazine collection in a bounded hard cover book.  It is filled with useful information.  A great collection for any foodie!
What would you eat as your last supper?
A big bowl of pasta with fresh marinara and parmesan cheese.  Simple and classic.
If you could invite any 3 people to dinner – living or dead – who would you choose?
The first three that come to mind would be Ellen DeGeneres, Michael Buble and Ina Garten where we could laugh, sing and eat.
What kind of camera/lens/equipment do you use?
I shoot with the Nikon D3100.  I switch between my Nikkor 55-200mm and 18-55mm lenses.
Any suggestions or hints to have great food photos?
I am still learning photography myself and truly admire the work and styling of so many.  I would say my top suggestions that I have found to be useful is to use natural light.  Diffuse light coming through the window with a simple cotton bed sheet.  An inexpensive white foam board that you can pick up at the craft store is a great investment to bounce light from.  Play around with different windows to see where you get the best lighting from as the most convenient window like your kitchen may not be the best place to shoot the photos.  And most importantly, capture the moment with styling the food and creating a setting.
What kind of food did you eat growing up?  Do you cook the same kinds of things today?
Growing up I always remember eating dinner at the table with my family.  Sunday dinner was often at my great-grandmother's eating roast beef and Beef on Weck which is very popular in this area.  I often cook family recipes or recipes I enjoyed when I was young and now serve those to my kids.
What was the first dish you ever cooked?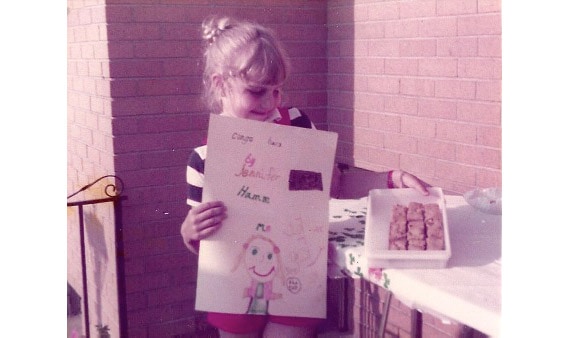 It would have to be Congo Bars back in 1982, I was 7.  Not long ago I actually asked my mother if she still had that recipe.  She sent it to me with this photo of my masterpiece.  I look forward to sharing this on Mother Thyme sometime soon.
Is there a dish that you are known for?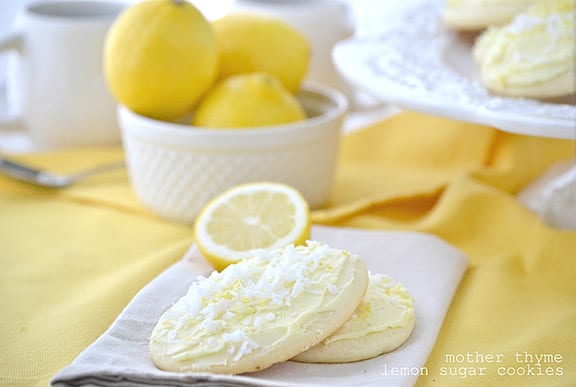 It would probably be my Lofthouse Style Sugar Cookies.  They were and still are so popular on the blog.  These taste just like the store bought version,  only better.  The recipe originated back in November with a series I was doing over Christmas called the Countdown to Christmas Cookies.  This post was about holiday traditions and baking with the family.  Since then I shared a spring version thanks to a reader request for a lemon version shown here that has been popular as well.
When you really want to cheat, what do you eat?
Donuts, and not the baked kind!  A good apple fritter or even a big warm cinnamon roll with lots of frosting.  Just talking about it makes me want to cheat.  I haven't had one in so long.  Oh yes, I have a sweet tooth!
If you could travel anywhere in the world – just for the food – where would you go?
Definitely without question Italy.  I have wanted to go there for years.  It's funny working in the travel business for 16 years you would think I would have gotten there.  I have been fortunate to have traveled to some great places, including Paris, Ireland, London even Vietnam,  but I have yet to get to Italy.  It is definitely top of my list once the twins get a little older.
What are your favorite blogs to read?
I truly have so many blogs I enjoy reading, not just food blogs.  My Google Reader is filled with so many.  If I had to name just a few of my favorites they are Taste and Tell, Epicurean Mom, Bake Your Day, Food and Whine, In Sock Monkey Slippers and Baked Bree.  Not only are these ladies so talented and inspiring but I have tried many of their recipes from appetizers to desserts and their recipes are just as good as they look in their beautiful photos.
If you could cook alongside any other blogger for a day, who would you choose?
Hmmm, there are again so many that would be fun to cook alongside, but the first one that comes to mind is Bev from Bev Cooks.  Her posts always make me laugh.  I love her unique approach not only in her writing but her creativity in her recipes as well.  She seems like she would be a blast to cook with.
What is your best tip for saving money on groceries?
Buy in season produce.   If you catch a great sale on say peaches, slice and freeze or can them and then you have fresh peaches at hand during the winter months.  I also buy my seafood frozen which is much cheaper than buying "fresh" in the seafood section.  If I lived in a coastal city that may be different but around here where seafood isn't fresh anyways why pay the premium from the seafood counter.  Also I try to avoid convenience foods.  100 calorie snack packs are great, but you don't get a whole lot for what you pay for.  I portion out almonds, crackers, etc…into portions myself and it's a good way to stretch a dollar.
What is your favorite part about blogging?
It has to be the emails and the comments I get from readers.  I remember the first time I received a comment on my blog from a reader who tried a recipe and how much they loved it.  It really touched me that something I created and a recipe I put my heart into was being created in someone's kitchen.  It really was a special moment.  Since then, everytime I get a comment or someone emails me about a recipe they tried of mine and how much they loved it, I just get so much joy knowing that my food is reaching other people.  I am always very humbled by that.
What is your best tip to becoming a successful blogger?
I have gone by a motto that I read very early on when I began blogging that has stuck with me since.  It is to stick to quality content and don't worry about quantity of hits, page views, likes etc… Focus on the quality of your work, whether it be the stories you share, the recipes you create or your photography … and don't get wrapped up in the numbers.  Also, it is very important to stay true to yourself and what you want your 'foodprint' in the blogging world to be.  Creating your own style and being yourself will make you unique.
————————
Thank you so much, Jennifer. I loved getting to know a little more about you!! If you want to see more from Jennifer, here is where you can find her:
Blog: Mother Thyme
Facebook: Mother Thyme
Twitter: @motherthyme
Pinterest: Jennifer | Mother Thyme