A big welcome to today's Blogger Spotlight – Averie from Love Veggies and Yoga! I don't remember how I first came across Averie's blog, but she is seriously one of the nicest, most genuine bloggers out there! I'm excited to get to know her a little more today through her blog and her food. Welcome, Averie!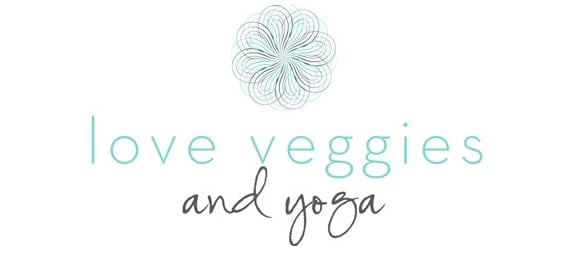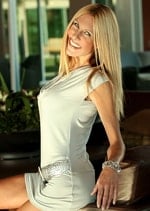 I began my blog in 2009 as a way to share my recipes and yoga expertise.
What began as a little hobby has turned into one of the best things I've ever done.  I love blogging; I thoroughly enjoy writing, creating recipes, photography, and connecting with others via my blog.
We reside in San Diego, California and I'm blessed to live in such a beautiful, sunny place where the sky is blue, the ocean is near, and the flowers bloom year round.
What inspired you to first start writing your blog?
I remember googling for a recipe in 2008 and a few blogs, instead of recipe-based websites, came up in the search results. I got the recipe I was looking for and in the process discovered this whole brand spakin' new-to-me world of blogs.
The fact that they even existed, that there were so many, and with such diverse content, was such an eye opener for me. I started reading a couple blogs, and that quickly morphed into reading a whole lot and that morphed into me thinking, hey if they can do it, so can I.
So in 2009 I started my blog with the intention of sharing a few recipes and a few yoga poses with a few people. The recipe part of it was for my own time savings because I was emailing recipes to friends and family, and posting some on my Facebook page, and figured if I had a blog, everyone I knew could just check that. And the yoga part was because my friends were emailing me asking me for yoga pointers so I figured, again, centralize it.
Never did I think that I'd have more than my husband and a few close friends as readers.
What kinds of posts are your favorite to write? What do your readers seem to like the most?
My favorite posts to write are my dessert recipe posts and readers respond well to them, too.
Readers tell me in my comments or via email that they want "healthy" recipes or dinner/entree/main course recipes, but my stats don't lie.
My blog is the busiest when there is a recipe up for a gluttonous, sugary, fatty dessert with corresponding photos. People vote with their clicks and on my site, they like to click on a whole bunch of chocolate and sugar which works out well for me because those are my favorite posts to write.
Do you plan a weekly menu? If so, what inspires your menu?
No but in general, we eat the same types of foods so I feel like what I tend to make is a version on a theme. Give me lots of plants, fresh produce, and I am happy. For as much as I like desserts and sweets, I also crave fresh produce and lots of green vegetables.
What is your favorite kind of food to make?
Desserts!

What is your favorite recipe posted on your blog?
Oh my gosh this is hard because I am always coming up with new things and what's a favorite one week can be "topped" and there can be a new favorite.
Two faves include: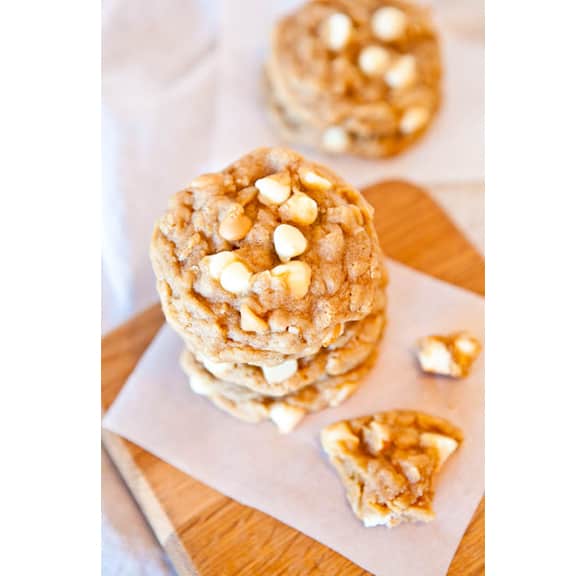 Peanut Butter Oatmeal White Chocolate Chip Cookies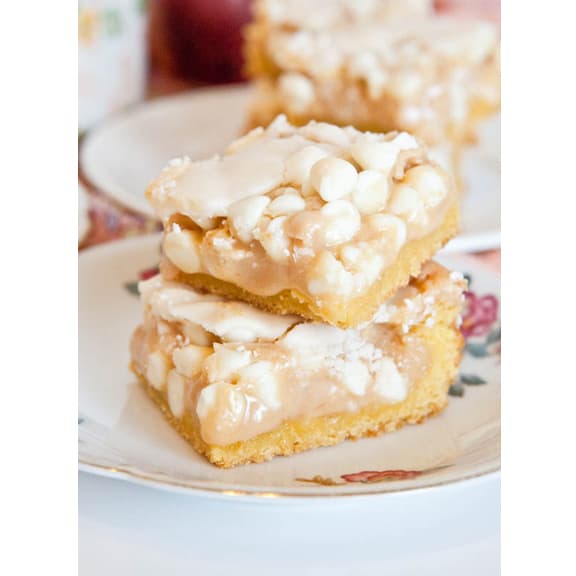 White Chocolate Vanilla Marshmallow Cake Bars

Will you show us your kitchen? What is your favorite thing about your kitchen?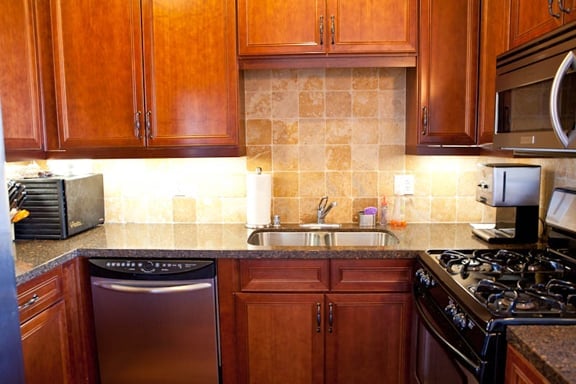 My kitchen is small! We live in a condo in urban San Diego and I have very little storage space for appliances or food. No pantry for me; not even close.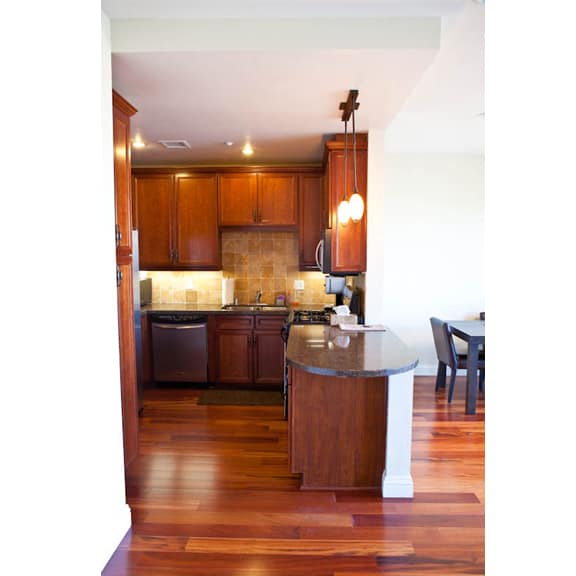 My favorite thing about my kitchen though is the fact that it is very compact and everything I need or want is literally one step away or truly at arm's length. I spend zero time walking from cupboard to fridge to counter top to sink. It's all right there.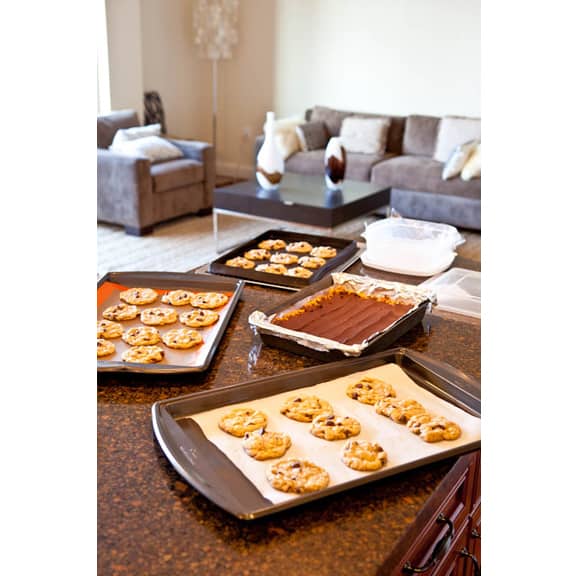 The irony to this is that I've lived in much bigger homes with kitchens that were huge, but back then, didn't have any interest in cooking when I had those massive kitchens with storage space galore at my disposal.
What is your favorite kitchen tool/appliance?
A sharp knife and a cutting board are my favorite tools. I have a Henckles 7″ Santoku knife and a ten year old beat up cutting board and I have that knife and cutting board out and in use at least a half dozen times per day chopping or slicing up something. One reason is likely because my daughter (almost 5 years old) wants snacks and I am always slicing her up something. Pears, apples, zucchini wedges, you name it.
The appliance that I love is my Vita-Mix. I am the only food blogger who loves desserts who doesn't own a Kitchen Aid stand mixer, but it's on my Christmas list, and I know if and when I get one, I will cherish that baby!
What is your best tip for getting dinner on the table?
Planned leftovers. Some people turn their nose up at leftovers but if I know I am making soup, chili, a casserole, roasted vegetables and potatoes; whatever it is, I always make enough for at least one more meal and often times, another couple meals. I try to make enough so that I can freeze extra and can then defrost and reheat it at a later date. Cook once, eat twice (or more) is my motto.

Where do most of your recipes come from? (Family favorites, you make them up, magazines, cookbooks, etc.)
I read tons of food blogs and baking-oriented blogs and am constantly inspired by the blogosphere and most recently am in love with all the great grub on Pinterest. There are so many things I see every single day online that make me want to run into the kitchen and start cooking or baking.
However, I can't follow anyone's recipe to a T to save my life, but I get ideas from reading and seeing things on blogs or on Pinterest, and then I combine that with childhood memories of what my mom and grandma used to make, combined with recipes in cookbooks, combined with whatever just pops into my head, combined with a pinch of this, a dash of that, and a hope and prayer it will turn out, and that's how I create my recipes.
I formulate things in my head when I am on a run or doing yoga; I can drum up and visualize the best cookie dough recipe in my head on a run and sometimes I race home just so I can see if my mental creation is going to work and get busy in the kitchen.
What would you eat as your last supper?
Gosh I have no idea. But it would for sure involve dessert!
If you could invite any 3 people to dinner – living or dead – who would you choose?
The cast of the Real Housewives of Beverly Hills or The Real Housewives of Orange County. What can I say, I love some trashy tv and I'd love to lunch with the Ladies Who Lunch.
What is your favorite part about blogging?
This is such a big question but the short answer is connecting with others is so rewarding for me. Sharing information, getting to know other bloggers from reading their blogs, getting to know my readers via the comments they leave for me; just establishing human connections with others has been so amazing.
Some of my best friends I met via blogging. I consider my blogging friends, most of whom I have not met in person (yet) to be "real" friends in every sense of the word. In fact, I am closer with friends I've "met" via blogging than with those I know in real life.
What kind of camera/lens/equipment do you use?
I went from a Sony point and shoot (blog years 2009-2010) to a Canon Rebel T2i (early 2011) to a Canon 5D Mark II body (mid 2011 to present). The 5D camera is an amazing piece of equipment!
I primarily shoot with the Canon 24-70mm f/2.8 lens after hearing great things about it from a couple blogging friends and after reading about it. I love that lens, big time.
I also have a Nifty Fifty, i.e. 50 mm f/1.8, which I rarely use and just recently purchased an 85mm f/1.8 Canon lens.
Any suggestions or hints to have great food photos?
I have a Photography Page on my blog and have discussed my thoughts on this in many different posts.
One thing I like to point out is that it really does not matter what kind of camera or lens you shoot with if your food styling (and your lighting) is not good. All a DSLR or fancy camera is going to do is capture the image in higher clarity, resolution, and detail. So that means, to put it bluntly, if your food styling sucks, that fancy camera of yours is just going to showcase it in even greater detail.
Pay attention to how you plate your food, how you set up your shot, what is in the frame, what's not in the frame. Photo composition, food styling, lighting and light sources (no flash, natural light only for me) are more important than camera.
Go to blogs who you think have great photos and try to imitate what they do.
And practice, practice, practice. I get comments from people who say, well next year I am going to start learning photography or next month when I get my such-and-such camera. I think that taking your camera out every single day and taking pictures, practicing, is very important. Like anything, you can't get good at something if you don't try and don't practice your craft.
What was the first dish you ever cooked?
I have memories of being about 7 or 8 years old and frequently coming home from school and opening a bag of Jif brownie mix, adding two eggs and some oil, stirring it up, and baking it. Only about half the batter ever made it's way into the pan because between me and my childhood friends, we ate our fair share of brownie batter.
When you really want to cheat, what do you eat?
I am not a believer in deprivation; I "cheat" daily and I normally don't use word. It implies there is something bad or wrong about a certain food or food choices. I like to think that food is food. It's just food. Some of it may be a better choice than others, but it's still just food.
I run or do yoga as part of a healthy lifestyle and so if I want to eat a cookie or a brownie every day, I do. And I don't feel badly or guilty about it, at all!
I would rather 'cheat' with sweets than savory, any day. Some people want mac 'n cheese, chips, nachos, french fries, or those types of food. For me, bring on the sweets; chocolate, cookies, cake, brownies, and anything rich and gooey. Bonus points if it has extra frosting.
What is your best tip for saving money on groceries?
Not be married to a specific grocery list of "I must have xyz" when it comes to produce. Buy what's on sale and at the front of the store.
I may really want strawberries in November but I would never buy fresh strawberries because they'd cost an arm and a leg and may not even be that tasty. Whereas apples or pears may be on sale and are seasonal and a better option both in terms of taste and price. I let what looks good, what's on sale, what's seasonal, and what strikes my fancy be my guide rather than being hung up on having to have a certain item. No watermelon in January for me type thing.
If you could travel anywhere in the world – just for the food – where would you go?
One day I would love to travel to India to fulfill a personal calling I've always had to go there; and to deepen my yoga practice, and just see and experience that part of the world. I am sure the food there would amaze me.
I'd love to go to Thailand, too, to see if what I think of and know Thai food to be is really what authentic Thai food is like.
And I'd love to go to the Champagne region of France to sample, well, champagne. And while I'm at it, eat my weight in French pastries and desserts!
What are your favorite blogs to read?
If I told you how many blogs I have in my Google Reader, you'd die. So I won't.
I love, love, love reading blogs. I could make a full time job out of it.
My fave blogs to read are those with a message and a purpose, i.e. recipes, parenting, photography, running, etc.
I like to read blogs that have beautiful pictures. I go back to blogs who's photography inspires me more often than those blogs with tiny, grainy, hard to make out pictures.
Blogs that inspire me in some aspect of my life whether it's in the kitchen or on my workout or as a parent or in my photography are what I gravitate toward.
And those blogs written by a writer with a voice, from serious to funny to new age to sarcastic, whatever the style is, as long as the writer has found her voice and is authentic, I can get into them.
What is your best tip to becoming a successful blogger?
Gosh, so hard…but as I said above things like message and purpose, having quality photography (and mine has gone from truly horrendous to marginally acceptable I think in the past few years) and sharing what inspires you with a clear voice is key.
Also, consistency. It's okay if you don't want to blog every day, but if your readers expect you to post twice a week and you start skipping those posts, then you get all excited about your blog and post 10 times in 12 days but then drop off the map again for a month, your readers may become frustrated. So, if you're going to blog, try to be consistent.
I wrote an entire series called Blogging 101 (there's 5 parts, 101 – 105) and it may be of interest. I cover everything from how to run a giveaway to how to become a self-hosted blog to to increase readership.
In conclusion, I want to thank Deborah for featuring me. It's been a pleasure getting to know her over the past couple years via our blogs and I want to thank all of her lovely readers for reading this post.
I'd love to get to know you all, too, and would love for you to stop by my blog and say hi sometime.
———————————–
Thank you for sharing, Averie.  You have so much knowledge (and fantastic food!) to share with all of us!  If you want more from Averie, here is where you can find her:
Blog:  Love Veggies and Yoga
Facebook: Love Veggies and Yoga
Twitter: @LoveVeggiesYoga
Pinterest: Averie Sunshine
Instagram: loveveggiesandyoga