First off, I have to thank today's Blogger Spotlight – Jackie from La Casa de Sweets for jumping in as the spotlight today. The original blogger I had scheduled for today had a family thing come up, and I went to Twitter yesterday morning and called out for a volunteer. Jackie was the first in line! (And another huge thank you to all of you who were so willing to help – I hope to feature you all in the future!!) Welcome, Jackie – I'm so happy to have you here today, and to get to know you better!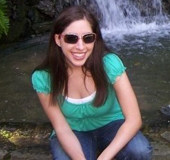 My name is Jackie, and I'm the recipe creator and food photographer behind La Casa de Sweets. I love to bake, anything and everything! Chocolate is the best (a Spanish invention, of course!), but I love all sweets!
I'm a charity fundraiser baker.  What does that mean, you ask?  Well, it means I bake and blog to raise money and awareness for a very special cause: childhood hunger.  I work with companies and people to raise money to fight childhood hunger in America and around the world.  Raising money for groups like Share Our Strength and ADRA is what keeps me a happy baker and blogger!
I'm a busy wife, mother, daughter, sister, middle school teacher (taking a break to raise my daughters!), Seventh-day Adventist, child of a loving God.
I've got the most loving, talented husband (my high school sweetheart!), and the two most precious little nenas (ages 2 and 1)–our dream come true!  They keep me busy, along with my spirited Puerto Rican family.
What inspired you to first start writing your blog?
I've always loved to bake. I've been baking since I was in middle school, and I never seem to stop! With so many people asking me for recipes, I thought the best way to do it would be to start a blog. And it's been such an exciting first year as a food blogger! It's so great to connect with people! I'm a charity fundraiser baker and blogger, which means I bake and blog to raise money for charities that fight childhood hunger in America and around the world. During my first year, I worked with companies and other bloggers to raise money for the famine in Africa, and for Share Our Strength's No Kid Hungry. It's so inspiring to know that what I'm doing is helping hungry kids everywhere.
What kinds of posts are your favorite to write? What do your readers seem to like the most?
I love writing all kinds of posts, but my favorite ones are holiday posts. There's something about reaching out to people and sharing your favorite food memories, especially during the holidays. Christmas recipes are my favorite to eat and blog about!
Where do most of your recipes come from?
Mostly all of my recipes are my own. I love coming up with different things, and then testing them on my family and friends. They are such willing taste-testers 🙂 I especially love sharing Spanish recipes, bringing the traditional recipes to people who might not know about them otherwise.

Do you plan a weekly menu? If so, what inspires your menu?
I plan a weekly menu every single week. We are a vegetarian (bordering on vegan) family, and I cook mainly unprocessed, all-natural food. So, it's a bit hard to come home and throw something together in a few minutes. I like to have everything all planned out, and it's such a great help!
I like to change things up every week. We always have a different rice/pasta dish, soup, and fresh vegetables as part of our weekly menu. Coming up with different meals is a lot of fun.
What is your favorite kind of food to make?
My favorite kind of food to make is cookies. Haha, just kidding. Well, not really…
Other than dessert, my favorite food to make is stuffed grape leaves. My mom, 2 ½ year old daughter, and I sit at the kitchen table stuffing the grape leaves, and nothing else seems to matter for a while. The memories of cooking together are priceless. Plus, the grape leaves, which we stuff Turkish-style with rice, tomatoes, mint and lots of lemon, are so yummy!
What is your favorite recipe posted on your blog?
My favorite recipes are:


And my absolute favorite is:


What is your favorite kitchen tool/appliance?
My favorite kitchen tool is my 10-piece glass mixing bowl set. I don't know where I'd be without it!

What is your best tip for getting dinner on the table?
Plan ahead! Know what you're going to make, buy the freshest ingredients possible, and have fun cooking with your family!
What is your most used cookbook?
Martha Stewart's Cookies and Cupcakes
What would you eat as your last supper?
Lamingtons.

Any suggestions or hints to have great food photos?
Always use natural light, and make your food look as yummy as possible.
What kind of food did you eat growing up? Do you cook the same kinds of things today?
We grew up eating all kinds of international foods, along with all our Puerto Rican recipes. I follow the same guidelines today.
Is there a dish that you are known for?
Any and all sweets 🙂
When you really want to cheat, what do you eat?
Double chocolate chip cookies.

What are your favorite blogs to read?
Jamie's My Baking Addiction and Rosie's Sweetapolita
What is your best tip for saving money on groceries?
Plan ahead. The more you plan, the less you'll waste!
What is your favorite part about blogging?
I love blogging because I get to meet the nicest people, share my recipes with people around the world, and raise money for hungry kids!
————————–
Thank you, Jackie! If you would like to see more from Jackie, here is where you can find her:
Blog: La Casa de Sweets
Facebook:  La Casa de Sweets
Twitter:  @LaCasadeSweets
Pinterest:  Jackie Gonzalez-Feezer