Today's Blogger Spotlight – Heather from Kitchen Concoctions – is one of my regular blog reads. I love her everyday approach to food, and her passion for food and blogging is always so evident. I'm so happy to have her here today sharing more about herself, her kitchen, her blog, and her food memories. Thanks for being here today, Heather!
———————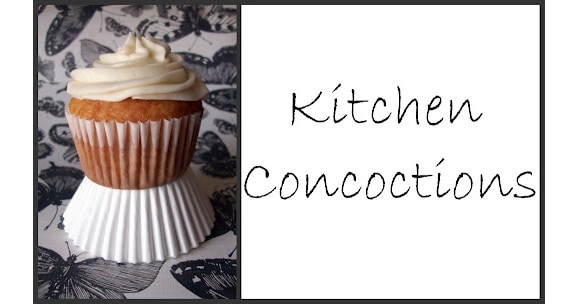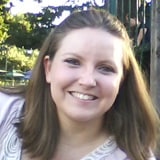 Hi my name is Heather and I am a Texas gal who has been developing family friendly recipes since a young child in my Mom's kitchen. Kitchen Concoctions allows me to share my love of cooking with others and express myself in the kitchen and through my other passion, writing! Kitchen Concoctions features fast, fresh, affordable, family friendly recipes as well as cooking tips and tricks, step-by-step how-to's, party planning and entertaining tips, and kids cooking segments. So kick back, grab a snack and stay awhile! From my kitchen to yours, hears to good eats!
What inspired you to first start writing your blog?
Hummm! That's a loaded question! Seriously though, several years ago I was having one of *those* times in my life and needed a distraction. I discovered blogs through friends of mine who had personal and family blogs so I started writing one. Then I heard of a recipe contest for food bloggers and a whole new world of blogging opened up for me. I ditched my personal blog and started writing Kitchen Concoctions so that I could share what I loved most, food and cooking, with all those who would listen, or I should say read. Thus keeping me distracted and helping me move forward. My, have things changed over the years!
What kinds of posts are your favorite to write? What do your readers seem to like the most?

You can never go wrong with desserts, specifically anything s'mores! I am a s'mores freak! And not only are desserts tasty but I think they are a lot easier to photograph. But I also like writing informative posts and the past two summers I have done a kids in the kitchen series that has been so much fun. I love sharing personal stories and family history! As far as readers, it is all over the place! From those personal stories, to desserts to salads to homemade beauty treatments like this Avocado Banana Hair Mask. But I think the holiday posts are especially popular. Like this Bunny Bait and Goblin Feet Cookies.  But to this day, I get more feedback for my posts about these simple Valentine's Candy Cards.
Where do most of your recipes come from?
EVERYWHERE! From crazy concoctions in my head (hence the name of my blog!), to things I have eaten at restaurants, to cooking shows, to cookbooks, other blogs, and family favorites that have been made for generations.
Do you plan a weekly menu? If so, what inspires your menu?
I have to plan a weekly menu! I have to stick to a food budget and have a lot of freelance work that I do, not to mention things I would like to feature on the blog; so a weekly menu keeps me organized and on track. Things that inspire my menu are recipes I have to create for freelance work/the blog, to things that I have been craving, things in my pantry I need to use, to what's on sale, to recipe ideas I have floating around in my head.
What is your favorite kind of food to make?
Most nights it is whatever is quick! But when I have time to really be in the kitchen, I like to turn up the music, and bake something (I love measuring flour), stir something (risotto is so therapeutic), kneed some dough (great for releasing anger) or just get in and chop some veggies. So comfort food and baked goods in all forms!
What is your favorite recipe posted on your blog?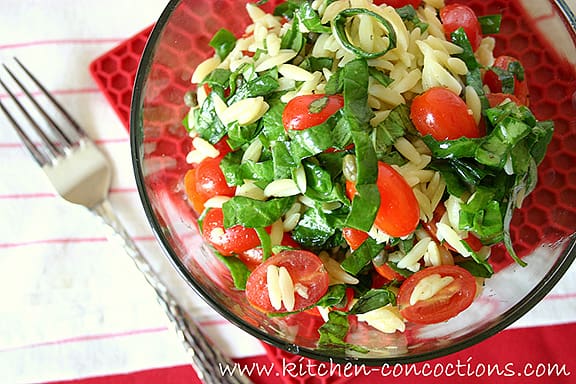 Tomato Basil Orzo Salad with Lemon Garlic Vinaigrette

I have so many! After blogging hundreds of recipes how can I narrow it down! From this Loaded S'mores Ice Cream to Tomato Basil Orzo Salad with Lemon Garlic Vinaigrette to Peanut Butter Brownie Cupcakes and Hearty Italian Tortellini Soup with Turkey (is it soup season yet???)
What is your favorite kitchen tool/appliance?
My Kitchen Aid Mixer! Not because it is the most used but because it was a special gift!
What is your best tip for getting dinner on the table?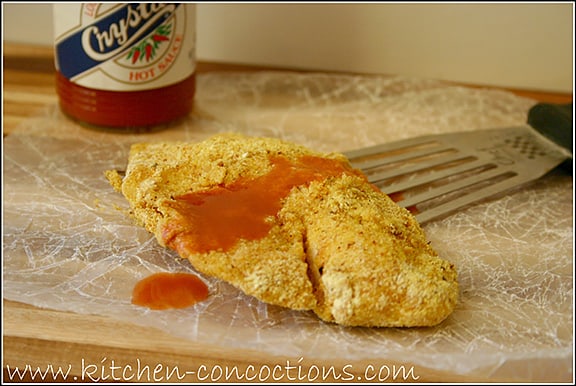 Southern Oven Baked Catfish/Tilapia

Make a plan and stick to it! On days I don't have meals planned out and groceries already in the pantry and fridge I struggle with dinner. Have a few 'go to' recipes up your sleeve, some of my favorites are Southern Oven Baked Catfish/Tilapia, Chili Lime Tilapia with Roasted Corn, Sausage and Pepper Arrabbiata, Lemon Peppered Chicken. I also try and have some basics on hand all the time to make dinner in a pinch (you know when you haven't been to the store in a while). Things like pasta, tortillas, cheese, canned beans, tomatoes, frozen veggies, eggs have all saved me in a time or two.
What kind of camera/lens/equipment do you use?
When I first started blogging I just used a pretty basic point and shoot. Only until about a year and a half ago did I upgraded to a Cannon Rebel. I am still trying to learn my way around it so maybe in the future I can get into some fancy, big girl lens.
Any suggestions or hints to have great food photos?
Again this is something I am still learning. But what I do know is to use natural sunlight! Then look to food magazines and cookbooks for inspiration as far as styling and plating. I always try to include different texture elements and fresh ingredients (lemon wedges, fresh herbs, etc.) and I think most food looks best on white plates. But do what you love and think is best! One of the reasons I love blogging is that each blogger has their own special touch/style to their photos!
What kind of food did you eat growing up? Do you cook the same kinds of things today?
My Mom was not a cook, she was a baker. So besides her Lemon Pepper Chicken, she really did not cook much that wasn't from a jar or a box, except for holidays then she would go the whole nine yards with homemade everything! But oh her baked goods, from sugar cookies for every holiday, to pecan pie, to banana bread and homemade jam there was nothing she didn't bake, and share with the whole neighborhood. Due to both my Mom's baking skills and lack of cooking, I was in the kitchen at a young age, cooking dinner for the fam and decorating cookies. Today, I still make that chicken and all my Mom's famous baked goods, and I try and eat as fresh as possible and cook most of my meals from scratch.
What was the first dish you ever cooked?
I have always been cooking for as long as I can remember! Growing up a tradition of ours was to decorate sugar cookies for. Every. Holiday. But the first dish I really remember making all by myself was some ice cream with my best friend in middle school. We had typing class (does that still exist) together and had to type a recipe for ice cream. We decided we were going to make that ice cream that day, because my friend had an old school hand cranked machine. We went home and either due to our poor typing skills or excessive giggling or inability to read a recipe; pour the ice cream salt into our ice cream custard. Boy, we weren't laughing anymore after our first bite!
Is there a dish that you are known for?
Ahhh! There are so many recipes that my friends and family are always asking me for the recipe or to make for different functions. Of course most of them desserts!
When you really want to cheat, what do you eat?
A big juicy burger and French fries or pizza! And of course ice cream, no a s'more for dessert.
If you could travel anywhere in the world – just for the food – where would you go?
I have to pick just one place? I want to travel the world! I love all food!
What is the best thing you've ever eaten? The strangest?
My grandmother's seafood gumbo is the best (seriously people, I dream about it)! Frog legs and alligator are strange for some but I my family is from Louisiana so I've had it a lot and love it. And while escargot, foie gras, and caviar are common for others, I could do without.
Is there anything you would not ever eat?
Nope I'll try anything once! (I say that, but some of that stuff on Bizarre Foods is just a little too weird for me!)
What are your favorite blogs to read?
Ahhh. This is like asking a parent who is their favorite child! I have so many and love each blog for something different. Of course Taste and Tell! Deborah you are so down to earth and I would love to come bake up some donuts with you! I love to read my friend Monica's blog, Lick the Bowl Good, because we have so much in common. Jessica, of How Sweet It Is, is so funny in her storytelling. Mel of Mel's Kitchen Café describes food that makes my mouth drool. And the photography of Good Life Eats and Annie's Eats is so beautiful. Oh and of course, Lisa's blog (my aunt), Lisa Knows Tea (http://lisaknowstea.blogspot.com), an informative blog about tea, but includes tasty recipes and enrapture/business tips. And these are just a few (very small few) of all the blogs I try and read.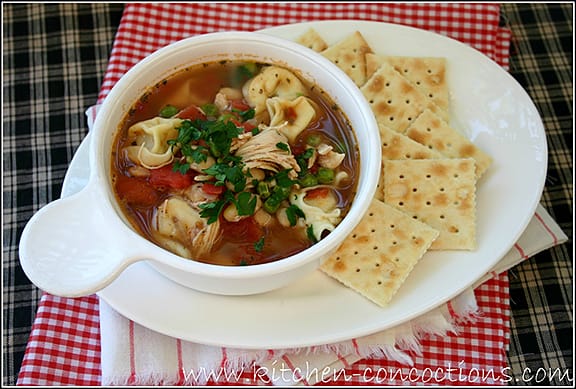 Hearty Italian Tortellini Soup with Turkey

What is your best tip for saving money on groceries?
Make a menu plan. Write your shopping list. Stick to your list. And avoid the store on 'non-shopping' days to avoid turning that $5 purchase into a $50 purchase. I also coupon. Not the extreme coupon sort of way, but I have my coupon folder, and each week when I review my stores sales I pull coupons for things that are on sale that I use or for things that I need on my shopping list. Even with a coupon, if it is not a product I use or if the coupon and/or sale price are not cheaper than other brands that are just as good then I won't get it.
What is your favorite part about blogging?
Sharing what I am passionate about (food, of course), with others. This includes being able to meet people and connect through emails and in person.
What is your best tip to becoming a successful blogger?
I wish I could answer this but 'successful' is all in the eyes of the blogger. I think if you are honest, work hard, just be yourself and are doing what you love, you are successful. With all the thousands of blogs out there this is something I have to remind myself of, because it is easy to get caught in numbers and stats, but how I express myself and my quality of work is how I want to be known!
——————–
Thank you, Heather!  And just for the record – you are always welcome in my kitchen.  Especially if donuts are involved!!  If you want to see more from Heather, here is where you can find her:
Blog:  Kitchen Concoctions
Facebook: Kitchen Concoctions
Twitter: @KitConcoctions
Pinterest: Heather Hunsaker