I am always jealous of the bloggers that make gorgeous desserts, or throw amazing parties, or make perfect cookies.  Today's Blogger Spotlight, Glory from Glorious Treats – is one of those bloggers that I find myself super jealous of.  I mean, you need to check out her black and white Halloween party.  I wish I could pull something like that off!!  I'm so super excited to have Glory here with us today to let us know all about her!!
——————————————————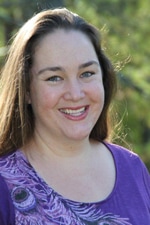 I'm a mommy of two young girls and wife to my high school sweetheart.  We live in beautiful northern California.  I've always love making pretty food, but my passion for baking really took off about 5 years ago, after quitting my job as a floral designer to stay home with my girls.  I needed a new creative outlet and baking was a perfect fit!  I love making pretty cookies, cupcakes, and cakes and sharing them with family and friends.  In addition to baking I love color, design and all things crafty!
What inspired you to first start writing your blog?
I began sharing photos of my baking projects on Flickr in 2004.  Over time I began getting a lot of questions about the recipes, techniques, etc. needed for the things I was posting.  I thought a blog would be the perfect way to share all the details on my projects.
What kinds of posts are your favorite to write?  What do your readers seem to like the most?
I love writing up a post when a project actually turned out the way I planned… then I'm excited to share my success!   I also really enjoy posts about parties I've put together, because a lot of work and love has been put in… but those posts are always the most work too!  I'm not sure which posts my readers like the most… just when I think I'm posting something great, it will be flop with readers… or when I think a project is just "ok", it will be a huge hit!
What is your favorite kind of food to make?
Desserts are my favorite to make!  I love making pretty food, and desserts lend themselves so easily being dressed up!  I do love to cook as well, but often am too busy with my baking/dessert projects to make very fancy dinners.
What is your favorite recipe posted on your blog?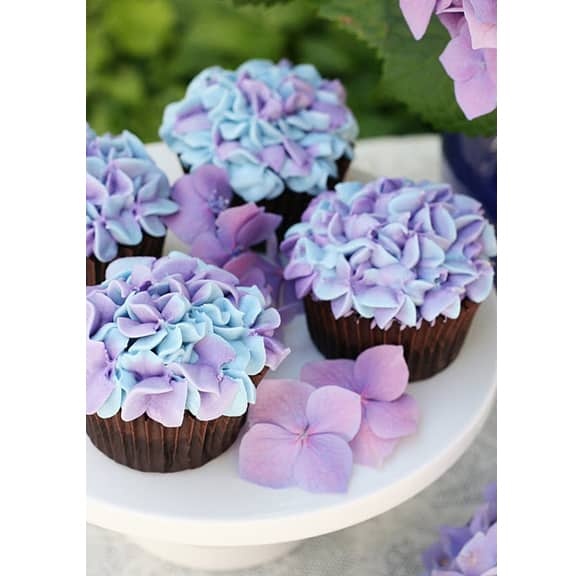 One of my favoite (and most popular) post are my hydrangea cupcakes.  They are made using two of my favorite recipes… chocolate cupcakes and cream cheese frosting.
Will you show us your kitchen?  What is your favorite thing about your kitchen?
Well… I can't say there is much I love about my kitchen… other than it's functional! I'm still waiting for my call from HGTV to come makeover my kitchen!  I've posted a photo of my kitchen in one of my most personal posts, The Glorious Truth.
What is your favorite kitchen tool/appliance?
I couldn't live without my Kitchen Aid Mixer! I also have a pretty spatula with flowers on it that a friend gave me… I love to
bake with it, I call it my "happy spatula".
Where do most of your recipes come from?  (Family favorites, you make them up, magazines, cookbooks, etc.)
My mom and both of my grandmothers are amazing bakers/cooks, so I have many recipes from each of them. I also have an almost obscene number of cookbooks… I really love collecting old ones. I love to create my own recipes as well, so I do a LOT of experimenting!
What is your favorite part about blogging?
I love having a place to share my creative passions!  And the positive feedback from readers, as well as some fun opportunities are great bonuses!

What kind of camera/lens/equipment do you use?
I have a Canon EOS 30D.  The lens I use most often for my food photography is a little 50mm 1.8 lens.
Any suggestions or hints to have great food photos?
Natural light is a must, unless you can afford a full photo studio!
What kind of food did you eat growing up?  Do you cook the same kinds of things today?
I grew up on homemade, healthy and balanced meals.  My mom often baked fresh whole wheat bread, and we had a huge garden year round and enjoyed lots of fresh vegetables.  We also had chickens, so we always had fresh eggs.  But we did enjoy homemade cookies and brownies as treats as well.   I try to feed my family balanced meals, and both of my girls (ages 4 and 7) enjoy most all fruits and vegetables, although we do enjoy a bit more sugar than we probably should!
If you could travel anywhere in the world – just for the food – where would you go?
It would have to be France!  Bread, cheese, coffee and sweets… what more could I want!
What is the best thing you've ever eaten?  The strangest?
One of the best was meals I've ever eaten was an anniversary dinner my husband and I enjoyed (12 years ago) in the Space Needle in Seattle.  We had prime rib, baked potatoes and vegetables.  Then for dessert we had an "Orbiter Sundae", which was just an ice cream sundae, but is was served on a dish of dry ice, so it created a cool fog around our whole table.
One of the strangest things I've ever "eaten" is Turkish coffee, while I was on a trip in Kosovo.  I like coffee.. but this was more like coffee flavored dirt!  Of course at the time I didn't know you don't have to drink the last sip… which is just all grinds!
What are your favorite blogs to read?
I love a LOT of blogs… but a few of my top favorites are, Sweet Sugar Belle, Confessions of a Cookbook Queen, Cookies and Cups, Haniela's, Bakerella, Sweetapolita, The Tomkat Studio.
What is your best tip to becoming a successful blogger?
Blog about something you know, and something you're passionate about.  Learn to take good enough photos to properly show off your work.  And commit to a regular posting schedule so readers can trust when to expect new posts.
———————————
Thank you for joining us here today, Glory! If you want to see more from Glory, here is where you can find her:
Blog: Glorious Treats
Facebook: Glorious Treats
Twitter: @GloriousTreats