I don't even know where to start when I talk about today's Blogger Spotlight – Heidi from FoodieCrush. I first met Heidi this summer when she put together a photo workshop with Helen of Tartelette.  I kind of think that fate had a little something to do with that class, because I got to meet Heidi!  Heidi is one of those people who is so amazing and genuine online, but to meet her in real life, all of that is magnified!!  And her blog?  One of the most beautiful ones out there, and such a great concept!!  I would deem her the #1 new blog to check out of 2011.  And don't even get me started on the debut issue of FoodieCrush magazine.  If you have been living under a rock and haven't heard about Heidi, make sure you check her out.  And if you already read her blog, now you get to learn lots of new things about her!  Thanks for participating, Heidi!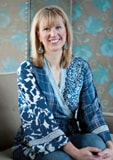 I grew up in the Ogden, UT, graduated in Advertising from Utah State University and then made my move to the big city, SLC, where I promptly got a job as a waitress. There I met my adorable husband—much to my parents consternation (he had blue hair and was in a band). I eventually got a "real job" in advertising, we got a dog, bought and remodeled a house, got hitched, sold our house, bought a better house, and promptly put it up for rent (for the next 12 years) and moved to Los Angeles where I went to work as the Creative Director for a magazine publisher creating magazines for General Nutrition Centers, CVS Pharmacy, NASCAR and many more. In my spare time I volunteered as Creative Director for an amazing animal rescue group, Much Love Animal Rescue, served on their Board of Directors, did a lot of fundraising and adopted two new pups after fostering and mushing on many others. My husband and I spent weekends at the beach eating sushi from Ralph's, nightly walks through the Venice canals and weekend dinners out with friends and if we weren't taking off to New York, Mexico, Hawaii, Asia. We bought and remodeled another house, hosted amazing dinner parties and went wherever the wind blew us—we were footloose and fancy free because we didn't have kids.Then, after 13 years of marriage, I found out I was pregnant and our selfish, groundhog day world came to an end. And our new even more amazing life began when we welcomed the most amazing baby into the world. In 2007 I was offered a job for a magazine publishing company in Salt Lake City, we sold our house, moved back home and bought and remodeled another house. In the past year I've continued my day job, become an adjunct professor at Utah Valley University where I teach magazine design, I started a hat company with a friend, I started food blogging and I launched an online food magazine called FoodieCrush . Which explains why I need long baths at night and a nap.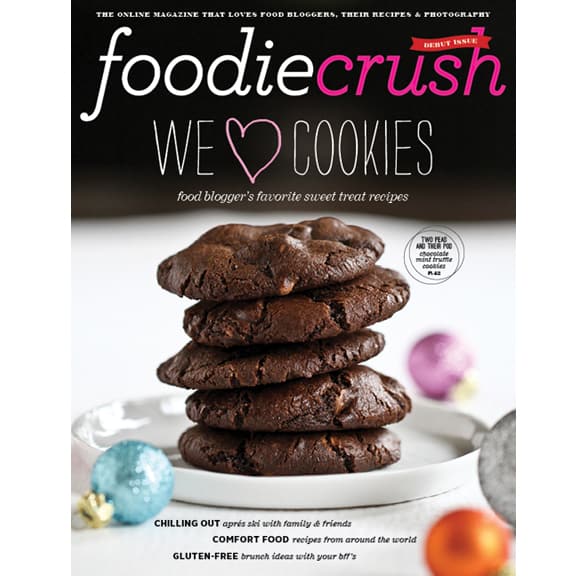 What inspired you to first start writing your blog?
I actually started blogging in 2007 when my husband and I moved from Los Angeles back to Salt Lake City. We purchased a new/used mid-century home that and proceeded to strip it to the bones. I created Rock House Remodel as a way for our friends and family to keep up with our remodeling adventures, but it fell to the wayside when the number of before and after images became unmanageable and I got overwhelmed with the thoughts of back posting the progress since we were so much further/farther along in the process. My husband is still bitter I haven't devoted more time to his blood, sweat and tears. I still have intentions of updating it, I just need to squeeze in the time.
We've both always been big cooks, and for years our cooking hobby's been our pleasure spot. Before we had our daughter, our nightly adventures centered around going to the grocery store and then coming home to cook some feast or another. Dinner would finally hit the table, or the couch, at around 10 p.m. Well, things changed once we had our little Smudge.
Due to less time spent devouring cookbooks or searching through my stacks of magazines next to my bed, on the side of the tub and in the back room, we soon found we were sourcing recipes more and more from the web.
With these resources at my fingertips, and with my background and passion in magazine publishing, I saw a hole that needed to be filled in the magazine arena: A place to feature food bloggers, their recipes and photography and celebrate them like the rising rock stars of the culinary world that they are.
How did it happen? Organically. I've always had projects going in addition to my day job so two of my friends and I started a mini-coaching group, where we met weekly and played off one another's strengths, encouraging and advising one other toward our individual goals. Operation OFO. And so after hemming and hawing for about a year, and thanks to the coaching and support of my friends Courtney and Tessa, I finally committed to the idea in March of 2011 and deemed Holiday 2011 was going to be the debut issue. Just. Like. That.
I took small steps and launched the food blog portion of FoodieCrush in April 2011. My first post wasn't planned, its just what my husband was cooking that night, his favorite: Steamy Kitchen's Pho Ga Vietnamese Chicken Noodle Soup. The still has zero comments, but it holds a special place in my heart. It was my first.
The blog allowed me to create relationships with both readers and food bloggers, conveying to both that my intent with FoodieCrush was to create a forum where food bloggers would shine in a curated forum and be celebrated.
Luckily, I convinced some very generous food bloggers and contributors who saw my vision and helped make FoodieCrush magazine come to fruition in December 2011.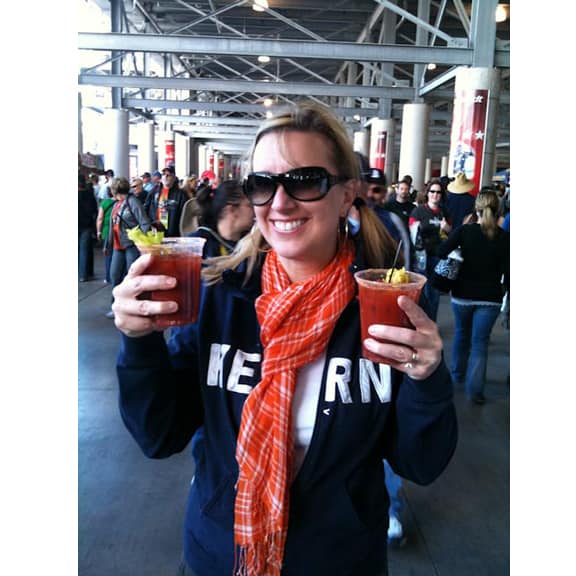 What kinds of posts are your favorite to write? What do your readers seem to like the most?
The posts I enjoy writing most usually start off with a personal story or anecdote, something that tells them a little more about food bloggers when they aren't sitting at their computers blogging or recipe developing. My Family Food Flashback post included a few of my fellow Utah food bloggers, like Deb's Chile Relleno and one of my favorite childhood dinners, Wienerschnitzel. You know, I've asked readers what they like to see on the blog and it's really a combination: food blogger interviews and the original recipes pretty much rate the same. And of course there's Frog in the Hole. The easiest recipe I have on the blog and the one that took the least time to prepare, to photograph—I literally thought of the post as I stealthily removed it from my husband's hands as he was about to take a bite—and blog about. People like easy. And apparently odd names.
Do you plan a weekly menu? If so, what inspires your menu?
G-Dawg (my husband, G is short for Gangster since we lived in Venice, CA) and I share the cooking responsibilities, so it usually depends on who's taking the reigns that night. We choose what to cook depending on what fish looks fresh, what food blogger spiked my interest in my RSS feed or what the weather leaves us craving.
Our inspiration is generated by whim. On weekends, more often than not it starts off with a lazy Saturday lounge as we all pile in the big bed, and after Smudge gets in an episode of SpongeBob or Big Time Rush, the parents get a turn to take in a few tivoed Food Network TV shows—our faves being Tyler Florence, Anne Burrell and my new fave Lorraine Pascale of Simply Baking. We're usually converted and make something they've made that looks delicious. Monday night is Ali's choice, Tuesday nights I teach a magazine design class so its daddy/daughter date night and then the rest of the week is pretty loosey-goosey, usually ending with an easy going dinner with friends on Friday or Saturday night.
What is your favorite kind of food to make?
I'm more of a savory cooking kind of gal with pastas or shrimp making regular appearances. My husband is the steak chef in the house and although I'm not a huge eat meater, his Ribeyes topped with creamed mushrooms and thyme, are downright divine. The blog is pretty much a reflection of whatever inspires us at the moment.
What is your favorite recipe posted on your blog?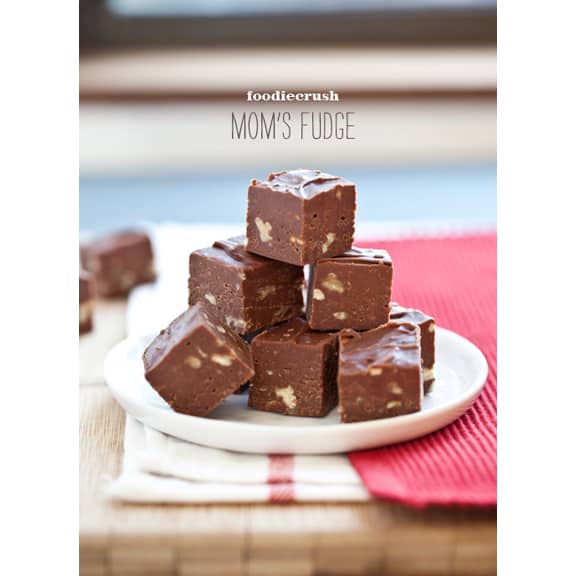 Probably my mom's fudge recipe, because it's such a family tradition.
Will you show us your kitchen? What is your favorite thing about your kitchen?
(side note – Heidi sent me several pics, and I just couldn't choose 1 or 2 because her kitchen is so gorgeous!!  So enjoy them all!  And I don't think I'd be leaving my kitchen if it looked like this!)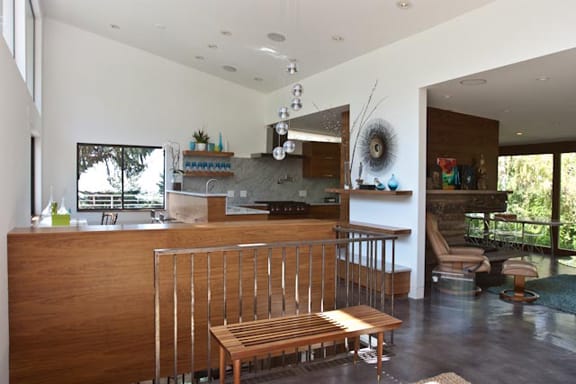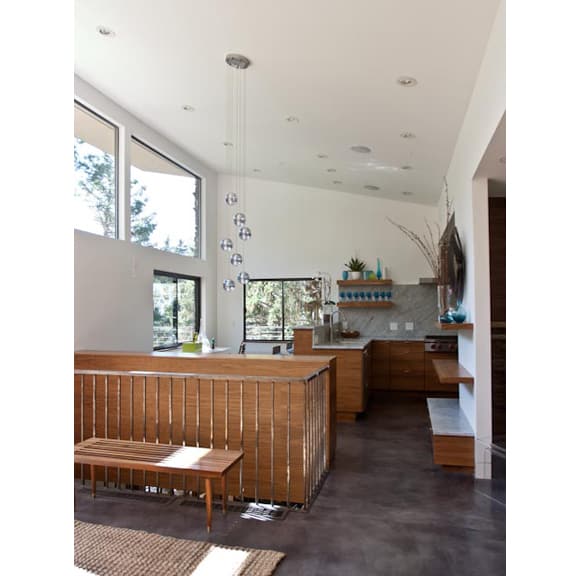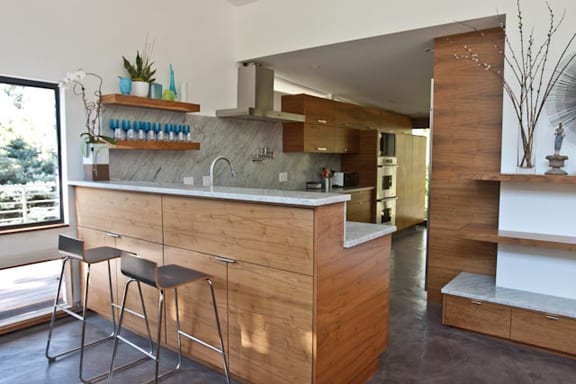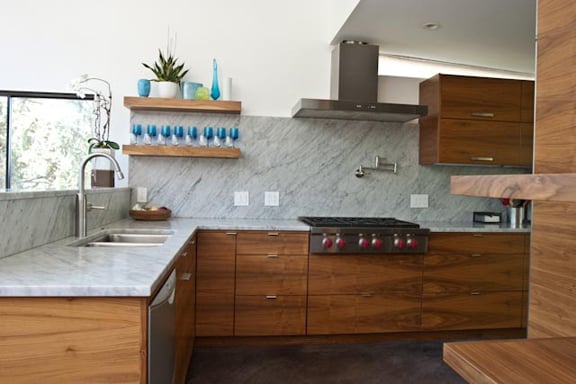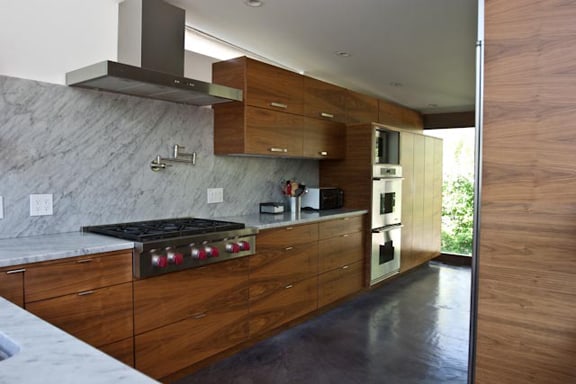 My favorite part of our kitchen is the windows along the east that gives us amazing views of Mount Olympus and the wall-to-wall, floor-to-ceiling windows that face west giving us a view of the city. It does, however, mean that during the winter we spend weekend mornings doing dishes with our sunglasses on.
What is your favorite kitchen tool/appliance?
My favorite kitchen tool is my Global Santoku knife. We take our knives with us on vacation, along with our pillows. #oldpeoplenerds.
What is your best tip for getting dinner on the table?
Not sure if this is a tip or just a fact of life, but when we have dinner parties, large or small, it seems we usually serve a few apps and some wine, then a little more wine and maybe just one more glass so that when dinner finally shows up to the table, everyone is so hungry they think its the best meal they've ever eaten.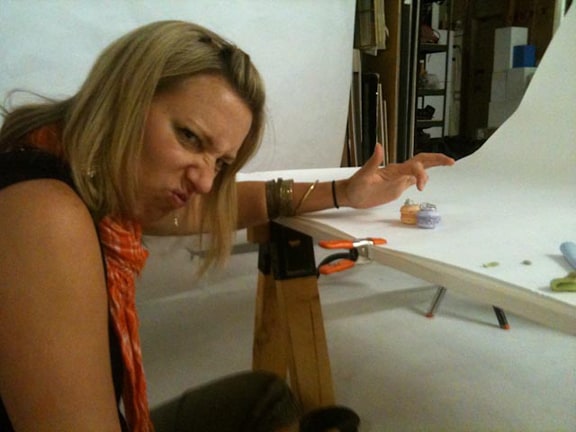 Where do most of your recipes come from?
Most of our recipes come from my obsession with magazines (Food & Wine, Bon Appetit, Cooks Illustrated, Saveur, Jamie, Donna Hay, Delicious) and the internet.
What would you eat as your last supper?
It would most likely be something savory but light, probably the most pillowy gnocchi in a light creamy gorgonzola sauce with shrimp and mushrooms.
What is your favorite part about blogging?
My fave part about blogging is that once I've discovered a blogger, I love, love, love getting to know them in person. There are so many bloggers I'd love to see face to face and get to know beyond the screen because those that I have had the opportunity to share people time with are such quality people. It's a certain personality that makes a food blogger and it seems that the common trait is: generousity. I mean, you have to be generous to share so much of yourself with people you don't know only in hopes to enrich their lives with deliciousness. Am I right?
What kind of camera/lens/equipment do you use?
Until 2 weeks ago, the camera I used was one I bought from a photographer friend of mine—a Canon 5D with a nifty 50mm lens. But when the back preview wouldn't display any more I broke down and bought the Canon 5D Mark II with a Canon EF24-105mm f 4.0 IS L lens and a Canon EF 100mm f/2.8 Macro IS USM lens thanks to the recommendation by Terilyn Fisher of Spoon Fork Bacon. I recently had my very first PAID (wha-wha?) photo shoot so at least it's working for its living. And yes, it and me are available for hire, anytime.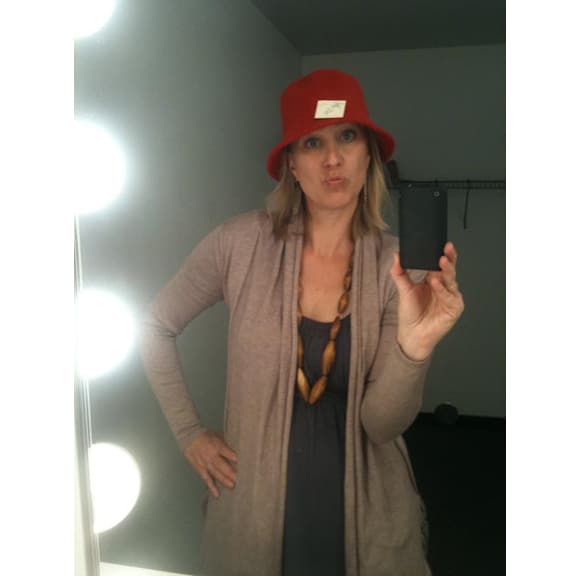 Any suggestions or hints to have great food photos?
There are so many incredible styles of so many amazing, and successful, food photographers, each with their own unique qualities. But those are THEIR qualities, not always YOURS. My advice? Learn the capabilities of your camera and certainly experiment with emulating others, but realize that if you're doing the same thing over and over, THAT is your style. Go with it and improve on it instead of trying to be something your not. Oh, and a shorter depth of field (lower number f-stop), natural window light and simpler styling and a consistent color palette within your photo's styling elements is usually best. And you can find great props at second hand stores.
When you really want to cheat, what do you eat?
I was recently turned onto Blue Bunny Peanut Butter Panic ice cream and if its in the freezer I'm like a cheap date and pretty much can't say no.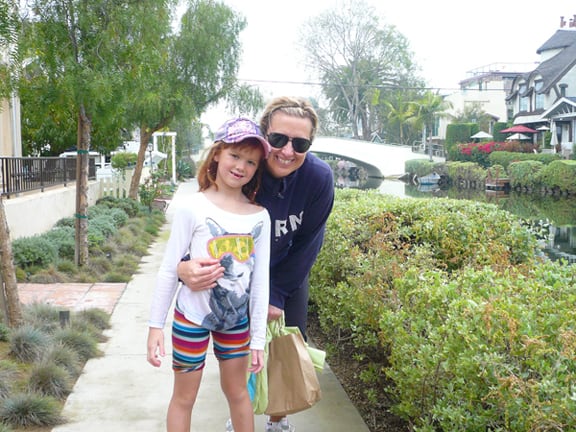 What are your favorite blogs to read?
Obviously I love food blogs and especially love discovering rising stars emerging in their own styles, I'll be creating a post soon highlighting my top 10.
Outside of food blogs I'm currently obsessed with Wit & Delight and really love checking out Chic Sprinkles and the Blog Stylist.
What is your best tip to becoming a successful blogger?
Good pictures and good writing come with practice, and practice and then more practice. If you are consistent in your mission and authentic in your relationships, your true voice will relate to create a blog that attracts—and keeps—devoted readers.
————————–
Heidi, you are a rock star!!  I'm so glad that I know you both online and offline!  Thank you so much for sharing with us – I learned so much more about you!  If you want to see more from Heidi, here is where you can find her:
Blog:  FoodieCrush
Magazine:  debut issue December 2011
Facebook: FoodieCrush Magazine
Twitter: @foodiecrush
Pinterest: foodiecrush magazine