Today's Blogger Spotlight not only has a fabulous blog, but she is also such a nice person. Sandy, from Everyday Southwest, doesn't live in Utah, but I'm so lucky that she makes regular trips here, and that I can call her my friend. Her blog is full of amazing looking food, and I'm partial to her recipes since they have a southwest flair. (And I'm from the southwest!) Sandy, along with her sister Donna, who also writes at Apron Strings, bring some beautiful, creative and inticing food.Thanks for sharing with us today, Sandy!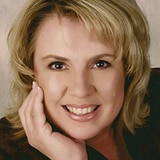 Hi, I'm Sandy Hoopes.  I was born and raised about 60 miles north of the Mexico border in Tucson, Arizona.  My childhood was filled with corn fritters, rock candy and hours of chasing lizards in the beautiful Sonoran Desert.  As a young wife and mother, my husband and I moved to Phoenix, AZ to raise our two sons.  After taking 14 years to be a stay at home mom, I was lucky enough to enter my second favorite profession, elementary education.  I have recently "retired" to live out another dream of mine, to become a culinary school graduate and a food writer.  I have served as lifestyle editor and food editor of a community newspaper, the Puma Press as well as the co-creator of EverydaySoutwest.com and co-author of a cookbook that is scheduled to arrive on September 1st.
What inspired you to first start writing your blog?
My sister and I were looking for a way to our share our passion for cooking with each other.  The problem was, I live in Phoenix and Donna lives in Utah.  We had to find a way to share our recipes with each other that would not bankrupt us with phone bills so, starting a blog was the perfect answer.  Why a Southwest recipe blog?  We come from five generations of Arizona women.  That's over 100 years of southwest cooking.  We felt a need to document our family traditions, authentic recipes and childhood memories with our own children.  We also wanted to show them the light and modern twists we have added that can make southwest cooking a part of their busy lives.  Along the way, we have found so many "foodie friends" that share our love for Southwest flavors.
What kinds of posts are your favorite to write?  What do your readers seem to like the most?
I love writing posts that have a strong family tradition, posts that tie our family together with memories.  Food seems to have a magical power that can transport you to a special time and place.  I don't have to describe the memory to my children or my friends, I can make the dish for them and they can experience the memory for themselves.

Peaches Foster with Buttermilk Ice Cream is the perfect example of a recipe that has a very special tie to my childhood.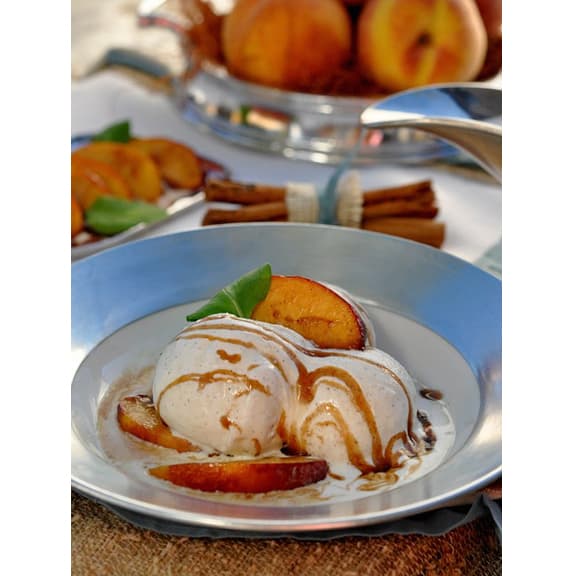 Peaches Foster with Buttermilk Ice Cream

Where do most of your recipes come from?
Most of my recipes are a strange concoction of traditional Sonoran cooking from my roots mixed with light, modern interpretations that are filtered through my culinary school experience. Well, I said it was strange. I also love eating dishes from famous chefs and then going home and challenging myself to duplicate the dish in a faster, easier way to make at home. Of coarse, there are family favorites that I won't change one teeny bit.
My Christmas Dinner Short Ribs are a faster version of The Wayfare Tavern's.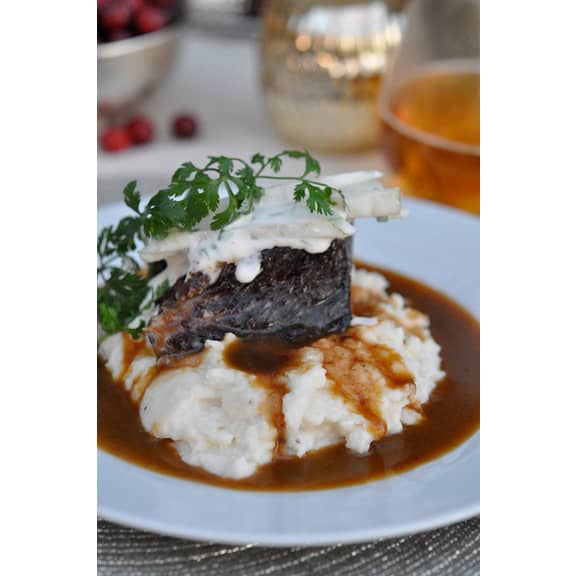 Christmas Dinner Short Ribs with Pear and Celery Salad


Do you plan a weekly menu? If so, what inspires your menu?
When my children were young, I could not have survived without a weekly menu. In fact, I planned meals two weeks at a time and put the little calendar on the refrigerator. That way, when the chaos hit I knew the plan, the ingredients were ready and it was a piece of cake. Now that my boys are older and they only come home for dinner now and then, I can be more creative. I can cook what sounds good right now, what's good at the market today. I can also cook with a lighter touch; no teenage athletes to feed that need brown, hot and plenty of it food.

What is your favorite kind of food to make?
Desserts! There, I admit it. I love to make deserts. The problem is, my husband and sons only eat a bite or two and then get out the bag of tortilla chips and bowl of salsa (called "chips and sauce" around these parts), leaving the rest of the desert for me to eat. So, I only make deserts on special occasions, birthdays, holidays…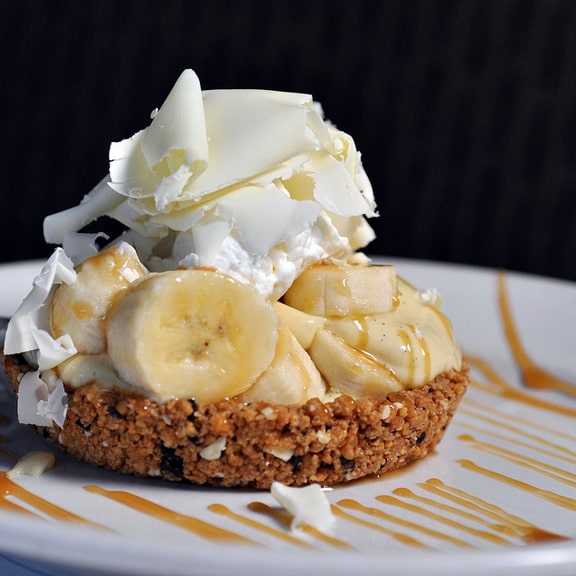 Mini Banana Cream Pie and How to Make Pastry Cream

What is your favorite recipe posted on your blog?
What's my favorite recipe? That's a tough question, how can I choose just one? My favorite recipe changes all the time depending on the season, the occasion or what ever I'm in the mood for. Right now, it's really hot outside and I just made another batch of Blood Orange Sherbet for Fresca Floats . I'd have to say that is my favorite this summer. Oh, and my Blueberry Ricotta Pancake Dippers! They are really fun and I know my family loves them because they sneak one every time they walk by.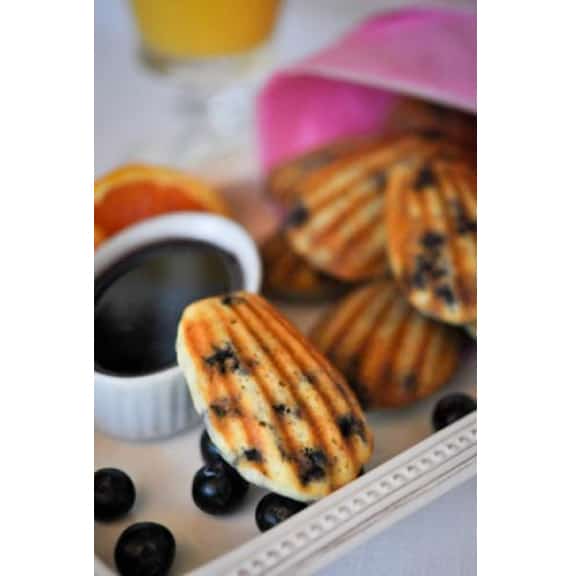 Blueberry Ricotta Pancake Dippers

What was your first post? How do you think your blog has changed since you first started blogging?
Our first post was Mom's Sour Cream Enchiladas. It is the recipe that says everything about us and where we want the blog to go. Sour cream enchiladas are usually just regular red chile enchiladas with a dollop of sour cream on top. But our mom was way ahead of her time. She made this combination of Southwest enchiladas and French cream sauce long before Bobby Flay even dreamed about fusion cooking. It is the favorite recipe of all five of my brothers and sisters and it is the recipe that all of Mom's grandchildren know.
I think our blog has grown with us. As we have gotten more familiar with the whole "blog-o-sphere" and made such good friends with our readers, we can be more casual—show more of ourselves in our posts. I feel like I am sharing with friends now, I don't have to "get out the good towels" as Billy Crystal might say. At first, I didn't realize that our readers were looking for the "everyday" way to make their meals more exciting.



Will you show us your kitchen? What is your favorite thing about your kitchen?
No! You may not see my kitchen. It is currently under construction. The longest construction project on earth, if you ask my husband. I took bids for the job of tiling a backsplash on the diagonal… well, let's just say that now I know why those men charge so much! When, or if, I ever get the grouting finished, I will post on Facebook or something. Besides, my kitchen is so small that I threaten my family if they come anywhere near it while I am doing "serious" cooking. I think I'm going to have to get that yellow police tape to cross off the entrance and keep everyone out.
How about your refrigerator? What do you keep stocked in it?
My fridge? Not much in there right now, just Diet Pepsi and cilantro… lot's of cilantro… acres of cilantro. Maybe I should invest in a cilantro farm.
What is your best tip for getting dinner on the table?
My best tip for getting dinner on the table comes from culinary school. It's a term called "mise en place" meaning everything in its place. We prepped everything for the week on Tuesdays. Onions? Chopped them all. Cakes? Baked dozens of the layers on Tuesday, then decorated as needed through out the week. So, how does that translate to family dinner? Look at your menu, if you need onions today and Thursday, just chop them all at once. I found I spend more time getting things out of the fridge and cleaning up than I do actually cooking. So, while the mess is out, prepare things ahead so they will be in their place when you need them tomorrow.
My other advice? Just do it. Nobody is looking over your shoulder and grading your pasta dish. Just do your best and your family will love it.
What would you eat as your last supper?
How many courses do I get? I think I might have to fly to San Francisco and have Tyler Florence cook for me at his Wayfare Tavern for my last supper. The menu is nothing you haven't heard of before, it is just the most perfect version of what you are familiar with. The popovers? Yes, actually, to die for. He will need to put his perfect short ribs back on the menu, though. Dessert? Sticky Toffee Pudding with amazing roasted fruit and housemade ice cream. Mmm…
What kind of camera/lens/equipment do you use?
I use a Nikon D90 with a 60mm macro lens for my food photography.
Any suggestions or hints to have great food photos?
I still consider myself a beginner when it comes to photography. Although, I am getting a little better with photography. I think the thing that makes the biggest difference in my own photography is the light. Find out where the light is best in your house and at what time of day. Then, try to time your food shots around that. That is easier said than done, I know. By the time I get home and cook something for the blog, I am short on time and wind up chasing the light out into the yard for just one shot. So, try to leave yourself enough time to change the styling of the food a couple of times before the sun goes all the way down.
My favorite photograph is my Pumpkin Spice Cranberry Scones with Homemade Butter. It's not perfect by any means but, I love the way the light comes in and the "homey" feeling it gives.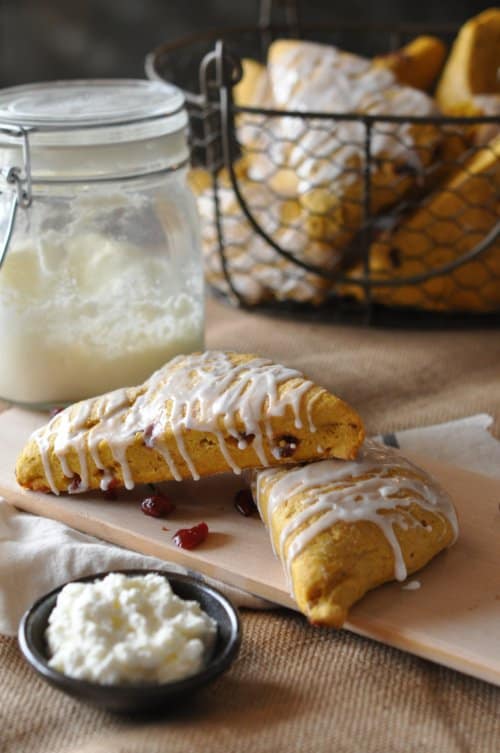 Pumpkin Spice Cranberry Scones with Homemade Butter


What kind of food did you eat growing up? Do you cook the same kinds of things today?
No! I do not make Tuna Noodle Casserole. My children have never tasted Tuna Noodle Casserole. In fact, I have been known to rant about how lucky they are and, if they don't show some appreciation around here, I will make them a Tuna Noodle Casserole.
What was the first dish you ever cooked?
The first dish I ever made was Peaches and Cream for my favorite Grandmother. Let's just say I was too young to read and didn't know there was such a thing as buttermilk. You can read more about it in my Peaches Foster and Buttermilk Ice Cream post.
Is there a dish that you are known for?
Funny you should ask. I wasn't quite sure so, I asked around and found I am actually known for my desserts and lasagna. Go figure.

When you really want to cheat, what do you eat?
Dryers Rocky Road Ice Cream, the best ice cream on the whole planet.

If you could travel anywhere in the world – just for the food – where would you go?
Paris. No question. Remember I'm a pastry girl at heart.
What is the best thing you've ever eaten? The strangest?
The best thing I have ever eaten may have to be the Napoleons at Epcot Center in Florida. I will take the red eye flight to Orlando right now if you dare me to.
The strangest I've ever eaten has to be haggis. You know, the chopped up animal parts mixed with oats and cooked in a sheep's stomach? Yes, that haggis. Well, we were in Scotland… I have ancestors from Scotland… it was really just a tiny bite on the end of my knife… I couldn't go home without trying it…
What is your favorite part about blogging?
My favorite part of blogging is the incredible friends I have made since starting the blog. It is so nice to have friends and readers that share the passion of cooking and traveling with me.
——————-
Huge thanks to Sandy for sharing all of her favorites and giving us a glimpse inside her blog.  And I totally want those enchiladas right now.  They just may be going on next week's menu!  If you want to see more from Sandy, here is where you can find her:
Blog:  Everyday Southwest
Facebook:  Everyday Southwest
Twitter:  @southwestgirl
Pinterest:  sandra hoopes