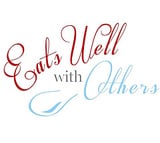 A huge welcome to today's Blogger Spotlight – Joanne from Eats Well With Others. Joanne and I have been blog friends for quite some time now. And I don't know how she does it. Not only is she in medical school, she cooks up some amazing food and is an amazing commenter. In fact, she is my #1 commenter, and I couldn't be more grateful. Thanks, Joanne!! Joanne is a vegetarian, but I don't think you'll even miss the meat while browsing her blog, because her recipes are more than just salads and pasta. (What I normally think of as vegetarian options! 🙂 ) Welcome, Joanne – I'm so happy to have you here!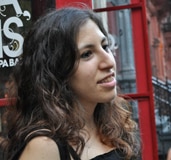 Joanne Bruno is a food writer and third year MD/PhD student in the Weill Cornell/Rockefeller/Sloan-Kettering Tri-Institutional program. Her food blog, Eats Well With Others, provides insight into the often ridiculous and always delicious thoughts, ramblings, experiences, and food that she encounters along the way to getting two degrees.
What inspired you to first start writing your blog?
I started cooking my junior year of college (in a tiny kitchen in the basement of my college dorm…my tiny kitchen in a tiny NYC apartment is NOT much of an upgrade) and used food blogs a lot as recipe sources since I didn't have even one cookbook to my name. A year later, I was at home over Christmas break and totally bored so I thought to myself, "Hey! I can start a food blog." It was kind of a New Year's resolution. One of the few that has stuck.
What kinds of posts are your favorite to write? What do your readers seem to like the most?
I love writing about desserts, since they're my favorite thing to to eat. But I also get really excited about innovative healthy recipes because I love imposing my adoration of vegetables upon anyone and everyone. I think my readers most like when I write about my dating escapades/failures. And when I write about my family. They're always great sources of ridiculousness in my life and make for great posts.
Do you plan a weekly menu? If so, what inspires your menu?
I like to joke that instead of using my med student OCD tendencies to study obsessively, I menu plan obsessively instead. And by "joke", I mean that it's wholly 100% true. I try to cook every week from at least one of my cookbooks, cooking magazines and, of course, my favorite food blogs! I'm generally inspired by seasonal ingredients. And excruciatingly decadent desserts.
What is your favorite recipe posted on your blog?
Talk about hardest question to answer EVER. I can't really choose a favorite, but two that I LOVE are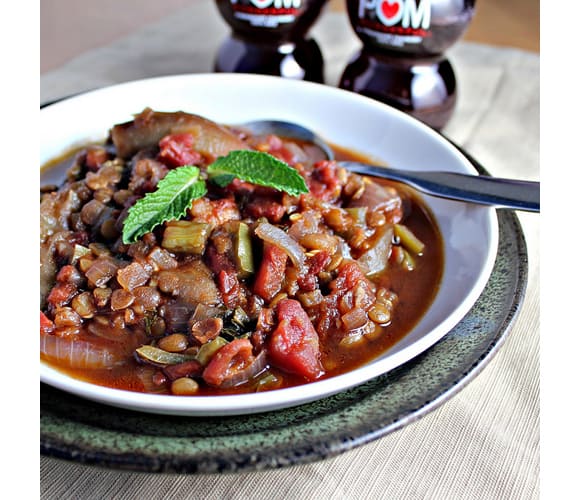 this eggplant and lentil stew with pomegranate molasses
and my Italian rainbow cookies (aka best cookie ever).
What is your favorite kitchen tool/appliance?
I couldn't live without my stand mixer, but my Cuisinart food processor is a close second. It grates things for me. Like CHEESE.
What is your best tip for getting dinner on the table?
I only have to cook for one, which is good because it means I only have to cater to myself…and it means I get to eat a LOT of leftovers. I generally do most of my cooking on the weekends when I have more free time and then eat leftovers throughout the week. If I do cook during the week, I make sure to read through the recipe the night before and then prep anything that will help make the process faster the next night. By the time I get home from lab and the gym I want to eat ASAP so I try to streamline the process as much as possible.
What would you eat as your last supper?
Macaroni and cheese. A jar of nutella. And peanut butter and jelly bars. If it's my last supper, I might as well go down with a bang!
What is your favorite part about blogging?
The blogging community and the friends that I have made through blogging, hands down. I know it's kind of cliche and that everyone says this…but it's true. The blogging community is the most supportive group of people that I have ever met and I've been lucky to turn many of my online friends into real life friends…it's just such a beautiful world to be a part of.
What kind of camera/lens/equipment do you use?
I have a Canon Rebel T2i and I shoot mainly with a 50mm f/1.8 . Although, I should say that for the first two years of my blog I shot with a Canon PowerShot SD750 and, once I got the hang of it, still produced really great photos. Proof that you don't need a fancy schmancy camera to take good pictures!
Any suggestions or hints to have great food photos?
Good lighting is key. I prefer to shoot in natural light but sometimes that's not always possible, so I do have a Lowel Ego light that has pretty much saved my life. Also…PRACTICE. Take lots of pictures from lots of angles with lots of different settings on your camera. It's the only way to learn!
What kind of food did you eat growing up? Do you cook the same kinds of things today?
My family ate a lot of heavy, meat and potatoes, pasta-full, veggie-free dinners when I was growing up, which is basically the polar opposite of what I eat now! These days, I'm an ethnic food-loving vegetarian (who still eats the occasional sushi) who basically subsists off of vegetables. I'm much more adventurous now.
When you really want to cheat, what do you eat?
Peanut butter. Lots and lots of peanut butter.
What are your favorite blogs to read?
Oh wow, there are so many blogs that I read, and I read them each for a different reason. Some of my current favorites are How Sweet Eats and Joy the Baker for their hysterical writing and delicious recipes, 101 Cookbooks and Cara's Cravings for their always-inventive healthy recipes, and Dana Treat for the fabulous veggie-full food love. But really, this only brushes the surface!
What is your best tip for saving money on groceries?
Go meatless! Just kidding. Kind of. But good quality meat is expensive and going meatless even just once a week can definitely save you money. I also try to only buy seasonal produce since it tends to be less expensive, and do most of my produce shopping at the farmer's market!
What is your best tip to becoming a successful blogger?
Be passionate. If you try to fake it, your readers will know and probably won't stick around. But if you're really writing about something you love, then success will come.
Since it is Red Velvet Week here on Taste and Tell, what is your favorite red velvet recipe that you've made?
Red velvet cake is actually my favorite cake of all time (I fully intend on it being my wedding cake. And no, my future husband will have absolutely ZERO say in the matter) so I always adore Deborah's red velvet week! My favorite red velvet recipe that I've made are these Red Velvet Black and White Cookies. I always eat the chocolate side first.
———————————
Joanne, you are the best!  Thank you so much for sharing with us here today!!  If you want to see more from Joanne, here is where you can find her:
Blog:  Eats Well With Others
Twitter: @joanneeatswell