I'm so excited to be sharing today's Blogger Spotlight with you.  From the first moment I read Kristy's (and Mike's) blog – Eat, Play, Love – I was hooked.  This family is a great example of what I would like my family to be like.  They get their kids right into the kitchen with them, and those kids are more adventurous eaters than most adults I know!  And even though they may not always like what has been made, they pretty much always try it.  It truly is an adventure to follow them along on their adventures.  I'm so excited to have them here today – welcome!!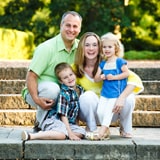 This is Kristy, Mike, Mr. N (7-1/2 years old) and Miss A (3-1/2 years old) and we blog our family food adventures over at Eat, Play, Love. We would like to thank Deborah for featuring our blog on her beautiful and delicious site. We've been following along for some time now and Deborah always leaves me drooling from her tasty and often simple recipes, to her amazing photos. Yum! Thank you Deborah.
So who is Eat, Play, Love? Well, our goal is to explore the world's cultures with our children by cooking traditional recipes from countries all over the world every few weeks. It's our way of opening them up to the many different cultures, religions, and ethnicities around the globe while also expanding their palates. The kids participate in the country selection as well as the cooking which is always an adventure; and as an added bonus, we've also found it's been a great way for us all to learn how to really cook!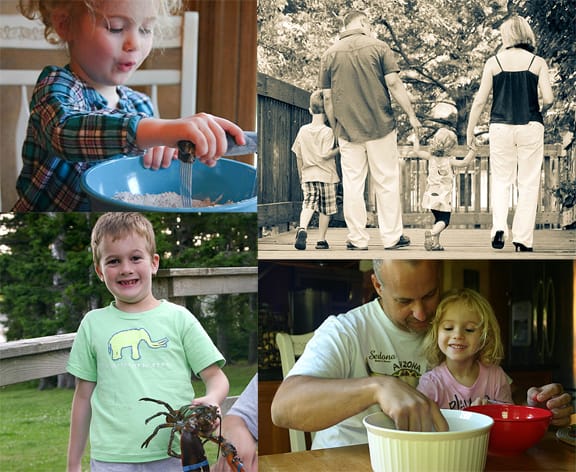 What inspired you to first start writing your blog?
My son, Mr. N and I thought it would be fun to try recipes from different countries around the world. He thought we should write a book…a blog seemed more approachable and that was the beginning.

What kinds of posts are your favorite to write?
The first post from each new country that we select is often my favorite. It's fun learning about new countries and their unique flavor profiles. I also enjoy the posts that correspond to past vacations. The aroma and tastes of foods from vacation always bring back a sense of the relaxation too.
What do your readers seem to like the most?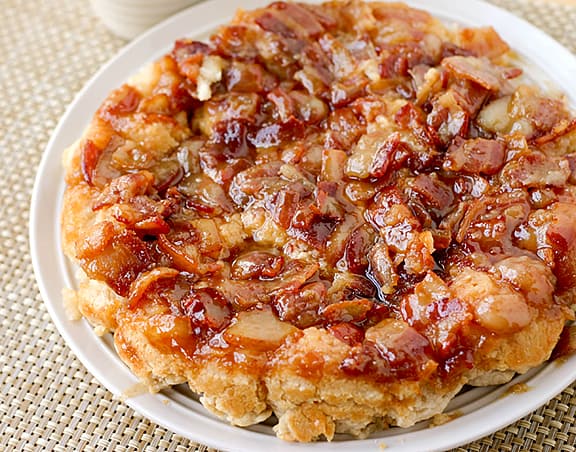 Maple Bacon Biscuits

Desserts and breakfasts are always a big draw. Our maple bacon biscuits and Greenlandic cake have been the most popular, with banana breads from our contest last year following close behind.

Where do most of your recipes come from?
Since we're exploring worldly cuisines, most of our recipes come from the internet or cookbooks, but we usually adjust them to suit our needs or combine different versions of the same recipe to make our own take on it. And occasionally we throw caution to the wind and make our own recipes.
What is your favorite kind of food to make?
Italian pasta sauces and homemade pie crusts. They take me to my happy place every time (plus they usually go with something really good and comforting).
What is your favorite recipe posted on your blog?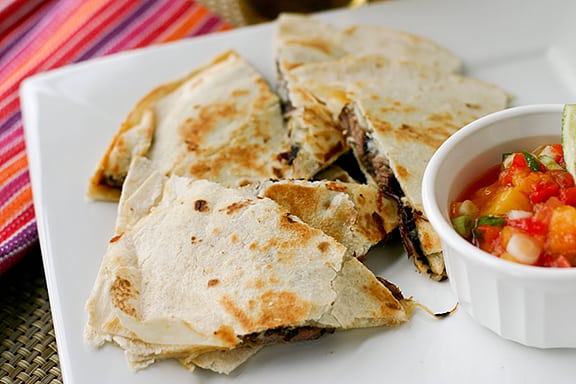 Oklahoma Bourbon Steak Quesadillas

Oh, now that's a tough one. There really are so many that I absolutely love, but I'd have to say our Oklahoma Bourbon Steak Quesadillas are currently at the top of my cravings list. Then again, I'll never turn down a slice of my Maine blueberry pie either.
What is your favorite kitchen tool/appliance?
My zester. I love my zester.


What kind of camera/lens/equipment do you use?
Canon Digital Rebel with a 50mm/f 1.8 lens.
Any suggestions or hints to have great food photos?
Natural light is essential to good photographs. I also think learning how to use the manual settings on the camera is truly helpful to capturing the shot that you want, and practice. Lots and lots of practice.
What kind of food did you eat growing up?
Lots of meat and potatoes types of dishes. Mom loves having at least three side dishes at every meal.


Do you cook the same kinds of things today?
Not really. We rarely eat red meat and aren't big on starchy side dishes. We eat lots more fish, pastas and ethnic dishes; and we usually only have one or two sides with our entre.
When you really want to cheat, what do you eat?
Sushi rolls – and lots of them. Seriously, lots of them.
If you could travel anywhere in the world – just for the food – where would you go?
Italy. I've been once and would go back in a heartbeat. Miss A would pick South America or Hawaii. My son would pick Asia, he loves Asian foods. And Mike would pick Paris.
What are your favorite blogs to read?
I have so many that I truly enjoy reading (Taste and Tell of course!), and there are so many more that I'd love to start reading if I only had an extra day or two in the week. It's just too hard to name anyone specifically. Not to mention I'd hate to leave anyone out. I love all the blogs that I follow. So for the sake of naming a few, I'll name the first three that I started to read regularly – The Bewitching Kitchen, Rufus' Food and Spirits Guide and Pure Complex.


What is your favorite part about blogging?
First and foremost it has to be the memories we're creating with our children. It's been such a fun family experience and one that I hope carries on for years. Secondly, I'd say I love the cultural and geographical lessons it's teaching the kids. They are so much more open to the world than I could have possibly imagined. And finally, the wonderful people that I've gotten to know through our blog. The blogging community is amazingly supportive and full of wonderful people.
What is your best tip to becoming a successful blogger?
Stick to your message/theme, what you love, what you're passionate about and don't let it become work. I also strongly believe that gratitude makes for a successful blogger – be appreciative of your readers, of your commenters and share your favorite blogs or recipes with others. You know, that good old Golden Rule…
—————————
Thanks for sharing with us, Kristy!  If you want to see more from Eat, Play, Love, this is where you can find them:
Blog:  Eat, Play, Love
Facebook:  Eat, Play, Love
Pinterest: Kristy @Eat, Play, Love