A big welcome to today's Blogger Spotlight – Anita Chu from Dessert First. Anita's blog is one of the first blogs that I started reading back when I started my blog, and is still one of my favorites today!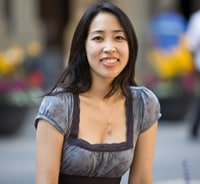 Anita is the author of 2 cookbooks, Field Guide to Cookies and Field Guide to Candy– last month's Cookbook of the Month here on Taste and Tell. She is a master of all things sugar!!  In 2005, Anita graduated from a six-month pastry course, and went on to work full time in a bakery.  She started Dessert First to combine her love of baking, photography and writing.
What inspired you to first start writing your blog?
I've always loved baking, first just as a hobby, then enough to go to pastry school. When I finished pastry school, I wished I had documented the experience on a blog. Better late than never, I started Dessert First to record photos and recipes from my experiments in my home kitchen. Not only has it encouraged me to keep improving my baking, but it's also helped me hone my writing and photography skills.

What kinds of posts are your favorite to write? What do your readers seem to like the most?
I like the "experiment" posts, like the chocolate chip cookie post where I tested multiple chocolate chip cookie recipes to find the best one. I like testing out hypotheses and learning more about the science of baking. I hope my readers enjoy those! I think the posts that always get the most interesting and personal responses are ones where I share stories, like childhood memories or vacation experiences, and tie them into a recipe. Those are always fun to write too.
Do you plan a weekly menu? If so, what inspires your menu?
I get inspired by everything around me – farmers' markets, books, photos, architecture, memories, other blogs. I try to bake something new at least once a week, and I try to vary it up – something with fruit one week, chocolate the next.
What is your favorite kind of food to make?
I love making tarts – usually the classic French style tarts with chocolate ganache, or citrus curd, or fresh fruit and cream.
What is your favorite recipe posted on your blog?
Hard to choose, but I think this Chocolate Passionfruit Tart is pretty representative of what I really enjoy baking in the kitchen.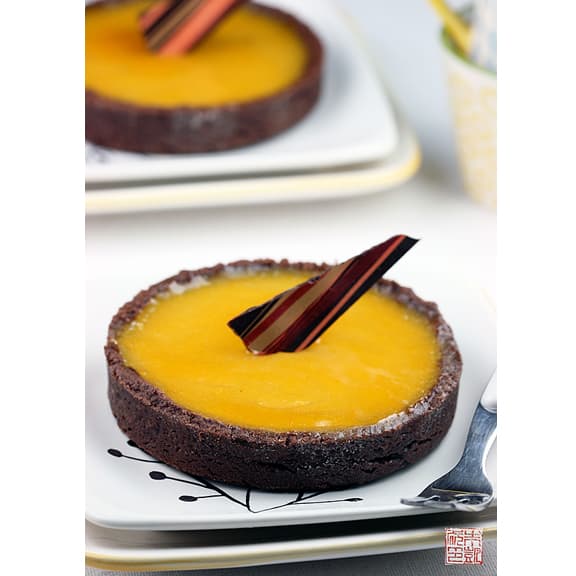 What is your favorite kitchen tool/appliance?
It's a toss up between my stand mixer and my food processor. Both of them are indispensable in putting together batters and doughs.
Where do most of your recipes come from? (Family favorites, you make them up, magazines, cookbooks, etc.)
Most of the recipes I post today are my own recipes. Sometimes I'll be inspired by a recipe in a cookbook and I'll adapt it to add my own twist.
What is your favorite part about blogging?
My favorite part has been finding fellow bakers, pastry chefs, and food lovers from around the world. Without this blog, I wouldn't have met so many amazing people and found some great opportunities.

What kind of camera/lens/equipment do you use?
I have a Canon Rebel XTi, and I usually shoot with a 50mm/f1.4 and 100mm/f2.8. Last year I got a Panasonic Lumix GF1 and I love that as well. It's great for taking quick shots when I'm out and about and don't want to lug the Rebel along.
Any suggestions or hints to have great food photos?
Great lighting – of course that's always the big challenge. Whether it's finding the spot in your home that gets the most natural light, or using artificial lights, experiment with different setups and get comfortable with how light is working for you.
Play around with colors, textures, and height. Sometimes I like clean and monochromatic, other times I like richly layered compositions.
Look at lots of food photos. Pick your favorites and try to recreate them. You can learn a lot figuring out how a photo was made.
When you really want to cheat, what do you eat?
My big weakness is salt and pepper chips – salt and spice at the same time.
If you could travel anywhere in the world – just for the food – where would you go?
Place I've already been: Japan. I'm on a ramen kick right now, plus of course the amazingness of the sushi there makes it impossible to eat sushi when you get home for at least a month. Their pastries are so excellent, too –they've really taken traditional French pastry and given their own spin.
Place I haven't been yet: Spain, for sure. Top of the list for my next international trip.

What is your best tip to becoming a successful blogger?
I think everyone defines success differently. Some people just want an archive of what they've created in the kitchen. Some people want to connect with other people who share their interests. Some people want to use their blog as a platform to some other goal. Know what your goal is, and don't worry about what other people's goals are or what they'll think of yours. And don't be afraid to reach out to other bloggers – after all, that's what the internet is for. I've met some of the most talented and generous people I know through food blogging. Most people are happy to share experiences and give advice. Just be genuine and people will respond.
————————————–
Thank you so much Anita, and thank you for your wonderful cookbooks!  (I sure have had fun with both of them!!)  If you want to see more from Anita, here is where you can find her:
Website:  Dessert First
Facebook: Dessert First
Twitter: @anitachu