I feel like it's been forever since we've done a Blogger Spotlight, but I'm back with a really great blogger!! I'm happy to welcome Jaclyn from Cooking Classy – a gorgeous blog with beautiful photos and awesome recipes. Jaclyn has a great variety of sweet and savory recipes. I'm sure that you could find something for everyone on her blog!! Thanks so much for participating today, Jaclyn!!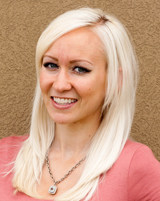 I'm Jaclyn, a twenty something wife and mother, as well as a self-taught chef, baker, writer, editor and photographer behind cookingclassy.com. Cooking Classy is a place for me to share the food I love as I hope to expand my photography and writing skills.
I love all things food. Let me rephrase that, I love all things good food. I'm picky about what I like and I'd like to say I know great food. Sugar is my addiction. I could live in the kitchen. I like to make food look pretty, because when it looks good doesn't it just taste better?
What inspired you to first start writing your blog?
I love food and trying new recipes so it began as a place for me to share the things I've tried and love. I grew up watching Food Network and reading food magazines and cookbooks so I wanted to start sharing recipes too. I was also inspired by other food bloggers I loved to follow, like Two Peas and Their Pod, what they did looked fun so I wanted to try it out. I'm so grateful for how much my blog has grown since I started it in Oct. 2011. I never imaged it would be what it is now, so a big thank you to everyone who reads Cooking Classy!
What kinds of posts are your favorite to write? What do your readers seem to like the most?
I have a huge weakness for desserts so that is definitely one of my favorites to post. Readers seem to love the desserts and classics.
Where do most of your recipes come from?
I try to create and post most of my own recipes. Sometimes I will adapt and credit from cookbooks like Cook's Illustrated or other favorite food blogs or websites like Martha Stewart.
Do you plan a weekly menu? If so, what inspires your menu?
No. I'm not that organized =). I do try to have a menu for a few days at a time so I'm not going to the grocery store every day. I used to try to have a menu but my mood for different foods changes everyday so I could say I want manicotti but then tomorrow may come and I feel like a simple French toast instead.
What is your favorite kind of food to make?
Mexican and Italian food.
What is your favorite recipe posted on your blog?
It's too hard to pick just one I have lots of favorites but a few favorites are the chicken alfredo pizza, the pan seared honey glazed salmon with browned butter lime sauce, and of course the salted browned butter chocolate chip cookie dough bites, frosted sugar cookies (I'm loving the lemon version lately) and the white chocolate raspberry cheesecake. See what I mean, picking a favorite is too hard for me.

What was your first post? How do you think your blog has changed since you first started blogging?
I think it was the raspberry swirl rolls. I hope it has changed a lot because I look at those pictures and laugh. I know I'm absolutely no professional photographer in the slightest but I know just a bit more than I knew back then. I also know a bit more about cooking and the science of baking.
Will you show us your refrigerator? What do you keep stocked in it?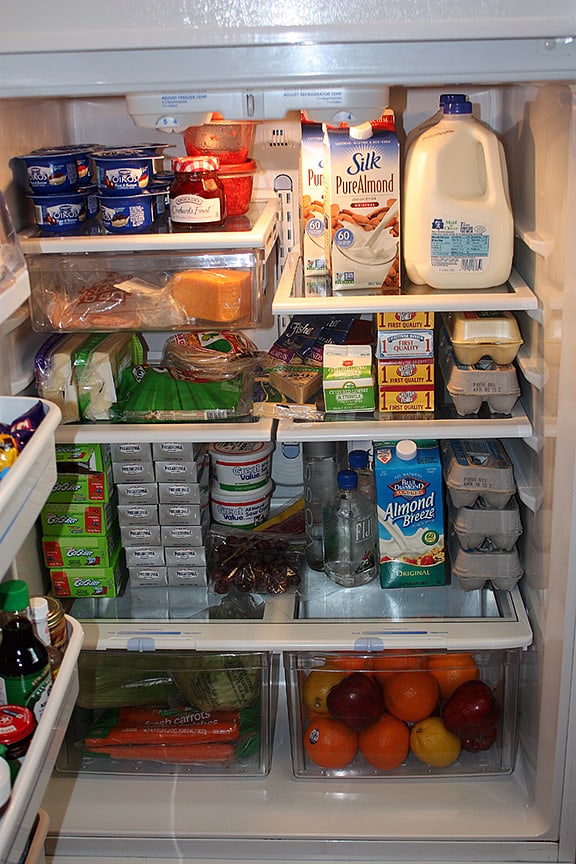 Almond milk, milk, plenty of butter and eggs, lots of yogurt and fresh fruits and veggies. Also it is never scarce on cheeses or chocolate. I like to keep it stocked with a lot of hot sauces too. I'm addicted to spicy foods.
What is your favorite kitchen tool/appliance?
My kitchen aid stand mixer and of course all of my cookware because I wouldn't get too far without them.
What is your best tip for getting dinner on the table?
Don't be afraid to try something new once in a while to keep it exciting. Days where you are short on time, try to plan ahead and throw together a quick slow cooker meal in the morning. I also love to freeze meals, like my spaghetti sauce or lasagna roll ups and even some soups, then I can have dinner ready in no time. I'll admit I do keep my freezer stocked with homemade bean and cheese burritos then in a rut I thaw them in the micro and fry them in half olive, half veggie oil. Then we load them with lettuce, guacamole or sliced avocados, tomatoes, salsa, sour cream and hot sauce – just what I've got on hand. I usually make a batch of 24 to freeze whenever I make them and it only takes about 20 minutes prep.
What is your most used cookbook?
Any of the Cook's Illustrated cookbooks. I don't cook from cookbooks very often but when I do I absolutely love those. I also love Bakewise – it has taught me so much about baking.
What would you eat as your last supper?
Something with a lot of calories and plenty of desserts. Probably some sort of feast with a bit of everything.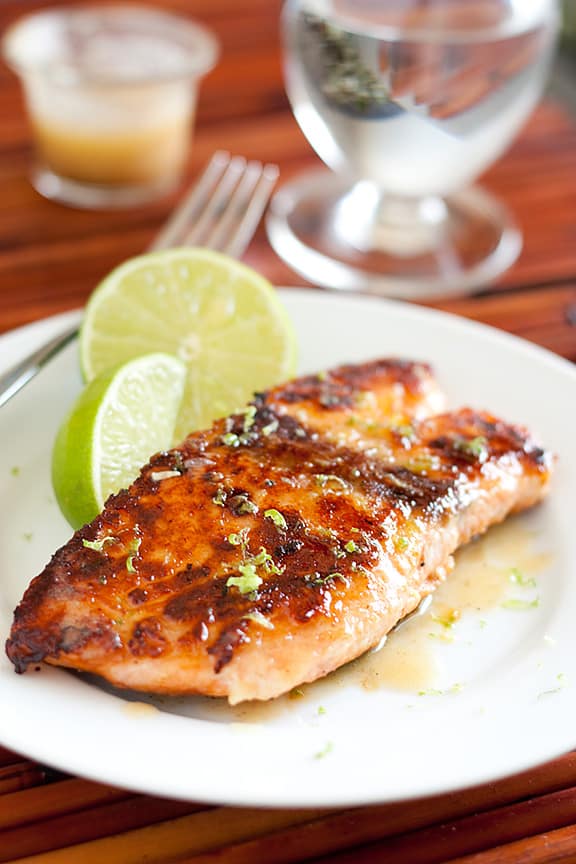 Pan Seared Honey Glazed Salmon with Browned Butter Lime Sauce
What kind of camera/lens/equipment do you use?
I'm so excited I just purchased the Canon 5D Mark III, a 24 – 70 mm lens and a 100 mm 2.8 macro lens. I decided it was finally time for an upgrade so I'm excited to start using them. Everything on my blog as of now I've used the Canon Rebel XSI with a 50mm Macro lens the majority of the time and every now and then I use the 50mm 1.8 (I prefer the macro over the 1.8 so I rarely use that one). I finally just got a tripod too. Every now and then I will also use a Lowel EGO light, like on cloudy days and so forth but I always shoot the pics before the daylight is gone.
Any suggestions or hints to have great food photos?
That is a question to the wrong person =). I would recommend the book "Plate to Pixel" by Helene Dujardin. LOVE that book! Here work is amazing and she is a great teacher.
What kind of food did you eat growing up? Do you cook the same kinds of things today?
Traditional things like roast and mashed potatoes (every Sunday), spaghetti, tacos, potato soup. And my favorite Navajo tacos Mom makes. I do cook a lot of the same kinds of things just my own way.
What was the first dish you ever cooked?
Probably mashed potatoes when I would help my mom make dinner. On my own probably a box of mac and cheese.
Is there a dish that you are known for?
Probably the lasagna roll ups I have posted just because they are my most popular post.
When you really want to cheat, what do you eat?
Cheesecake, twice baked potatoes with bacon and ranch, fettucine alfredo or a burger loaded with everything and a side of (fried) sweet potato fries. I "cheat" a lot though I eat dessert everyday.
If you could travel anywhere in the world – just for the food – where would you go?
Florence, Italy then to Paris for desserts.
What is the best thing you've ever eaten? The strangest?
This is another tough question, but one my favorites are the tacos and enchiladas at Tia Rosa's Mexican Restaurant in Mesa, Arizona. The strangest, chicken heart and octopus. Not that strange to a lot of people but strange to me.
Is there anything you would not ever eat?
Canned beets. Hate them. Also anything on the show Bizarre foods with Andrew Zimmern, I couldn't eat any of that.
What are your favorite blogs to read?
Tartlette, Bakers Royale, David Lebovitz, Use Real Butter, Yammie's Noshery… too many more to list (check out my links page on my blog).
If you could cook alongside any other blogger for a day, who would you choose?
Helene Dijuardin from Tartlette so I could learn more about food photography and she's an amazing baker.
Take us through a typical day of eating in your house.
For me breakfast is something low calorie, either greek yogurt and double fiber toast, banana oatmeal or cold cereal like Life with almond milk.
Lunch, again low calorie like a turkey sandwich or a rice bowl.
Dinner I don't count calories and I eat basically what I want. I love pastas and traditional Mexican foods like enchiladas and tacos and always dessert. On a day I don't have a lot of time to make a meal I will make something in the slow cooker or we will go to Cafe Rio.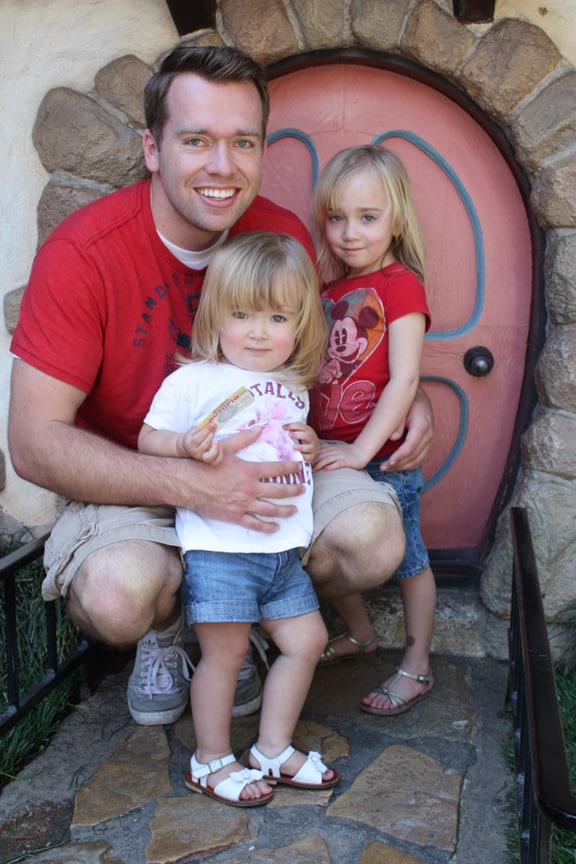 What is your best tip for saving money on groceries?
Stock up on things that are on sale.
What is your favorite part about blogging?
When someone comes back and says they tried and love a recipe I posted. I also love all that I learn as I go about food and photography.
What is your best tip to becoming a successful blogger?
Do something you are passionate about. Do your best to make things look good and taking good pics of it. If it doesn't look good people won't be as apt to try recreating it. Learn from food photography books (like "Plate to Pixel", can you tell I love that book?) and if possible invest in a DSLR camera if you don't already own one, it makes a world of difference compared to a point and shoot camera.
——————
Thanks, Jaclyn! And I think we'd be great friends in real life – I actually am posting my mom's Navajo Tacos next week!!  If you want to see more from Jaclyn, here is where you can find her: