If you are looking for an entertaining, delicious blog to read, look no further – all you need is Cookies and Cups!! I'm so happy to have Shelly here today to share with us a little bit more about her and her blog!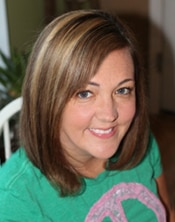 Shelly Jaronsky is a Texan at heart, living in New Jersey. She blogs about her adventures as a mommy, wife, and baker on her website   cookies and cups. Shelly loves pop culture, shopping, and sugar in equal measure and started her site in early 2009 as a place to share her messes and successes. There is no pretense to her cooking, and often refers back to church cookbooks and family recipes for inspiration.

Shelly firmly believes that no one can frown while eating a cupcake, so she works hard making people smile, one cupcake at a time!
What inspired you to first start writing your blog?
I started my blog at the very end of 2008. I honestly didn't know anything about blogging at the time. I wanted a place to show my friends and family what I as baking…but as I got into it I realized there was a whole huge community out there. It took me about a year before I really started posting regularly, before it was just very sporadic. But now I go back and look at some of my first posts and I cringe! SO embarrassing!
What kinds of posts are your favorite to write? What do your readers seem to like the most?
It's always hard gauging the things that readers will like. Some desserts I make I just KNOW will be the HIT of the internet and they flop, others that I don't plan on being big, turn out to be some of my most popular posts! I do know, though, that if I include Reeses's Peanut Butter Cups in a recipe people will love it…they're basically crack in a cup.
Do you plan a weekly menu? If so, what inspires your menu?
Sometimes I do, but then other times I am running around at the last minute trying to think of ideas! Inspiration tends to be feast or famine for me. I do recommend writing down ideas when you have them, because so many times I will think of something and a half an hour later forget it.
What is your favorite kind of food to make?
Sweets…specifically Krispie Treats. I am obsessed with them.
What is your favorite recipe posted on your blog?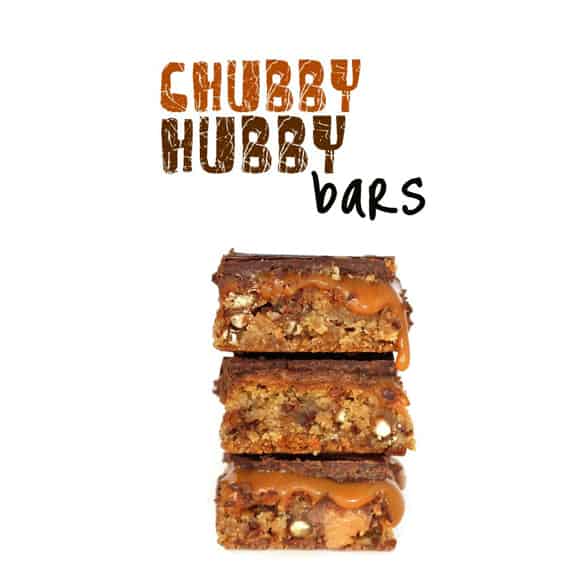 Oh gosh…recently I made some bars called Chubby Hubby Bars.  They were really delicious…but I have so many that are favorites, it's like Sophie's Choice!
What is your favorite kitchen tool/appliance?
Kitchen Aid stand mixer. The end.
What is your best tip for getting dinner on the table?
Dinner? I only live on desserts 😉
Where do most of your recipes come from? (Family favorites, you make them up, magazines, cookbooks, etc.)
All of the above! Sometimes you see something in a magazine or online and you put your own spin on it. I don't think there are any completely original recipes anymore! So you take inspiration where you can get it! And honestly, I only make things that I like…you won't find a recipe on my site that I wouldn't eat myself…i.e.~ no flan…ick!
What would you eat as your last supper?
Homemade Mac and Cheese, A loaded baked potato with ranch dressing and cheesecake. Carb UP!
If you could invite any 3 people to dinner – living or dead – who would you choose?
My mom (she passed away in February), Paul Rudd…because I have an unhealthy obsession with him and Tina Fey because she makes me laugh. I wish I was one of those people who said "Ghandi, or Mother Theresa, but I'm not…sigh.
What is your favorite part about blogging?
The story telling. And of course the creativity that goes into developing recipes and photographing the final product. I feel really lucky to be doing what I am doing.
What kind of camera/lens/equipment do you use?
I have a Canon t3i. It is my first DSLR camera and I love it. I shot the first 2 years of my blog with a Canon point and shoot, which honestly, worked great. But I was ready to grow and the Canon t3i has worked awesome for me. For my food shots I almost always use my 50mm 1.8 fixed lens. It is a great, inexpensive lens…and since I still have so much to learn about photography I have tried to purchase things slowly.
Any suggestions or hints to have great food photos?
Natural lighting. I feel like it's the most important thing. Also, play around with aperture…I didn't know anything about it, but the Pioneer Woman wrote a great series on it and it helped me HUGE!
What kind of food did you eat growing up? Do you cook the same kinds of things today?
We had a standard menu growing up…one night tacos, one night hoagies, one night some weird casserole with a condensed cream soup, one night spaghetti and every Friday pizza. There wasn't a huge amount of deviation…but now, as a mom myself, I understand how hard it is to constantly come up with new and different ideas. So we do have a taco night and a pizza night, but I try and mix it up more than my mom did. Plus, I grew an aversion to condensed soups 🙂
What was the first dish you ever cooked?
I assume you mean beyond Ramen 😉
Chicken Cordon Blue…isn't that random? I remember cooking it for an ex boyfriend and feeling super fancy…
When you really want to cheat, what do you eat?
Cheesecake. LOVE.
If you could travel anywhere in the world – just for the food – where would you go?
Italy. My husband went on a business trip to Naples and he would send me pictures of the food and the pizza. It all looked incredible!
What is the best thing you've ever eaten? The strangest?
I try not to eat strange things…it's a personal rule, but I did try turtle soup once. I didn't like it.
What are your favorite blogs to read?
I adore How Sweet It Is…and of course Confessions of a Cookbook Queen, and I really love Sweet Sugarbelle (who was spotlighted here), Buns In My Oven, Glorious Treats and Bake at 350. I really have so, so many that I love, so I could list for days, but the ladies that I just listed are phenomenal and all the nicest people out there, which really shows through.
What is your best tip to becoming a successful blogger?
I feel funny about giving advice, because I am learning everyday, but I certainly have a few tips that have helped me…work on your content, and most importantly find your voice. Don't do what other people are doing…just be you. People feel authenticity, I promise. At first I found myself comparing my site to others, but don't do it! What is so wonderful about blogging is that there is room for everyone. I think we should all uplift each other…just because one person is popular for one thing doesn't mean there isn't room for you too!
Also, more superficially good photos definitely help, and a clean blog design. I have also found that finding like-minded bloggy friends is huge. Having someone who completely "gets" what you are doing makes a difference, at least for your sanity 🙂
——————————
Thank you so much, Shelly! I also have to mention that Shelly and Kristan (from Confessions of a Cookbook Queen) also have a great new site called That's What We Said. It's not a food blog, but I just had to throw it in here because it's a great, entertaining blog that I think you all need to check out!! And of course, here is where you can find Shelly!
Blog: Cookies and Cups
Facebook: Cookies and Cups
Twitter:@sugardrama
Pinterest:  Cookies and Cups