Today's Blogger Spotlight, Kathryne from Cookie & Kate, is someone that I've had on my list of bloggers to ask to participate, and then I had a reader request as well. That's when I knew I needed her to participate asap!! Kate's blog is full of gorgeous photos, and she makes some amazing (and healthy!!) food. And did you know that she was nominated for Saveur's Best Food Blog of 2012? (Pretty darn cool, if you ask me!) I'm so excited to have her here today. Welcome, Kate!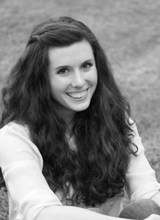 Hello! I'm Kathryne, otherwise known as Kate, a 20-something self-taught photographer and cook. I live with my dog/assistant, Cookie, in Oklahoma. I believe in eating real food (also called whole foods), so you'll find lots of fresh, vibrant and healthy recipes on my blog. I'm also an avid supporter of the occasional indulgence, and I laugh with friends over drinks as often as possible!
What inspired you to first start writing your blog?
I started my blog when I was stuck in a stifling office job and needed a creative project. I already knew how to design websites and loved photography, so I thought that starting a blog would help me develop my skills in those areas. My blog initially started as a design/lifestyle/food blog, but I quickly realized that I only wanted to post original content, including my own photos. I got such encouraging responses on my first food post that I continued to post more and more recipes. My cooking and food photography skills have grown along with the blog, so it's really neat to see the progression.
What kinds of posts are your favorite to write? What do your readers seem to like the most?
I love writing posts when I'm fired up about subjects like dating or getting real. I also get super excited when I get to share my latest ingredient obsession or new favorite cooking method, like how to cook collard greens, Brazilian style.
Where do most of your recipes come from?
Most of my recipes are a mélange of recipes and influences I've picked up all over the place. I try to visit our weekly farmer's market every week and am definitely influenced by what is available there. I read cookbooks like it's my job and I have really enjoyed my subscription to Bon Appetit Magazine lately. Other food blogs and my travels provide tons of new ideas and inspiration!
Do you plan a weekly menu? If so, what inspires your menu?
No, not quite. I live by myself and eat by myself most of the time, so I don't cook elaborate meals every day. I use Evernote, which is a super handy app, to organize my recipes, grocery lists and blog plans. I'd be lost without it! I keep lists of things I'd like to cook for my blog on Evernote, which are organized by month in order to take advantage of seasonal produce. When I need inspiration, I scan through the month's list and pick whatever stands out at the moment. Often times, though, I'll get obsessed with a new recipe concept and my plans go out the window.
What is your favorite kind of food to make?
I prefer simple, light vegetarian fare that is full of vibrant, seasonal produce. I love learning new ways to prepare vegetables that maximize their flavor and take advantage of their size, shape and texture. I like to season my food with herbs, spices and citrus. Lately I can't get enough lemon!

What is your favorite recipe posted on your blog?
My favorite recipe might be my banana bread recipe. It's sweetened with honey and made with whole wheat pastry flour, and people go crazy for it! It causes presumably sane individuals to profess their love in all caps. One commenter told me that the pumpkin version is so good, her little boy cried over the last slice.
What was your first post? How do you think your blog has changed since you first started blogging?
My first post was just a basic introduction and included a photo of my dog, Cookie, of course. My blog has evolved into a food blog over time, but I share personal stories and reflections on the side.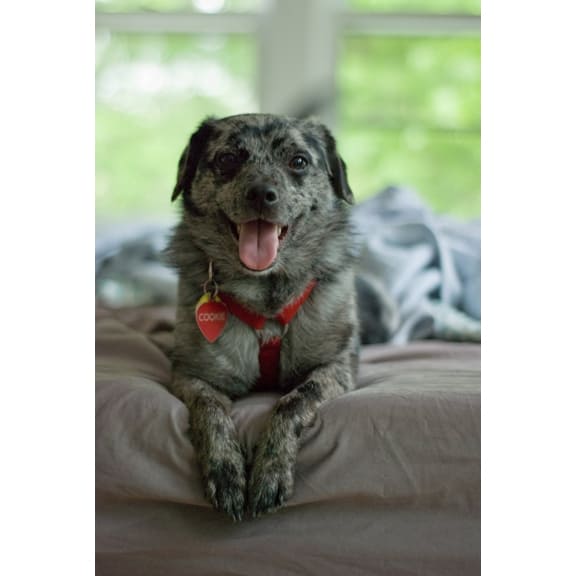 Cookie
Will you show us your kitchen? What is your favorite thing about your kitchen?
I rent and my kitchen is far from my dream kitchen! It's dark and small but I appreciate all the built-in storage. I've made it my own by painting it red and decorating with a few sentimental pieces, like a poster from Dublin, little flower pots that I brought home from Bordeaux and a tea towel that was screen printed by a friend.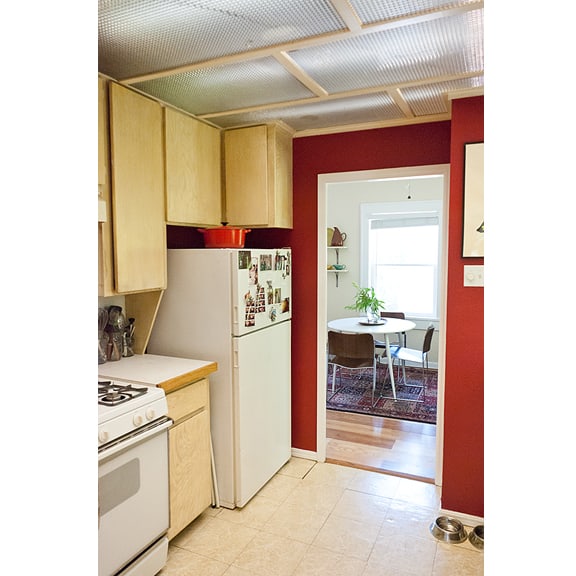 My favorite thing about my kitchen is definitely the dishwasher. I started my blog not long after I upgraded to an apartment with a dishwasher. Coincidence? I'm not so sure.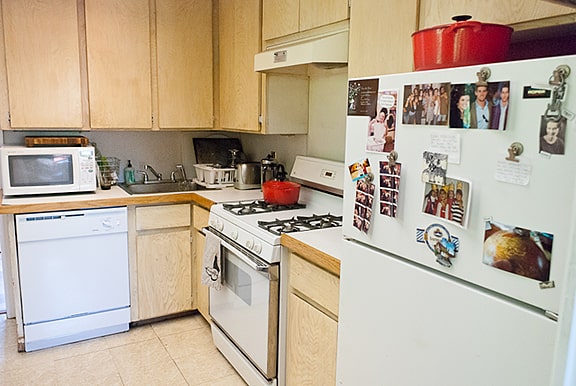 How about your refrigerator? What do you keep stocked in it?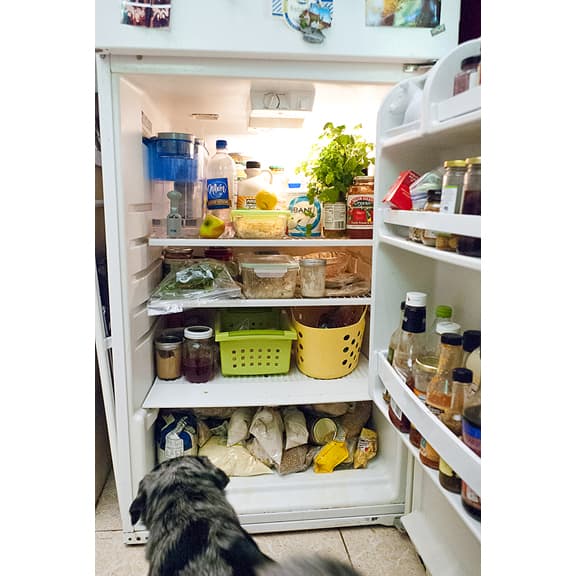 Stocked:
Greens of some sort, typically arugula, kale, spinach or spring mix.
Cilantro, which I store upright in a jar filled halfway with water. Cilantro and parsley last much longer that way.
Milk, either cows milk or almond milk (often both).
Organic and/or local eggs.
Cheese! Lately I've been really into sharp white cheddar cheese and goat cheese.
100% whole wheat bread and whole wheat tortillas. I've found that if I store them in the fridge, they almost never go bad.
Prepared salsas and marinara sauce for quick meals.
Ketchup. I'm a ketchup fiend.
Tamari and shoyu soy sauces, toasted sesame oil and peanut oil for Asian dishes.
Lemons and limes, I can't go without them.
Club soda, which is my favorite mixer.
Good green olives for dirty martinis.
Random homemade sauces, leftovers and concoctions that may or may not make it onto the blog. Tahini dressing and strawberry-infused bourbon will definitely make an appearance soon!
Last but not least, I have an embarrassing pile of whole grains, flours and nuts on the bottom shelf. I keep them there because whole grains and nuts stay fresh longer when they're kept cold.
What is your favorite kitchen tool/appliance?
Tough question! I love my mini whisk, coffee press, Wusthof santoku knife and Le Creuset French ovens, which I found at TJ Maxx. As far as specialty items go, I'm pretty attached to my waffle maker and ice cream maker.
What is your best tip for getting dinner on the table?
Well, I don't cook for a family, but I know that improvising meals is much easier when I have cooked grains, beans and prepared vegetables on hand. I like to mix up leftover grains, veggies and beans by making burritos, quesadillas, stir fries, salads and egg dishes.
What is your most used cookbook?
After cofounding The Food Matters Project with Sarah, I'd probably have to say Mark Bittman's The Food Matters Cookbook! Each week, one of our members selects a recipe for the group to cook, so I use the cookbook at least once a week.
What would you eat as your last supper?
My last meal would have to be a Mediterranean feast with falafel, taboulleh, hummus and giant salads of all kinds, accompanied by a glass of wine that never runs empty. Dessert would consist of no less than three flavors of gelato.
What kind of camera/lens/equipment do you use?
I don't use anything terribly fancy. My five-year-old Nikon D80 has served me well. I bought it in college after I spent a semester in France and it has proven to be one of the best investments I've ever made. I use my Nikon 50mm f1.8 lens for all of my food photos. I also have black and white posterboard that I use as reflectors, as well as a couple of "real" reflectors with silver and gold sides. I hang a big scrap of thin white cloth over my window when I need to diffuse the light, and I adjust my wooden blinds to control the amount of light coming in through my main window.
As far as food styling goes, I often use a chalkboard that I've been carrying around since middle school as a backdrop. All of my silverware and the majority of my vintage props were inherited from my grandmother and the generations before her. I've been using less and less props lately, but if I want to add vintage detail, using one my grandmother's things makes it seem much more special and authentic to me.
Any suggestions or hints to have great food photos?
It's all about the light! I shoot exclusively with natural light and never, ever use a flash. I diffuse the light if it's too bright and move around in my apartment to find the best light when necessary. Even moving the plate closer to or farther away from the light source can make a big difference.
The best tip I have is to be aware of the intensity of the light and how it hits the food. Learn to adjust accordingly. Beyond that, try to keep the clutter in the photo to a minimum so you can focus on what is most important, but don't zoom in so much that viewers can't tell what the food is. Finally, when you're editing the photos later, be sure to adjust the white balance when necessary. If your plate of food looks very blue or yellow, or too magenta or green, use your white balance tools to fix it! Colors come alive when the white balance is properly set. By the way, I have a long list of food photography resources on my links page.
What kind of food did you eat growing up? Do you cook the same kinds of things today?
Unfortunately, I was a ridiculously picky eater. My poor mother! I ate a lot of pizza, chicken fingers, macaroni and cheese, spaghetti with marinara and stovetop popcorn. I often made my own meals when my mom cooked something I didn't like, so I guess that's when I started cooking! My mom did her best and always offered a variety of fresh fruit and vegetables at the table, and my brothers and I generally ate them up. She also set a great example in terms of portion control. As I've grown up, my palate has expanded exponentially, but I still love most of the foods I listed above (chicken fingers excluded).
Is there a dish that you are known for?
Oh, that's a tough one. In the winter, my friends rave over my sweet potato chili. I like to make arugula and goat cheese pasta for picnics and potlucks, and my dark-chocolate dipped macaroons are definitely my signature cookie.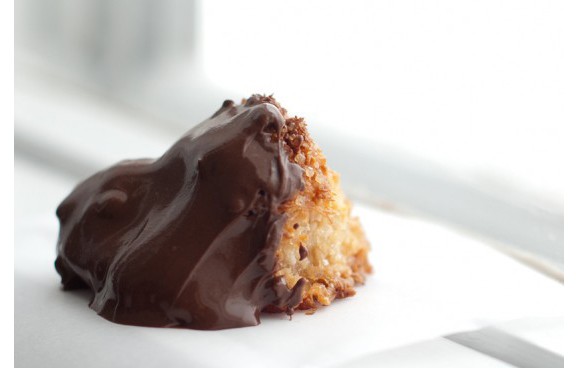 Dark Chocolate Tipped Macaroons
When you really want to cheat, what do you eat?
If I'm being super indulgent, I'll get an order of really great French fries and load them up with ketchup. I'll never outgrow my love for ketchup! Baked sweet potato fries and dark chocolate-covered almonds are everyday treats.
If you could travel anywhere in the world – just for the food – where would you go?
After reading Mourad: A New Moroccan, I'd have to say Morocco! Their culture and cuisine is so vibrant, and their dishes seem to strike the perfect balance between spicy and sweet.
What is the best thing you've ever eaten? The strangest?
I will never forget the arugula-topped pizza at The Secret Stash in Crested Butte, Colorado. It was perfect in every way. I've waxed poetic about it on my blog a couple of times and recently tried to recreate it at home, but it's just not the same.
Is there anything you would not ever eat?
I've lived in Oklahoma my entire life, but I will never eat calf fries. I don't care what they taste like.
What are your favorite blogs to read?
This is hard, I don't want to exclude anyone! I always run over and read new posts by my friends Melissa (The Fauxmartha), Erin (Naturally Ella), Kelsey (Happyolks) and Kasey (Turntable Kitchen). Sarah, fellow cofounder of The Food Matters Project, posts great recipes and awesome cooking videos at 20something cupcakes. I absolutely love your blogger spotlights with Bev, Heidi, Kris and Maria. They are lovely ladies! I have a more thorough list of blogs I like to read on my links page.
If you could cook alongside any other blogger for a day, who would you choose?
I would definitely have to pick Heidi Swanson of 101cookbooks. She's like the hip fairy godmother of the whole foods movement. Her dishes include a lot of international influences and I love learning about foreign flavors. I can't imagine how much I would learn by hanging out with her for just one day.
Take us through a typical day of eating in your house.
My day always starts with breakfast. Always! I wake up and feed Cookie, then I put a pot of water on the stove to boil for coffee, and then I make my breakfast. It's usually something super simple, like a banana coconut muffin accompanied by lemon curd and Greek yogurt, or a slice of honey whole wheat quick bread spread with pecan butter. I keep my freezer stocked with baked goods so it's as simple as defrosting single servings. In the winter, I love oatmeal, and in the summer, muesli.
My stomach growls mid-morning, so I have some nuts and fruit or a random bit of something to tide me over. For lunch, I'll eat leftovers or improvise something quick with what's on hand, like avocado toast or a burrito bowl. I love making big kale salads, too.
Dinner is definitely the meal I put the most effort into. I might test out a recipe or further develop one I have in mind. One of my favorite quick (yet totally satisfying meals) is scrambled huevos rancheros, which are great any time of day.
What is your best tip for saving money on groceries?
Eat less meat! As someone who never buys meat, I'm always shocked by how expensive it is. Quality meat is expensive for good reason, though. Secondly, buy seasonal produce. Strawberries, for instance, are much less expensive in early summer than they are in winter, and they taste better then, too. Skip the inner aisles at the grocery store and buy less processed food. Junk food is a waste of money! Keep quick-cooking whole grains and whole wheat pasta stocked in your pantry, and cook big batches of beans, like black beans and chickpeas. You can freeze them for later to cut down on preparation time. Dried grains and legumes are incredibly cheap, and since I they are readily available in my freezer and pantry, I never have an excuse to order take out!
What is your favorite part about blogging?
I love recipe development, photography and writing, and my food blog provides a wonderful outlet for those creative endeavors. I've poured so much time and energy into designing my blog and crafting each post and somehow, the most marvelous community has developed out of it. I just love connecting with others who share my interests and get as excited about food concepts as I do! My blog is a happy space for me and I hope it is a happy place for readers to visit.
What is your best tip to becoming a successful blogger?
I have a few. First, never give up and always strive to do better. Show your personality, learn to promote your blog and develop connections with other bloggers. Don't be afraid to reach out to someone who you admire and let them know why you appreciate their work. Learn about search engine optimization—it's important to understand and implement the basics. Keep your site design clean and easy to navigate. Make your blog what you want it to be!
—————————–
Thank you so much for participating, Kate!!  If you want to see more from Kate, here is where you can find her:
Blog:  Cookie and Kate
Facebook: Cookie and Kate
Twitter: @cookieandkate