Today's Blogger Spotlight is one of the funniest food bloggers out there, in my opinion. I love visiting Kristan's blog – Confessions of a Cookbook Queen. I love how open and honest Kristan is, and don't even get me started on the food!! I'm so happy that she is here sharing with us today!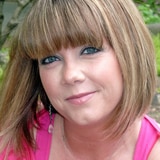 I'm Kristan (pronounced Kris TANNE, not to be confused with the ever popular Krist TEN).
I'm a proud housewife with a son in the first grade. Like most little boys, he's funny and cute but a little weird. Which only makes me love him more.
I spend too much money on make-up.
I eat my kid's Fruit Roll-Ups. As in…the whole box.
I believe in cake mix.
I love watching questionable television, but I balance it out with lots and lots of books.
I live in rural Arkansas. But I mostly stay home and pretend that I'm in an apartment smack dab in the middle of New York City. It gets me by.
I want baking to be cool. Of course, I'm not cool, but I'm hoping that someone cool will read my blog and make sure that baking sweeps the nation. Or the world. Whatever.
If I could, I would paint my life pink, sprinkle it with glitter, and give everyone a cupcake.
I believe in having fun, telling the truth, and making fun of myself. And everyone else, for that matter.
And I'm a prime example that even the most imperfect people can create fabulous things in the kitchen.
I have no formal training, other than some cake decorating classes I took a few years back at Michaels craft store. I do some cake and cookie decorating from my home, and I feature those projects from time to time. Mainly though, I just want to present good recipes in a very approachable way. (from Confessions of a Cookbook Queen)

What inspired you to first start writing your blog?
I was reading a lot of blogs and did a ton of baking and cake decorating at home. I realized that although I LOVED the blogs I was reading, I didn't feel like many of them spoke to ME in particular. They all seemed so perfect!! I thought that maybe I'd have a voice to contribute that wasn't out there already.

What kinds of posts are your favorite to write? What do your readers seem to like the most?
Probably the ones that are about everyday stuff that you think no one else thinks about. I can't tell you how many times I've written about some weird thought that lives in my brain, held my breath, and hit publish. What I've come to realize is that most of us think the same things, whether we admit it or not. I get so many emails saying "I showed that post to my husband and he said it was like I wrote it myself!!" That makes me feel a little less weird 🙂

Where do most of your recipes come from?
A little of everything…inspiration is everywhere!!
What is your favorite kind of food to make?
If it's dinner food, pasta. I'll eat carbs loaded with cheese and sauce any day. If it's dessert…probably cookies. One of my son's first words was "cookie", so they hold a special place in my heart. Nothing brings the boys to the kitchen like warm cookies on the counter.
What is your favorite kitchen tool/appliance?
Definitely my Kitchen Aid Mixer. Not a very original answer, but I use it almost every day!! When I first started getting into baking and cake decorating, my husband came home and surprised me with it. He's always supportive that way, so besides being useful, the mixer reminds me of that.
What is your best tip for getting dinner on the table?
I wish I had a good answer!! My husband is self employed, so every day is a struggle trying to pin down what time he'll be home so I can have dinner ready. Sometimes he's home by 5:30 but sometimes it's after 7. What I've learned over the years is that every meal doesn't have to be gourmet. All they really want is to sit down with you and eat. Last night we had chicken salad sandwiches that I made from rotisserie chicken. And it was just fine!!
What would you eat as your last supper?
Right now, it would be a foot long chili cheese dog and fries. But check back in a few days. It'll change.
If you could invite any 3 people to dinner – living or dead – who would you choose?
Britney Spears, Kristen Wiig, and Channing Tatum. Yes, I am serious.
What kind of camera/lens/equipment do you use?
I use a Canon Rebel XS.
And this fixed lens.  In the food blogging world, this is one of the cheaper cameras and lens, but I'm just not into photography so I don't like to spend a bunch on that stuff.
Any suggestions or hints to have great food photos?
I literally know nothing about photography. My method is just to arrange stuff as cute as I can, take lots of photos, and choose the best one.
Is there a dish that you are known for?
Dessert. Any dessert. But I make a mean pot roast and mashed potatoes.
When you really want to cheat, what do you eat?
I cheat every day. It's really awesome.

If you could travel anywhere in the world – just for the food – where would you go?
Italy!!!
Is there anything you would not ever eat?
Cottage Cheese. Or any fish besides tuna in a can. Never, ever EVERRRRRRR.
If you could cook alongside any other blogger for a day, who would you choose?
Shelly from Cookies and Cups. She's one of my very best friends, but lives all the way in New Jersey, so I'll take any opportunity to hang out with her.

What is your best tip for saving money on groceries?
Go in with a list. And stay away from the candy aisle, the magazines, and the cosmetics. Good luck with that.
What is your favorite part about blogging?
The fact that I can buy fancy computer equipment and write it off on my taxes!! Wait…I was supposed to say the people, wasn't I?

What is your best tip to becoming a successful blogger?
Be yourself!! Don't fall into the trap of comparing and trying to fit into some mold. All of us have something to contribute, and to hide your unique voice would be doing the internet a huge disservice.
————————-
Thanks for sharing, Kristan!!  If you want to see more from Kristan, here is where you can find her:
Blog:  Confessions of a Cookbook Queen
Facebook:  Confessions of a Cookbook Queen
Twitter:  @bakescupcakes
Pinterest: Kristan Roland
and don't forget to check out Kristan's other blog, (written with Shelly) – That's What We Said