Today, we have our very first male Blogger Spotlight!  I've been following Kevin's blog – Closet Cooking – for years now.  In fact, I think we both started blogging around the same time!  I love how diverse all of the recipes are on Kevin's blog.  You will find everything from Mediterranean to Korean to good old comfort food.  You can tell he is very passionate about food, and it shows!  Welcome, Kevin, and thanks for sharing with us today!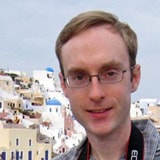 I had never really paid all that much attention to food and eating was just something that needed to be done. That all changed a few years ago when I came to realize that my meals were boring and that I had been eating the same few dishes over and over again for a long time. I had had enough and it was time for change! I dove head first into cooking and the world of food and to my surprise, I found that I really enjoyed it! Since then cooking has become my passion and my obsession in my quest to never eat a boring meal again! Now I spend my free time searching for tasty new recipes, concocting my own and making them in my closet sized kitchen. I share those recipes with you on Closet Cooking as I chronicle my adventures with food in search of flavour. (from Closet Cooking)
What inspired you to first start writing your blog?
When I realised that I had been eating the same handful of meals over and over again for years I started looking for recipes online and stumbled across some food blogs. The photography on those food blogs was amazing and I realized that the authors were just regular people and that anyone could do it if they wanted. After that I started photographing the new meals that I was making and after a few weeks I started my own blog to chronicle my adventures in food. I quickly found that I enjoyed food blogging and everything took off from there.
What kinds of posts are your favorite to write? What do your readers seem to like the most?
I like to post about recipes that use seasonal ingredients and I like to try to keep things on the healthier side. My readers seem to prefer things like hot cheese dips, grilled cheese sandwiches and desserts.
Where do most of your recipes come from?
My recipes come from a number of sources including writing my own recipes from scratch, inspiration from other food blogs, food sites, magazines, restaurant menus, etc. When writing recipes for dishes well known dishes I tend to look at a lot of different versions of the recipe and make my own using bits and pieces from a number of them and then I add my own customizations.
Do you plan a weekly menu? If so, what inspires your menu?
Yes, I plan a weekly meal. I like to have all of the next weeks meals planned out down to when I am going to finish off the leftovers and I like to have the recipes all written out so that I can get all of the groceries on my weekly grocery run. My menu is often inspired by what is in season locally or by what I have on hand that needs to be used or by special events.
What is your favorite kind of food to make?
I am all over the place here and it is constantly changing. Right now I am obsessed with grilled cheese sandwiches and not to long ago it was Korean cuisine and before that, Greek, etc.
What is your favorite recipe posted on your blog?
That is a really difficult question as there are so many that are my favourites. Off the top of my head I would have to go with some of these: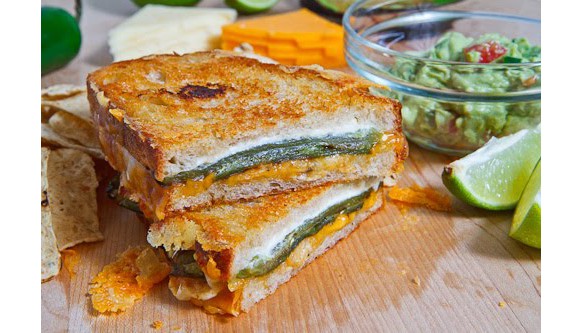 Jalepeno Popper Grilled Cheese Sandwich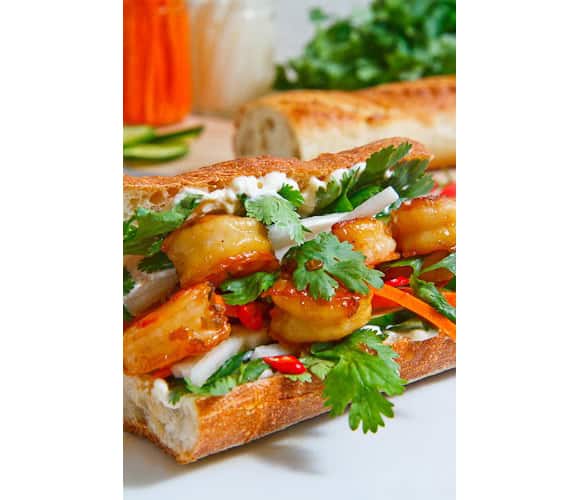 Vietnamese Caramel Shrimp Bahn Mi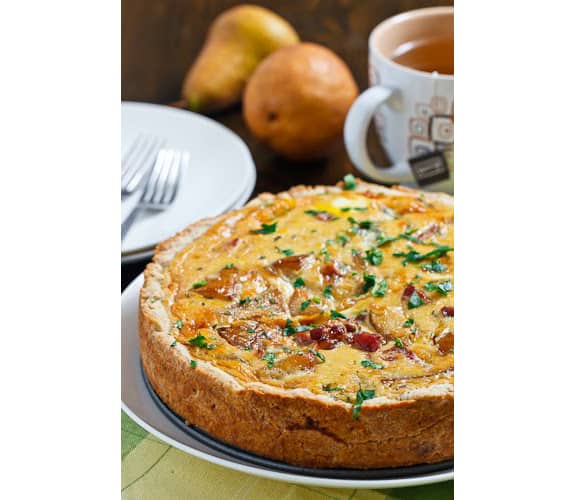 Caramelized Pear and Gorgonzola Quiche
Will you show us your kitchen? What is your favorite thing about your kitchen?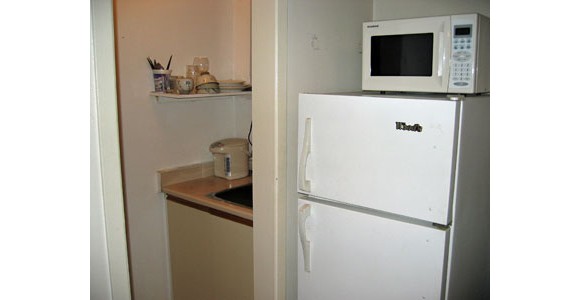 You can see the sink on the one side with less than a foot of counter space and on the other side is the stove also with less than a foot of counter space. The fridge and microwave are out in the main room.
What is your favorite kitchen tool/appliance?
A set of good knives and pans are invaluable and I am also really fond of my food processor.
What is your best tip for getting dinner on the table?
Plan things out ahead of time.
What is your most used cookbook?
Pinterest.com
What kind of camera/lens/equipment do you use?
I got the camera bug when I got into food photography. I started out with the point and shoot that I had at the time but I quickly upgraded to a dslr, the Canon XSi and although I was happy with the XSi, I could not resist going to full frame so I upgraded to the Canon 5DII. The lens that I most commonly use is the 24-105mm f4 but I also have a 100mm macro lens.
Any suggestions or hints to have great food photos?
Lighting is key! If you have access to some good natural sunlight, use it. If you are like me and do not have access to sunlight a good lamp or off camera flash is required. I am currently using an off camera flash that is mounted on a stand with a shoot through umbrella and a remote trigger.
What kind of food did you eat growing up? Do you cook the same kinds of things today?
Pretty normal food like spaghetti, meat and potato stews, lasagna, stir fries, etc.
Is there a dish that you are known for?
Probably grilled cheese sandwiches. 🙂
If you could travel anywhere in the world – just for the food – where would you go?
Right now it would have to be Mexico! No wait, Korea! ummm, how about Thailand! No wait…
What are your favorite blogs to read?
Some of my current favourites:
Brown Eyed Baker
Skinny Taste
Pink Parsley
Bev Cooks
Eats Well With Others
Take us through a typical day of eating in your house.
I like to do most of the big cooking meals on the weekend and I try to plan it so that there are leftovers for lunches at work, and leftovers or really easy to prepare dishes for breakfasts and dinners during the week. As a food blogger the one strange aspect about meals is of course that after I am done cooking it is not time for eating as I have to take photos first!
What is your best tip for saving money on groceries?
I sometimes find this difficult as a food blogger but the one things that I try to do is plan to use everything that I buy and not let anything go to waste. If, for example, a recipe called for 2 leeks and I know that leeks come in bundles of 3, I will try to plan another dish for that week to finish off that remaining leek.
What is your favorite part about blogging?
All of the tasty food that I get to eat!
What is your best tip to becoming a successful blogger?
Passion & Perseverance.
Most people do not become wildly successful bloggers overnight. It took about a month of posting every day before I got my first comment on a post and even longer for people to start coming to my site from searches. Since then it has been a slow build up but I enjoy it so much that it has definitely been worth it!
———————
I am so impressed that you create such amazing food in such a small kitchen, Kevin!!  Thank you so much for sharing with us!  If you want to see more from Kevin, here is where you can find him:
Blog: Closet Cooking
Facebook: Closet Cooking
Twitter: @ClosetCooking
Pinterest: Kevin (Closet Cooking)
Google+: Closet Cooking