Utah is full of great bloggers, and Lindsey from Cafe Johnsonia is one of the pioneers of Utah bloggers! I'm so happy to have her featured here today and to learn some more about her!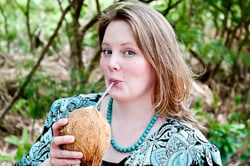 My name is Lindsey Johnson. I write a food blog called Cafe Johnsonia (http://www.cafejohnsonia.com) where I post recipes, reviews of local restaurants, cool things I find, tips, and a gratuitous amount of pictures. I have three children ages 6 1/2, 5, and 3. I grew up in Utah, moved to the NYC suburbs during my twenties, and came back to Utah three years ago. I work for a local farm as an office admin. I love photography, cooking, gardening, reading, writing, sleeping, and of course, my family.
What inspired you to first start writing your blog?
Back in 2005, my best friend told me she had a blog. I had heard the word "blog" before, but I had no idea what it was. She showed me and from that moment on, I was hooked. We didn't have the internet at home at that time, just at work. So it took me a few more months until I started one of my own. It started as a personal blog and morphed into a food blog after I read my other friend, Adriana Velez's blog, What I Made For Dinner (now called Three 4 Dinner).
What kinds of posts are your favorite to write? What do your readers seem to like the most?
I used to do a lot of how-to posts early on. I had a lot more time back then and fewer children. 🙂 I think my readers liked those as well. I've been wanting to start vlogs to take the place of those kinds of posts.
Do you plan a weekly menu? If so, what inspires your menu?
Right now I don't really plan a menu. Life has gotten so busy that I should to save some of my sanity. I honestly look in the fridge and see what veggies I have that need to be used or sound good that night and build a meal around that.
What is your favorite kind of food to make?
I adore salad—any kind, with any ingredients, but especially green salads.

What is your favorite recipe posted on your blog?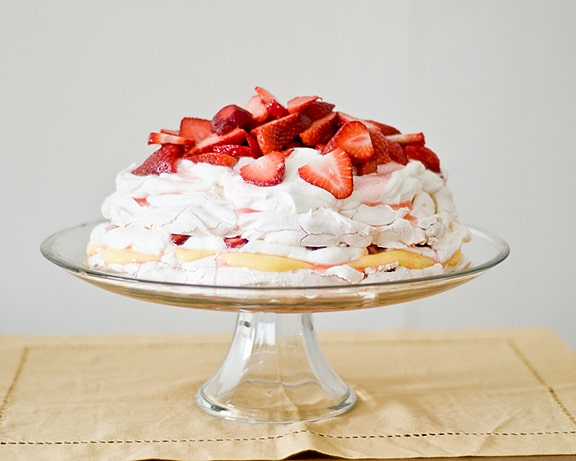 That's a hard one. I really like the Strawberry Pavlova Cake recipe I posted back in April of this year. It was so decadent and I loved how beautiful it looked on the cake stand. Pavlova is one of my very favorite desserts.

Will you show us your kitchen? What is your favorite thing about your kitchen?
I love my little kitchen. It's a bit crazy and the layout is not friendly to someone who loves to cook. But I know the history of my house and it makes me happy to think of the owner's mother lovingly cooking for all of her little kids in such a tiny space.
You can see pictures of my kitchen in this feature on Café Mom (my computer crashed and I can't find the original pictures!)
What is your best tip for getting dinner on the table?
Start preparing dinner in the morning or at lunch time—the prep work. Then it will be easier to throw together at the last minute. Also, think of how you can adapt your recipes to use a slow-cooker. Mine saves me so much time and effort.

Where do most of your recipes come from? (Family favorites, you make them up, magazines, cookbooks, etc.)
I read cookbooks like other people read novels. I have a hard time making a recipe word-for-word. I like to make substitutions, cut corners, or just use it for an idea I already have. Sometimes this works in my favor, and sometimes it doesn't.
What would you eat as your last supper?
Roasted chicken with root veggies, a Strawberry-Spinach Salad with avocados and candied pecans and Poppyseed Dressing, and for dessert either pavlova, panna cotta, or homemade ice cream…or all of the above. To drink, an ice cold bottle of sparkling Voss water from Norway.
What is your favorite part about blogging?
Meeting new friends.
What kind of camera/lens/equipment do you use?
Nikon D300 with a 50mm f/1.8.

Any suggestions or hints to have great food photos?
Take a class or buy a good book in order to learn the basics. Then practice, practice, practice.
What kind of food did you eat growing up? Do you cook the same kinds of things today?
I grew up on boxed and canned food. We hardly ever eat that way now. I was a really picky eater when I was a kid. Now I've reformed and we eat a mostly vegetarian diet.
What was the first dish you ever cooked?
Probably Hamburger Helper. From a recipe, my first memory is of a small layer cake I made all by myself from a kids' cookbook I bought at a book fair in school. I was 6.
When you really want to cheat, what do you eat?
Dairy. It gives me a tummy ache, but sometimes I just need a scoop of ice cream.
If you could travel anywhere in the world – just for the food – where would you go?
India. That is my dream.

What is the best thing you've ever eaten? The strangest?
Best—freshly caught seafood in Costa Rica and Norway.
Strangest—funky veggies from Asia
What are your favorite blogs to read?
There are so many I read and love, so this is just a few:
Canelle et Vanille
Delightful Delicacies
Kitchen Corners
Word of Wisdom Living
Design Mom
Young People in Love
Take us through a typical day of eating in your house.
Breakfast: green smoothie
Lunch: soup or salad
Dinner: Lean poultry, tofu, or fish with loads of veggies on the side (we eat a lot of Thai and Indian curries too)

What is your best tip for saving money on groceries?
Plan ahead, watch the sales, buy what's in season, remember to take your list with you and stick to it.
What is your best tip to becoming a successful blogger?
Read other blogs, but don't copy them. Be yourself. Make friends with other bloggers. Treat everyone according to the Golden Rule. Take a break when you need it.
—————————————
Thank you so much, Lindsey!  Here is where you can find Lindsey:
Blog:  Cafe Johnsonia
Twitter: @cafe_johnsonia
Facebook: Cafe Johnsonia