I'm so happy to have today's Blogger Spotlight – Karly from Buns in My Oven – here today. I've been reading Karly's blog for years now. She makes amazing food, (hello – can you say Pickle Dip?) and takes beautiful photographs.  And not just food photographs – she is also an awesome portrait photographer as well!  So sit back and learn a little bit more about this great blogger!!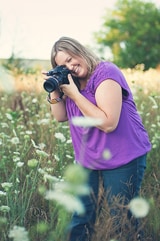 Hi there. My name is Karly and I'm a homeschooling mama of two kids and married to my high school sweetheart. My husband and kids demand that I feed them every day, and for some reason they don't consider cold cereal a proper dinner. It took years of Hamburger Helper and frozen pizzas, but I finally decided that if I'm going to be forced to cook for my family, I may as well have fun with it and learn to do it right. Happily, we haven't had Hamburger Helper in years. Frozen pizzas, on the other hand, still make an appearance every few weeks. I'm only human, after all.
What inspired you to first start writing your blog?
Honestly, I think my love of photography is what made me decide to start a food blog. I was constantly in my kids' faces trying to take their photos and when they finally had enough I started photographing our dinner. Food never complained and always sat right where I put it, so I sort of fell in love. Once I started taking food photos, I knew I had to share them somewhere!
Do you plan a weekly menu? If so, what inspires your menu?
I try my best to plan weekly menus, but sometimes I slack in that department. Often, even when I do plan a menu, I'll stumble on a recipe from another blog, pinterest, or facebook and I end up changing the plan anyway. I'm very impatient and want to try new recipes as soon as I see them or think of them!
What is your favorite kind of food to make?
I love baking anything with a mix of chocolate and peanut butter.
What is your favorite recipe posted on your blog?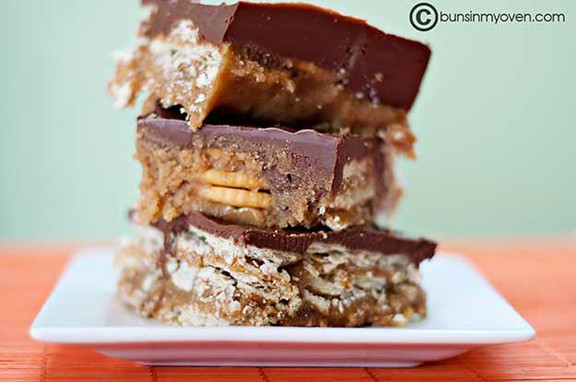 My favorite recipe would have to be for these Chocolate Peanut Butter Candy Bars. I'm a sucker for that sweet and salty combo and these are seriously dangerous.
What is your favorite kitchen tool/appliance?
That's a toss up between my KitchenAid mixer and my Cuisinart food processor. I use my mixer for baking and my food processor for cooking. I'm not sure which gets the most use!

Where do most of your recipes come from?
Most of my baking and dessert recipes are either directly from or inspired by another blogger or cookbook. My dinner recipes are more often than not my own creations.

What kind of camera/lens/equipment do you use?
I use a Nikon d700 with a Nikkor 50mm 1.4G lens. I love them nearly as much as I love my children.

Any suggestions or hints to have great food photos?
It's all about the light! About 90% of my photos are taken on my back deck in the open shade. I love nice, even light for food photos. I'm also sure to resize my photos and sharpen them for the web.

What kind of food did you eat growing up? Do you cook the same kinds of things today?
Lima beans and corn! We had those every dang day. My family does eat a good amount of corn, but lima beans? No way.
Is there anything you would not ever eat?
I'm kind of weird about seafood. Shrimp are just great big bugs that live in the water. Y'all knew that right? I'm confused as to why people continue eating them.

What are your favorite blogs to read?
Oh, there are so many. I adore Perry's Plate, Confessions of a Cookbook Queen, and Cookies & Cups. Oh, and Lauren's Latest and Pinch of Yum. Did I forgot to mention Taste and Tell? I have over 200 blogs in my feed reader. It's sort of an addiction.
Take us through a typical day of eating in your house.
The kids always start their mornings with the sugary junk food cereal that most moms don't like to buy. I'm too lazy to fight them on that one, though. About half of the time I make something quick for lunch, like this pizza bread or pasta, and the other half of the time we have peanut butter and jelly sandwiches or leftovers. We eat out for dinner a few times a week. I try to incorporate Mexican food as often as is humanly possible. When my husband finally puts his foot down and insists that we have some "real" food (by this he means anything but Mexican) I do the cooking.
——————————————-
Thank you so much, Karly!  If you want to see more from Karly, here is where you can find her:
Blog:  Buns in My Oven
Facebook:  Buns in My Oven
Twitter:  @Buns_In_My_Oven
Pinterest:  Karly Campbell