A big welcome to today's Blogger Spotlight – Branny from Branny Boils Over.  If you are looking for mostly vegetarian, healthy recipes, with some delicious sweets mixed in, this is a definite blog to check out!  Thanks for being here with us today, Branny!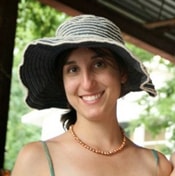 I'm Branny.  My name isn't really Branny.  But that's what you can call me.
I'm in my mid-20s living on a horse farm in South Carolina and feeding my husband, the Omnivore.
I call my husband the Omnivore because for a good long while I was a vegetarian.  While I am eating meat now, it is a rare occasion, so you'll find my blog to be mostly vegetarian and mostly healthy. If you're feeding a family of mixed eaters, be sure to check out the tags on the right hand side of the blog.  They will lead you to recipes that are tried-and-true vegetarian meals but have been successful served with the addition of meat (cooked separately, added to the end).
What inspired you to first start writing your blog?
I was a vegetarian cooking for a meat-eating husband and I wanted to share tips and tricks about how I got it done. We both eat meat now but I still feature mostly vegetarian and healthy fare.
What kinds of posts are your favorite to write? What do your readers seem to like the most?
My readers seem to enjoy the posts the most that describe my husband's reaction to finding out weird ingredients lurking in his dinner. Those are also my favorite to write – I love to document our memories on the blog.

Do you plan a weekly menu? If so, what inspires your menu?
I plan my menu by choosing a meal from each of the cuisines we enjoy: Asian, Mexican, American, Italian, and Indian.
What is your favorite kind of food to make?
Vegetarian main courses
What is your best tip for getting dinner on the table?
Break meals down over a couple of days. Roast veggies in advance. Prep and chop ingredients when you have 5 minutes a few days before the meal. Get your husband to preheat the oven before you get home!
What would you eat as your last supper?
Plain, old fashioned oats with a healthy dose of cinnamon. It is the breakfast that I live for!
What is your favorite part about blogging?
The process of writing the post. I love thinking of a story and an interesting way to present the recipes.
What kind of camera/lens/equipment do you use?
Cannon Rebel xti with the kit lens

Any suggestions or hints to have great food photos?
Natural light only with a bed sheet to diffuse harsh lighting!
What kind of food did you eat growing up? Do you cook the same kinds of things today?
I don't come from a family of cooks. We either had 1 of about 5 rotating meals or frozen dinners!
What was the first dish you ever cooked?
Does heating a can of pork and beans and serving it with white toast count? That's what I would make while in middle school.
If you could travel anywhere in the world – just for the food – where would you go?
Ethiopia. I adore traditional Ethiopian food.
What is your best tip for saving money on groceries?
Eat in season. Deny your cravings in exchange for planning your meals around what is on sale!
What is your best tip to becoming a successful blogger?
"He had everything he wanted until it all turned out to be a job." By Neil Young. Blog for yourself, not others!
—————————————–
Thank you, Branny!  I think I need to explore Ethiopian food.  I've never had it, but have heard that it is delicious!  If you want to read more from Branny, here is where you can find her:
Blog:  Branny Boils Over
Facebook:  Branny Boils Over
Twitter:  @brannyboilsover