A blogger interview with Bev Weidner from the food blog Bev Cooks.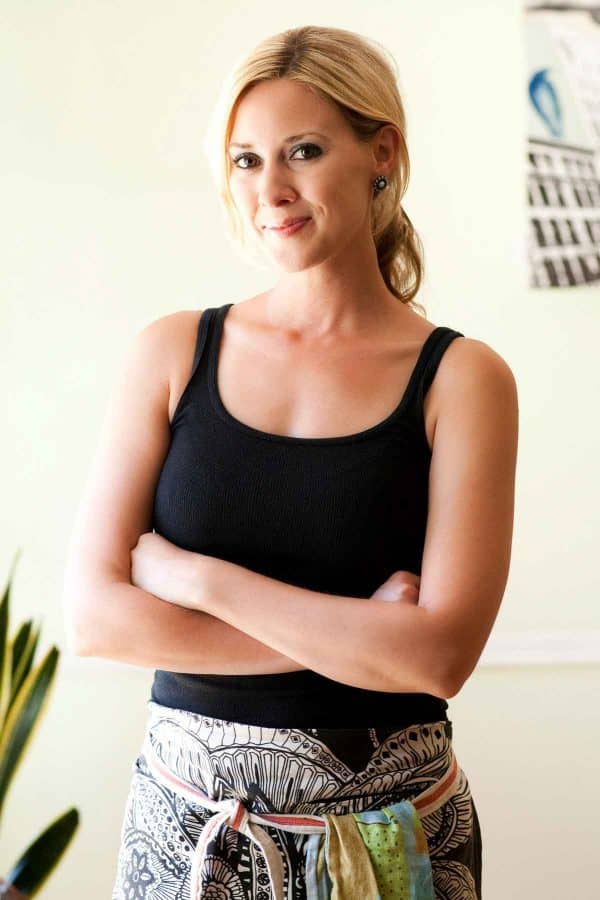 I love that I have met some really amazing bloggers on Twitter. Bev is one of them. I absolutely love getting comments on my blog from her – she makes me smile, and usually laugh, every single time. Seriously – if everyone was like Bev, this world would be a very happy place!! And her blog – Bev Cooks – is simply beautiful. I am so glad that she is joining us here today so we can learn a little bit more about her!!

Hi! I'm Bev. And I love to cook. I'm a self-proclaimed foodie with an unabashed obsession in the kitchen. 7 years ago as I was reaching for the toy in the bottom of a cereal box I'd opened for dinner, I had an epiphany, "Yeah, I need to learn how to cook." So, here we are. With no cereal box in sight, I'm ferociously cooking out of my little Kansas City kitchen, husband and dog by my side, and I'm having a blast. Plus I get to use phrases like, "braise the thighs in butter."
What inspired you to first start writing your blog?
Well, it's no secret that I love to talk. I talk to my husband. I talk to myself, my dog. . . to myself. It was when I first started reading blogs years ago, I thought to myself, "Okay, these people have this outlet. I need an outlet. I need a blog. I can do this. I have things to say, gosh darnit!"
….hello?
What kinds of posts are your favorite to write? What do your readers seem to like the most?
I really enjoy incorporating a funny story about my day with what I'm cooking. Readers seem to connect with that. So if I giggle when I write, I know I'm onto something.
Do you plan a weekly menu? If so, what inspires your menu?
It's funny you ask this, because when I worked full-time, I was absolutely OBSESSED with meal planning. I had a chart, I wore glasses. It was so hot. But then I quit working, so now that I'm home I find myself planning 2 days out. Which is actually pretty contradictory to who I really am inside, because I tend to lean towards "scary neurotic planning woman." She's nice though.
What is your favorite kind of food to make?
If I'm going to be completely honest, it's going to be a pasta of some sort. Or any sort. Oh my gosh with mushrooms. And wine. And lots of herbs. And maybe some more wine.
What is your favorite recipe posted on your blog?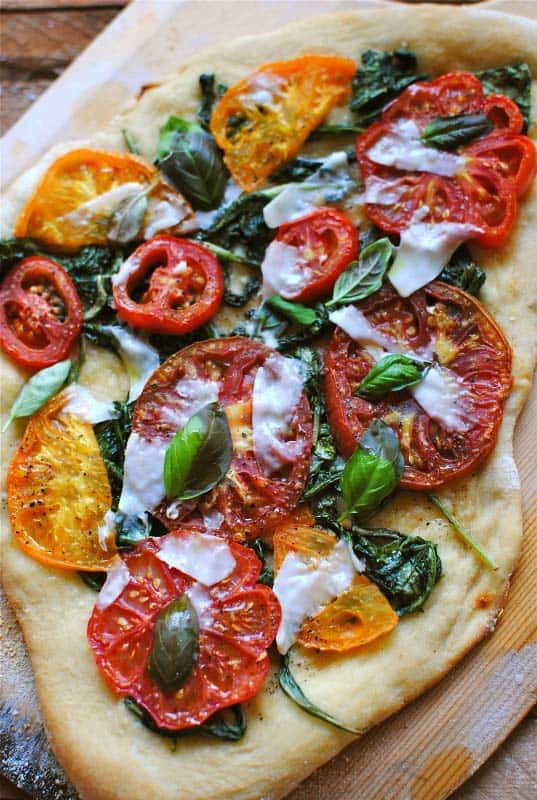 Garden Tomato Pizza – I dug this one quite a bit because A) It's pizza! B) It was SIMPLE. and C) It's purty.
Will you show us your kitchen? What is your favorite thing about your kitchen?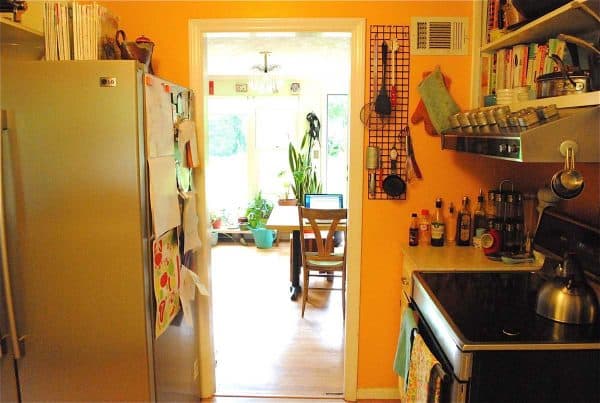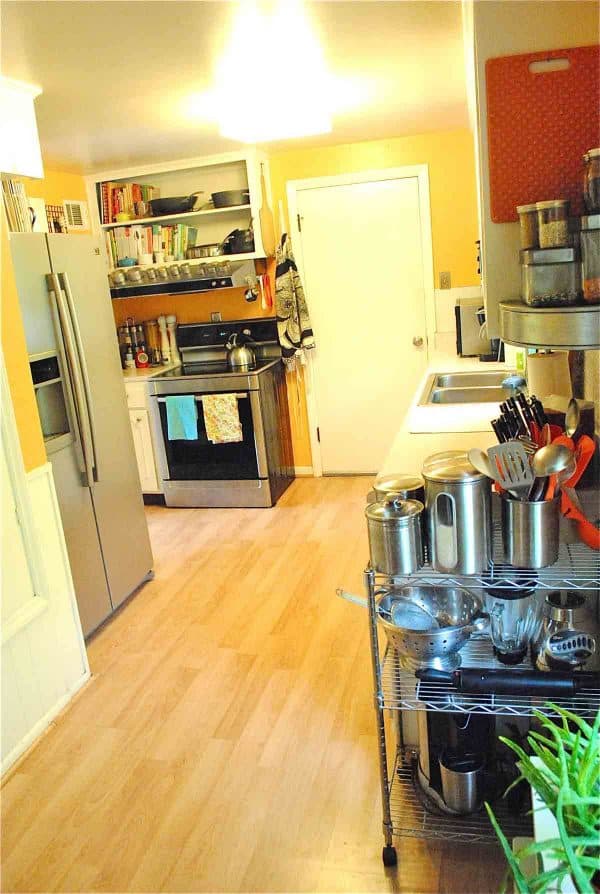 Why sure, come on in! My favorite thing about the kitchen is how cozy it is. I love the pretty spines of the cookbooks above the stove. And I love my little magnetic spice holders on the vent hood thingy. And I love the way it opens up into the living room so that I don't miss anything on TV. What?
What is your favorite kitchen tool/appliance?
Without hesitation, my Cuisinart food processor! You guys, it purrs when it processes. It's so sexy.
What is your best tip for getting dinner on the table?
Plan ahead! If you need to thaw or marinate something, do it in the morning before work. If you are a stay-at-home human, start thinking about dinner mid-day and getting some of the prep work out of the way so that the cooking is stress-free. Well, LESS stress-free.
Where do most of your recipes come from? (Family favorites, you make them up, magazines, cookbooks, etc.)
It's all over the place, really. I do get inspiration from the gajillions of magazines, cookbooks and other blogs that I read. Lot of times I'll just wing a recipe, based on what my garden has going on in it. I do watch a lot of PBS cooking shows (stop laughing, they rule) so I'll jot down ideas if I get giddy.
What would you eat as your last supper?
I think it would have to be a succulent mushroom pasta dish with a giant chicken taco shoved inside it. That sounds horrible actually. Let's put the taco on the side. With some cheese dip and guacamole. And shrimp. Oh! And a pizza! What? This is my LAST SUPPER.
If you could invite any 3 people to dinner – living or dead – who would you choose?
This one is hard. I think definitely Chris Kimball from America's Test Kitchen, Sarah McLachlan and Robert Pattinson. The alive version AND the dead one. Ba-domp. (Sorry.)

What is your favorite part about blogging?
A: It's therapeutic.
B: The community. It's a freakishly fun one.
C: It's rewarding. It's a creative outlet that feeds me. Score!
What kind of camera/lens/equipment do you use?
I shoot with a Nikon d3000, and the lens is a 35mm. Most of the time I don't use a tripod, but if I'm surprisingly not impatient, I'll drag it out. In the winter, I light the food with this hilarious little rig that my husband made for me. A "daylight" lightbulb screwed into an old theater lamp head, which is attached to a pole which is screwed into a Roller Racer. It's actually really handy. And only a little bit sad.
Any suggestions or hints to have great food photos?
A good camera and natural light! I love shooting next to this giant window in my living room. I use a white tray as a "bounce card" and it works just fine. Get close to the food. You want to really see that melting cheese, or the drizzle of oil, or the fresh herbs. I'm hungry.
What kind of food did you eat growing up? Do you cook the same kinds of things today?
Oh, we were very much in a food routine growing up. On Monday nights we ate little Texas pot roasts and watched Blossom. On Tuesday nights we ate spaghetti and watched Fresh Prince of Bel Air. Wednesday nights we ate at church. Thursday nights we'd have pork chops and applesauce (name that show) and watch The Cosbys. On the weekends dad would grill steaks or BBQ chicken. Sundays mom always had a roast in the oven, and Kraft mac and cheese. And chicken tenders. We ate those quite a bit. I do cook a few childhood favorites from time to time. Grilled cheeses, cheesy pasta, tacos. Actually those little Texas pot roasts sound pretty good right now. I'm hungry.
What was the first dish you ever cooked?
You mean in LIFE? I think it was a box of macaroni and cheese with ground beef. I know, so awesome. If you mean for the interwebs it was sriracha shrimp skewers with a homemade succotash. That was shot with a point and shoot, so I'll spare you the photo. You're welcome.

When you really want to cheat, what do you eat?
A huge vat of cheese dip that I could stick my entire face in.
If you could travel anywhere in the world – just for the food – where would you go?
Well this is simple, Italy! Amen.
What is the best thing you've ever eaten? The strangest?
A few years ago we went to Boston to visit family, and while we were there we cooked fresh lobster one night. This lobster…I have no words. Dipping the succulent meat in drawn butter, and paired with a simple loaf of rustic bread and freshly grilled corn on the cob – I DIE. I'll never forget that meal. I wore giddy pants. The strangest? How about those tapioca beads at the bottom of bubble teas? No thanks, man. That's strange.
What are your favorite blogs to read?
There. are. so. many. Here are 10 of my favorites:
The Pioneer Woman
Smitten Kitchen
La Tartine Gourmande
How Sweet Eats
Greek Kitchen Stories
101 Cookbooks
What Katie Ate
Take us through a typical day of eating in your house.
Breakfast: a cup of berries with a little egg muffin sandwich with spinach, tomatoes and cheese. Lunch: leftovers or a simple salad and sandwich Snack: almonds, crackers and cheese Dinner: whatever my face is craving. Dessert: leetle chunks of dark chocolate

What is your best tip for saving money on groceries?
Garden! Even if you don't have the space for a full-on deal, start small with indoor herb plants. You'll be surprised how much you can save over time. Of course whatever you save on groceries you'll spend on gardening supplies. Ignore me. Something else I do is stock up on pantry staples. I always have pastas, rices, canned goods and a variety of whole grains on hand, so I end up saving time, money and sanity when I don't have to run out to the store every 5 minutes to pick something up.
What is your best tip to becoming a successful blogger?
I think for me the trick is to not take myself seriously. To remember it's not a competition. To be the dork that my soul begs me to be. To build relationships with other bloggers. To get inspired, play with photography, tell a fun story, and KEEP AT IT. Okay who's hungry? I mean, seriously.
—————————–
Thank you, Bev. You always bring a smile to my face!! Here is where you can find more from Bev: