We are taking a break from the giveaways for a minute for today's Blogger Spotlight. I really feel lucky to be surrounded by some pretty amazing bloggers. Seriously, if you want some genuine, big-hearted bloggers to surround yourself with, move to Utah!! Today's spotlight is another blogger who I am fortunate enough to call a friend – Barbara from Barbara Bakes. She makes some amazing food and I'm so glad she is joining us here today!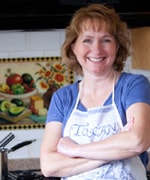 I love to bake, especially cookies, cakes, and pies. I post my adventures in the kitchen, my favorite new recipes, as well as our family favorites. In addition to sharing my kitchen adventures, creating Barbara Bakes was a great way to use my web design experience and Mass Communication degree from the University of Utah. I have been married for 33 years, I have four terrific kids, and recently a sweet little grandbaby joined our family. And in case you were wondering, my last name is Schieving not Bakes. 🙂
What inspired you to first start writing your blog?
I Googled the calorie count for Dunford Donuts chocolate cake donuts and ended up on This Week For Dinner. Jane's blog inspired me to put my recipes online so my daughter could have them without calling me all the time. I had no idea that anyone else would also be happy that I shared my recipes.
What kinds of posts are your favorite to write? What do your readers seem to like the most?
My favorite posts are the posts when everything just falls in to place. The recipe comes together easily, it tastes fabulous, I have a great idea for styling the photos, it's a beautiful sunny day, and the photos turn out great. Readers seem to be drawn in by a great, mouth-watering photo.
Do you plan a weekly menu? If so, what inspires your menu?
I try to plan a weekly menu, and I succeed about half the time. I find recipes that inspire me everywhere I go, traveling, restaurants, at the grocery store, magazines, TV, the newspaper, and especially online. I have a collection of cookbooks, but don't pull them off the shelf nearly enough.
What is your favorite kind of food to make?
I am easily bored with baking the same recipe over and over again. So I love trying a new recipe that will challenge my abilities and help me become a better baker. If it's also a dessert recipe, even better.
What is your favorite recipe posted on your blog?
Picking a favorite recipe is kind of like picking a favorite kid. My quick breads would definitely be at the top though: Banana Nutella Bread, Pumpkin Chocolate Chip Bread, Snickerdoodle Bread.
Will you show us your kitchen? What is your favorite thing about your kitchen?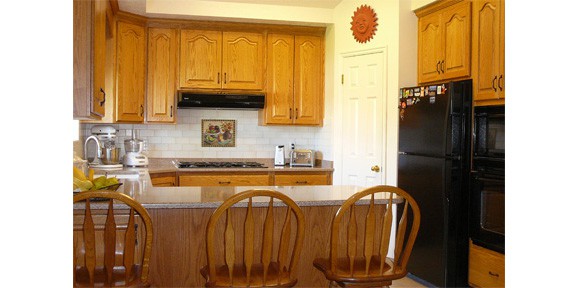 I'm very fortunate to have lots of cupboard space and a large walk-in pantry in my kitchen. Although the cupboards seem to be filling up faster since I started blogging.
What is your favorite kitchen tool/appliance?
I love my KitchenAid mixer!
What is your favorite part about blogging?
My favorite part of blogging is the people I've met, both in person and online. I have friends across the globe who brighten my day with their sweet comments, tweets, and inspiring posts.
What kind of camera/lens/equipment do you use?
I use a Canon Rebel T1i with a 50mm 1.8 lens. I bought about a year ago and it made a huge difference in the quality of my photos. Foodgawker now accepts the majority of the pictures I submit.
If you could travel anywhere in the world – just for the food – where would you go?
I've been very fortunate to have been able to travel to many countries around the world. I would love to go back to Paris and spend a few months exploring the restaurants and bakeries, but also the fabulous street markets.
—————————
Thanks for sharing, Barbara.  And hey – if you get to go to Paris for a few months, I'd love to tag along! 🙂  If you want to see more from Barbara, here is where you can find her:
Blog:  Barbara Bakes
Facebook: Barbara Bakes
Twitter: @BarbaraBakes
Pinterest: Barbara Bakes