I'm finally back with a Blogger Spotlight!! Today, Rachel from Baked by Rachel is sharing with us. I love Rachel's blog and want to eat pretty much everything that she makes. I know that we would get along, simply because both of us are smitten by buffalo chicken!! I'm so glad she is here with us today. Sit back and get to know Rachel!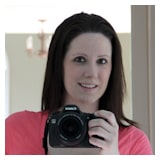 I'm Rachel, the name behind the blog Baked by Rachel. I'm a New England girl, born and raised, now residing in southern New Hampshire with my husband and our three young children. Our house is often very busy and full of noise. During the rare quiet times I like to sneak into the kitchen to experiment on new recipes.
My love for baking and playing in the kitchen goes as far back as I can remember; from making basic microwave s'mores with my Grandmother to baking cookies in home ec. As a child I enjoyed helping my Mother in the kitchen whenever possible. I'd grate the cheese for lasagna and steal a taste or two along the way, what kid wouldn't?
Now I bake not only for fun but to feed my own family. Baked by Rachel started out as a hobby, a place to share my favorite recipes. In the beginning it was mostly sweets and other baked goods. Over the years, I've found myself sharing more savory dishes than sweets but my love for sweets is strong! What you see on the blog is what we're eating, maybe not on a daily basis but every recipe is tested on my strongest critics.
If I could eat bacon and potatoes everyday, I would! I have a serious obsession with bacon, cheese and potatoes. I'm also a bit crazy for cupcakes. Pile the frosting high and I'm a happy girl. You'll never catch me eating tomatoes, but I will cook with them for my family. If you see a recipe loaded with tomatoes and sauce, it wasn't for me but I promise I had fun making it.

What inspired you to first start writing your blog?
This isn't very original but I wanted a place to share my favorite recipes with friends and family. When myspace was popular, I had been sharing some of my favorites there. I wanted something that I could really call my own.

What kinds of posts are your favorite to write? What do your readers seem to like the most?
My readers seem to love the over the top and total comfort food recipes and posts. Those have a special place in my heart, or belly, too. When a recipe is a lot of fun to make and eat, that gives me a lot to talk about.

Where do most of your recipes come from?
Most of my inspiration comes from other blogs, Pinterest and magazines. Sometimes a recipe just hits me in the middle of the night and I have to create it, with or without a recipe to cook from.
Do you plan a weekly menu? If so, what inspires your menu?
This really depends on the week. Sometimes I have more ideas planned than others but I almost never have a strict menu written out. I do my best to have items on hand for a few specific meals every week and basic staples for other nights that I can play around with.

What is your favorite kind of food to make?
I love comfort food, anything from cheesy dishes to potatoes, pasta and soup. It's probably not awesome for my waistline though!

What is your favorite recipe posted on your blog?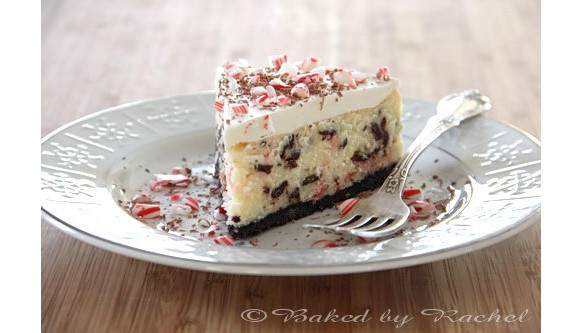 White Chocolate Peppermint Bark Cheesecake

Peppermint bark cheesecake is by far one of my favorites. It was completely over the top. My brother had mentioned it over Thanksgiving and I knew I needed to make it. I had no recipe to base it on, just a description from a menu.

Will you show us your kitchen? What is your favorite thing about your kitchen?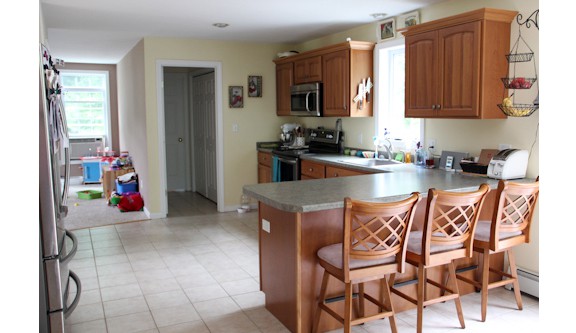 I love having a lot of counter space. I sometimes wish I had even more but so far this is our biggest kitchen. My second favorite thing is our Bose SoundDock. Having music playing in the kitchen while whipping up recipes or enjoying a meal just makes it a bit more fun. My daughters (2 ½ and almost 5) and I dance a lot while cleaning and cooking.

How about your refrigerator? What do you keep stocked in it?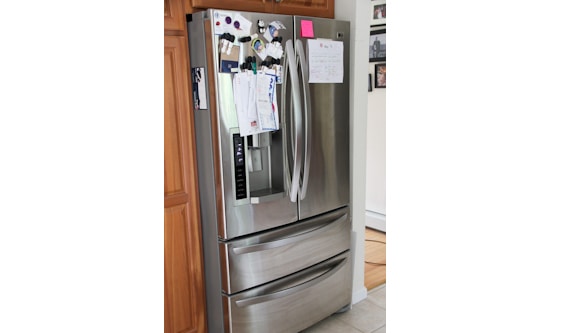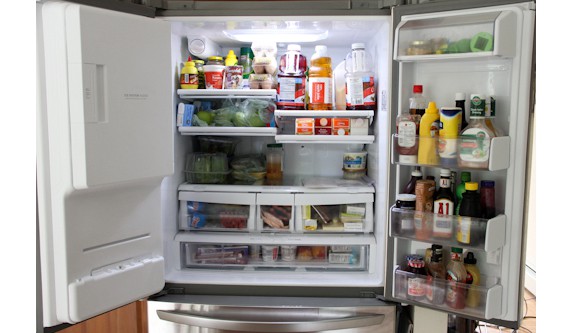 I'm more scared of sharing this than my kitchen. The contents change weekly but we're always well stocked on cranberry juice (my absolute favorite), several gallons of milk, eggs, cheese and of course butter! I'm slightly ashamed that there are 4 cartons of cream. I promise there's a nice balance of healthy and indulgent though even if you can't see it all.
What is your favorite kitchen tool/appliance?
My knives. I'm down to three after tossing an entire set but these ones do the trick. Having good knives definitely make jobs a ton easier. No fear of snapping knives or dull edges… two very dangerous issues with bad knives.

What is your best tip for getting dinner on the table?
Do what works for you and your family. We go with the flow most days. If we're having a good day then I know I can make just about anything even if it's a bit more time consuming. On days we're running low on energy or just plain behind (hello summer… the late sun is completely throwing me off) we'll do quick meals that make everyone happy (breakfast, grilling, etc).
What would you eat as your last supper?
That's a tough one. In the past I've said a burger and fries from Aruba. That's where we went for our honeymoon. It was such a basic meal and maybe it was even more delicious in my head because of where we were. Another completely weird possibility: the breakfast from the hospital where I had our children. I'm not even remotely kidding when I say it was one of the best breakfasts I've ever had. Eggs, toast, bacon and the most amazing and perfectly seasoned potatoes. I looked forward to that meal my entire last pregnancy.
If you could invite any 3 people to dinner – living or dead – who would you choose?
There are so many awesome possibilities. As much as I'd love to see family again, I'd love to have a fun dinner with some amazing names in the food world. I'd probably pick: Julia Child, Mario Batali and Martha Stewart.

What kind of camera/lens/equipment do you use?
I shoot with a Canon 60D and an EFS 18-135mm lens.

Any suggestions or hints to have great food photos?
Natural light is an absolute must! Some of my early photos are taken under harsh kitchen lights… and had horrible styling if we even want to call it styling.
What was the first dish you ever cooked?
American Chop Suey. That will probably shock most people since it has tomatoes but I can handle it with the right sauce and the absolute most minimal amount. I haven't made it since then but it's a dish I grew up eating.

Is there a dish that you are known for?
I have a feeling most would say buffalo recipes. I like to experiment with buffalo sauce a lot, even though I'm more of a barbecue fan. I have a nice list of buffalo recipes and the list will continue to grow as long as my family and readers ask for more!


One of many: Buffalo chicken deviled eggs. If you love buffalo sauce, this combination really does work!

When you really want to cheat, what do you eat?
Ice cream! Sometimes I have no desire to cook a meal and find myself indulging in a bowl of ice cream instead.
If you could travel anywhere in the world – just for the food – where would you go?
France. I want to eat the pastries and bread. A carb lovers dream.

What is the best thing you've ever eaten? The strangest?
Our wedding cake. It was to die for. Amazingly moist and crazy good. I wish I had a picture of the inside to share! It had layers of vanilla buttercream, white cake and strawberries. Upon first bite were in heaven. I want to have a mini version recreated for our anniversary some year.

What are your favorite blogs to read?
Bakers Royale – Naomi's photography and recipes are always so inticing.
A Thought For Food – Brian is so down to earth and his photography just amazes me. Even his most simple recipes sound amazing.
How Sweet It Is – Jessica's creations are always over the top and competely drool worthy, plus she always has the absolute best stories to go along with her posts.

What is your favorite part about blogging?
The community is amazing. I've made so many new friends through blogging, most of which I haven't even met in person (yet!). I love getting random comments and emails from readers after they've made a recipe. It's always nice to hear from people and really wish more felt comfortable doing so.
—————————
Thanks so much, Rachel. It was fun getting to know more about you!  If you want to see more from Rachel, here is where you can find her:
Blog: Baked by Rachel
Facebook: Baked by Rachel
Twitter: @bakedbyrachel
Pinterest: Rachel {Baked by Rachel}