Today's blogger spotlight is the wonderful Cassie from Bake Your Day. Cassie's blog is new-ish to me, but I'm so glad that I discovered her! She is such a friendly and supportive blogger, and I'm happy to consider her one of my online friends!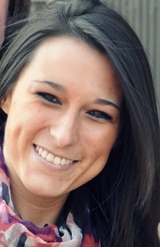 I live in Kansas City with my husband Paul and our cat Emma.  I love people, I love life, and I love living life well. I especially love living well through food. I believe that food is nostalgic, it is comforting, it brings people together, and it builds community.  I aim to create meals and desserts that are simple, yet elegant and recipes that use accessible, affordable ingredients.  I love sharing my life and how my life is connected to others through food.

What inspired you to first start writing your blog?
I had been following blogs for a long time. I had wanted to start a blog and honestly the thing that kept me from starting one was that I couldn't come up with a name that I liked. Bake Your Day came about out of my husband's creativity and I loved the play on words.

What kinds of posts are your favorite to write? What do your readers seem to like the most?
Reader favorites have to be desserts, particularly cookies. And I love them too so I love that my readers love cookie posts. I love to write posts that have a great story to share along with the food. I love relating my food to my life.

Do you plan a weekly menu? If so, what inspires your menu?
Yes I do. I shop weekly and I plan meals around what nights we will be home, what foods are on sale, what we like and what needs to go on the blog. It's sort of a chaotic planning process but it works for me!

What is your favorite kind of food to make?
Cookies are definitely my favorite thing to bake. For meals though, I love making classic dishes like risotto, homemade mac and cheese, mashed potatoes and pasta dishes.

What is your favorite recipe posted on your blog?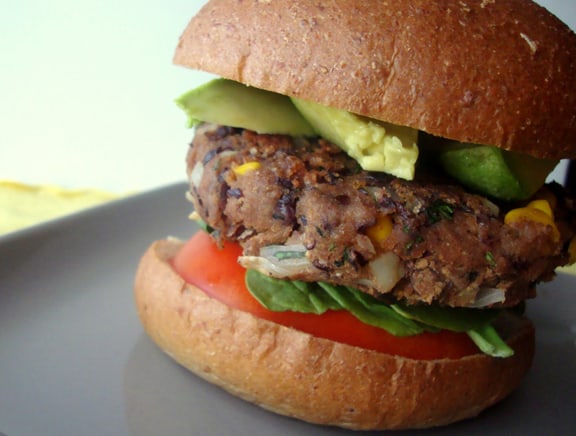 My black bean burgers (this one and this one) are by far my favorite, and also a fan favorite. We eat these very often in our house!
Will you show us your kitchen? What is your favorite thing about your kitchen?
I would love to show you a picture of my kitchen but since I am moving tomorrow I'm sort of in between kitchens! My new kitchen has a gas range, double ovens lots of cabinet space and is part of our big open loft in downtown Kansas City. I cannot wait to bake up some cookies for you in my new kitchen!
What is your favorite kitchen tool/appliance?
It's a little cliché but I can't not say my KitchenAid mixer. I had wanted one for so long and I absolutely adore it and its capabilities. My husband bought it for me for our first Christmas together because that's the only thing that I asked for. Only a foodie wants kitchen appliances for gifts!
What is your best tip for getting dinner on the table?
Prep work! I often will put together a casserole or lasagna on Sunday. Bake it on Monday, and we'll eat it all week. Or I'll make two: one for the week and one for the freezer for when life gets crazy. I also plan fairly easy meals for weeknights and save the more time-consuming meals for the weekends.
If you could invite any 3 people to dinner – living or dead – who would you choose?
Eleanor Roosevelt – her gumption and drive have always inspired me.
My Grammy – I just miss her a lot.
Jesus – there are many questions that I would love for him to answer.

What is your favorite part about blogging?
The friends that I have made are absolutely the best part of blogging. I had no idea that there was such an amazing community of people to connect with. We all share a similar love and passion for food and the bond is incredible!
Allowing myself to be creative, to write and to become a better cook and photographer are also great aspects of blogging.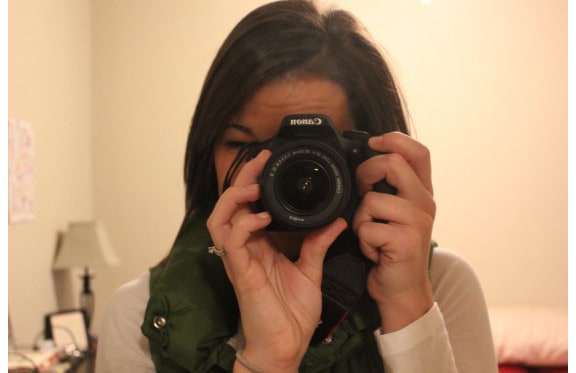 What kind of camera/lens/equipment do you use?
I shoot with a Canon Rebel T2i, 18-55mm f/3.5-5.6. I hope to have a 50mm lens soon! I shoot in only natural light. I use a white foam board to bounce light and style photographs with random placemats and napkins that I pick up at thrift stores, World Market, Pier 1, Crate and Barrel and the like.
What was the first dish you ever cooked?
I remember baking brownies (from a box) all by myself and being so proud. And every now and then I still just need to make brownies from a box to ground me.

When you really want to cheat, what do you eat?
French Fries and cheese. Not together, well, maybe together. Regardless, both are my food weaknesses.
What is your best tip to becoming a successful blogger?
Be yourself and show your readers who you are. Don't be afraid to tell stories, to be vulnerable and to put yourself out there to share who the person behind the food is. It's your blog, be YOU.
————————–
Thank you, Cassie! I'm jealous of your new kitchen with a gas range and double ovens. I miss my gas range!! If you want to see more from Cassie, here is where you can find her:
Blog: Bake Your Day
Facebook: Bake Your Day
Twitter: @BakeYourDay
Pinterest: Cassie Laemmli [Bake Your Day]
Google+:  Cassie Laemmli