I'm am SO excited for today's Blogger Spotlight – Aggie from Aggie's Kitchen.  I was lucky enough to meet Aggie in person a few months ago.  We only spent a couple hours together at a food photography class, but I'm so grateful because I feel like we have become great blogging friends.  Aggie is just as nice in person as she is on her blog.  If you aren't already reading her blog, it is definitely one you need to be reading!!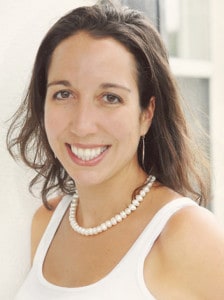 My kitchen is my "happy place"…I started Aggie's Kitchen in June of 2008 and it's grown into a place where I go to hang out and share what I'm cooking for myself, my family and my friends. Most of the recipes I cook are healthy…but the occasional treat is permitted.
What inspired you to first start writing your blog?
I first discovered blogs while searching the internet for a recipe. I was immediately intrigued by the idea of talking about food and sharing recipes online through a blog. My niece Sarah gave me the push and motivation I needed to start my own.
What kinds of posts are your favorite to write? What do your readers seem to like the most?
My favorite posts seem to be the recipes that I throw together on a whim. The clean out the fridge or pantry type meals just come together so easily for me…cooking them and writing about them. I think my readers seem to like those posts too…as well as ones where I share a little bit more about me, or pictures of my kids. I always get more comments when my kids pop up in a blog post. 🙂

Do you plan a weekly menu? If so, what inspires your menu?
As much as I've tried, I really don't plan a weekly menu. I do try to plan for a few days, maybe couple days, at a time for the sake of sanity. My fridge, my pantry, my mood and what I read or watched on tv that day usually is what inspires me. It can be tricky at times.
What is your favorite kind of food to make?
I love making pasta dishes…and homemade pizzas. I think with both pasta and pizza the sky is the limit as far as keeping it interesting and different every time.

What is your favorite recipe posted on your blog?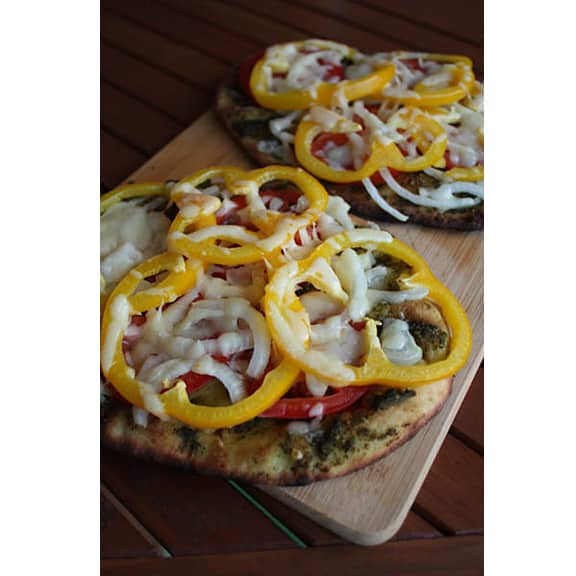 Grilled Vegetable Naan Pizza with Pesto
I think right now my favorite recipe on my blog would be the Grilled Veggie Naan Pizzas with Pesto. I could eat it every single night and be happy.
Will you show us your kitchen? What is your favorite thing about your kitchen?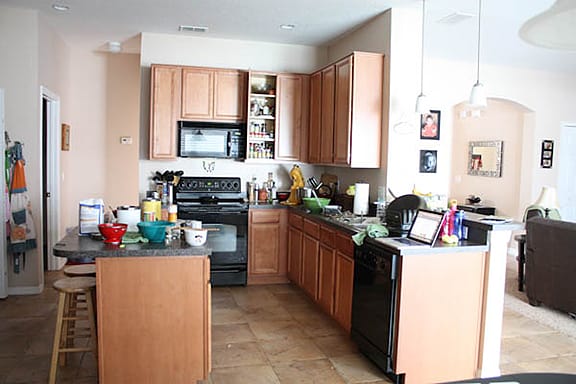 I love my kitchen. It's roomy, and it has an island which is where I spend most of my time cutting vegetables and feeding my kids. I wouldn't mind a new dishwasher, a gas stove and some new counters though. A girl can dream 🙂
(btw…I took this photo after a rare baking session…I am an incredibly messy and unorganized baker and don't do it very often for those reasons!)

What is your favorite kitchen tool/appliance?
A sharp knife. I could not function without a knife in my kitchen.

What is your best tip for getting dinner on the table?
Ha, I wish I knew. Really though, it's to have some sort of plan. Once you make up your mind on what you are going to have for dinner get yourself organized, get all your ingredients ready and then make it happen. And clean as you go, I am a big fan of cleaning as you go because I really hate the after dinner mess so less mess is better in my opinion!

Where do most of your recipes come from? (Family favorites, you make them up, magazines, cookbooks, etc.)
Most of my recipes are inspired by something I see in a magazine, cookbook or blog, ate at a restaurant, or what I saw on a cooking show. I am inspired by so much that sometimes it's hard to keep up with everything I want to cook!

What would you eat as your last supper?
This is such a hard question! It would have to be a tie between a bowl of my grandfather's pasta with sauce and my dad's sausage and peppers calzone!
If you could invite any 3 people to dinner – living or dead – who would you choose?
Gwynth Paltrow, Mario Batali and Giada DeLaurentiis…they would have to cook with me too.

What is your favorite part about blogging?
My favorite part of blogging has got to be the opportunity to be creative. I love that I have a place to be passionate about something…freely and without any limitations.
What kind of camera/lens/equipment do you use?
I use a Canon Rebel XTi with the lens it came with. It's my friend, but I'm trying to get to know it better. I've been toying with the idea of a new lens…a 50mm…but I'm intimidated. I also have a tripod and a reflector board on my want list.
Any suggestions or hints to have great food photos?
I personally like to take photos of my food how I would eat it. I don't take a lot of time to style because it just doesn't fit into my world. Its something I work on, but it doesn't come easy for me. What I think makes a great food photo is color and texture, I cook with a lot of fruits and vegetables so I really try to make them the focus of my photos, fruits and veggies are very photogenic and make pretty pictures in my opinion.
As far as getting your camera to take better photos ask other people questions about how they take their pictures and have them show you on your camera. I'm such a hands on learner, it takes me a while to "get it" when it comes to my camera. I just can't read my manual and learn from it.
What kind of food did you eat growing up? Do you cook the same kinds of things today?
My family is Italian and has owned a restaurant most of my life, so I grew up eating a lot of good food, whether it came from home or the restaurant. It was comfort food, lots of pasta, cheese, bread, vegetables and fruit. And lots of Nutella. I had Nutella sandwiches packed for lunch while everyone else around me had PB&J.
I cook very similar to how I ate growing up. A little different, but the same… if that makes sense.

What was the first dish you ever cooked?
I remember making a pasta dish for my roommates in college…the base of the sauce was from a packet of Knorr Parma Rosa (powdered mix), but I added tomatoes, broccoli, peas and Italian turkey sausage to it. How I remember this I have no idea. I made it a lot though.
When you really want to cheat, what do you eat?
lots of good bread and cheese or pizza… or nachos, I love nachos.

If you could travel anywhere in the world – just for the food – where would you go?
I think I would have to say Greece.

What is the best thing you've ever eaten? The strangest?
Best thing I've ever eaten…I had some really really good freshly made pita bread baked in a clay oven at a little mom and pop restaurant in Virginia earlier this year. I ate it with falafel, hummus, tzatziki and fresh veggies for days….I could seriously eat there every single day, it was so good.
Looking back, I think the strangest thing I've ever eaten is steamed snails with toothpicks out of a bucket in my best friends backyard when we were kids. They were good, but it just sounds funny to me now.
What are your favorite blogs to read?
So many good blogs out there…I have so many on my Reader. But some of my faves that I can't get enough of lately are: Bev Cooks, Reluctant Entertainer, Gina's Skinny Recipes, In Good Taste, Mountain Mama Cooks, a nutritionist eats, Recipes to Run On, Katie's Cucina, Not Rachael Ray…
So many more!!!
Take us through a typical day of eating in your house.
My day starts off usually with coffee made by my husband, and breakfast which would could be eggs & toast (made by my husband as well) or toast with peanut butter and fruit.
Lunch for me is usually leftovers of some sort (my kids and hubby get sandwiches, fruit & yogurt packed for school and work), a salad, a hummus & veggie sandwich or a pita/flat out pizza.
Dinner can be anything from broiled fish and veggies, something off the grill and salad, something Mexican or pasta. On busy nights (or when I don't feel like cooking) I make pita/flatbread pizzas.

What is your best tip for saving money on groceries?
I really try to stock up on whatever meat/fish is on sale and store it in the freezer. I also buy what's in season as far as produce goes. I keep my pantry stocked with sale items like beans and tomatoes. When I'm really on it, I clip coupons for our weekly essentials such as milk, cheese, yogurt and eggs.

What is your best tip to becoming a successful blogger?
I think being passionate about what you are writing about, whatever that may be, connects you to your readers the most. The recipes, the photos, the words all have a lot to do with it too, but it's always about being truly genuine and yourself that shines through the most.
——————————-
Thank you so much, Aggie!  It was fun to learn more about you.  If you want to follow Aggie, here is where you can find her:
Blog:  Aggie's Kitchen
Facebook:  Aggie's Kitchen
Twitter: @aggieskitchen