I love today's Blogger Spotlight!!  Robyn Stone – from Add a Pinch – has a blog full of gorgeous food, plus a whole lot more!  She is one of those bloggers that I'd love to meet in real life, because I can tell that she would be as sweet as she is online.  I'm so happy to learn a little more about her here today.  Thanks, Robyn!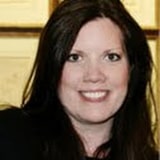 I'm Robyn Stone, a seventh generation Southern Mom who loves to share simple, fresh, and delicious family recipes. In cooking, I share recipes I prepare for my family and friends. In living, I fill you in on tips and tricks for the home, decorating ideas, all the stuff I learn being a mother, products I find that you just have to know about, our menagerie of animals that seem to increase as the years pass by, and everything in between. In homeschooling, I keep you posted resources and materials we find that help our family and interesting lessons and field trips we enjoy.  Now, in traveling, I take you along with me – virtually of course – to the places we go and enjoy. As my grandmother said, "Add a pinch of this and a pinch of that and it will be just right." The same adage she used while teaching me to cook can easily apply to a recipe for a great life. Let's make today just right, y'all!
What inspired you to first start writing your blog?
I left my career of marketing and business development to stay home. The first week was full of organizing my house, the second was spent eating lunches with friends and by the third I knew I needed a fun creative outlet.

What kinds of posts are your favorite to write? What do your readers seem to like the most?
My favorite posts to write are family recipes and the memories they bring along with them. I think those are the posts that readers most connect with as well. Although, those fun, quick, super easy weeknight meal recipes are fun for me as well.

Where do most of your recipes come from?
Most of my recipes come from family favorites growing up and those that I've created out of what I had in the refrigerator at the time!

Do you plan a weekly menu? If so, what inspires your menu?
Gracious, I sure wish I did and could stick with it. I usually just like to prepare meals based on what looked the best in the grocery store, farmer's market, or produce stand when I visited and go from there.
What is your favorite kind of food to make?
My absolute favorite kind of food to prepare has to be family favorites and celebratory-style meals. I just love to feed people!
What is your favorite recipe posted on your blog?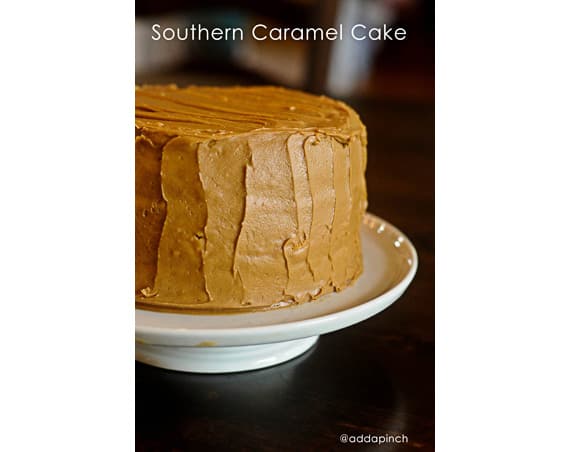 That's almost like asking which child is your favorite! Luckily though, I have an only child! So no hurt feelings there. My favorite recipe hands-down has to be Southern Caramel Cake. Not only is the cake delicious, but there is so much history in that one single cake that it just speaks volumes whenever it is served.
What is your favorite thing about your kitchen?
It's hard to pick one thing I love the most about my kitchen. My husband and I spent more time planning it than just about anything else when we designed our house. There are a few things I might do a bit differently now, like make it a lot wider (ha!), but all-in-all I love it. If I could only pick one thing to do again, I'd have to pick my 8-burner gas cooktop. It's a cook's dream.

How about your refrigerator? What do you keep stocked in it?
Mercy! No photos of the inside of my refrigerator, please! That's like peaking in my closet! 🙂
I do keep it stocked with tons of fruit, salads, and cheeses. Can't forget the cheese! It also has leftovers. I still like to cook like I'm feeding a small army even though I clearly am not.
What is your favorite kitchen tool/appliance?
My cast iron skillets – some were passed down from my great-grandparents and some are more recent purchases. Those babies have helped me through all sorts of weekday meals to entertaining groups of people. I don't ever want my kitchen to be without them.
What is your best tip for getting dinner on the table?
There are days that I struggle with this myself! But, all-in-all the most important thing is to be at the table together no matter if you are drinking smoothies for breakfast or having peanut butter sandwiches for supper. Have a basic idea of what you are planning for supper that evening and then work backwards for timing. Planning on being out all day and rushing in the door to a starving family at 6? Why not plan an easy slow cooker meal or pizza night. Just prep all of the ingredients and start them before you head out the door that morning.
What is your most used cookbook?
The one my Grandmother made for me as a wedding present. It is my absolute favorite wedding present, now nearly 17 years later it has become even more special. I still turn to it for so many favorite family meals and entertaining staples.

What would you eat as your last supper?
Oh my goodness! This is such a hard question! I'm not so sure I'd want to eat if I knew it were my last meal! Most likely though, I'd be more concerned with the people around me and want to prepare a meal I know they would love as my last supper with them. For my husband, it would have to be steak and a huge salad followed by that caramel cake. For my son, the cake would do! 🙂

If you could invite any 3 people to dinner – living or dead – who would you choose?
I'm going to pick a reunion style meal with family that have passed away for this question. Of course, I'd always want my husband and son at any meal, so they go without saying!
My daddy. He passed away five years ago and there isn't a day that goes by that I don't wish I could cook another meal for him or just sit and chat. There is still so much I'd love to talk with him about.
My grandmother. She passed away a few months after my daddy and I still wish I could make her cinnamon apple rings like she did. But, just being able to make a meal for her and hear her voice again would be amazing.

What kind of camera/lens/equipment do you use?
Lately, I've been using the phone on my camera a lot more often than any other camera! But, for "real" photographs, I use a Nikon D300. My favorite lenses for food and everyday use are my 50mm, 28-75mm and my 18-200 for other outside shots.
Any suggestions or hints to have great food photos?
I'm still learning all that I can! I'm not one to get all into props and styling, I want my photos to look like the food was made in my kitchen and not a studio. I have realized that light is the key ingredient to any photo though.
What kind of food did you eat growing up? Do you cook the same kinds of things today?
My favorites were foods fresh from the garden, especially during the summertime. I do cook the same, just with less Vitamin G (grease).
What was the first dish you ever cooked?
That's a difficult question! I think I was always playing around in the kitchen with my parents and grandmothers. I would have to say the first dish I remember cooking all on my own would have to be biscuits. Grandmother was standing close by instructing, but they were mine!
Is there a dish that you are known for?
Waffles. My son recently told someone he'd rather have my waffles over Waffle House. Now, that was a huge compliment considering that he used to say Waffle House was his favorite place to be in the whole wide world!
When you really want to cheat, what do you eat?
Cake! Chocolate, Strawberry, Caramel, Pound Cake – you name it. Cake is my weakness!
If you could travel anywhere in the world – just for the food – where would you go?
I love the food in Italy, France, Switzerland, Greece, Germany and Austria, but honestly I love the foods you can find when traveling the United States. My favorite place to eat though? Home or out in the open alongside our RV.
What is the best thing you've ever eaten? The strangest?
The best thing I've ever eaten is fresh caught salmon from Alaska. The strangest thing I've ever eaten is frog legs or turtle soup when I was younger.

Is there anything you would not ever eat?
I can be rather particular about what I eat. I want to know what everything is and where it came from before we eat it. Not in a snobby way, just because I can easily freak out if I think we're eating something Anthony Bourdain-ish.

What are your favorite blogs to read?
My blog reader is constantly bursting at the seams with well over a 100 favorite blogs. Some I read for the stories, some for the photography, and others for the combination.

If you could cook alongside any other blogger for a day, who would you choose?
Wow, that's a hard question. There are so many bloggers whom I respect and would love the opportunity to cook alongside. I've had the opportunity to cook with a few of them over the past couple of years and I have to say, it is absolutely a party! Amy of shewearsmanyhats.com always keeps me in stitches while Angie of Bakerella.com inspires me to be a little bit more creative. I stay in awe of them both.

Take us through a typical day of eating in your house.
During the week, meals are a bit simple with supper being the highlight meal of the day. I have an arsenal of quick, weeknight meals that I like to prepare if our days have been hectic and am always thankful for a good slow cooker when needed. Weekends are when we let our love of cooking really shine. A leisurely breakfast, chores, a light salad for lunch on the back porch, and then we start preparing for supper. Ribs, steaks, chicken, or fish slow cooked on the smoker or grill and vegetables. I'm getting hungry just thinking about it.

What is your best tip for saving money on groceries?
Gracious, I need lessons here. I do prefer to buy fruits and vegetables at our local farmer's market/ produce stand. But have realized over the years that being able to grow our own is such a gift! The investment in plants, fertilizer, and time is small compared to what we gain from our garden. Small in comparison to those of my parents and grandparents, it still provides enough of the essential herbs, tomatoes, squash, and peppers, etc. that we use so much!
But at the grocery store, I always try to buy as much in season as I possibly can.
What is your favorite part about blogging?
The community. The friends I've made of other bloggers as well as readers has been a tremendous gift.
What is your best tip to becoming a successful blogger?
Know what your own definition of success is when you begin. Some may think that success is money. Some may think that success is the improvement of your photography, writing, or recipe development. The definition may change for you as time goes, but don't allow yourself to fall into a competitive trap. Blogging is not a competition to be won, it is a joy to be shared.
Also, knowing what you stand for makes blogging much easier. It allows you to feel comfortable saying yes to certain opportunities and saying no to others without guilt. Don't forget to LIVE so that you have something of interest to SHARE.
————————
Thank you so much, Robyn! I'm craving a big piece of that caramel cake now!! If you want to see more from Robyn, here is where you can find her:
Blog: Add A Pinch
Facebook: Add A Pinch
Twitter: @addapinch
Pinterest: addapinch|Robyn Stone
Google+: Robyn Stone