Back in March, my Cookbook of the Month was Erin Chase's book – the $5 Dinner Mom. Because that month was crazy for me (it's the month I had my baby boy), I was a loser and got the spotlight questions to Erin super late. So it's my fault that this spotlight was not the same month as her cookbook review, but I'm just so happy to have her here today!!
———————–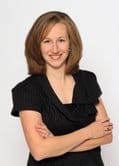 I'm Erin Chase, also known as The $5 Dinner Mom.
I have a little problem. I can not make a meal that costs more than $5. Even if I try. My brain will no longer allow it. It's filled with prices on my favorite products. It races through recipes and numbers as I go through the grocery store, wondering 'can I pull off that meal for less than $5? Is that price on those chicken breasts too high to swing a $5 meal?' It's unnatural, really. But, my pocketbook thanks me!
I'm a child of God, wife of an adorable, supportive and godly husband and mom to 3 rambunctious little boys, ages 5, 3, and 7 months! Read more HERE. (Taken from The $5 Dinner Mom)
———————–
What inspired you to first start writing your blog?
The rising gas prices of 2008 forced us to start spending less at the grocery store…and I couldn't keep what I was learning and what I was cooking a secret!
What kinds of posts are your favorite to write? What do your readers seem to like the most?
I love writing the recipe posts. Readers love any kind of post where you are vulnerable and let them see a little slice of your life.
Do you plan a weekly menu? If so, what inspires your menu?
Yes. Whatever is on sale, or whatever is in the freezer that needs to be eaten!
What is your favorite kind of food to make?
Italian or anything on the grill.
What is your favorite recipe posted on your blog?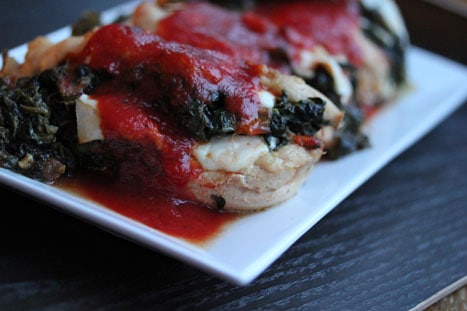 What is your favorite thing about your kitchen?
The skylight above the side counter. Keeps the atmosphere in the kitchen happy and cheerful.
What is your best tip for getting dinner on the table?
Be one step ahead of yourself, and take your time getting things to the table. Slow down and don't be in a rush.
Where do most of your recipes come from? (Family favorites, you make them up, magazines, cookbooks, etc.)
I make them up with whatever I have on hand.
What kind of camera/lens/equipment do you use?
Canon T2i, 60 mm macro lens.
Any suggestions or hints to have great food photos?
Use natural light and learn how to use the manual settings on the camera to get the right lighting in the shot.
What was the first dish you ever cooked?
Probably blue box of macaroni and cheese…I don't remember!
When you really want to cheat, what do you eat?
chocolate
If you could travel anywhere in the world – just for the food – where would you go?
Italy
Take us through a typical day of eating in your house.
Breakfast…morning snack or early lunch…afternoon snack…then dinner. I'm usually thinking about, pulling food out of the pantry or freezer, and chopping vegetables for the next meal or snack, while the kids are occupied eating the current meal or snack. It's important to stay one step ahead of yourself in the kitchen!
What is your best tip to becoming a successful blogger?
Be yourself, let your passion shine through, be an encouragement to others.
———————–
Want to see more of Erin? Here is where you can find her!
Blog: $5 Dinner Mom
Facebook: $5 Dinners
Twitter: @5dollardinners