I feel like it's been forever since I've had a Blogger Spotlight – so I'm so glad to be back this week! I recently had the honor of meeting Karen from 365 Days of Slow Cooking in person, and she is just the sweetest ever. And since I've been going crazy with my slow cooker lately, her blog has definitely come in handy. I'm so glad to be spotlighting her here today!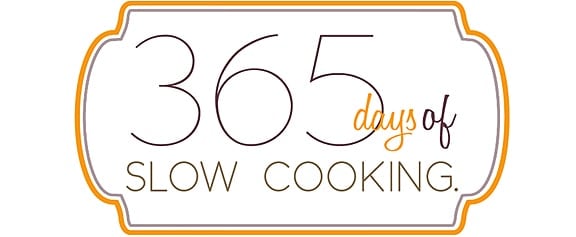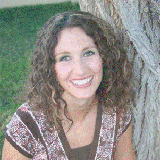 I am a stay at home mom to two kids, Reagan (7) and Skyler (4). My husband, Greg, and I have been married for 12 years. I grew up in Montana with 6 sisters and came to college in Utah where I met my husband. I love running, fall, mountains, anything peanut butter and chocolate, finding good deals, playing games, being by myself, going on cruises and making good food and sharing it.
What inspired you to first start writing your blog?
One glum January day I cooked a slow cooker meal. I enjoyed the fact that it freed up my time in that dinnertime "rush" hour. I have two kids and they were 7 months and 3 at the time. They would hang off my leg and make it hard for me to make dinner. So the slow cooker provided a way for me to have delicious dinners but without the stress. I decided to try another slow cooker recipe the following day. I kept up with it for a week and thought, "I wonder if I could do this for a year?" I mentioned the idea to my family. My sister said that I should consider starting a blog to post the recipes and photos. The blog was born! I did my 365 days project and have since developed many more recipes for the slow cooker.
What kinds of posts are your favorite to write? What do your readers seem to like the most?
I like recipes that meet the following requirements
1. ease of ingredients
2. budget friendly
3. tasty and family will eat it
4. prep time is reasonable (like 15 minutes max)
Anything that meets these requirements is a winner and my readers love them too!
Where do most of your recipes come from?
My recipes come from all sorts of places. I find inspiration from pinterest and other blogs a lot. I also like to look at conventional recipes and turn them into slow cooker recipes. Sometimes, I just look in my pantry and think, "what can I make with what I've got on hand?"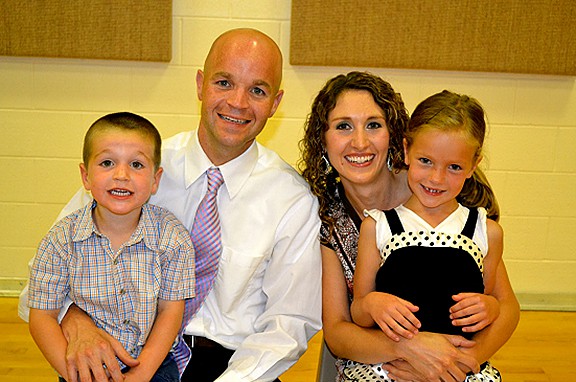 Do you plan a weekly menu? If so, what inspires your menu?
I try to. Sometimes it just doesn't happen. I like to plan my menu around what I get in my bountiful basket (a produce co-op).

What is your favorite kind of food to make?
I like Mexican food. It just seems to turn out well and it is a family favorite.
What is your favorite recipe posted on your blog?
The tomato basil Parmesan soup is one of my absolute favorites.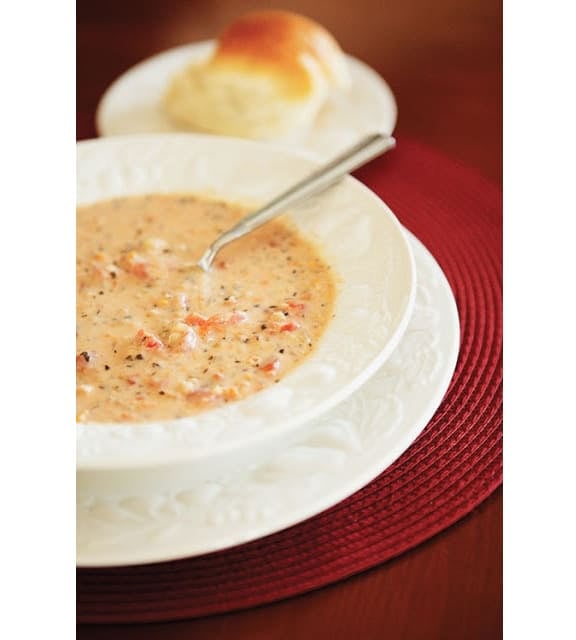 But it's hard to say just one favorite! I have so many recipes that I just love. For example the Thai coconut soup , coconut nutella pudding cake, 5 minute prep Asian chicken, chocolate covered coconut peanut butter bites, Mexican pulled pork.
What was your first post? How do you think your blog has changed since you first started blogging?
My first post was an explanation of the project and why I was doing it.   I didn't even have a photo!
My blog has definitely evolved from the first year of posts to what it is now. First of all, I went from just learning about food and to cook in the slow cooker to now giving classes on how to use the slow cooker. I don't know everything about slow cooking but I've learned A LOT and probably know more than most people about this specific appliance. I have learned that a picture is more important than the recipe in a lot of cases. If you post a delicious recipe and the picture is horrible nobody will want to try it. Although I'm still not a photographer and my pictures aren't as good as they could be they are much much better than when I started. Sometimes I'm really embarrassed when I look back at some of my posts.
Will you show us your kitchen? What is your favorite thing about your kitchen?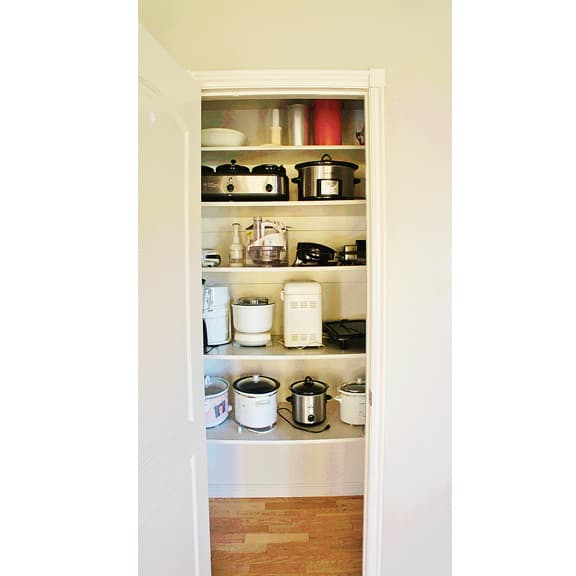 I've included a picture of my favorite part of my kitchen—my appliance closet. It is so nice to have a place for everything. We recently moved and this is seriously what sold me on the home! I love being able to fit all my slow cookers in one place.
What is your favorite kitchen tool/appliance?
Of course, the slow cooker.
After that I really like my garlic press. I love fresh garlic and use it in a lot of my recipes!
What is your best tip for getting dinner on the table?
Plan for it. If not, it doesn't really happen.
What is your most used cookbook?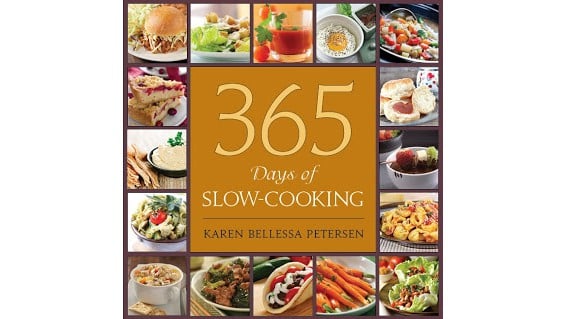 My own! I really use it a lot.  Besides that my extended family has a cookbook and I use that one a ton.
What would you eat as your last supper?
Great question.
I would eat
tomato basil soup from Kneaders
freshly baked bread with butter and honey
spinach artichoke dip
the perfect fruit salad (peaches, strawberries, blueberries, raspberries, kiwis, fresh pineapple)
warm chocolate melting cake
What kind of food did you eat growing up? Do you cook the same kinds of things today?
We had 7 kids in our family so we had lots of casseroles and things that can feed a crowd. My mom made dinner every day. We rarely ate out. I do pull some foods from when I was growing up but I like to experiment with new things too.
When you really want to cheat, what do you eat?
Anything chocolate! I can't get enough.
And Nutella.
Is there anything you would not ever eat?
One time I tried oysters and I almost threw up. They just totally gross me out.
I also hate cantaloupe. It disgusts me.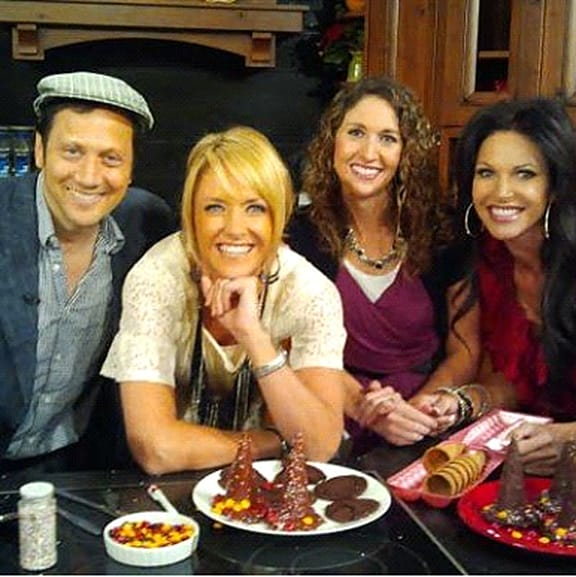 What are your favorite blogs to read?
Non food blogs:
You are My Fave
Inspired By Charm
Better After
Food blogs (besides yours, of course)
Chef in Training
Favorite Family Recipes
Skinny Taste
The Girl Who Ate Everything
Slow Cooker From Scratch
Take us through a typical day of eating in your house.
Oatmeal with berries for breakfast cereal with banana
Avocado, tomato sandwich of whole wheat bread with mayo, Dijon mustard and salt and pepper for lunch and a yogurt
Slow cooker whatever for supper
Plenty of chocolate for dessert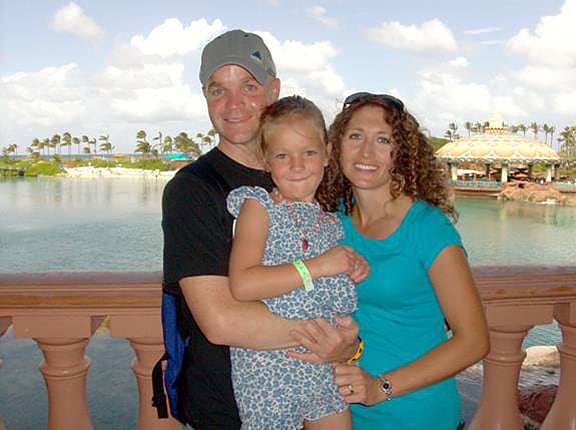 What is your best tip for saving money on groceries?
I love the bountiful basket (produce co-op). We eat a lot of produce so it really helps us save money. Plus it also forces us to try new produce. I also like to price match meats and whatever else is a super deal when I go to Walmart.
What is your favorite part about blogging?
I love sharing with others something that I love. I love food. I really do. I think about it a lot. When I figure out a really great recipe that can make others lives easier it makes me happy.
What is your best tip to becoming a successful blogger?
Just keep at it. I started in Jan 2009 and I've had lots of ups and downs. I'm finally starting to feel successful at it. Get a lot of content that is high quality and build an audience. I also think it was really helpful for me to have a specific niche.
————————————
Thank you so much, Karen! It was so fun to learn more about you.  If you want to see more from Karen, here is where you can find her:
Blog:  365 Days of Slow Cooking
Facebook: 365 Days of Slow Cooking
Twitter: @365dayscrockpot