I will never forget the first time that I met today's Blogger Spotlight – Paula from Bell'alimento – in person. We were both at an event in Minnesota. We were in the hotel, and I saw her in front of the elevator, and she came over and gave me a big hug, like we had known each other for years. I think it's pretty rare to come across someone so friendly and welcoming and nice – and Paula is all of those things and more. I'm so excited to be featuring her here today and sharing her with all of you!!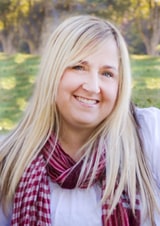 My name is Paula Jones and I am the photographer, recipe developer and publisher for www.bellalimento.com I have been featured in Southern Living Magazine, Parade Magazine and Bon Appetit as well as around the web. I live in NC with my husband, 3 children and beagle Charlie.
What inspired you to first start writing your blog?
I was posting what I was making for dinner on facebook. After seeing my posts, a friend suggested I start a food blog. I of course thought they were nuts I could barely email at that time. They went on and designed me said food blog and I was thrown into the wild wacky and wonderful world of blogging. Almost 5 years later here I am.
What kinds of posts are your favorite to write? What do your readers seem to like the most?
Pasta. I love pasta dishes and our readers seem to love them too.
Where do most of your recipes come from?
Most of my recipes are family favorites. Others are inspired by meals I've had a restaurants and want to re-create.
Do you plan a weekly menu? If so, what inspires your menu?
No. I'm a fly by the seat of my pants meal maker.
What is your favorite kind of food to make?
Italian.
What is your favorite recipe posted on your blog?
Spaghetti alla Carbonara.

What was your first post? How do you think your blog has changed since you first started blogging?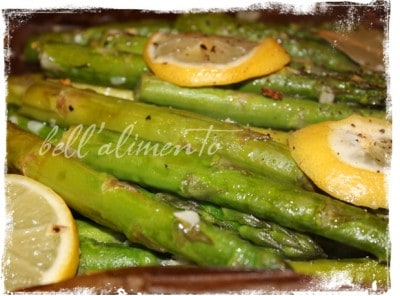 Asparagus alla Paper Bag. Wow, I hope that my photography and writing have improved since those early days (talk about embarrassing LOL).
Will you show us your kitchen?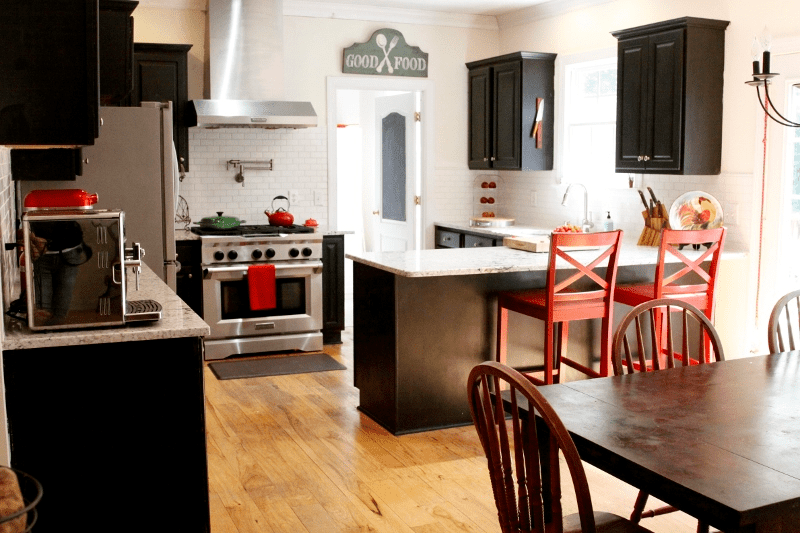 What is your favorite kitchen tool/appliance?
A sharp knife. New West Knifeworks is my knife of choice.

What is your best tip for getting dinner on the table?
Keep a well stocked pantry.
What is your most used cookbook?
I mostly enjoy looking at the food photography in cook books.
What would you eat as your last supper?
A perfectly cooked steak with a side of heavily butter lobster and spaghetti alla carbonara.
What kind of camera/lens/equipment do you use?
Canon 50D 24-105 mm
What kind of food did you eat growing up? Do you cook the same kinds of things today?
Southern. I wish I could make fried chicken or chicken and dumplings like my Mom can.
What was the first dish you ever cooked?
cookies as a child.
Is there a dish that you are known for?
Spaghetti alla Carbonara.
When you really want to cheat, what do you eat?
Oreos. Double stuff.
If you could travel anywhere in the world – just for the food – where would you go?
Italy. Always.
Is there anything you would not ever eat?
Sweetbreads frighten me.
If you could cook alongside any other blogger for a day, who would you choose?
My friends, Susan, Meredith, Angie, Bree, Brandi.
Take us through a typical day of eating in your house.
Breakfast consists of cappuccino (I know, I know) for me and eggs and sausage or bacon for the children or cereal.
Lunch is usually what I'm cooking for the day for either the blog or a client.
Dinner is something quick and easy during the week because our schedule is hectic.
Weekend meals are slower more relaxed.
What is your favorite part about blogging?
Cooking and Photographing Food.
What is your best tip to becoming a successful blogger?
Hard work and dedication.
———————-
Thanks, Paula! If you want to see more from Paula, here is where you can find her: