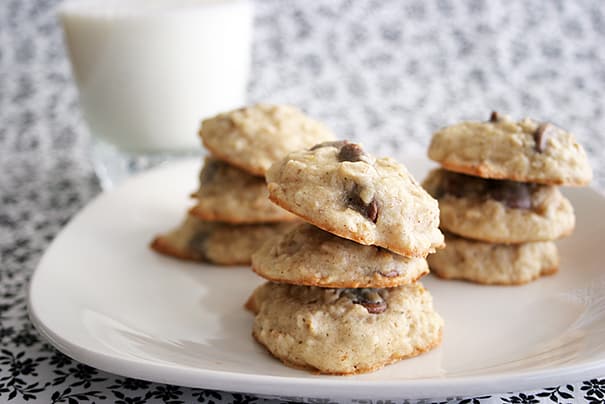 Do you ever feel like you get stuck in the same rut when you have overripe bananas? Most of us usually turn to banana bread. But if you are looking for something different, give these banana chocolate chip cookies a try!
These aren't the first banana cookies I've tried, but they are so easy and so much faster than banana bread that I'm sure these cookies will become a regular in our house. And most banana cookies are more cake-like, and these are a bit more cookie-like than any other recipe I've tried. Truly delicious!
Banana Chocolate Chip Cookies
from Field Guide to Cookies
1 1/2 cups flour
1 3/4 cups rolled old-fashioned oats
1/2 teaspoon baking soda
1/2 teaspoon ground cinnamon
1 teaspoon salt
3/4 cup softened unsalted butter
1 cup sugar
1 egg
1/2 teaspoon vanilla extract
1 cup mashed ripe banana
1 cup chocolate chips
Preheat the oven to 375F. Line baking sheets with parchment paper.
Sift the flour, oats, baking soda, cinnamon and salt together. In a stand mixer, cream the butter and sugar until light and fluffy. Add the egg and vanilla and mix until combined. Add half the flour mixture, mix, and then add the banana and mix. Add the rest of the flour mixture and mix until combined. Mix in chocolate chips.
Drop tablespoon-sized balls onto the prepared baking sheets. Bake in the preheated oven for 12 to 14 minutes, rotating halfway through.
Makes about 3 1/2 dozen cookies