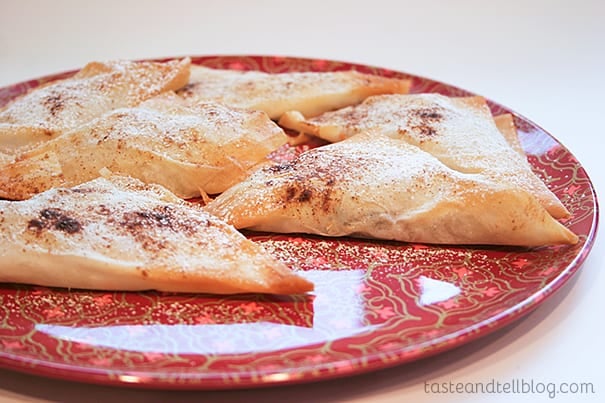 I've been a very bad blogger. But I have a good excuse. I have come down with pregnancy induced carpal tunnel syndrome, which is really no fun at all. I lose almost all feeling to my right hand if I try to do too much, and typing is one of those things that just doesn't feel so good to do. So I'm so sorry if I haven't been around to any blogs lately. I've been trying, but after one or two, my hand starts to hurt and typing is next to impossible.
Which is also why this will be a short post. I have a few recipes I need to get up before the end of the year to complete my cookbook project, but I may be pretty scarce for the next few weeks. Hopefully it will start feeling better soon!
My camera battery actually died after only taking 4 photos of this, so I'm sorry if the picture doesn't really do it any justice. These were actually quite easy – only 30 minutes from start to finish – and pretty tasty as well. But make sure they are served fresh and warm – they don't keep well, and if you have leftovers the next day, they are pretty slimy and mooshy!!
Banana and Chocolate Empanadas
Ingredients
2 bananas
1-2 teaspoons superfine sugar
juice of ¼ lime
6-7 ounces of semi-sweet chocolate chips
8 sheets of phyllo pasty, thawed and halved lengthwise
melted butter
cinnamon
powdered sugar
Instructions
Preheat the oven to 375F.
Peel and dice the bananas and put them in a bowl. Add the sugar and the lime juice and mix all together. Stir in the chocolate.
Lay 1 long rectangular sheet of phyllo out on a counter and brush with butter. Keep the remaining phyllo covered with a clean, damp kitchen towel. Put a couple of teaspoons of the banana and chocolate mixture in one corner of the pastry, then fold over into a triangular shape to enclose the filling. Continute to fold in a triangular shape until the phyllo is completely wrapped around the filling. Put on a large cookie sheet. Repeat the process with the remaining phyllo and filling.
Bake in a preheated oven for 15 minutes, or until the pastries are golden. Remove from the oven and dust with cinnamon and powdered sugar.
Serve warm, but be careful – the filling will be very hot!