I feel like I need to apologize. I have been quite absent the last couple of weeks, and I feel so out of touch with the blog world right now. I've mentioned before, but we have been working on selling our house, and finally, everything is coming together. We will be closing the end of this week and moving out, so that has been occupying a lot of my time. And also, my grandpa was diagnosed with lung cancer a couple of weeks ago, and only given a few weeks to live.  Luckily, I was able to travel to New Mexico to see him this last weekend, because last night, he passed away. He was a great man, a great grandfather, and he will truly be missed.
So needless to say, I have been a little distant these last few weeks. And I'll ask your forgiveness for being distant for another week or so as I plan to attend a funeral and move. I have been cooking, (we do have to eat, after all…) and I'll be posting still, but it may take me a little longer to respond to comments or to visit other blogs. But I will be back soon!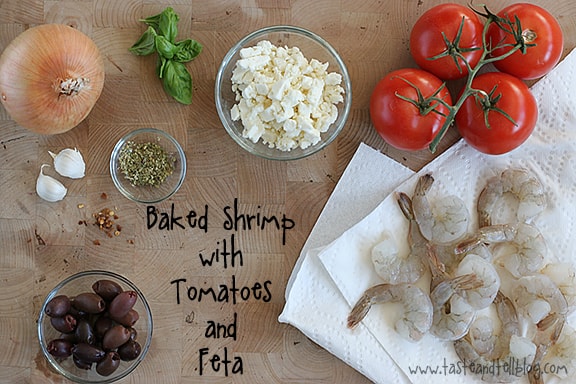 Now, onto the recipe!! As I was perusing through Facebook a few weeks back, I came across this link that Aggie posted from her archives. I immediately bookmarked it, and seeing that I had some shrimp in my freezer that I've been trying to clean out, I added it to my menu plan. This meal should be added immediately to your "fast, easy and healthy" meal pile, because it was all three. Oh yeah, and it was delicious!! Serve it up with a side of orzo, and dinner comes together in a snap. I absolutely love all of these flavors, (I am partial to the salty, after all), and this was a meal I felt good about eating.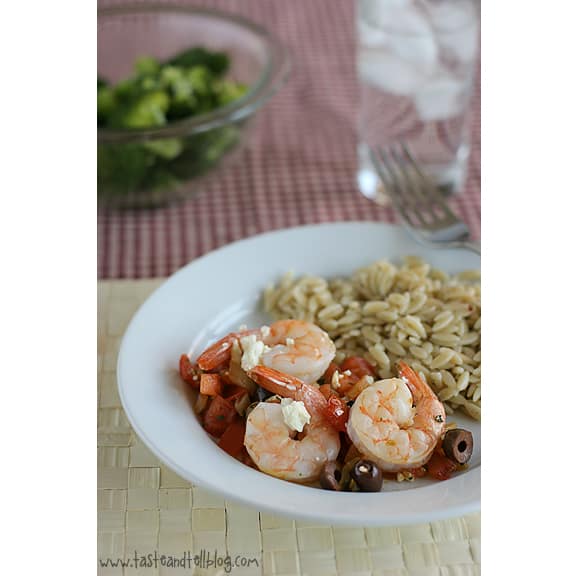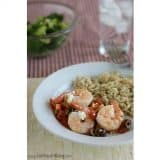 Baked Shrimp with Tomatoes and Feta
---
Prep Time: 15 minutes
Cook Time: 20 minutes
Total Time: 35 minutes
Yield: 4 servings 1x
Description
A healthy, fast shrimp dish filled with Mediterranean flavors.
---
Scale
Ingredients
1 tablespoon olive oil
1 medium onion, diced
2 cloves garlic, minced
4 medium tomatoes, chopped
1/4 cup water
1/4 cup minced fresh parsley
1 tablespoon minced basil
1 teaspoon dried oregano
pinch red pepper flakes
handful of halved kalamata olives
1 pound medium shrimp, peeled and deveined
1/4 teaspoon salt
1/4 teaspoon freshly ground pepper
2/3 cup crumbled feta cheese
---
Instructions
Preheat the oven to 425F.
In an oven proof skillet, heat the oil over medium-high. Add the onion and cook until softened, about 3 minutes. Add the garlic and cook for 1 minute. Add the tomatoes and the water and bring to a boil; reduce heat to medium low and simmer until thickened, about 5 minutes.
Remove from the heat. Stir in the parsley, basil, oregano, red pepper flakes, olives, shrimp, salt and pepper. Sprinkle the feta over the top. Bake until the shrimp are cooked through and the cheese melts, about 12 minutes.
——————————–
Slightly adapted from Aggie's Kitchen, who adapted it from Healthy Appetite with Ellie Krieger
—————————-
Here are some more tasty shrimp recipes:
Cilantro Lime Shrimp from Skinny Taste
Marinated Grilled Shrimp from My Baking Addiction
Garlicky Baked Shrimp from Gimme Some Oven
Baked Coconut Shrimp with Basil-Peach Sauce from Taste and Tell