4 great school lunch ideas – great ways to de-junk the lunchbox!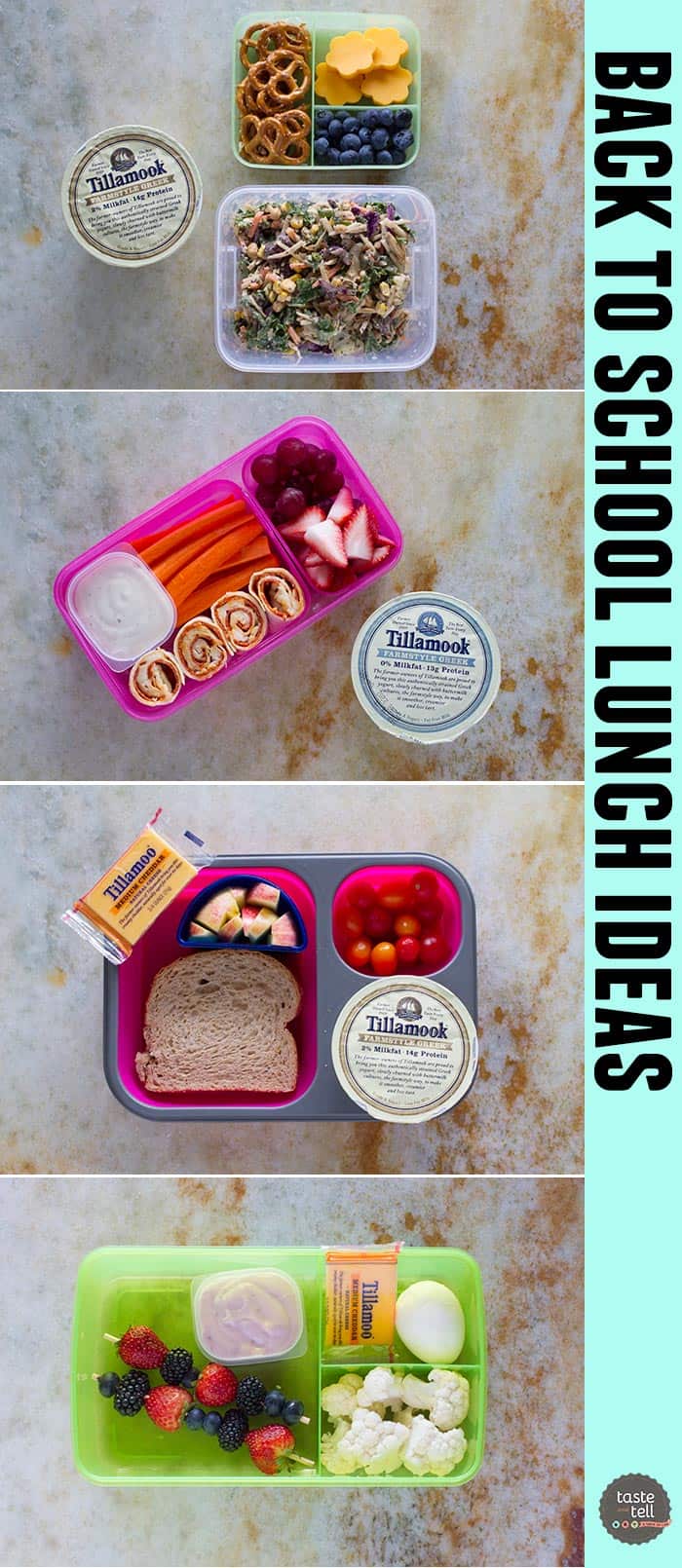 I knew that Abbi going into first grade would be a game changer. No more later mornings. No more half day school. More homework.
And lunch.
This is my first year to make a lunch to send with a child. And that is what scared me most of all. Maybe I wasn't scared – but intimidated. And worried about sending her with something that she would like and actually eat.
Well, I know I'm only on week 3 of school, but I have to say – this has actually been more fun than I thought it would be.
Am I crazy?
I'm trying to keep things different and interesting, and delicious at the same time. I think the biggest challenge has been keeping her lunch filled with real foods – food that is good for her and not packed with all kinds of artificial ingredients. We are all about splurging every once in awhile, but on a day to day basis, I like to make sure that she is eating healthy, real foods.
I am far from an expert when it comes to school lunch ideas, but today I'm teaming up with Tillamook to share a few ideas with you that we've had since school has started. Let me know some of your favorites, too – I'm sure I'll be looking for some new, fun ideas two months from now!!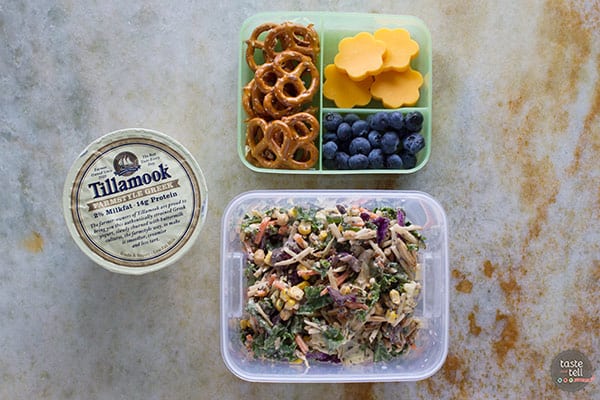 One of Abbi's favorite foods is salad, so this was a no brainer. Just make sure you add a fork (I totally forgot!). Blueberries, pretzels, Tillamook Medium Cheddar Cheese and a Tillamook 2% Farmstyle Greek Yogurt to round it off. And just to note – I'm all about keeping things simple. But using a small cookie cutter to cut the cheese can make all the difference!






All of my kids love pizza, so to make it easy for lunch, I just spread pizza sauce on a tortilla, top with pepperoni and Tillamook Mozzarella Shredded Cheese. Roll it up and cut it into pieces for pizza rolls! Add in some fruit, carrots and ranch for dipping, and a Tillamook 0% Farmstyle Greek Yogurt.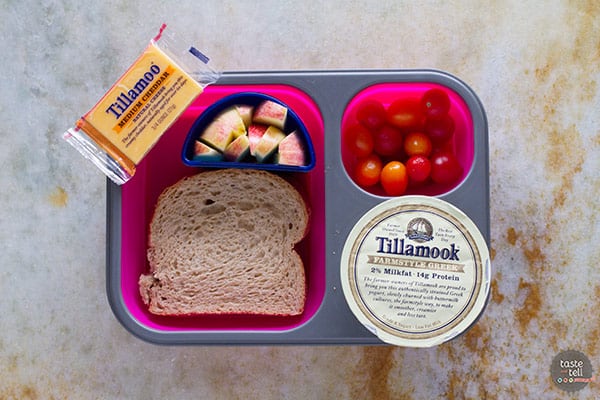 Sandwich in a lunch box? For some reason, sandwiches have a bad rap. But we love sandwiches!! I agree that they can get boring, but adding in a sandwich once a week is not a bad thing. Abbi likes just jelly on hers, but also loves ranch and cheese. This is an easy lunch box (great for busy mornings) with apple slices, cherry tomatoes, a Tillamook Medium Cheddar Tillamoo and more yogurt. (I love giving her yogurt versus an actual dessert. There really is no real reason to have to have dessert at lunch, but this makes her feel like she gets one.)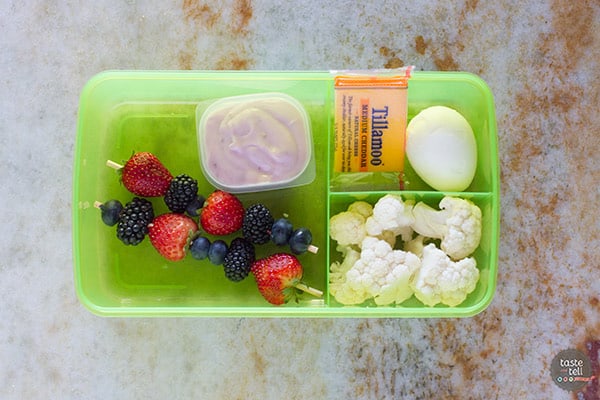 The biggest thing I have found is that Abbi doesn't have time to eat a big lunch. If things come back, it's usually because she didn't have time to eat it all. This is an easy lunch that is not too big – a hard boiled egg, cauliflower, a Tillamoo, and fruit skewers with Tillamook yogurt for dipping. (Just make sure you cut off any sharp edges on the skewers.)
I hope this gives you a few new ideas, and like I said – I'd love to hear your ideas for good lunches to de-junk the lunchbox!!
Don't miss a thing! Follow me on Pinterest to see what I'm pinning!
Visit Taste and Tell's profile on Pinterest.


I am in a working relationship with Tillamook, and this post has been sponsored. I'm so glad to be able to work with companies and organizations that I truly believe in. Thank you for supporting them, too.