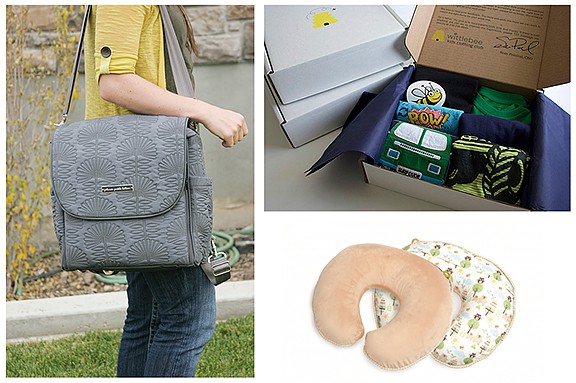 It's the last day of baby week! And today, I thought I'd change things up a bit and talk about some of my favorite baby things.
When I started getting ready for baby #3, I felt like I actually had a good handle on things. Since I already have a girl and a boy, I pretty much have most everything that I need. When we started buying baby things for Abbi, we decided to keep most things pretty gender neutral, so we wouldn't have to buy new things for each child.
So here I am, on number 3, and while I certainly don't feel like an expert, I feel like I've learned a few things along the way. Some things I got right the first time around, and some things – well, it has taken me until baby number 3 to figure it out. But I thought I'd share some of my thoughts with you today!!

Baby Favorite #1 – Petunia Pickle Bottom Diaper Bag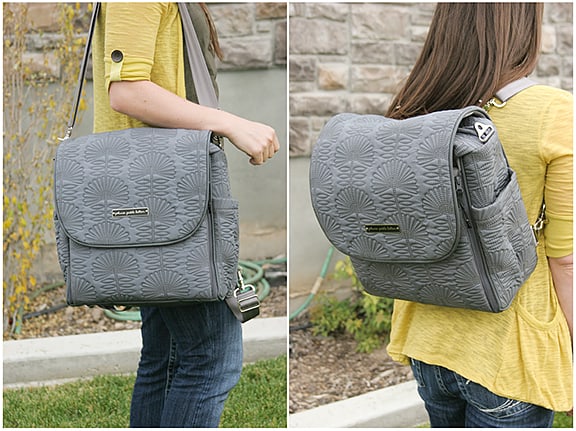 With my first baby, I think I did what a lot of new moms do. It's expensive to buy things for your first baby – when you have nothing. Clothes, cribs, car seats, swings, diapers – and then there are the million things that you think that you need (but you quickly find out that a newborn really needs very little!!) By the time everything is purchased, you are feeling poor, and at the end, you start saving money where you can. So with Abbi, by the time I went to buy a diaper bag, I ended up buying a cheap, very ugly bag, which I quickly found out wasn't even very functional. What I didn't realize at the time is that you use a diaper bag pretty much every day when you have a baby. And even a toddler. I don't think I used a purse for that whole first year after she was born. And I ended up carrying that ugly, cheap diaper bag around with me everywhere I went.
This time around, I'm getting it right. Especially since I'll have 3 little ones now, and goodness knows that you need a good diaper bag when there are 3 kids to care for!! One brand I have always loved is Petunia Pickle Bottom. Not only are they stylish, but they are well built and functional, as well. In fact, the thing I love about this bag the most is something that I thought I wouldn't like – that you can carry it as a backpack. I've never been a big backpack person, but I actually prefer carrying this bag as a backpack. (You can always carry it with the shoulder strap, too!) Especially when I have a child in one arm and holding the hand of another child. So it goes to show that this will be even better when baby joins us!!
Other things I love about this bag? That it is feminine enough that I love carrying it, but masculine enough for me to be carrying it with 2 boys. I also love that the closure is magnetic, and I love the built in changing station (that is also detachable). This is an investment that I wish I would have made from the beginning!!
For more information:
Champs-Elysees Stop Boxy Backpack
Petunia Pickle Bottom Website
Petunia Pickle Bottom on Facebook

Baby Favorite #2 – Wittlebee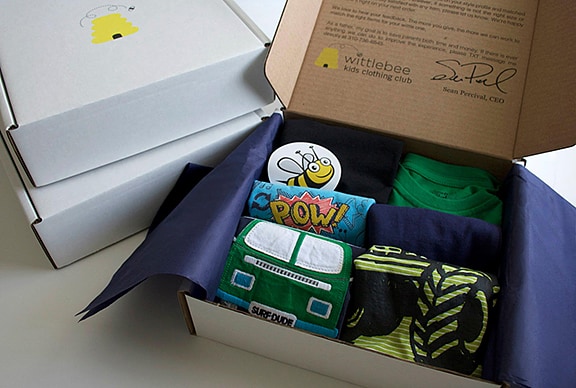 image from Wittlebee.com

I was introduced to Wittlebee at the EVO conference I went to this summer.  Of course, being pregnant, they were one of the sponsors that I was the most interested in!!  I'm going to admit – I'm not a shopper.  I don't get excited about going out and spending hours going from store to store, looking for the cutest clothes and the best deals.  And with kids? Forget it.  Right now, I won't even go grocery shopping with both kids – and you can bet that things will get even crazier when the baby comes!!  And Abbi is a very opinionated 3 year old – if we are shopping, she wants to pick out everything.  (And if you have a young, opinionated child, you will understand that what they want is not always what you want!!)
Enter Wittlebee.  What if you didn't have to go shopping?  And what if you didn't have to even spend the time choosing things out?  And what if it was a great deal on top of it all?  Wittlebee is a kids clothing club that makes life so much easier for mom.  When you sign up, you choose a size and a style of clothing, and every month, a box of clothes shows up on your doorstep for your little one.  In each box, you will get at least 6 pieces of clothing, valued at around $100.  A one month subscription is $39.99, so already, you are getting a huge discount!!  And the more months you purchase, the more of a discount you get.  The clothes are all new clothes from reputable companies, so you will always receive quality.
I have to admit that my first shipment isn't here yet – but should be any day now.  But I can already guarantee that this was so much easier than going out and shopping with 2 (soon to be 3) kids in tow.  That – in and of itself – makes it all worth it to me!
For more information:
Wittlebee Website
Wittlebee on Facebook
Baby Favorite #3 – Boppy Pillow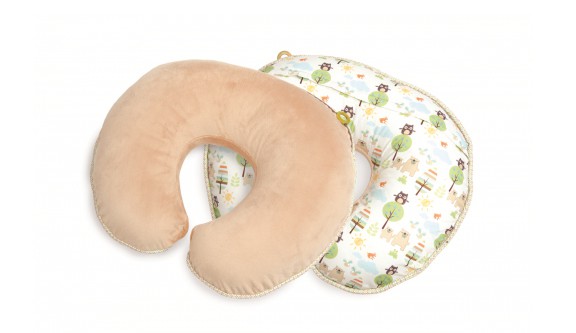 image from boppy.com

This is one of the rare products that I got right in the beginning.  And let me say – I couldn't live without my Boppy pillow.  If you are a nursing mother, this is a must have.  In fact, when Abbi was 6 months old, we were on vacation and accidentally left the boppy in a hotel in Nevada.  It was the first thing I went and bought as soon as we got home.  Life (and nursing!) is just not as easy without the Boppy pillow.  You can easily buy covers  for the pillow – so no need to buy a different pillow for a girl or a boy.  Plus, the fact that the cover just unzips to come off makes life easier when you have a spit up or other accident.  The Boppy Pillow is even one of my necessities on the list of things to take to the hospital.  It's one of those items that you don't think of – or maybe don't even think you'll need – but it is one of my must haves!!
For more information:
Boppy Website
Boppy on Facebook
What is your must have baby product?

**Disclosure – I was provided some of these products for review. They are all products that I believe in and all opinions are my own, as always!!**