Baby Shower Cupcakes – how to make cupcakes with baby faces. Perfect for a baby shower!
Everyone out there in blog land is bringing you all kinds of holiday goodies, but I have to be honest – I'm having a hard time getting into the kitchen this year. It's enough to get dinner on the table. And although I'd love to take wonderful cookie or candy baskets to all of the neighbors, I just don't think it's going to happen. And I'm blaming this baby. 8 months pregnant at Christmas time = no energy for all of the fun cooking. I'm really sad about it, and I get jealous reading about all of the goodies on other blogs.
And because I've had several inquiries about the pregnancy, and since I don't have any Christmas cookies to share with you, I'll talk about baby and these cupcakes I made for my baby shower a few weeks back!!
I officially have 7 weeks to go. But as of my last doctor's appointment, I was measuring about 2 weeks ahead, so I'm really hoping to have her 2 weeks early. And yes, I'm realizing I always just refer to her as "the baby" but I am having a girl! We couldn't be more excited – and shopping for little girl clothes is so much fun! But I'm aiming for the 11th of January and sending out all kinds of positive thoughts that she will come those 2 weeks early, because I'm getting quite uncomfortable!!
Everything has been really good. Really, an uneventful pregnancy, which is always a good thing. And thank you for all of your well wishes and inquiries. Right now, I'm just trying to finish up her room and take it easy until she arrives sometime in January.
My family threw me a baby shower a few weeks back, and I volunteered to make cupcakes. My mom thought I was crazy, volunteering to bring something to my own shower, but I really wanted to, so they let me. I originally wanted to make something really fancy and elegant, but then I saw these online and thought they were really cute. Of course, mine didn't turn out as cute as the ones I saw, but I was still pretty happy with them.
I actually took pictures along the way, which I don't usually do – and you can probably tell why. The pictures aren't that great, but if you are ever looking for something for a baby shower, here's the step by step!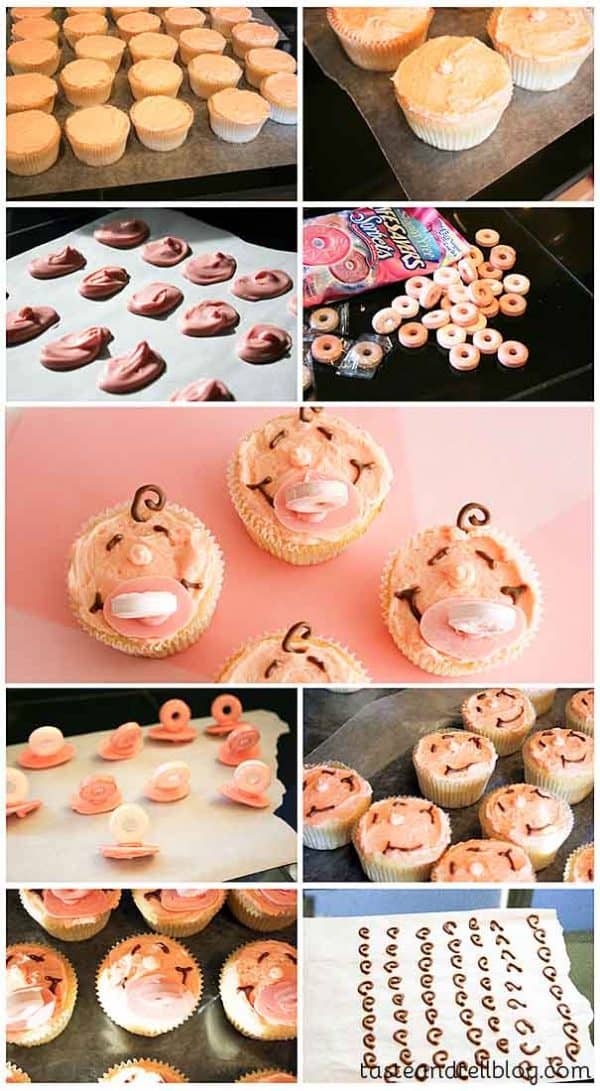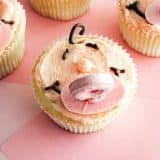 Baby Shower Cupcakes
---
Author:
Category: Dessert
Description
Baby Shower Cupcakes – how to make cupcakes with baby faces. Perfect for a baby shower!
---
Ingredients
premade cupcakes
premade buttercream
candy coating
LifeSavers
chocolate
---
Instructions
Dye the frosting. I used the Wilton paste in "copper" which gave it just the color I was looking for. Frost the cupcakes with the buttercream, reserving a little for the noses.
Pipe on the noses using a small round tip.
To make the base of the pacifiers, melt candy coating in a piping bag. Pipe ovals onto a piece of parchment paper. I did this the night before to give them time to dry. Mine didn't come out as smooth as I hoped they would, so I actually ended up flipping them over and using the flat side to show, which worked out!
To make the "handle" on the pacifier, you'll need LifeSavers, or something similar. Since I'm having a girl and wanted pink, I got lucky and was able to find these pink LifeSavers.
Using a bit of melted candy coating, connect the candy to the earlier prepared oval. You can see here how I used the flat back side instead of the top side. They don't sit flat right now, but you'll be able to press them into the cupcake.
Melt some chocolate (I used more candy coating) and with a small round tip, pipe on the eyes and mouth. I found it was easier to leave a space in the middle to put in the pacifier. If I made the smile all the way across, the chocolate would break and crack while I was pressing in the pacifier.
Press the pacifier into each of the cupcakes.
On a sheet of parchment paper, pipe the little hair curls. It took me a few to get the hang of this!
Once dry, attach the hair curl by pressing it into the cupcake. And you're done!!