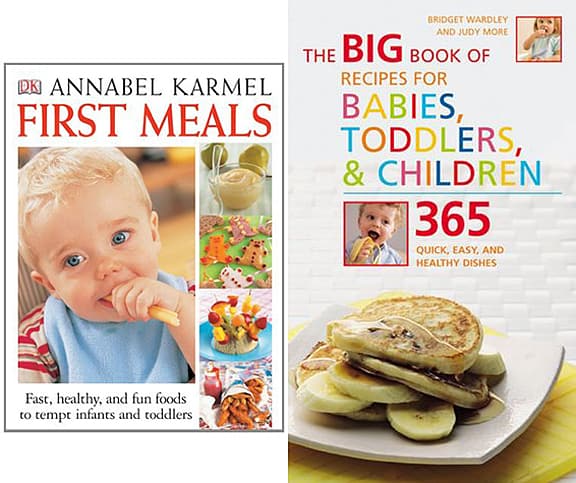 Happy Halloween!! I hope you all have great plans for today. I know that my kids are super excited to go trick-or-treating tonight, and I can't wait to see them all dressed up!!
I am continuing on with Baby Week today, even though after my appointment on Monday, the doctor thinks that baby won't be here until next week. But I guess this is one of the things that you just can't predict!!
One thing that I wanted to do with both of my kids was to make their baby food. I was semi-successful with both, but probably more successful with Abbi, since we ended up in a temporary move in the middle of introducing new foods to Easton. But there is something that feels really good about making food for your baby from scratch – knowing exactly what goes into it. And let's be honest – it doesn't hurt that it costs a lot less, too!!
There are a ton of websites out there today that will help you and walk you through what to feed your baby and when. And of course, you should always listen to the advice of your doctor. The first foods were always the easiest for me. Cook, puree and freeze the peas. Cook, puree and freeze the peaches. But once they got past those first foods, I always found myself looking for more ideas. I wanted to make sure that they had a diverse array of tastes.
When Abbi was first eating solids, I hit up the library. A friend had suggested books by Annabel Karmel, so I picked up one of her books – First Foods, plus another that I found there on the shelves – The Big Book of Recipes for Babies, Toddlers & Children. I liked them both so much that I ended up buying copies of them.  These two books ended up being my inspiration through most of their early foods, and continue to be inspiration to me today. I'm not going to lie – some of the recipes are super simple (I really need a recipe for this??) and some of them are pretty out there, but I have been able to pull so much inspiration out of these two books that I want to give them to one of you today.
Done having kids? Aren't going to have kids? Not even thinking about having kids yet?? Still enter! You can gift these to a friend or relative and I'm sure they will love you forever. And I'm sure there are all kinds of great books out there, but these are two that I first came across, and that I've been using for years now.
Want to enter?